Foodie With Family's Ultimate Salad Recipe Guide
If you've spent any time here on Foodie with Family,  you're probably well aware that I am certifiably obsessed with salads and salad recipes. I eat a salad in some form every single day, almost without fail.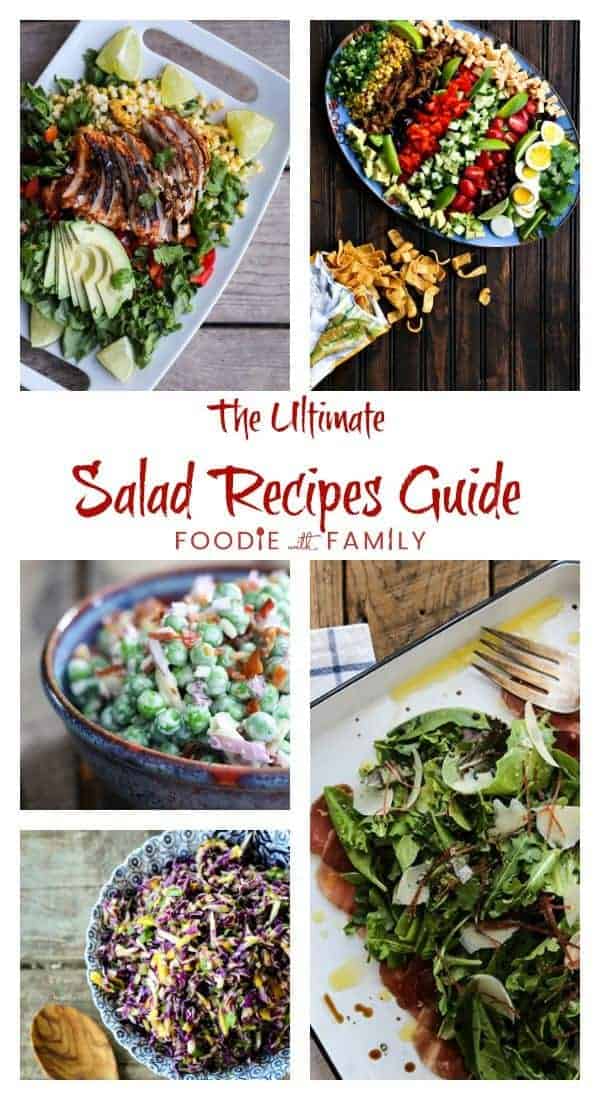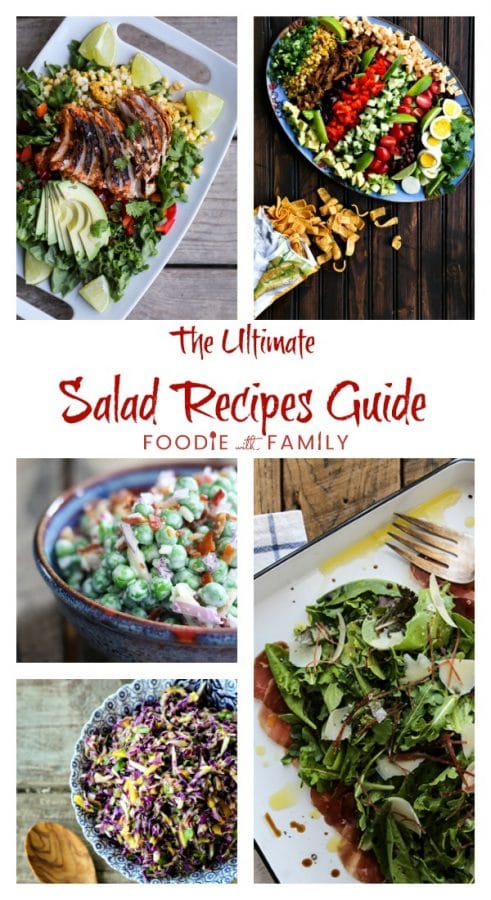 Salads can sometimes get a bad rap, but not in my house. Far from serving as a forgettable precursor to the main dish or bland diet food, my salad recipes are satisfying, colorful and packed with flavor. Whether you're serving salad as a main meal or a tasty side dish, if it's a salad recipe you're looking for, I'm your gal.
The sheer volume of salad recipes I have here range from classic cold tossed salads and chopped salads to fruit salads and entree salads and beyond to warm grain salads. We have marinated salads, egg salads, and all sorts of other salads.
New to salad making or just looking to freshen up your skills? I'm here to help!
A great salad requires right balance of flavours, freshness and textures. Choosing your recipe, selecting the right ingredients and preparing them well is all it takes.
TYPES OF SALAD RECIPES
Even a glance at my index of salad recipes shows the breadth and variety of salads I enjoy. Main Dish Salads can be served on their own as a complete meal. Some like Layered Chopped Taco Salad let you use leftover proteins from other meals for a family-friendly dinner that's as fun and tasty as it is economical. Other dinner salads star freshly prepared meat like this Spicy Southwestern Chicken Salad, which can also be prepped in advance for an easy healthy packed lunch.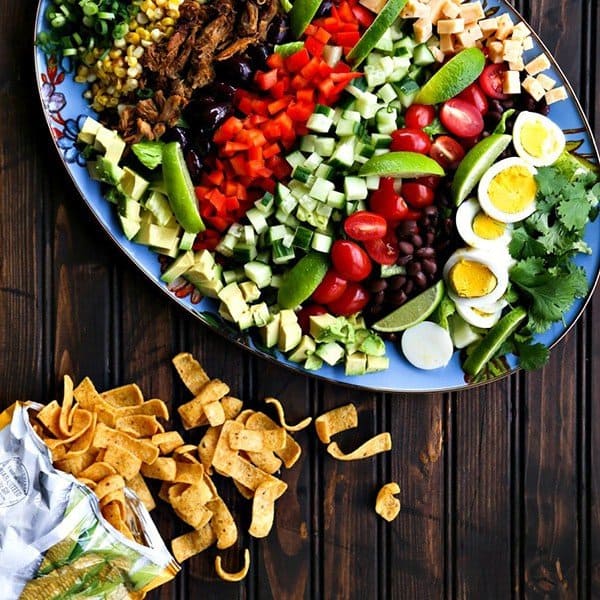 Side Salads help turn an everyday dinner into a colorful feast. They can be so much more than a few leaves of sad lettuce covered in dressing. Kid-friendly recipes like Easy Bacon Pea Salad are a guaranteed hit for casual family meals for a while recipes like Watermelon Feta Salad are just right for adding a touch of elegance to that summer dinner party. 
Side salads are also perfect for pairing with a cup of soup or sandwich for a light lunch, like Asian Pasta Salad and Zesty Cold Quinoa Salad.
Coleslaw recipes count as some of the ultimate warm weather salads in my book. These are usually simple, featuring vegetables chopped then covered in creamy dressing like my Buttermilk Coleslaw or spicy, tangy dressing like this Spicy Mango Slaw. Show up with one of these at your next summer picnic and watch everyone become your best friend.
CHOOSING SALAD INGREDIENTS
Since fresh produce is the star of most salads, picking quality ingredients is key. I use frozen vegetables in some recipes, like my Easy Bacon Pea Pasta Salad, but if a recipe calls for fresh vegetables it's usually best not to substitute for canned or frozen.
If you're lucky enough to have a nearby farmers'market, buying fresh produce from local growers is a great way to get veggies at their peak. For those of us whose farmers' markets are seasonal or out of reach, any well-stocked grocery store will have most of the ingredients for all of my salad recipes.
STORING SALADS 
If you're prepping meals in advance or just tend to end up with too many leftovers, it is possible to keep most salads stored in the fridge for a couple of days. You just need to follow the right steps to ensure food safety and taste.
For vegetable based salads, keep your salad dressing stored in a container separate from your veggies. This will keep your lovely crisp produce from becoming soggy. Invest in some small containers just for dressing if you tend to pack salads to eat on the go.
Make sure all salads are stored in a sealed container and kept in the refrigerator. If you're packing a salad for a picnic or sack lunch, use a cooler bag to keep your salad at a safe temperature and maintain freshness.
When a salad calls for an ingredient that browns quickly, like the avocado in my Tex-Mex Cobb Salad, wait to slice and add the avocado until you're ready to serve.
SALADS FOR PICKY EATERS
We all have one (or two . . .or a half -dozen. . .) in the family. That kid (or maybe adult) who hears the word "salad" and practically runs screaming from the dinner table. While I love veggies of all kinds, lots of my recipes cater to more particular tastes. Cheeseburger Salad for instance features familiar kid-friendly comfort foods re-imagined in a salad that's as pretty as it is tasty.
You might also pick an ingredient your picky-eater loves and find a salad recipe that features their favorite. Potato lovers go head-over-heels for Loaded Baked Potato Salad while bacon lovers have been known to request third helpings of Barbecue Bacon Ranch Salad.
Whatever ingredient your family salad doubter loves, there's a good chance I have a recipe that can change their mind.
This Salad Recipes page is dedicated to every single salad recipe here on Foodie with Family. For your convenience, I've also included things that go WITH salad recipes like salad dressing, croutons, salad toppers of all sorts, meats that go well on salads, and so on.
Looking for a recipe you don't see here? Email me at rebecca@foodiewithfamily.com with your suggestion!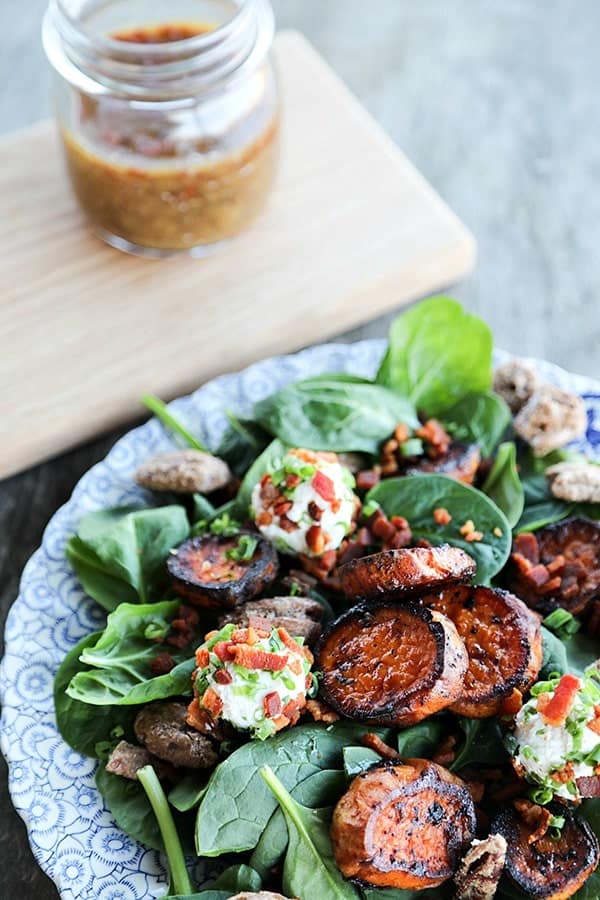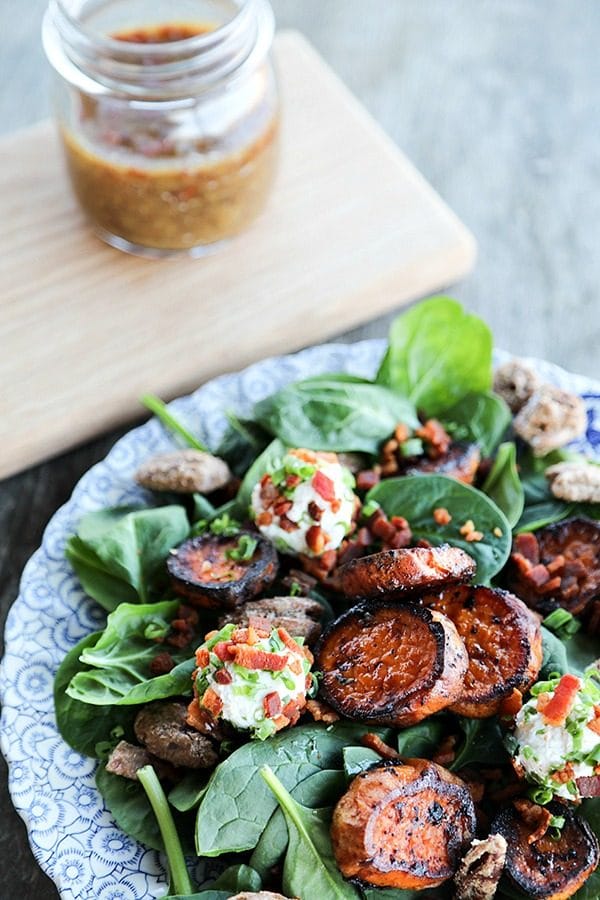 Main Dish Salad
Melting Sweet Potato Salad with Candied Pecans and Bacon
Spicy Southwestern Chicken Salad + Meal Prep
Grilled Pesto Chicken and Caprese Salad Lettuce Wraps
Mega Taco Salad in Cool Ranch Baked Tortilla Salad Bowls
Barbecue Bacon Ranch Chopped Salad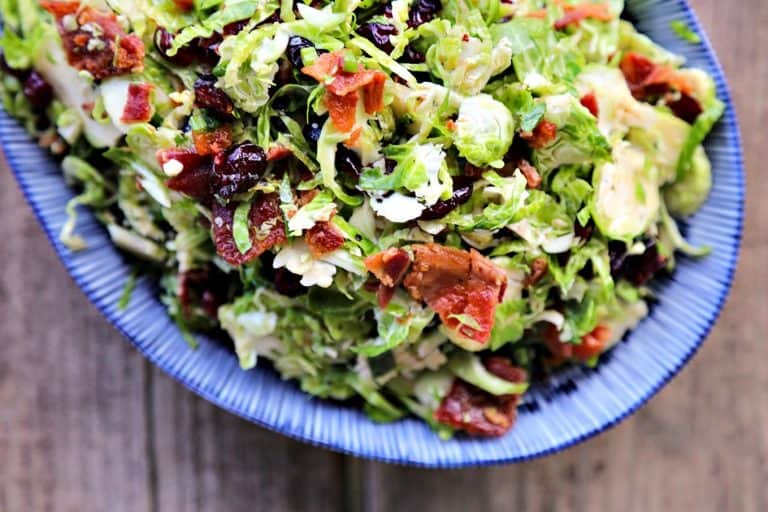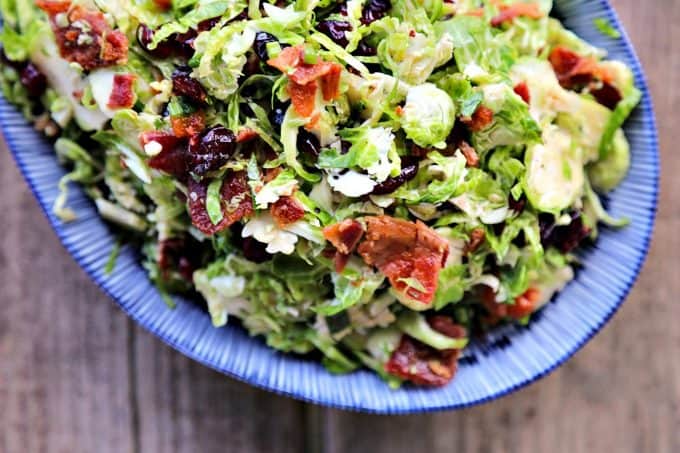 Side Salad
Cranberry Brussels Salad with Bacon Vinaigrette
Fattoush- Crumbled Pita Chip Salad
Barbecue Bacon Ranch Chopped Salad
Grilled Mexican Sweet Corn Salad
Watermelon, Feta, Pickled Red Onion and Arugula Salad with Balsamic Reduction
Fresh Tomato Salad with Smoked Blue Cheese
Spicy Corn and Black Bean Salad
Roasted Beet Salad with Herbed Goat Cheese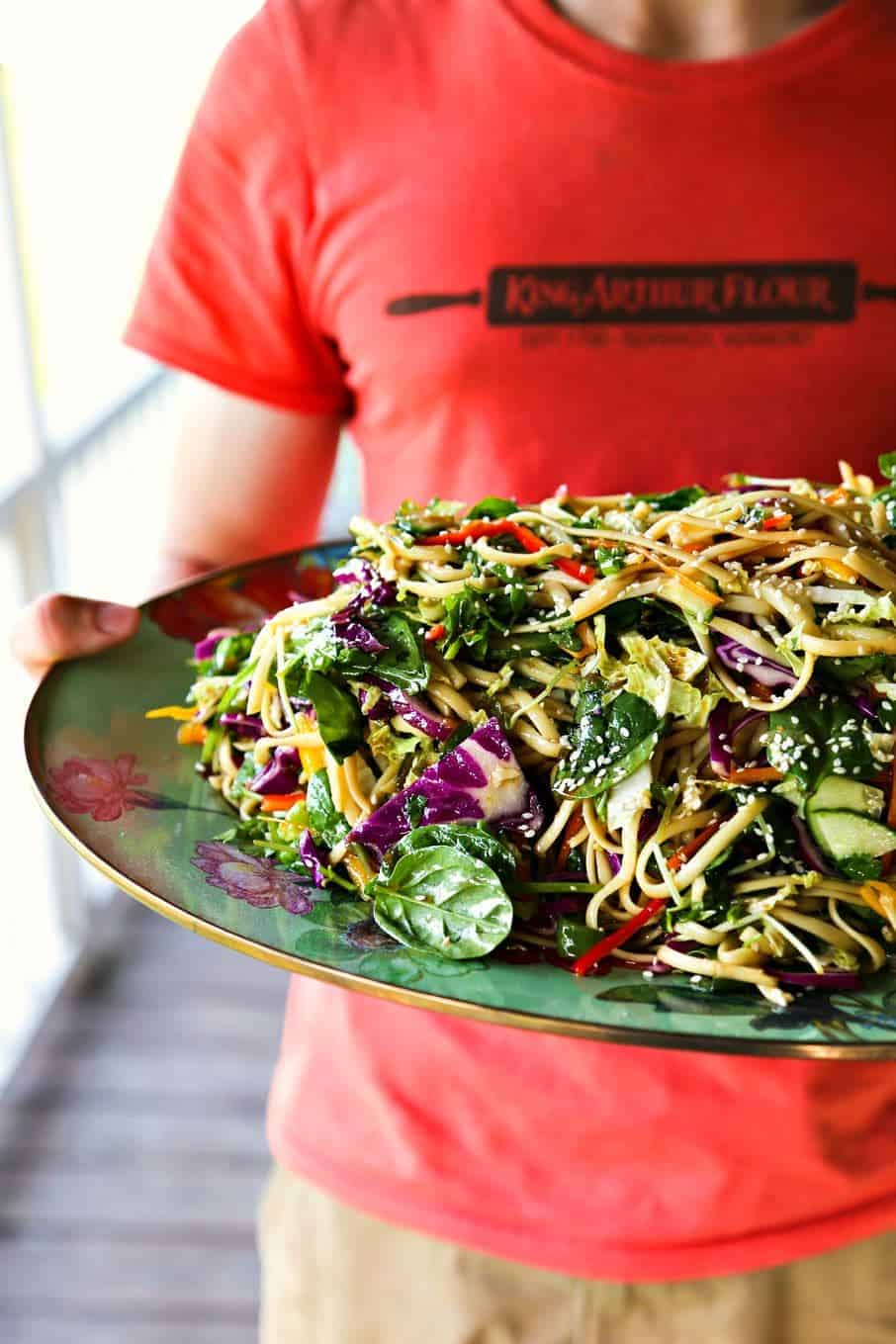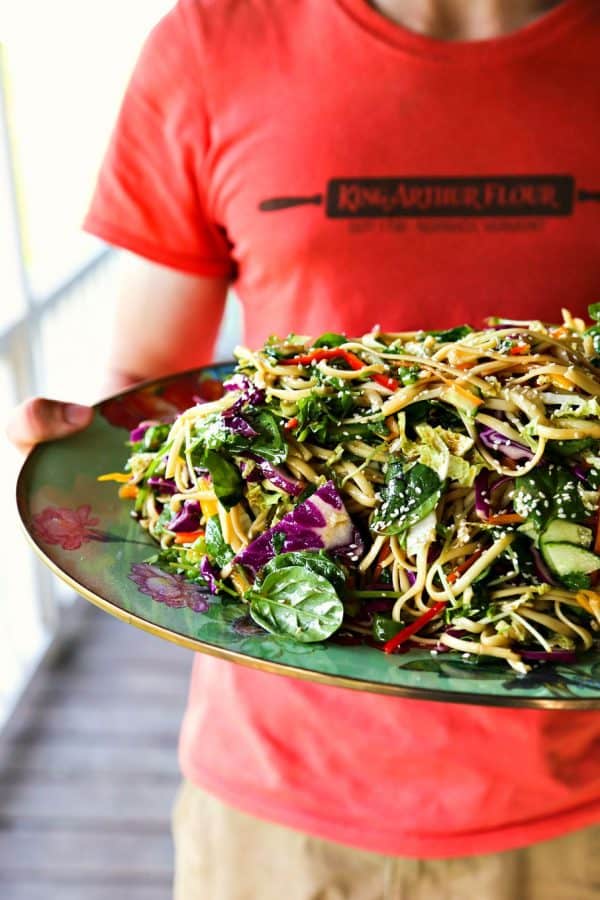 Marinated Salad
Cranberry Brussels Salad with Bacon Vinaigrette
Veggie Lover's Greek Pasta Salad
Shaved Asparagus Salad with Bacon, Blue Cheese, and Buttermilk Vinaigrette
Easy Bacon Broccoli Pasta Salad
Mediterranean Tuna and White Bean Salad
Grilled Mexican Sweet Corn Salad
Light Marinated Broccoli Salad with Grapes
Spicy Corn and Black Bean Salad
Better For You Cranberry Coleslaw
Cornbread Salad Part I, Part II, Part III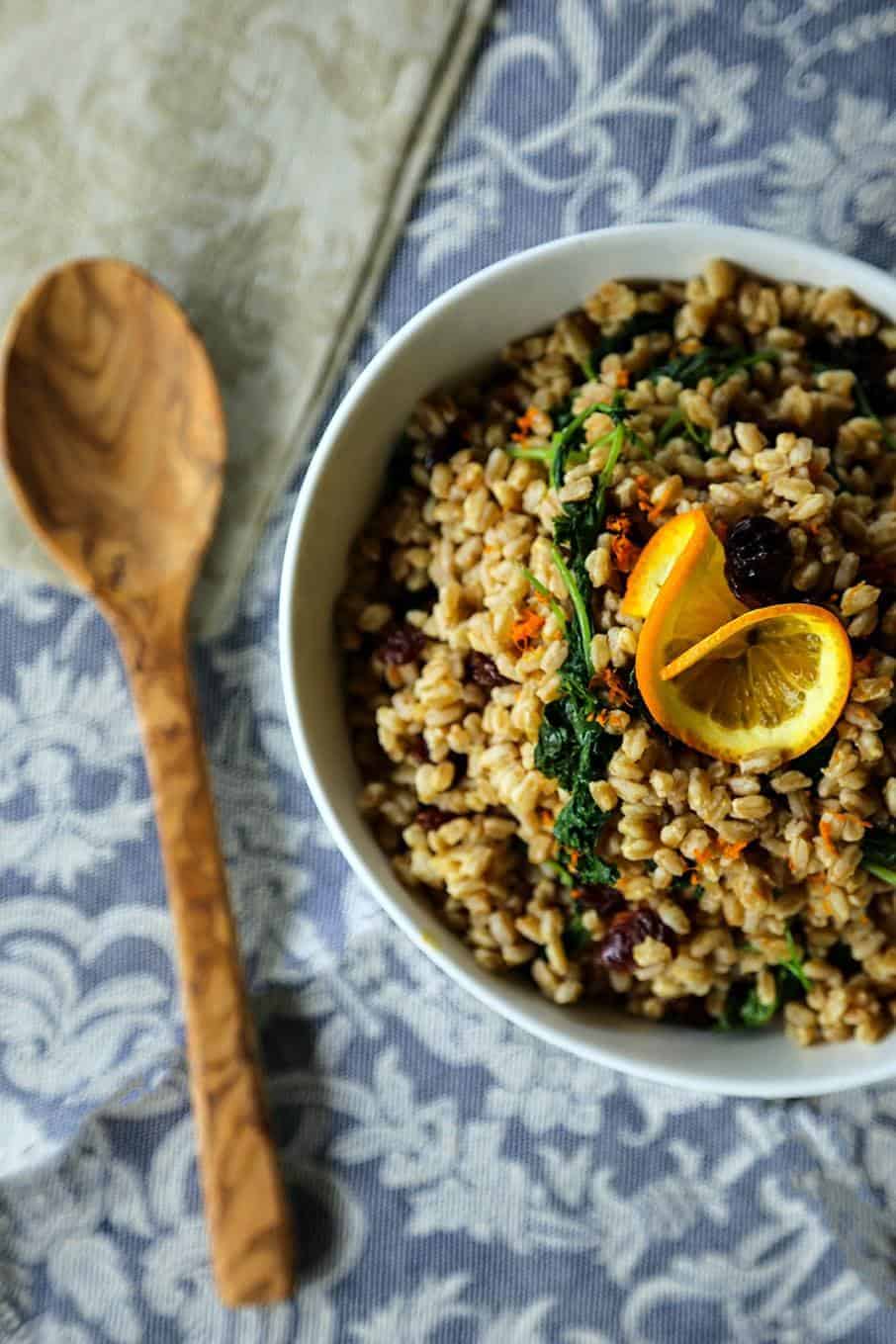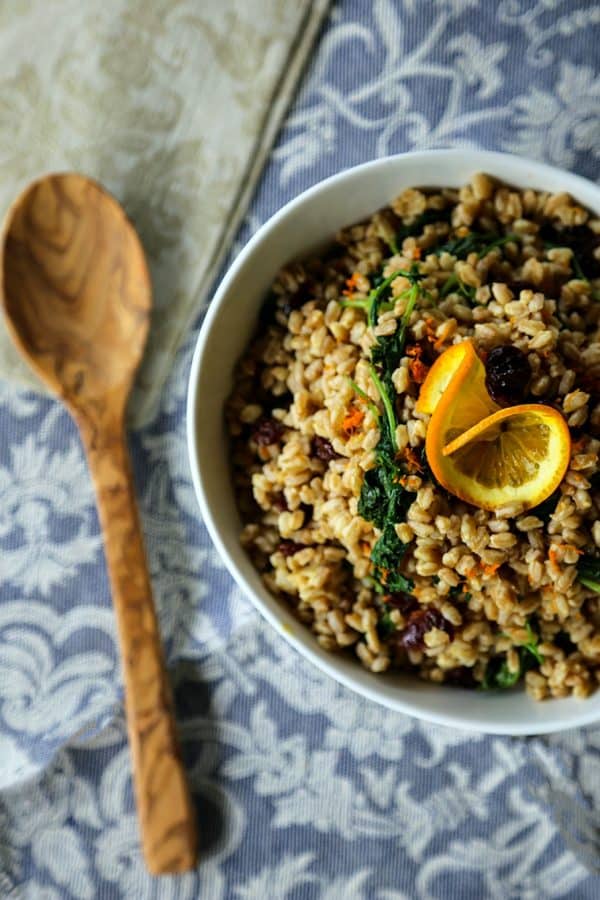 Grain Salad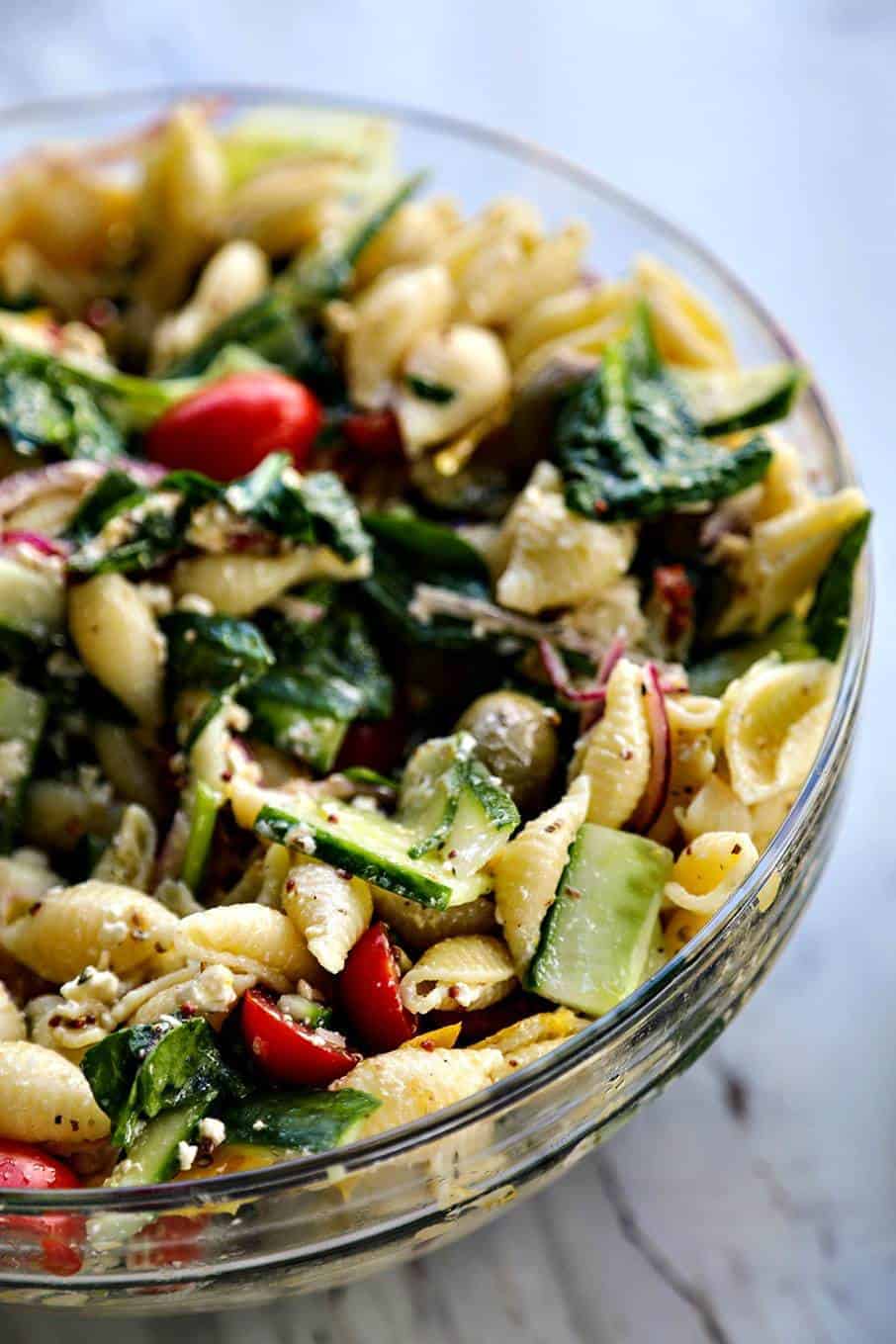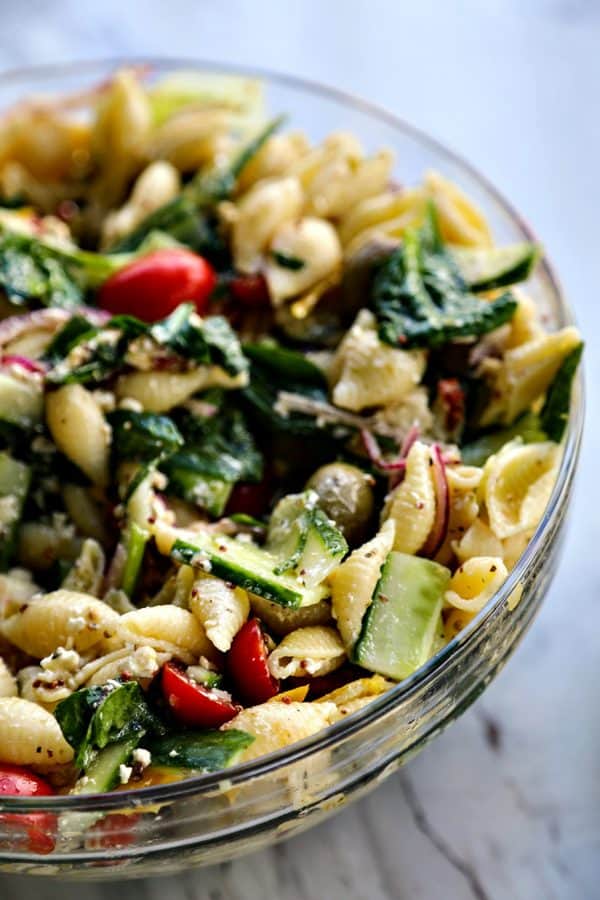 Pasta Salad
Veggie Lover's Greek Pasta Salad
Easy Bacon Broccoli Pasta Salad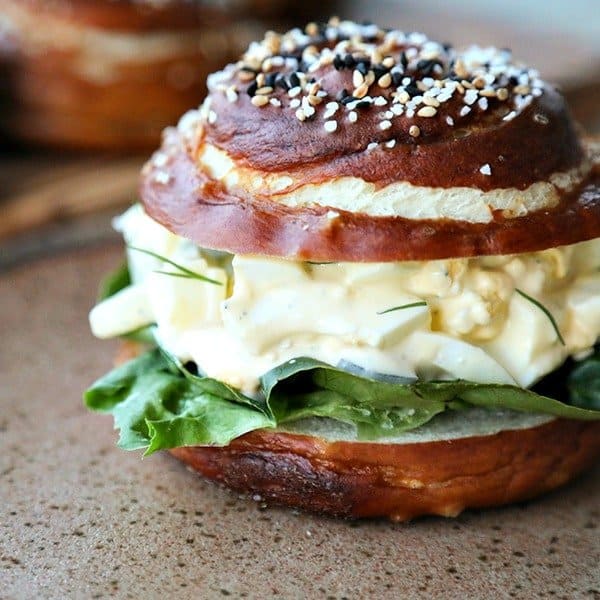 Egg Salad or Potato Salad
Bacon Horseradish Potato Salad
Dolores's Egg and Olive Salad Sandwiches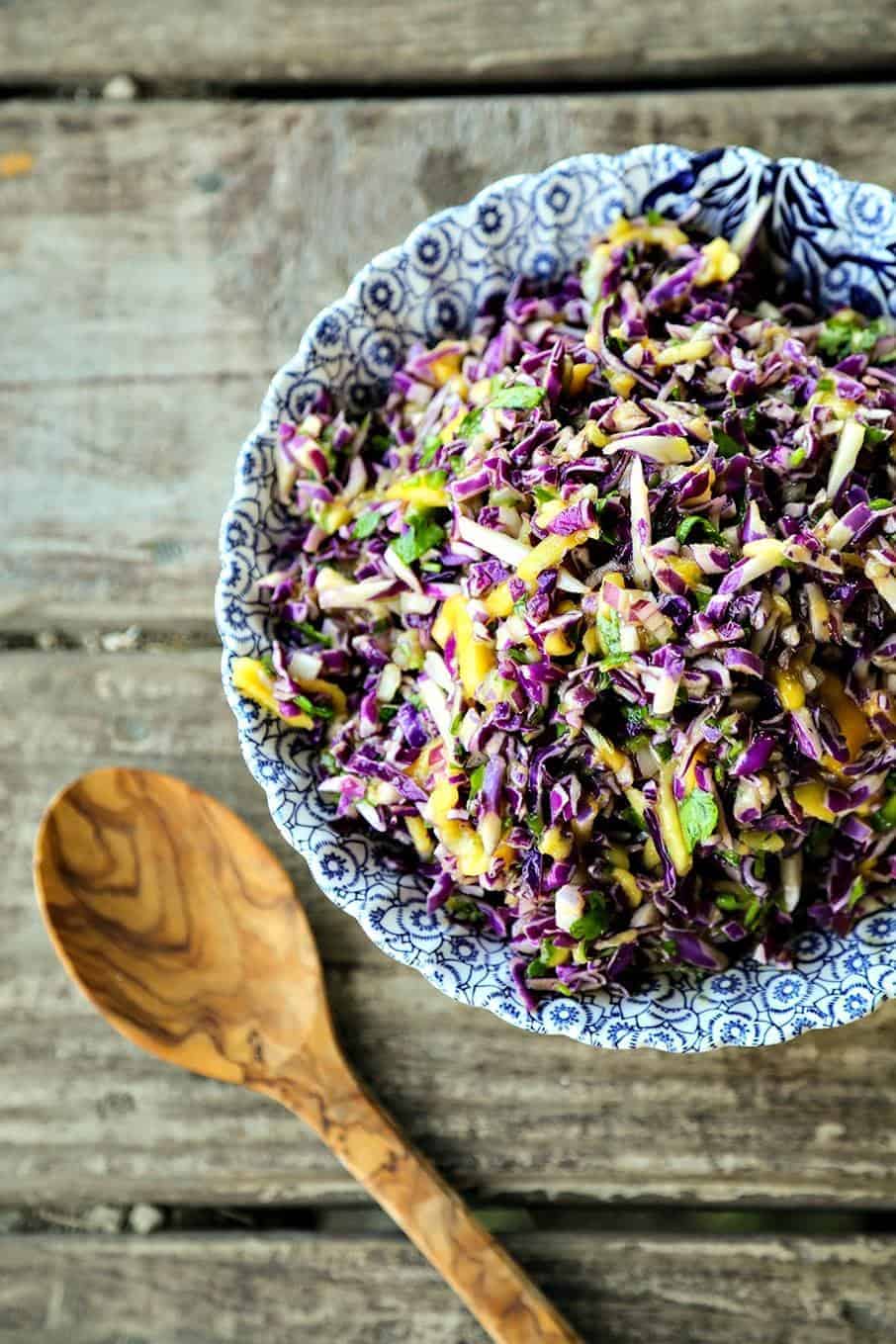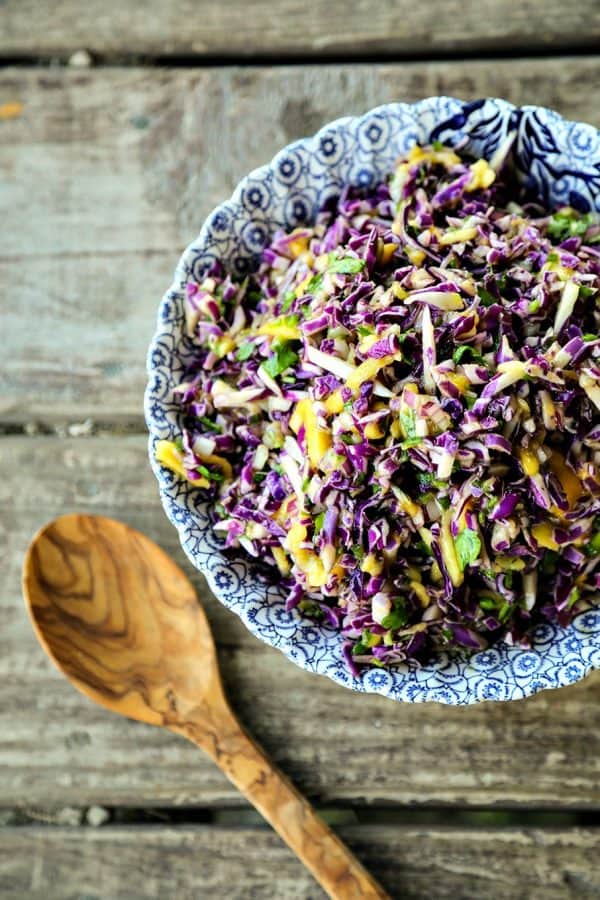 Coleslaw
Better For You Cranberry Coleslaw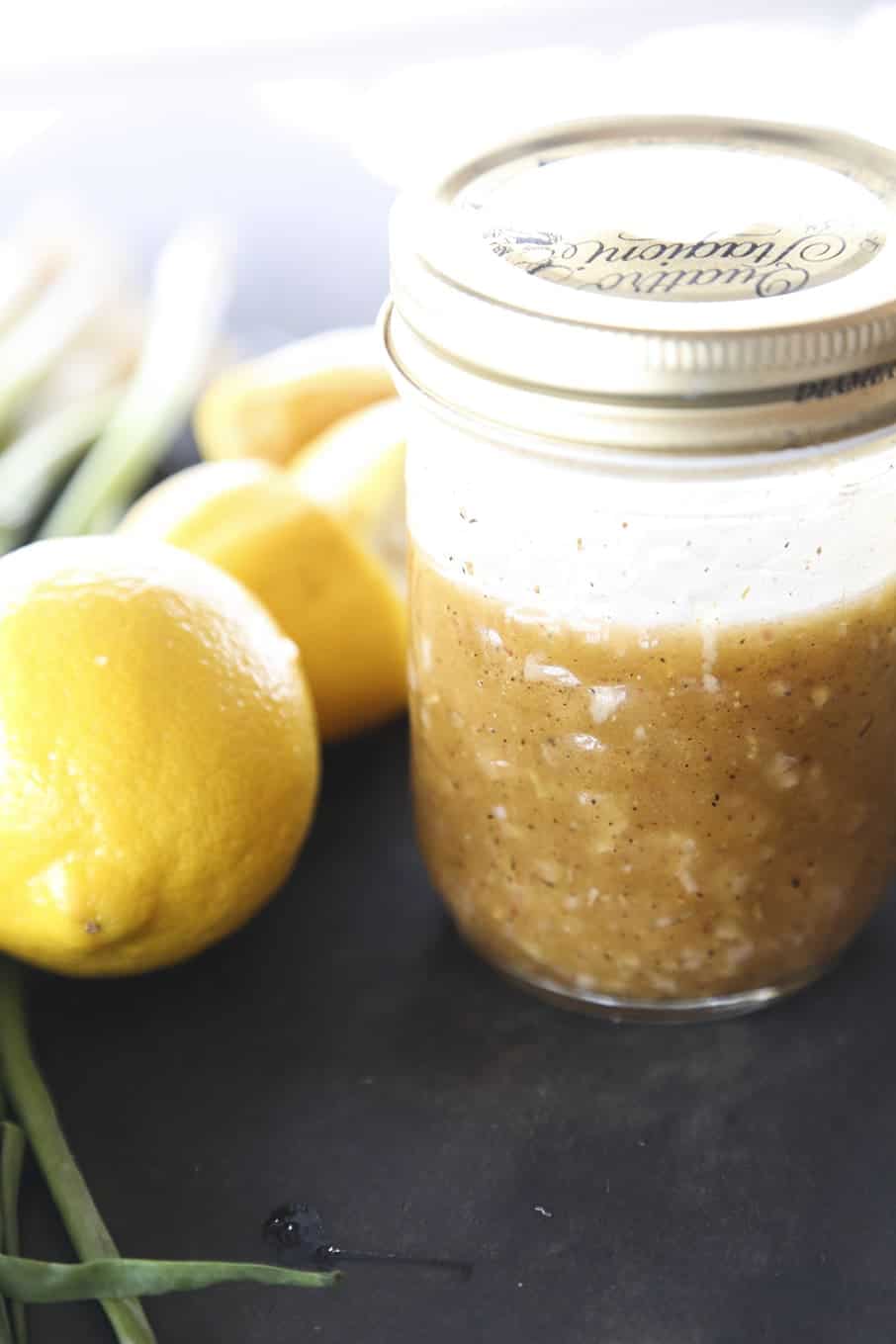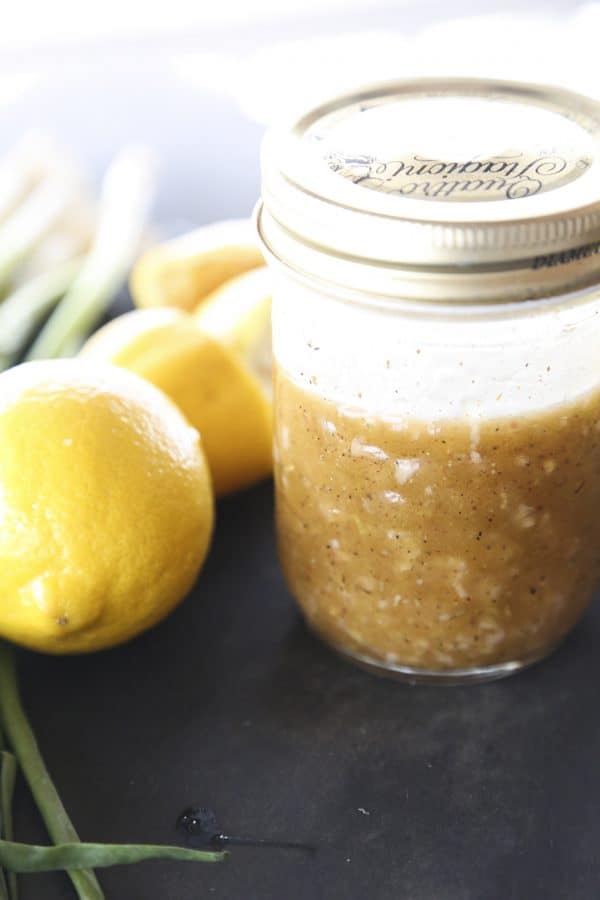 Salad Dressing
Best Middle Eastern Salad Dressing
Hot Bacon Vinaigrette Dressing
Easy Blue Cheese Dip or Dressing
Coconut Infused White Balsamic Vinegar
Homemade Buttermilk Ranch Dressing Mix
Fabulous Homemade Ranch Dressing (fresh)
Smoked Paprika and Chipotle Sauce
2 Minute Garlic Anchovy Mayonnaise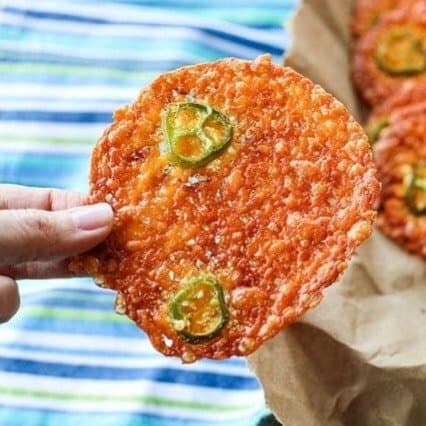 Croutons and Crunchy Salad Toppers
Za'atar Tortilla Strips for Salads and Snacks
Cool Ranch Baked Tortilla Salad Bowls
2 Ingredient Jalapeno Popper Crisps
Roasted Parmesan Garlic Almonds
Homemade Garlic Parmesan Pita Chips
Slow Roasted Rosemary Garlic Almonds
Whole Wheat Cheddar Garlic Snacks
Cinnamon Maple Candied Almonds
Honey Chipotle Oyster Crackers
Falafel (Savoury Chickpea Fritters)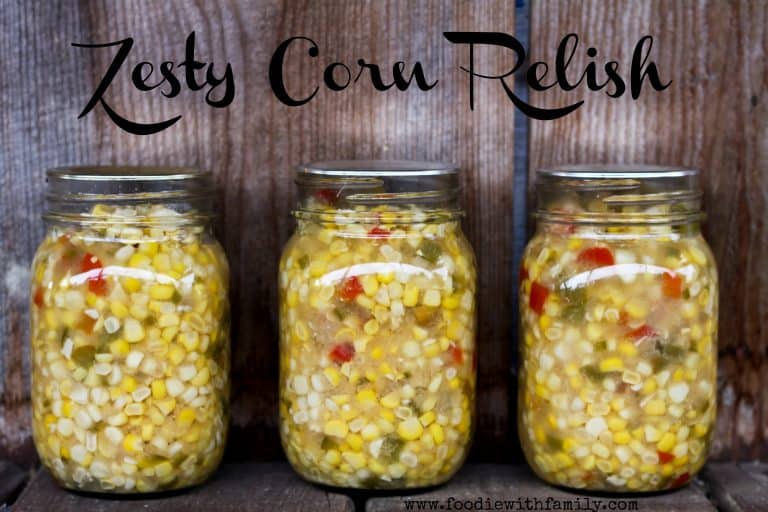 Pickled Salad Toppers
Yooper Pickled Hot Pepper Eggs: B&B Style
Fire Roasted Preserved Red Peppers
Sweet and Spicy Asian Style Pickled Carrots
Pickled Green Beans: Dilly Beans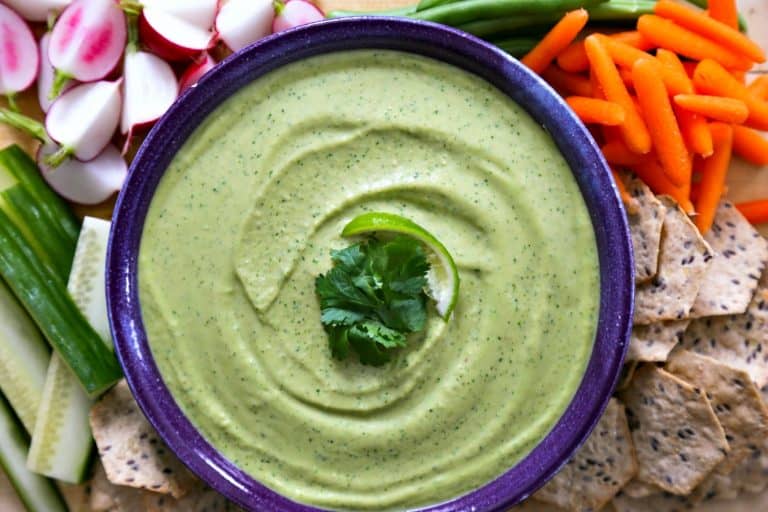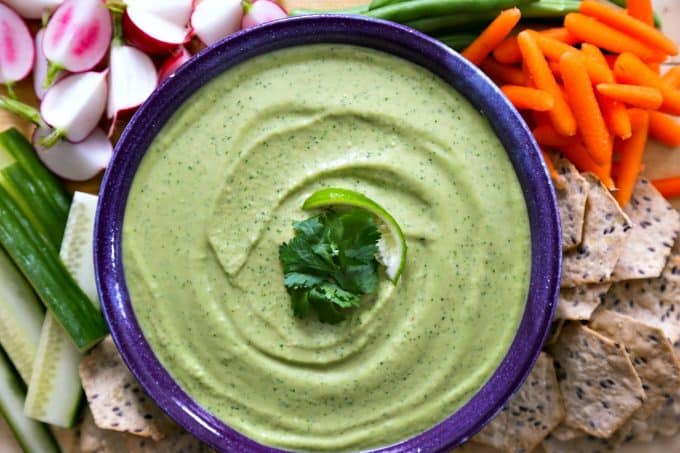 Miscellaneous Fun Salad Add-Ins
Cool Ranch Dorito Cheese Curds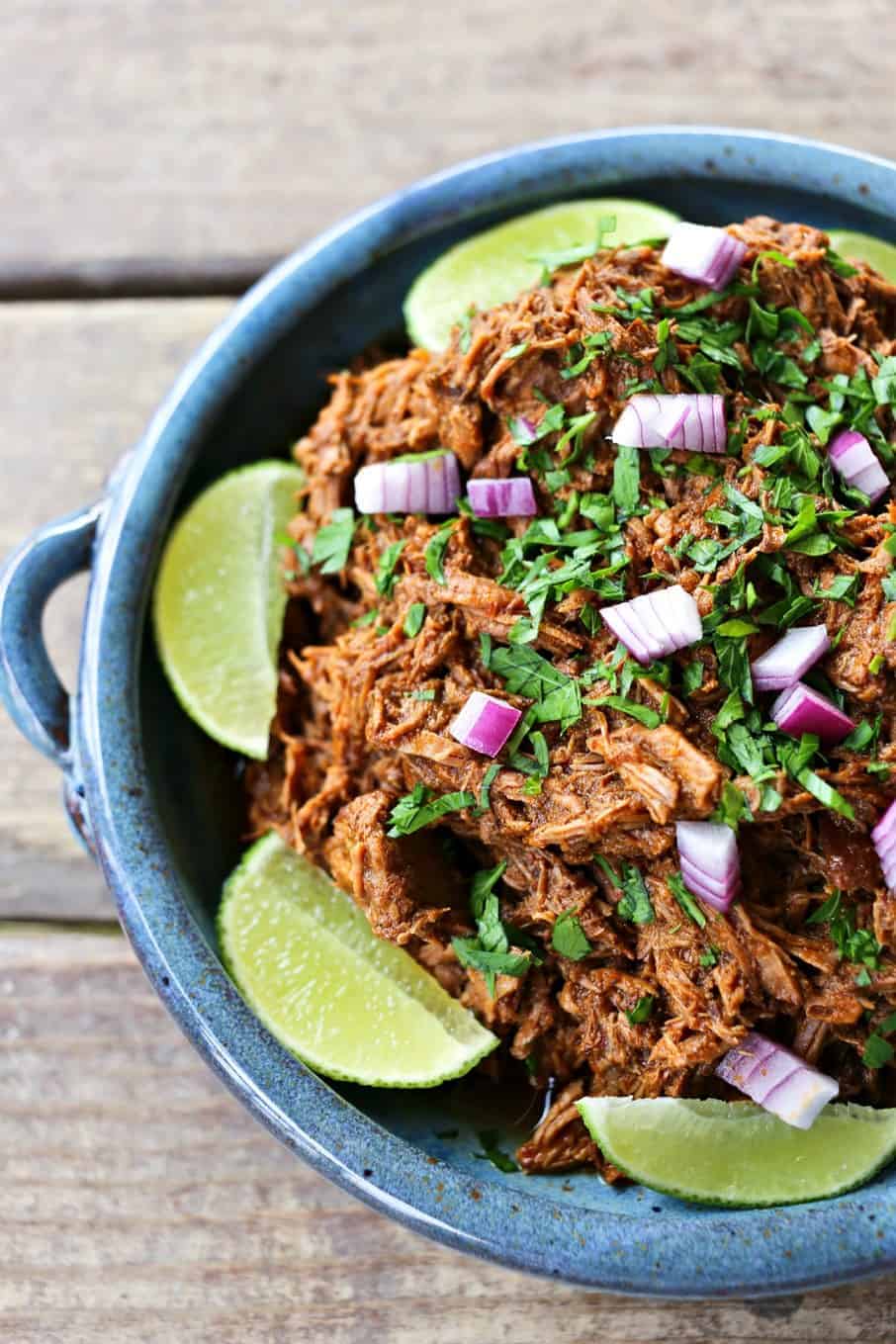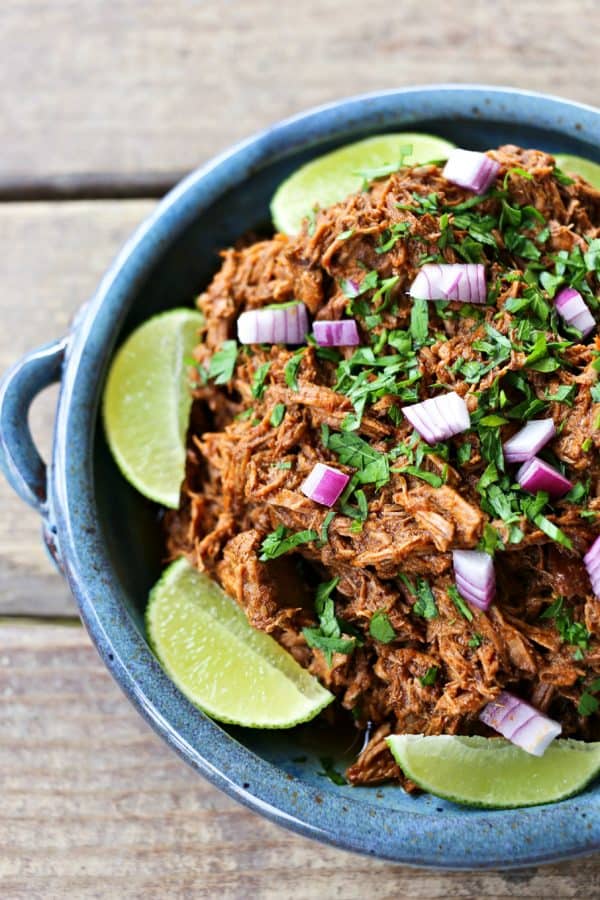 Meat to Put on Salad
Carne Asada {Grilled Beef for Salads, Tacos, and Burritos}
Slow Cooker Honey Mustard Pulled Pork
Big Batch Greek Lemon Garlic Chicken
Slow Cooker Copycat Chipotle Barbacoa Beef
Honey Sriracha Glazed Chicken Bites
Slow Cooker Honey Sriracha Barbecue Chicken
Chinese Barbecue Pork {Char Siu}