I have a dear friend who told me she has never tasted cheese curds. I am not going to lie; I gasped. Perhaps it's living where I live -in the heart of New York dairy country- that makes cheese curds so ubiquitous. Even the rinky dink grocery store in our town ("What's a vegetable?" they seem to say) carries box after box of cheese curds. If you -like me- are a hard core cheese curd lover, you've probably had 'seasoned' curds before, too. They come in a variety of flavours: Cajun, sweet and spicy, garlic and chive, and more… One flavour I've never seen anywhere, though, is Cool Ranch Dorito Cheese Curds. Why, I ask you! Why? It's a natural pairing. Cheese + cheese = delicious.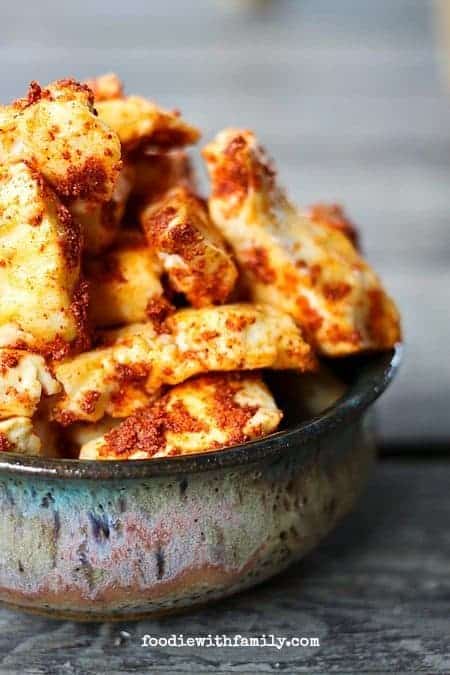 It doesn't get a whole lot easier than this… You whisk together a batch of homemade Buttermilk Ranch Dressing Mix (no MSG!) and then use some of THAT to whisk together a batch of homemade Cool Ranch Dressing Seasoning and then you toss some of THAT with some handy-dandy cheese curds and let it sit in the refrigerator for 30 minutes to bloom. I suppose you could purchase a packet of ranch dressing mix from the store, but there's no getting around it, you're going to have to make the Cool Ranch Dressing Seasoning if you want to eat Cool Ranch Doritos Cheese Curds.
Bonus: You'll have enough of the seasoning left to make a big old batch of homemade Cool Ranch Doritos or giant Cool Ranch Dorito Baked Salad Shells and that is never, ever a bad thing.
Why spice up cheese curds when I can buy them already spiced?
In short, you know precisely what you're putting on those cheese curds when you make it at home. Long version: Chances are good that your cheese curd maker has used a ready-made spice blend and that often means some unsavoury (figuratively) ingredients like MSG or food colouring.
But even more than that, I guarantee you that you will not find Cool Ranch Dorito Cheese Curds anywhere. I even Googled it. I think I may even have invented it!
Why Cool Ranch Doritos flavoured Cheese Curds?
Well, BECAUSE! Geez. Cool Ranch Doritos are a guilty pleasure of many people. Making the spice mix YOURSELF and tossing it onto these cheese curds makes it… well… not precisely health food, but WAY the heck healthier than digging into a bag of Doritos. Besides, Cool Ranch Dorito cheese curds are beyond delicious on Taco Salads or as a quick, high-protein snack  and game-day finger food no matter which sport you fancy most. Me? I may have turned eating these into a sport. Hey. It's a special skill.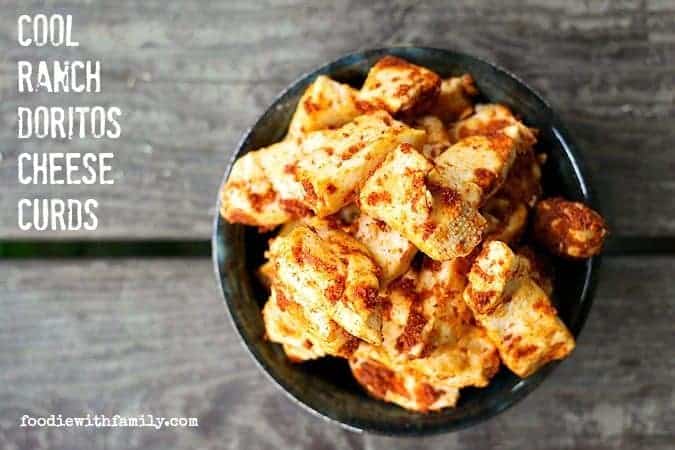 Cook's Notes
Please make your own Dry Buttermilk Ranch Dressing Mix. You will be gobsmacked at how easy it is, how close it tastes to the stuff in the paper packets, and how much better for you it actually is! Besides all that, once you've made the initial outlay of $$ for the ingredients of the homemade version, you can break it down by weight and see just how inexpensive it is comparatively! Your blood pressure (HEY-O! You control the sodium, mes amies!) and wallet will thank you.
PEOPLE! Once you've made that Homemade Cool Ranch Doritos Seasoning, the sky is the limit. Cool Ranch Doritos popcorn, anyone? Cool Ranch Doritos french fries? Cool Ranch Doritos mashed potatoes? Hmmmm?
Yes. I call for cayenne pepper in these. Never fear, though, it's not going to blast your face off. Cheese curds naturally temper spicy things, so it just adds a little piquancy to the curds. If you're categorically freaked out by cayenne, by all means omit it, but I think you're going to miss out!
There really isn't much to mixing the seasoning blend with the cheese curds, but I do HIGHLY recommend using the plastic bag method from my Guaranteed Crispy Baked Sweet Potato Fries post. To do this, add the cheese curds to an empty bread bag or other food-safe bag. Sprinkle the seasoning on top, use your hand to cinch the bag shut, trapping as much air INSIDE the bag as you can. Shake vigorously enough to move them around in the air pocket inside. That will most evenly coat the cheese curds! Of course, if you like stirring and cleaning bowls, you're welcome to toss them together in a mixing bowl, but that's a messier, more tedious process. (If you can call a couple of minutes of gently tossing cheese curds tedious. I'm spoiled.)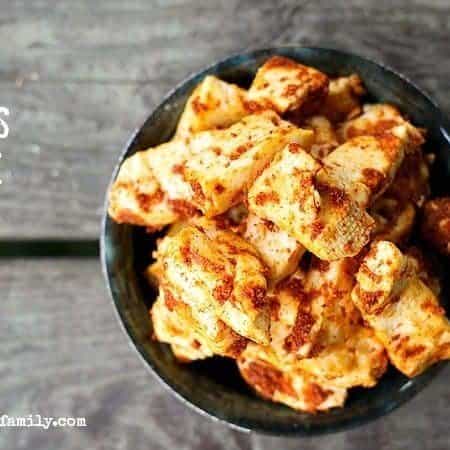 Ingredients
about 1/2 pound of fresh

plain cheese curds

2

tablespoons

homemade Cool Ranch Doritos Seasoning

1

teaspoon

paprika

1/8

to 1/4 teaspoon cayenne pepper
Instructions
Use a fork to stir together the Homemade Cool Ranch Doritos Seasoning, paprika, and cayenne pepper. Toss the seasoning with the cheese curds using the plastic bag method (preferably- this yields the most even coating) or in a bowl. Place the coated cheese curds in a bowl and cover tightly. Refrigerate for at least 30 minutes before eating.
Nutritional information is an estimate and provided to you as a courtesy. You should calculate the nutritional information with the actual ingredients used in your recipe using your preferred nutrition calculator.