I have a problem. Every single year a couple of days before Easter I tell myself I won't go crazy on the egg-dying. And every year I go nuts. I remember sitting at our big old trestle table when I was a kid and decorating for hours. My Mom is not a do-the-holidays-halfway type person. We would have dozens of boiled eggs and I would sit and use my little white crayon to lay intricate (to my kiddie eyes and mind) designs all over them. Then I would do the ultra-complex dye-jobs on the eggs: half pink/half blue, one third yellow/one third green/ one third blended yellow and green, etc… I made an egg for every single person in my family and had a grand old time. I always strive to create the same memory for my sons. So every year, I boil way too many eggs and watch my boys do bizzarro designs (this year included my eldest scrawling '50%' on one egg and '25%' on another, my next born drawing a single 'A' on every one of his eggs, my third born drawing crazy faces on his eggs, my fourth born doing one with a circle, one with a triangle, one with a square and one with his first initial and the rest with zigzags.) that take them five minutes or less.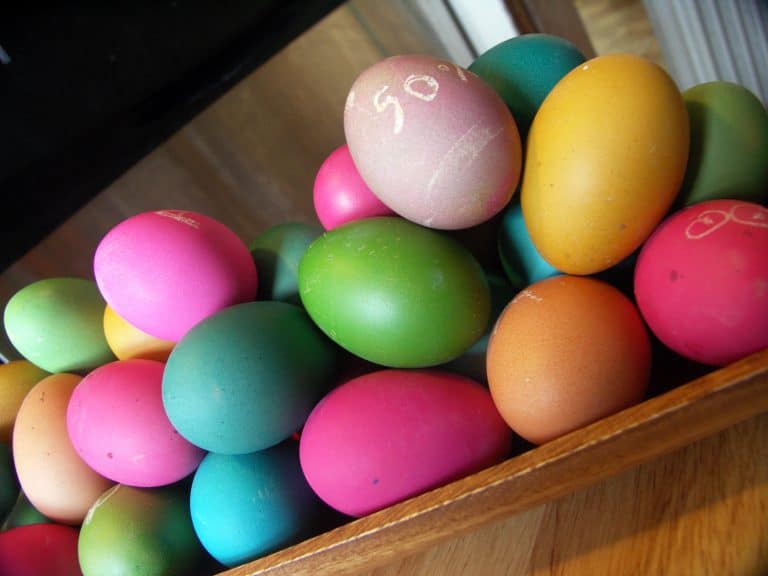 Then I spend the next week fitting hard-boiled eggs into every meal whether or not they belong there (and more often than not it's the latter rather than the former.)

This year, I wised up. I called upon the wisdom of the forefathers. Specifically, my father.
My Dad is a Michigan Tech alumni (and a 'Twig' if that means anything to you!) from back-in-the-day. As in, before I was born. So for more reasons than one I will not be telling you the year of his graduation. I've heard many stories about Winter Carnival shenanigans including my Dad's residence hall's snow sculpture entry; a giant snow toilet whose 'effluence' pipe led straight to the kitchen of the dining hall. Unkind, Father! Unkind! But other than casting aspersions on the poor cafeteria staff's cooking skills, my Dad was an angel in college. I'm sure of it. When he tells stories about kids stashing gallon jugs of apple cider in the back corner of a dark, dank, cold Yooper dorm closet to bubble, ferment and churn itself into hard cider I'm sure he's not basing it on personal experience. And the stories about the pickled egg served with Tabasco and a cheap, ice cold beer ('cause really, is there anything OTHER than an ice cold beer in the Upper Peninsula of Michigan?)? Well, shoot, I'm sure he heard them from his compatriots and had nothing to do with the consumption of dozens of peppery pickled eggs and devil brew himself. Right, Dad?
At any rate, this recipe is a killer way (in more ways than one. One word. Gas.) to use up those dozens of brightly colored, hard boiled eggs that are languishing in your fridge. From what I understand, third hand- since my Dad obviously never went to the bars surrounding MTU for pickled eggs and beer-, this recipe is pretty close to the eggs served at the famous B&B Bar in Houghton, Michigan. And I can pretty confidently rely on my Dad's fellow scholar's opinions that the B&B egg is the egg by which all others are judged. I know a lot of people eat the ubiquitous pink eggs that are pickled in beet juice, but these babies are the bees knees of pickled eggs. They have a spicy, salty bite to them that is really amazing.
You have nothing to lose. There's no way you stomach enough egg salad to use up all those Easter eggs in your fridge anyway. Whip up a jar or two of these, let them mellow in the chill-chest for a week or so. To have an authentic Yooper 'boneless chicken dinner' serve a couple these pickled eggs with a bottle of Tabasco and an icy cold cheap beer. Dose eggs pretty good, eh?
For a photo-free, printer-friendly version of this recipe, click here!
Yooper Pickled Hot Pepper Eggs
Ingredients:
2 dozen hard-boiled eggs, peeled
4 cups cider vinegar
1 cup water
1  jar (13.5 ounces) pepperoncini, with liquid
1 jar or can (about 16 ounces) pickled hot peppers (I used pickled Thai peppers for some serious HEAT, you can use pickled jalapenos or habaneros if you prefer)
1 Tablespoon salt
Place eggs in a large clean glass jar that has a tight fitting lid. If you need to, divide eggs among a couple smaller jars, just be sure to leave about 3 inches of headspace in the jar to accomodate the hot peppers.
Add cider vinegar, water, pepperoncini and their liquid, pickled peppers and their liquid and salt to a large saucepan. Bring to a boil. Pour boiling brine and peppers carefully over the eggs. Tightly fix the lid on the jar and place in the fridge for at least a week before eating. If you remember to, give the eggs a little shake once a day during the week. These eggs are good for three months in the fridge.