On the first Carnival Cruise I took (The Carnival Sunshine), I glommed onto one of the brunch offerings like it was my life's blood; Jerk Bacon Caesar Salad. That was *my* brunch item. There was something so utterly perfect about the spicy, crispy, savoury bacon combined with the classic punch of Caesar salad. I had that every time I had brunch. When I took my winter-break cruise with Carnival, this time on the Breeze, my first order of business on our first sea-day was to confirm that they offered my beloved Jerk Bacon Caesar Salad and the second order of business was to ask for a double portion. I polished off my salad, vowed to order it every brunch day, and talked to my friend about the many options where Jerk Bacon would be at home; sandwiches, other salads, soups, on baked potatoes, etc… Then, and only then, did it occur to me that I could -in all probability- make my own Jerk Bacon at home.
Um, duh. It's kind of what I do.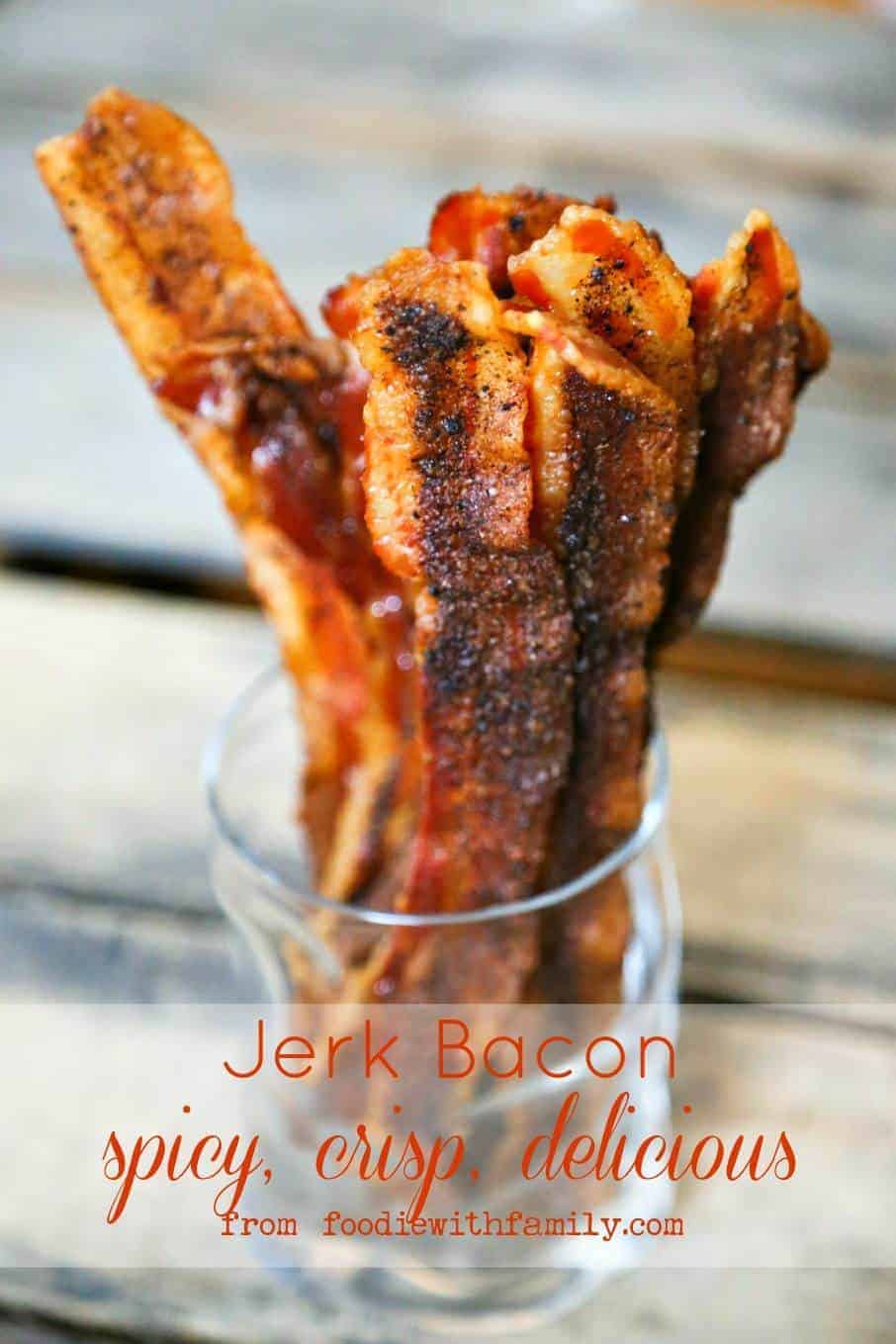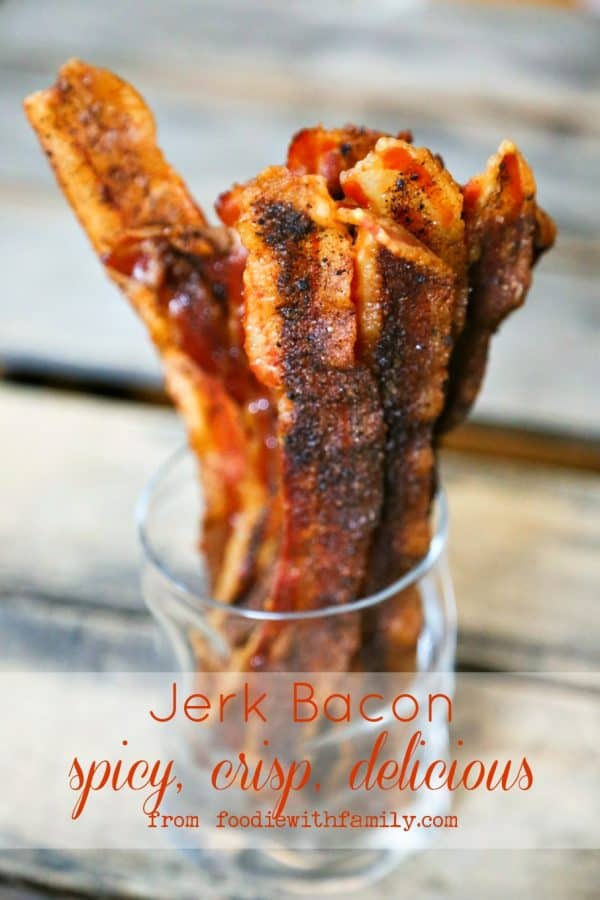 I grabbed a bulk bag of jerk seasoning at a Jamaican grocery store when we had our port stop in Ocho Rios, and that's what I used at first, but I also had some locally procured bulk jerk seasoning that I played with, and I'm happy to report that they were equally good. Thank HEAVENS for globalization of spice blends. I mean, this is a break into "It's a Small World" moment, because if we're being honest, not many of us can afford to hop a boat, however nice, to Jamaica every time we get a hankering for Jerk Bacon. A situation which -I assure you- will occur frequently after you taste it.
Jerk Bacon is almost embarrassingly easy to make, really… sprinkle as much jerk seasoning over bacon before baking it (my preferred method for cooking ALL bacon these days) and pop it in the oven. When it's chewy, crispy, or however you prefer YOUR bacon, it's done. And so are you, man, because Jerk Bacon is Jamaican me crazy.
Oh my gosh. So lame. I know, but I absolutely couldn't resist getting at least ONE stupid Jamaica pun in there. Please forgive me. I know you'll forgive me after you try the Jerk Bacon. It's good like that.
 Cook's Notes
Jerk Bacon is one recipe where I don't have a recommendation on using thick or thin slices of bacon. Use whichever floats your boat, just remember that the thin stuff will cook to crisp far more quickly. Either is delicious, so go with your preference.
Some brands of jerk seasoning contain more salt than other brands. Because bacon is already pretty salty, you'll want to be more judicious with the amount you add of a salty brand. The best way to figure out how much you want to add is to stick the tip of your finger in and taste it. If salt is a present taste in there, just sprinkle 1/4 teaspoon of the seasoning over each slice of bacon. If it's not salty or is a salt free blend, you can add as much as you'd like to bump up the flavour. Either way, you really only need to sprinkle the top side of the bacon.
It's probably obvious, but I'll say it anyway because I'd hate to think of someone being distracted and ending up with a smoking puddle of bacon grease on the bottom of the oven. Use a rimmed baking pan for baking your Jerk Bacon. Bakey bake bacon baking. Bake Bake. Good grief. There's just no other way to say it, but I'm driving myself crazy with it. A half sheet pan is your best bet because you can fit a whole pound of bacon on one.
I always line my half sheet pan with heavy-duty foil to make the clean up process easier. I am all for working hard in the kitchen, but if it is "remove the piece of foil" or "use a billion paper towels to wipe all the bacon grease out of the pan" I'm going with the foil every time.
If you're trying to reduce the fat on your bacon (giggle) you can lay the strips of bacon on a cooling rack positioned over the foil. This will allow the fat to drain away. I don't often do this because I'm opposed to creating more dishes for myself to scrub.
When the bacon has reached your desired doneness, use tongs or a fork to transfer to a paper towel lined plate to drain. You can eat it immediately or store the cooled bacon wrapped in paper towels and stashed in a zipper top bag for up to a week. To 'refresh' the bacon you can heat it wrapped in a paper towel on a plate in the microwave in 10 second increments until it is glistening and warmed through.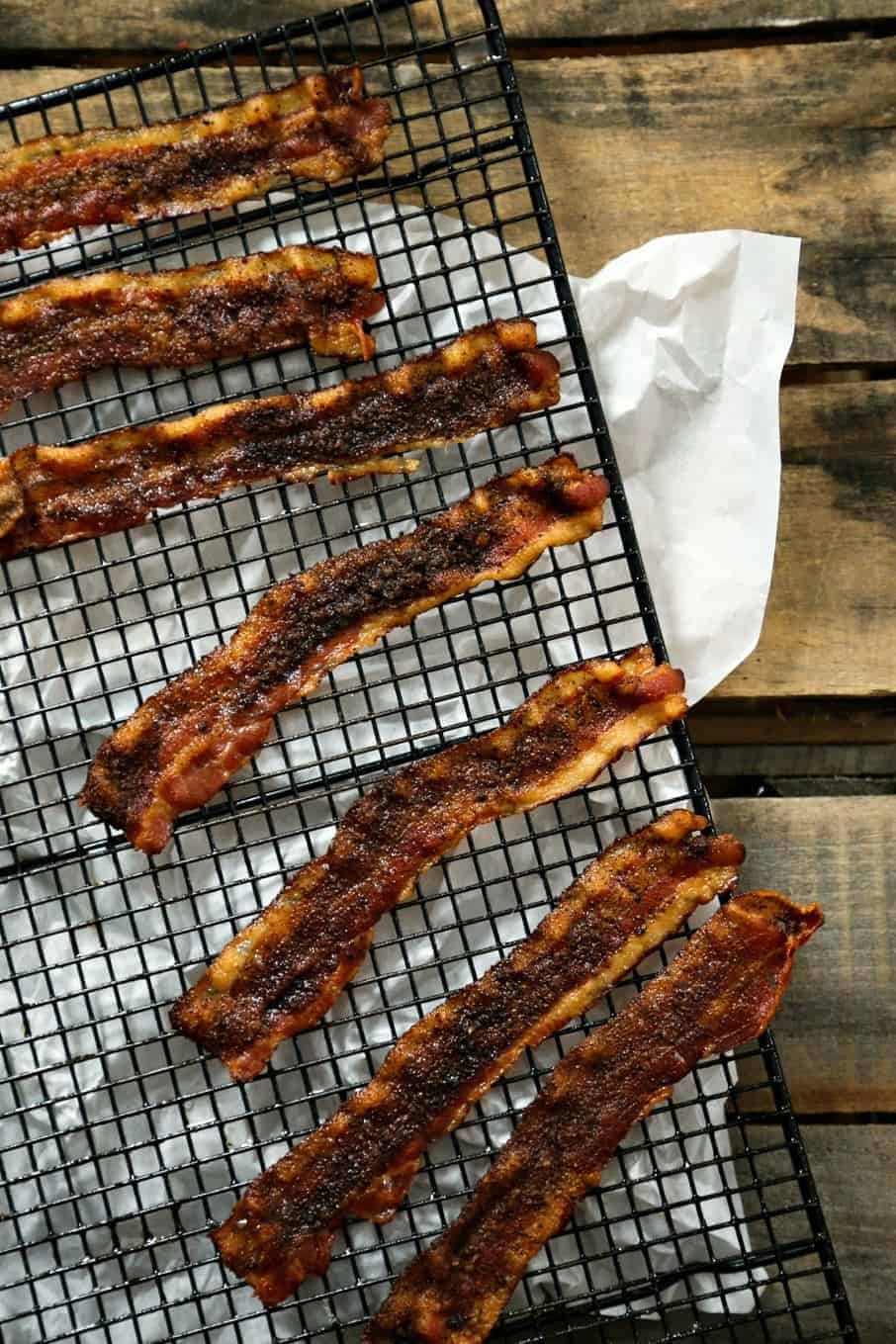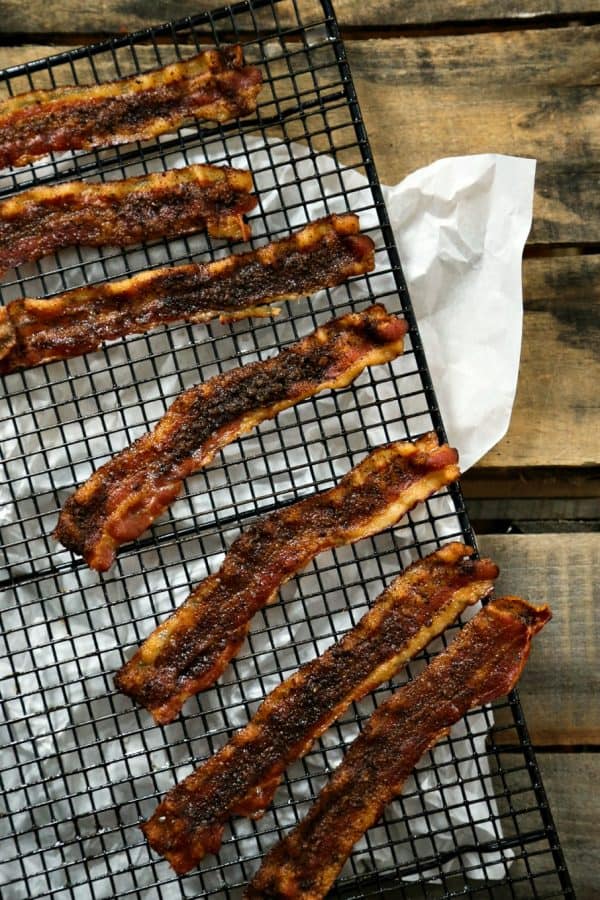 Connect with Foodie with Family
facebook | pinterest | instagram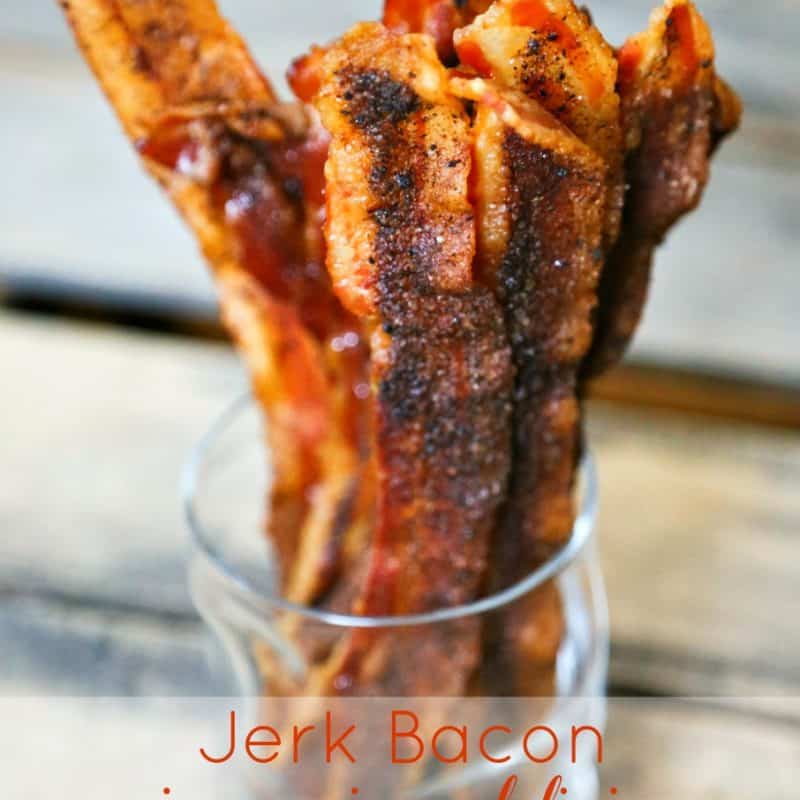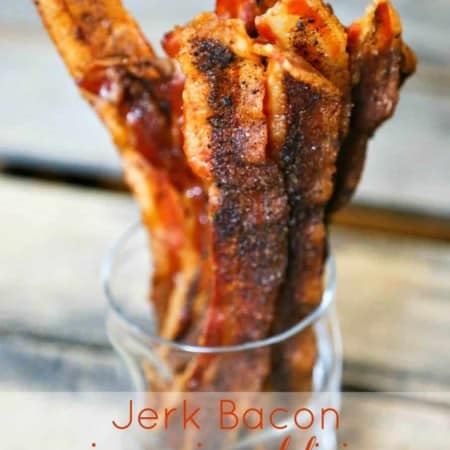 Ingredients
Thick or thin slices of bacon

1/4

teaspoon

or more Jerk Seasoning

see Cook's Notes, per slice of bacon
Instructions
Line a rimmed half sheet pan with heavy-duty foil. Arrange the bacon slices over the sheet pan in a single layer. Sprinkle each slice with at least 1/4 teaspoon of jerk seasoning. Put the pan in a cold oven and set the temperature for 325°F. Bake until the bacon is browned, cooked though, and either chewy or crisp, according to your preference, about 30 minutes. Transfer the finished bacon to a paper towel lined plate or cooling rack to drain off the excess grease.

Serve immediately or cool the leftovers, wrap in paper towels, then in a zipper top bag with the air squeezed out and refrigerate for up to a week.
Nutritional information is an estimate and provided to you as a courtesy. You should calculate the nutritional information with the actual ingredients used in your recipe using your preferred nutrition calculator.