For as many years as I can remember, I start getting an insatiable craving for fresh vegetables, salads, and anything green somewhere around the first or second week of January and it carries through until the snow melts and things start blooming again around our home. Middle Eastern food is my go-to in these months of greenery craving because it is so packed with greens and freshness and herbs and garlic; all of those things are abundantly present in this cuisine. My quick-meal, go-to, happy-place food this time of year is Fattoush.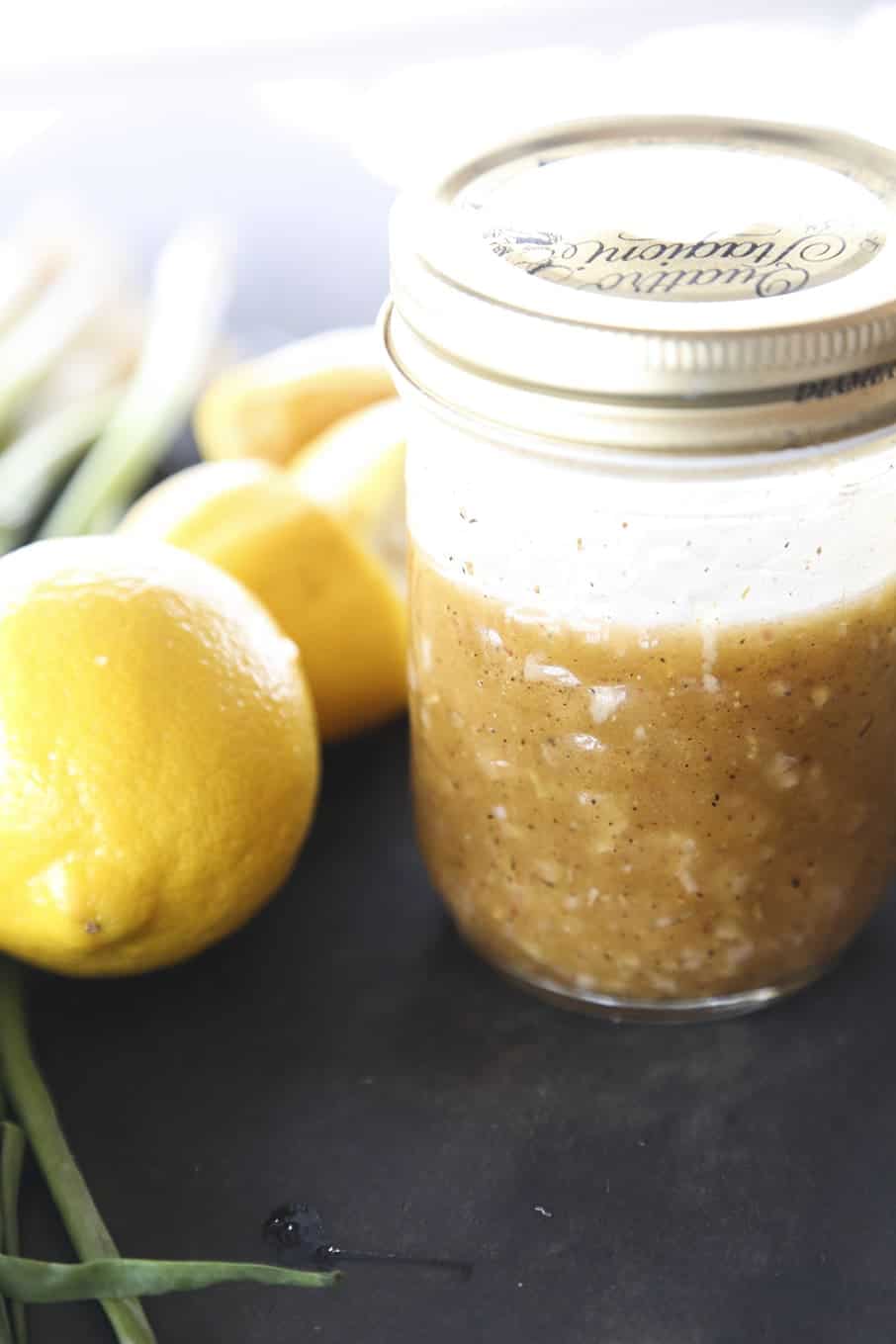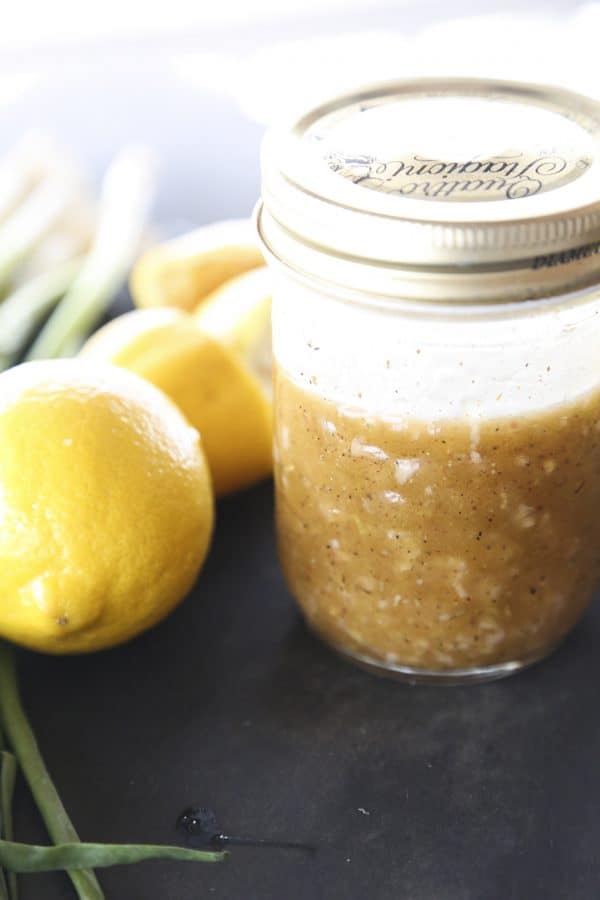 "Best Middle Eastern Salad Dressing", you say?
Yes. My Best Middle Eastern Salad Dressing is the salad dressing of my dreams. It comes together super quickly and is pure, fresh deliciousness in a jar; lemon juice, garlic olive oil, fresh garlic paste, and just enough Za'atar to make it sing. I've chatted about za'atar before… In fact, I shared a recipe for it here. If you haven't had a chance to look it over or make it yet, you really should. It is a blend of dried herbs, sesame seeds, salt, and ground sumac (not poison sumac!) that makes everything it touches come alive. It is to Middle Eastern Cooking what five spice powder is to Chinese cuisine or curry is to Indian cooking. Most of the ingredients are pretty commonplace -thyme, oregano, marjoram, and kosher salt- and the only two things that are a little less widely available are sesame seeds and sumac. Sumac gives some folks pause because most of us here Stateside are only familiar with poison sumac, which we've been taught to avoid at all costs. Sumac the seasoning is nothing like that, but is a red or reddish purple powder made from dried and crushed sumac berries that grow all over the Middle East, Eastern Asia, Africa, and North America. It tastes very citrusy and tangy; much like a lemon but less tart. You can either make your own Za'atar like I do, buy it at a moderately well-stocked grocery store in the Asian foods section, from a Middle Eastern grocer, or online at Amazon.
I make a batch of my Best Middle Eastern Salad Dressing and use it on my daily salads or on a big batch of Fattoush Salad. When I tell you I could eat this salad daily from mid-January to June, it's not much of an exaggeration. The beauty of this dressing -aside from the bright, citrusy, garlicky flavour- is that a little goes a very long way. On a salad that uses 2 hearts of romaine lettuce, I usually don't use more than 2 tablespoons of my Best Middle Eastern Salad Dressing. Even that very little amount lends every bit of that salad some excitement. Also wonderful is that this dressing improves as it sits. It's even better on Day 2, Day 3, Days 4, 5, 6, and 7 than it was on the first day it was made. Be sure to whip up a batch of this dressing today and let it mellow in the refrigerator so you'll have it handy for another amazing recipe I have coming your way in the next week!
Cook's Notes
The only part of making the Best Middle Eastern Salad Dressing that you may not have done before is making a garlic paste. There's a trick to coaxing the best flavour from garlic for a dressing and turning it into a paste that will distribute itself evenly and it doesn't involve a garlic press. In fact, a garlic press can't even dream of doing this nifty procedure. Simply put, you peel and roughly chop your garlic cloves then scrape them into a pile and sprinkle a teaspoon of coarse kosher salt over them. Then you alternate squashing or smearing the pile with the broad side of your knife and chopping it. Every so often, you stop, scrape it back together and repeat. Are we 'why bothering' again? I can explain! The salt helps break the garlic down and soften it into a paste instead of the stringy little bits of garlic that come through a garlic press. This paste can be whisked or shaken into the dressing for a smooth finish instead of chunky or string-like bits of garlic showing up when you least expect them. If texture isn't a concern, think about how wonderfully and evenly the garlic paste will infuse your dressing! Believe me, once you've tried dressing made with garlic prepared this way, you won't want to go back!
Make your own za'atar or purchase it. Either one will be delicious in this Best Middle Eastern Salad Dressing.
Do use fresh lemon juice if you can. It has a spunk that the bottled stuff lacks. If you need to, and if it makes the difference between having the Best Middle Eastern Salad Dressing and not, go for a good bottled variety.
If you can't find the garlic extra virgin olive oil locally and don't want to order it, you can substitute plain extra virgin olive oil and increase the garlic cloves by one.
Use these things to make your Best Middle Eastern Salad Dressing:
Connect with Foodie with Family
facebook | pinterest | instagram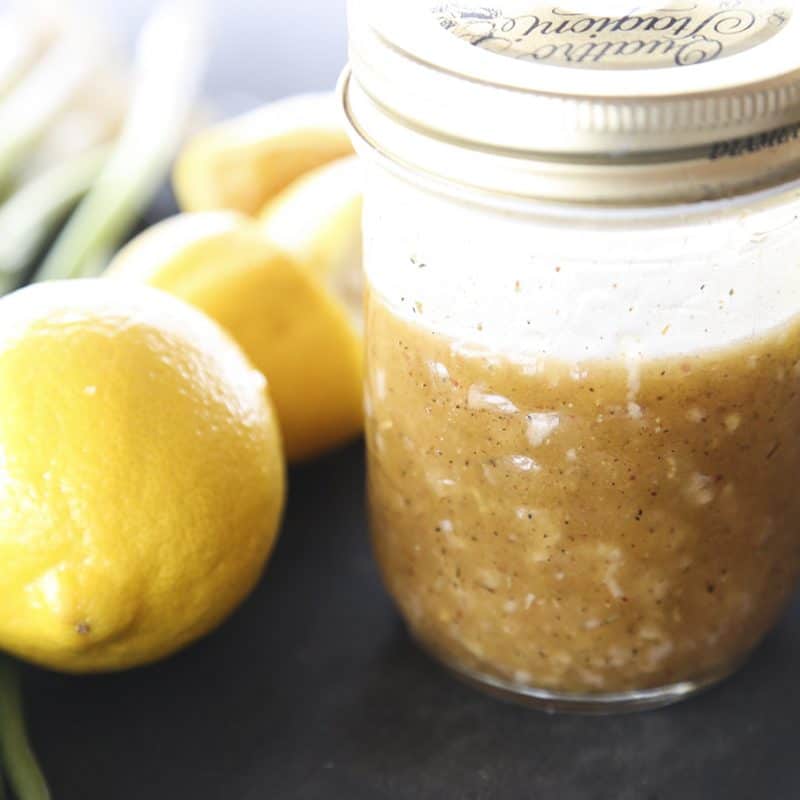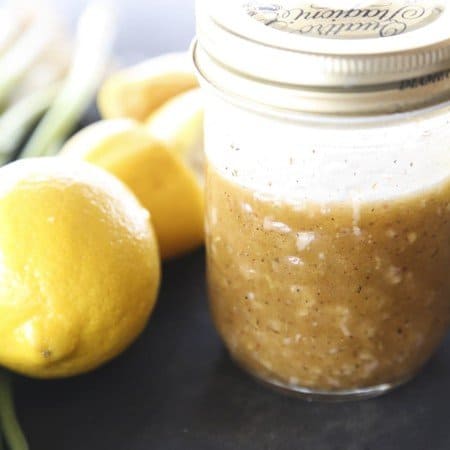 Ingredients
4

garlic cloves

peeled and roughly chopped

1

teaspoon

coarse kosher salt

1/3

cup

fresh lemon juice

about 1 1/2 lemons

1/3

cup

garlic or regular extra virgin olive oil

1

teaspoon

Za'atar Seasoning
Instructions
Peel and roughly chop the garlic cloves. Sprinkle the salt over the garlic and use the broad side of your knife alternately to squash the garlic and chop the garlic until a thick paste forms. Add that to a half pint sized mason jar along with the remaining dressing ingredients. Screw the lid tightly in place, and shake hard. Refrigerate until ready to dress your salad.
Nutritional information is an estimate and provided to you as a courtesy. You should calculate the nutritional information with the actual ingredients used in your recipe using your preferred nutrition calculator.