When I was a kid, I eagerly awaited that magical moment in late fall -almost always pushing toward Thanksgiving- when my mom would feel like the weather and season was right for making chex mix. The making of the family sized batches of our favourite snack mix fell into the purview of my duties and it was one that I took very seriously. When I was a kid, I skimped on the wheat cereal portion because it didn't ding my chimes. I didn't like the way it soaked up the butter and seasoning. Somewhere along the line, though, my taste buds did a 180° and they became my favourite thing in the entire bowl; valued high above pretzels and rice chex and maybe even rubies, had they been present.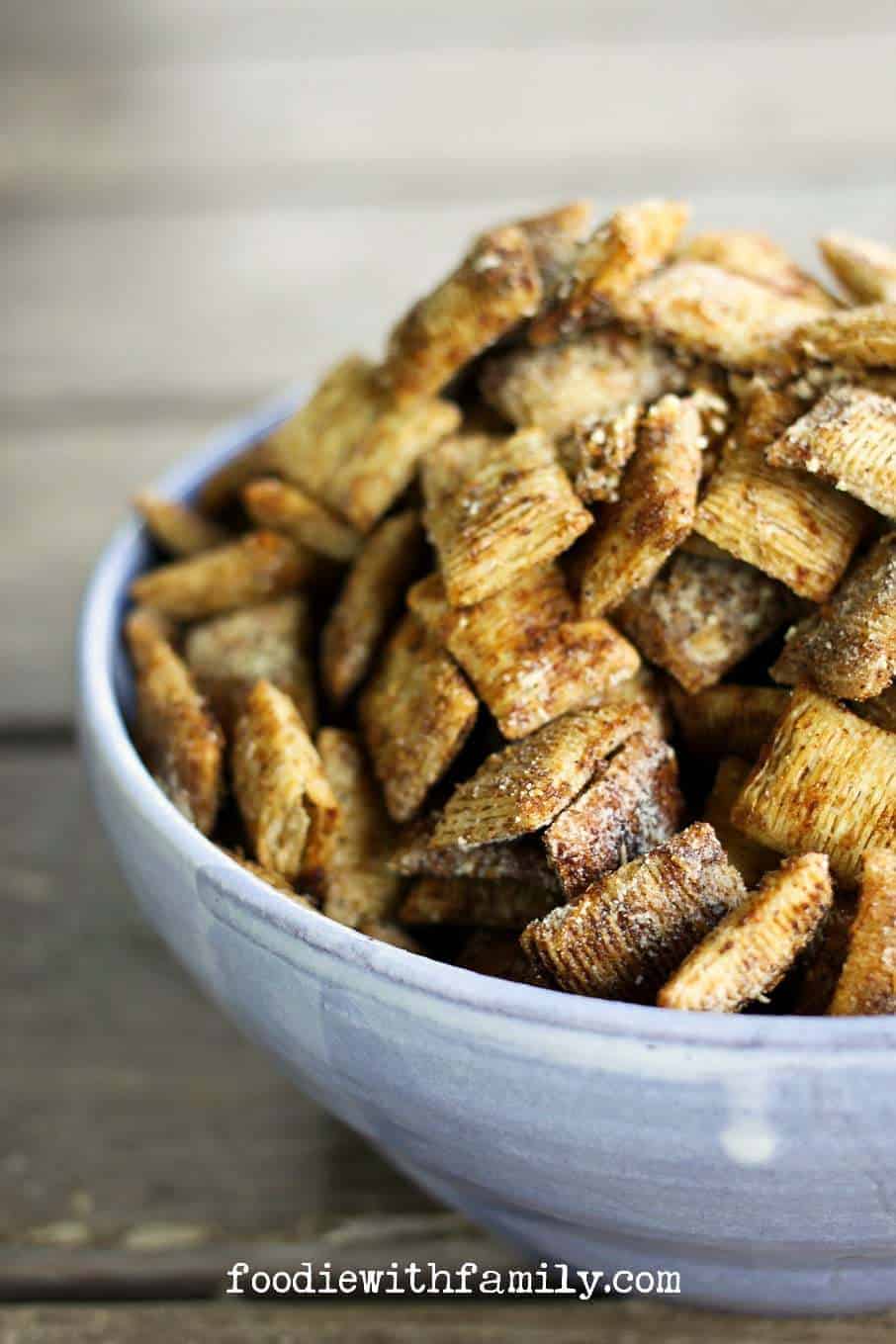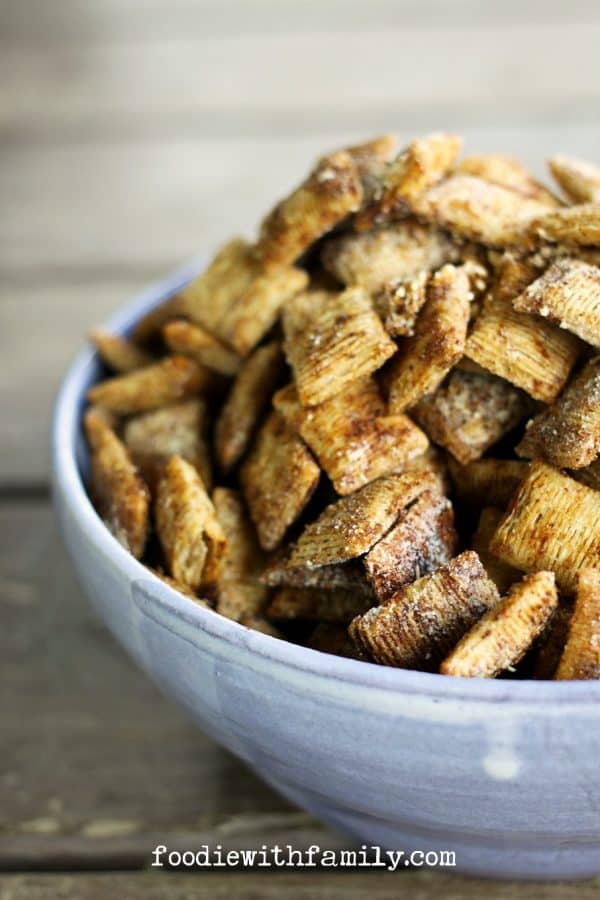 These days, I keep up my mom's tradition of not making chex mix until we are breathing down Thanksgiving's neck. Somehow it makes it seem even more special. That doesn't mean I'm cravings-free the rest of the year, though. I had a whole box of bite-sized shredded wheat cereal hanging around my pantry when I did a purge the other day. For one reason or another, I felt like it had no business being in there any more, so I dragged it out of the dark corner where it was languishing and decided to make it into a snack. It doesn't count as chex mix if you don't put Chex in it, right? RIGHT? Besides, my intent for these was to use the classic snack mix method to create a cheesy snack.
I used my usual garlicky butter mixture (perfected, lo these many years) on the whole wheat cereal, toasted à la chex mix (while not being chex mix) and tossed it with a serious dose of White Cheddar Cheese Powder
(that's an affiliate link folks) to make a buttery, garlicky, crunchy Cheddar bomb of a snack. To say they didn't last long at our house might be the understatement of the century. These were voted "the best after school snack EVAH!" (emphasis: theirs.)
Mercy, those were good. I foresee many batches of these to hold us over 'til chex mix season.
If you're looking for more fun, healthy snacks, try our Hummus After School Snack Board and Za'atar Tortilla Strips for Salads and Snacks! You'll definitely want to try our Fudgesicles Frosties and Homemade Fudgesicles (Fruit or Agave Sweetened), too!
Whole Wheat Cheddar Garlic Snacks
It probably goes without saying, but I am going to say it anyway; don't use frosted mini wheats here. That would be all kinds of a train wreck.
There is no doubt at all that this recipe calls for a lot of butter, but shredded wheat soaks it up, so it takes quite a bit to coat everything as desired.
My all-time, tippity-top fave Cheddar cheese powder is made by Hoosier Hill Farms and purchased through Amazon. I use it for my Homemade Cool Ranch Doritos, Cool Ranch Cheese Curds, Cool Ranch Doritos Taco Bowls, and on my kids' favourite version of popcorn. I love that it's White cheddar (sans food dyes) because I have a white Cheddar fixation. Besides that, there is a complete lack of day-glo orange fingers after eating stuff dusted with it, so it makes me feel like I'm winning at this parenting thing, if only temporarily.
If you're in a bind and can't wait for your cheese powder to come in, you could make a Parmesan version of this using the ubiquitous shaker-top parm available at just about every grocery store in North America. It won't be quite the same product, but it'll still be eminently edible!
Why not bake the cheese on? It's a preference. I like that it's dusty and cheese powdery like a great cheese popcorn or a cheese cracker. I haven't tried baking it on because we liked it so much the way I made it first and there was a chorus of "Please don't mess with it!", so if you give it a go, would you let me know how it turns out?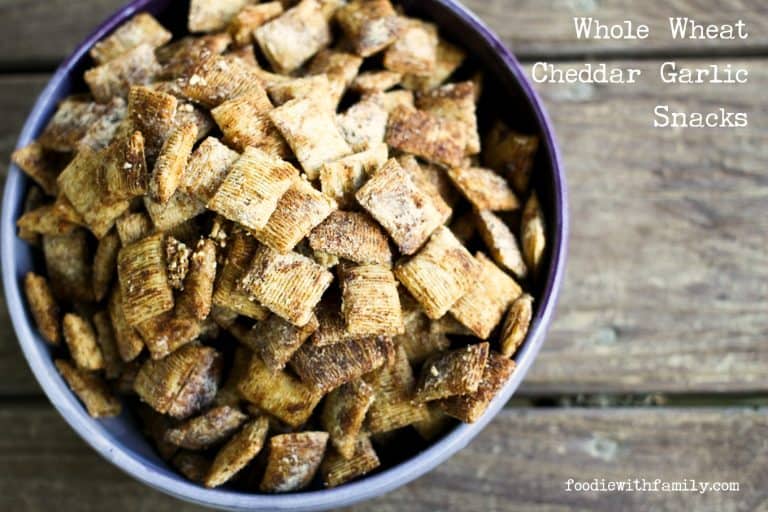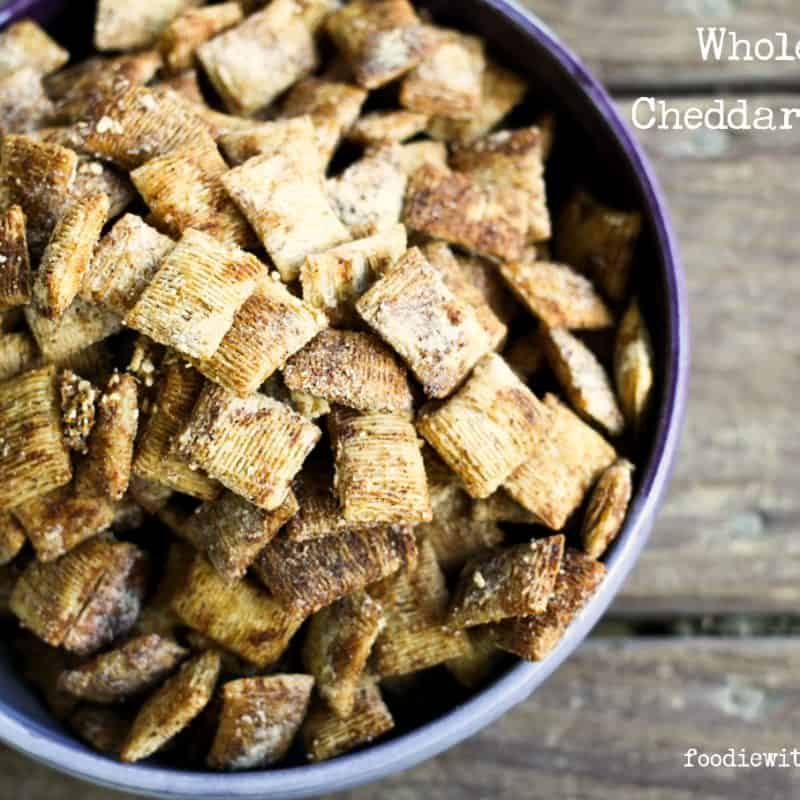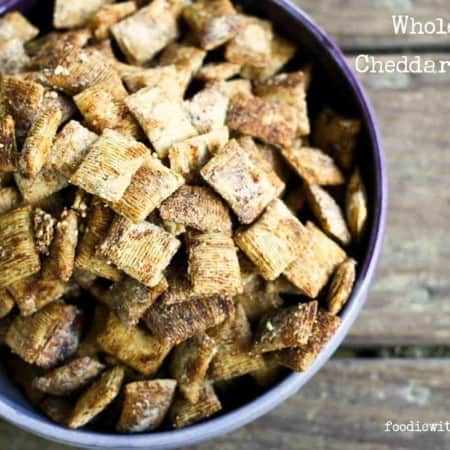 Ingredients
1

box bite sized shredded whole wheat cereal

16.4 ounces-ish

2

sticks butter

2

tablespoons

Worcestershire sauce

1

teaspoon

celery salt

or seasoned salt

1

teaspoon

granulated garlic

or garlic powder

1

teaspoon

granulated onion

or onion powder

1/4

to 1/2 teaspoon ground cayenne pepper

1/3

cup

Cheddar cheese powder
Instructions
Preheat oven to 275°F.

Add the bite sized shredded wheat to a large mixing bowl. Melt the butter in a saucepan or in a bowl in the microwave. Whisk in the Worcestershire sauce, celery salt, granulated garlic and onion, and cayenne pepper. Drizzle this over the bite sized shredded wheat and toss to coat evenly. Spread in a single layer on a half-sheet pan and bake for 1 hour, stirring every 15 minutes, or until crunchy. Toss the cheese powder in while the cereal is still hot.

Eat warm or let cool to room temperature before transferring into a container with an airtight lid. This is best eaten within a week of being made, and can be re-crisped in a 275°F oven if they start becoming stale.
Nutritional information is an estimate and provided to you as a courtesy. You should calculate the nutritional information with the actual ingredients used in your recipe using your preferred nutrition calculator.