"I cuss. You cuss. We all cuss for asparagus." Thus writes the great Gary Larson. You speak to me, man. Asparagus is so darned good and plentiful for only the briefest time of the year. I cram as much asparagus into my mouth as I can from May through June. My all time favourite way to have them -roasted asparagus- has recently faced a challenge in the form of Shaved Asparagus Salad with Bacon, Blue Cheese, and Buttermilk Vinaigrette. This fabulous salad is made of raw asparagus shaved with a vegetable peeler then tossed with all sorts of other goodies (minced green onion, thinly sliced red onion, crispy crumbled bacon, blue cheese crumbles, and a tangy, light-but-creamy buttermilk vinaigrette.)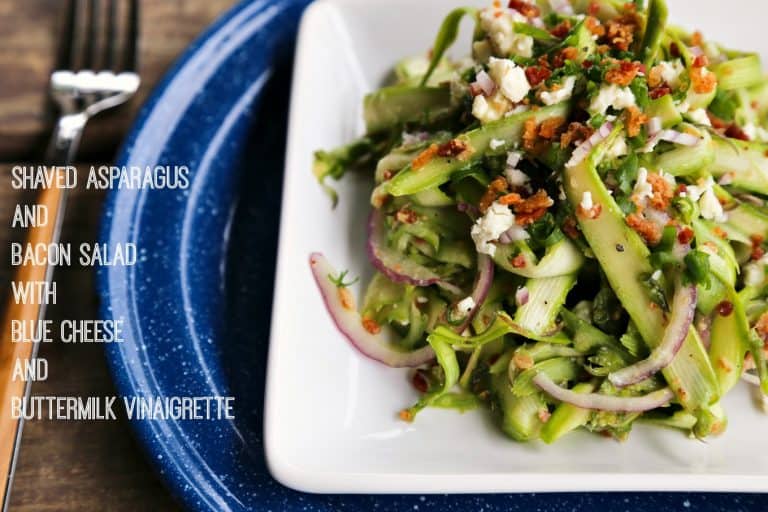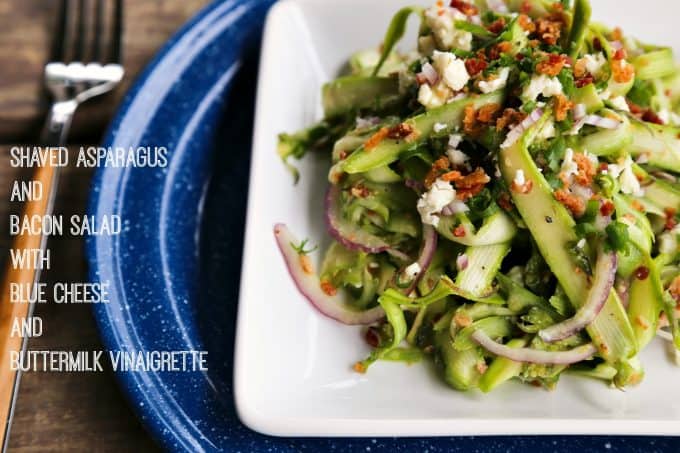 Asparagus-in-the-raw? I'm not crazy! I promise. Using the vegetable peeler to shave the asparagus into paper thin strips prevents any toughness. The little bit of white wine vinegar in the Buttermilk Vinaigrette softens the asparagus just a bit. It's a little bit of alchemy that results in asparagus that is silky but crisp and tender all at the same time.
While the simple combination of ingredients does magical things, the real trick to the overall texture of the dish comes from the seemingly silly act of shaving asparagus with a vegetable peeler. It doesn't have to be a fancy-pants, expensive peeler. Any old peeler that can make it through the asparagus will do the job. I will say that I replace my vegetable peeler annually so that it stays sharp enough to shave my legs… NOT THAT I SHAVE MY LEGS WITH A VEGETABLE PEELER. I'm just saying that should my razor disappear and I be left in the house in dire need of leg shaving, I'd like my vegetable peeler to be sharp enough to do the job.
Ahem.
Just make the salad. You'll thank me later.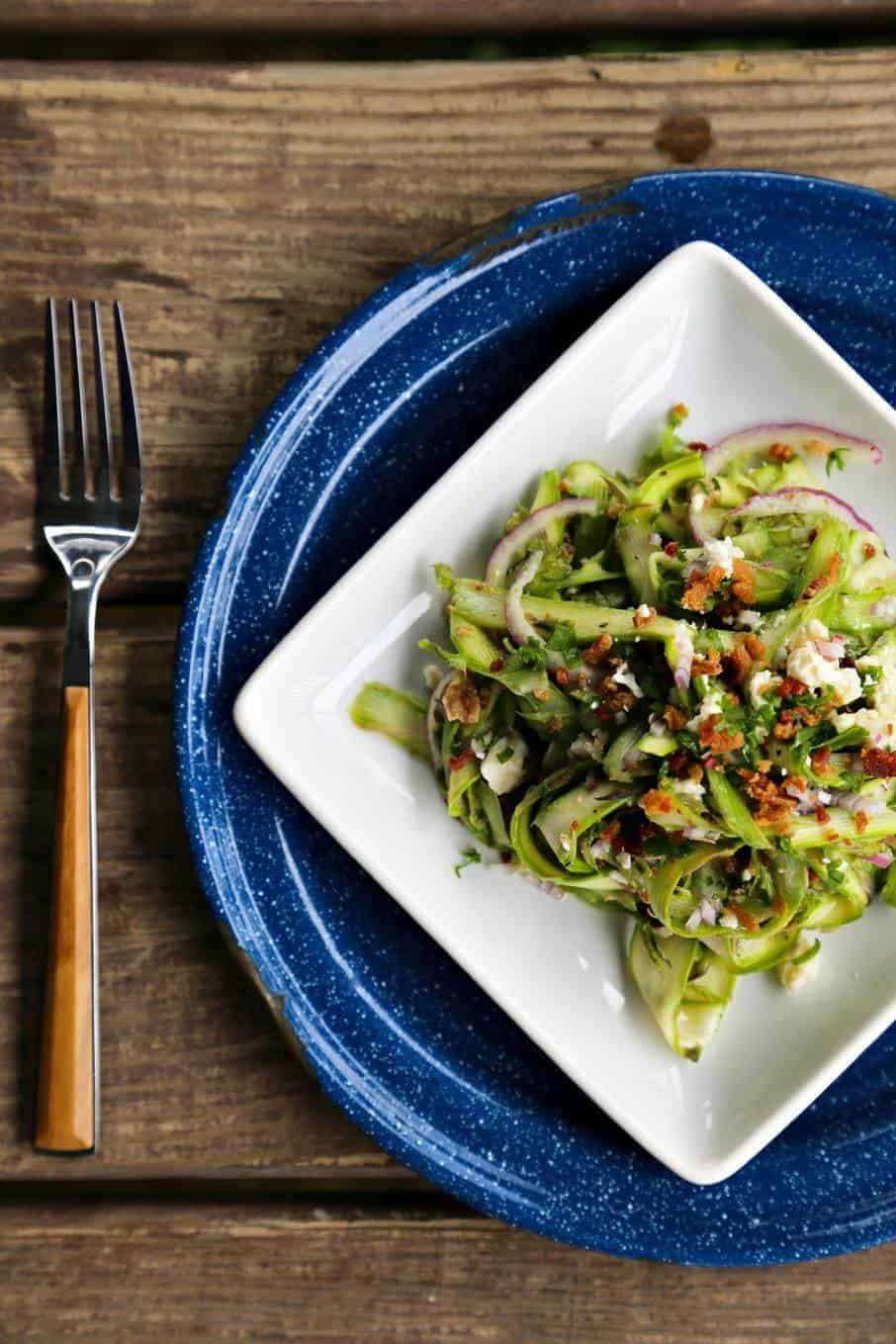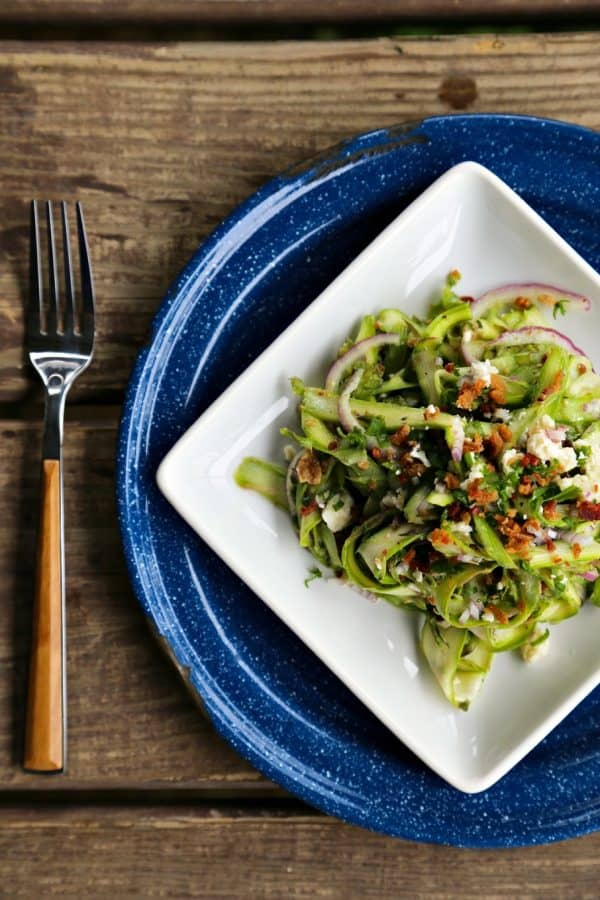 Cook's Notes
Whether you use a "y" shaped peeler or a traditional one, just make sure your peeler is sharp.
The easiest way to shave the asparagus is with shaving cream and a straight razor. KIDDING. It's quite simple. Hold the thick part of the stalk and shave down toward the tip with the vegetable peeler, leaving ribbons of asparagus.
No matter how sharp your peeler is, you're going to be quite likely to reach a point where you can't shave any more off of the stalk of asparagus. Don't despair. Save those thick slices from the center in a ziploc bag and chop them up to add to a stir fry, add to a pizza, or squeeze the air from the bag and freeze to add to cream of asparagus soup later.
Shaved Asparagus Salad with Bacon, Blue Cheese, and Buttermilk Vinaigrette is best eaten within an hour of being made. If you want to make it ahead of time (up to 24 hours) for a party or picnic, you can toss together the asparagus, bacon, bleu cheese, and onions in one container, then combine all of the ingredients for the Buttermilk Vinaigrette in a jar with a tight fitting lid. Right before serving, shake the vinaigrette jar vigorously and pour over the salad ingredients. Toss gently and serve.
Connect with Foodie with Family
facebook | pinterest | instagram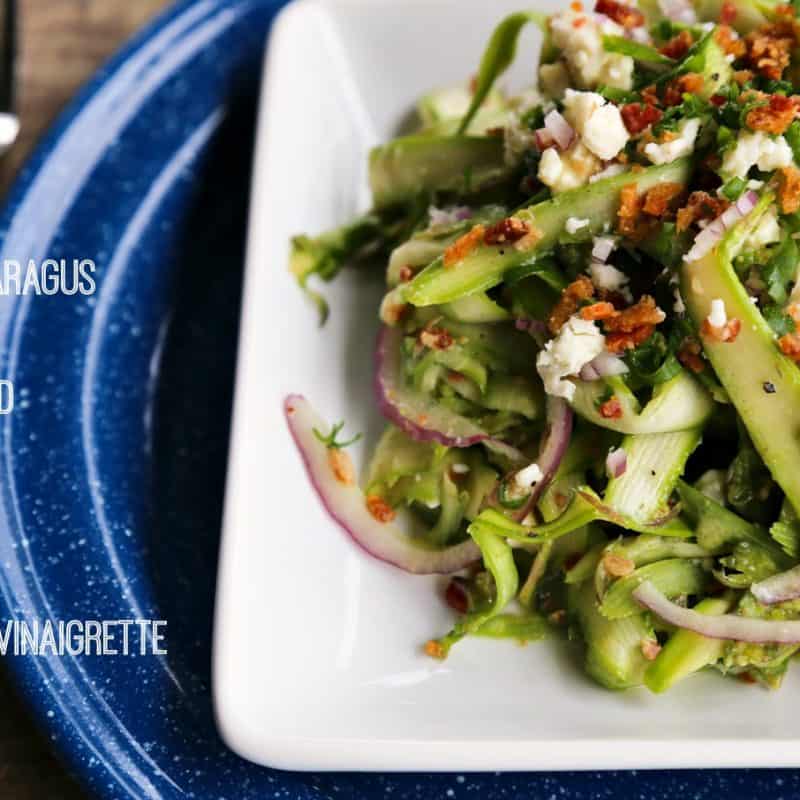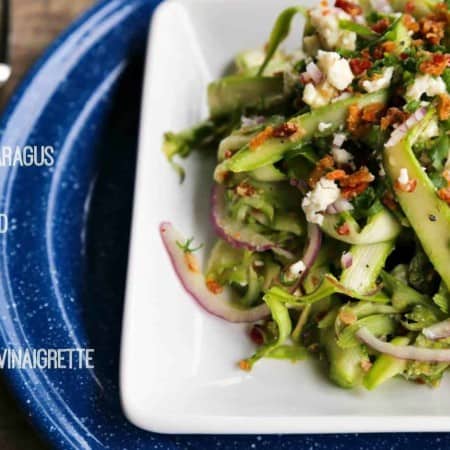 Shaved Asparagus Salad with Bacon, Blue Cheese, and Buttermilk Vinaigrette
Rate Recipe
Fresh asparagus becomes silky, crisp and tender when shaved with a vegetable peeler and tossed with crispy bacon crumbles, paper thin red onion, bleu cheese crumbles, finely chopped green onion, and a smooth, tangy buttermilk vinaigrette.
Ingredients
2

pounds

thick asparagus stalks

washed and trimmed

6

slices

thick bacon

cooked 'til crispy, crumbled or finely chopped

2

green onions

trimmed of the root ends

6

thin slices of half of a red onion

1/8

cup

bleu cheese crumbles
For the Buttermilk Vinaigrette:
1/4

cup

cultured buttermilk

2

tablespoons

extra virgin olive oil

1

tablespoon

white wine vinegar

1

green onion

green part only, finely minced

1/2

teaspoon

kosher salt

1/2

teaspoon

freshly ground black pepper
Instructions
Use a vegetable peeler to shave thin strips from the asparagus stalks. Reserve the thick inner parts that cannot be shaved in a ziptop bag in the refrigerator for a stir-fry or in the freezer for cream of asparagus soup. Put the shaved asparagus in a mixing bowl and toss with the crumbled bacon, red onion, and bleu cheese crumbles. Set aside.

Whisk together all of the ingredients for the dressing until smooth. Pour over asparagus salad and toss to coat. Serve immediately.
To Assemble Ahead of Time:
See Cook's Notes in the post.
Nutritional information is an estimate and provided to you as a courtesy. You should calculate the nutritional information with the actual ingredients used in your recipe using your preferred nutrition calculator.