Loaded Baked Potato Salad is everything we both love about a fully loaded baked potato in a summery potato salad form. We are talking about tender cubes of potato tossed with a simple sour cream dressing, shredded Cheddar cheese, chopped green onions, and a generous amount of crispy bacon. Loaded Baked Potato Salad is the stuff of dreams for potato salad lovers.
I have a thirteen year old son who is a maniac for all things potato. Mashed potatoes, french fries, tater tots, roasted potatoes, he is all in with no hesitation.
Without question, though, one of his favourite ways to eat a potato is as loaded baked potato; sour cream, bacon, and cheese. This is his dream salad.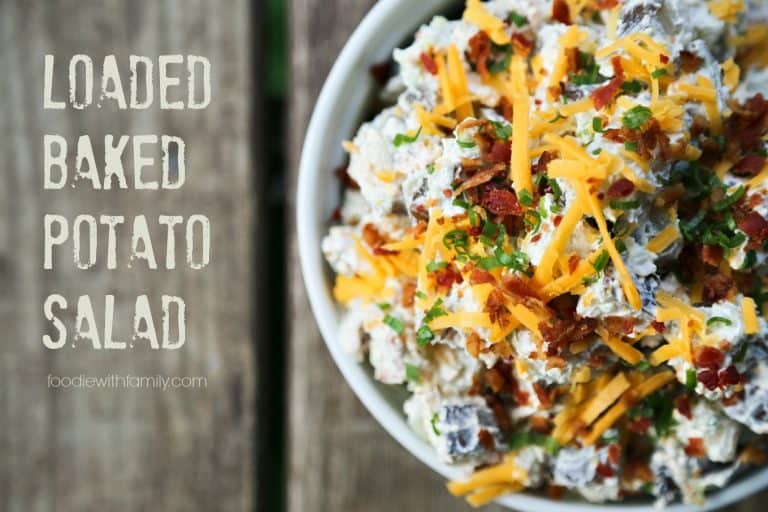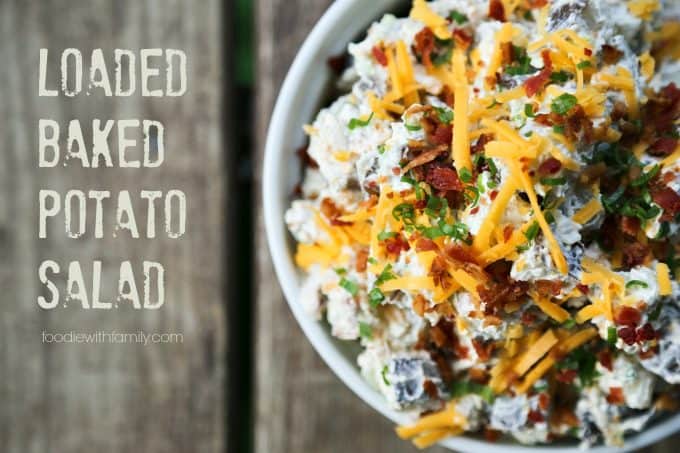 This recipe for Loaded Baked Potato Salad makes a generous batch. Unfortunately, my children all seem to have come equipped with hollow legs designed particularly for storing Loaded Baked Potato Salad. Mercifully, as you'll see from looking over the recipe, Loaded Baked Potato Salad is almost embarrassingly easy to make.
Calling all pasta and potato salad fans! I have you covered in abundance for your summer salads! Check out our Salmon Pasta Salad, Potato Salad with Bacon, Spicy Bacon Cheddar Pasta Salad, Dill Pickle Egg Salad, Asian Pasta Salad, Easy Bacon Pea Pasta Salad, Veggie Lover's Greek Pasta Salad, Easy Bacon Broccoli Pasta Salad, and Bacon Horseradish Potato Salad.
Loaded Baked Potato Salad
Russet potatoes are the obvious choice for authentic baked potato flavour in Loaded Baked Potato Salad. Scrub them well before baking and the skin can be left on for the salad. If you can't find any decent russets this time of year, substitute gold or red potatoes.
I have a tip to help you 'bake' your potatoes for this salad that'll keep your kitchen cool. After scrubbing your potatoes, jab each potato a few times with a fork then toss them in a slow-cooker. Rub the skins with olive oil, then sprinkle with kosher salt.
Cover the slow-cooker and let it rip for 3 to 4 hours on HIGH (depending on size) or 6 to 8 hours on LOW, just until the potatoes offer no resistance when poked with a skewer, toothpick, or sharp knife at the thickest part.
Alternately, you can use an equivalent amount of leftover baked potatoes.
Yes, this recipe calls for 5 pounds of potatoes. If this seems like far too much for you, you can absolutely halve it, but be advised, you will in all likelihood be making another batch within days.
While you can make this a warm potato salad (chopping the potatoes while still toasty and combining with the rest of the ingredients), I greatly prefer it cold. To accomplish this, I chill the potatoes when they're done baking. This makes them easier to handle and cut, and keeps the cheese from melting, too.
I greatly prefer crispy bacon rather than chewy bacon for Loaded Baked Potato Salad. It provides a little textural element to enjoy as well as delivering that smoky, salty, meaty taste that only bacon can.
You may notice that Loaded Baked Potato Salad is utterly devoid of the usually ubiquitous mayonnaise. I wanted this salad to taste as much like an actual baked potato as possible, and -frankly- I don't put mayonnaise on my baked potatoes, so that was out.
There's a little bonus to my deviation from the potato-salad norm here. Sour cream (while having a high percentage of its calories derived from fat) is actually nearly 50% lower in fat and calories than mayonnaise. Additionally, the fat that IS in sour cream is an animal fat which makes it easier for your body to digest.
Can we get cheesy for a moment? I almost always reach for extra sharp Cheddar when putting it into a recipe. Why? I like the extra bump of flavour it has. If you're not a fan of twangy extra sharp, you can swap it out for sharp or mild Cheddar.
Loaded Baked Potato Salad is great when eaten immediately after being mixed together, but is even better if you have the patience to allow the flavours to mellow, meld, and marry for a couple of hours in the refrigerator. It's wonderful two days after being made, too, if you can somehow manage to hide a well-disguised container of it from your family in some ignored corner of the refrigerator.
As with most potato salads, you can freshen a day old batch by stirring in a little more dressing. In this case, it's as simple as stirring in a dollop of sour cream. Taste and adjust the salt if necessary.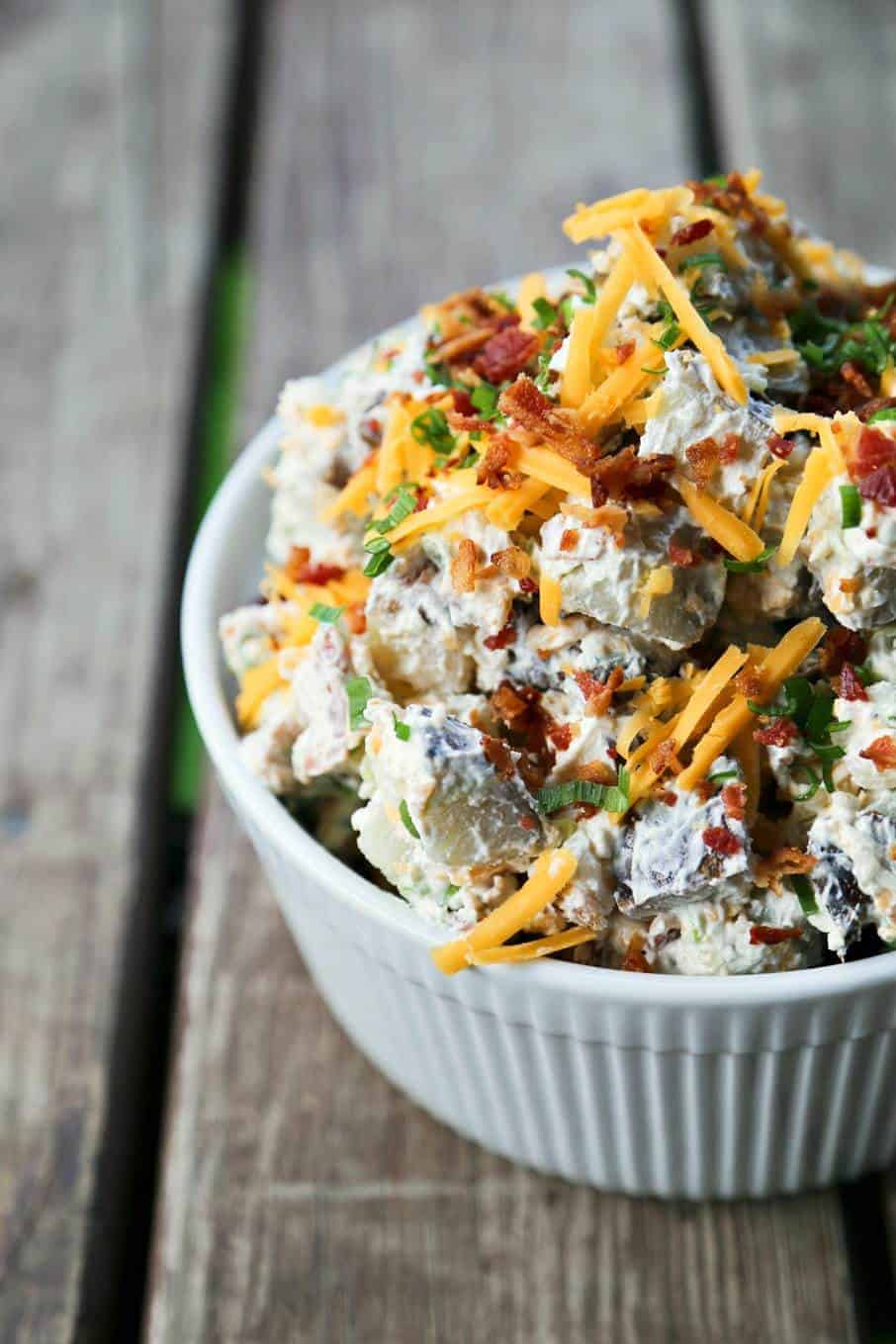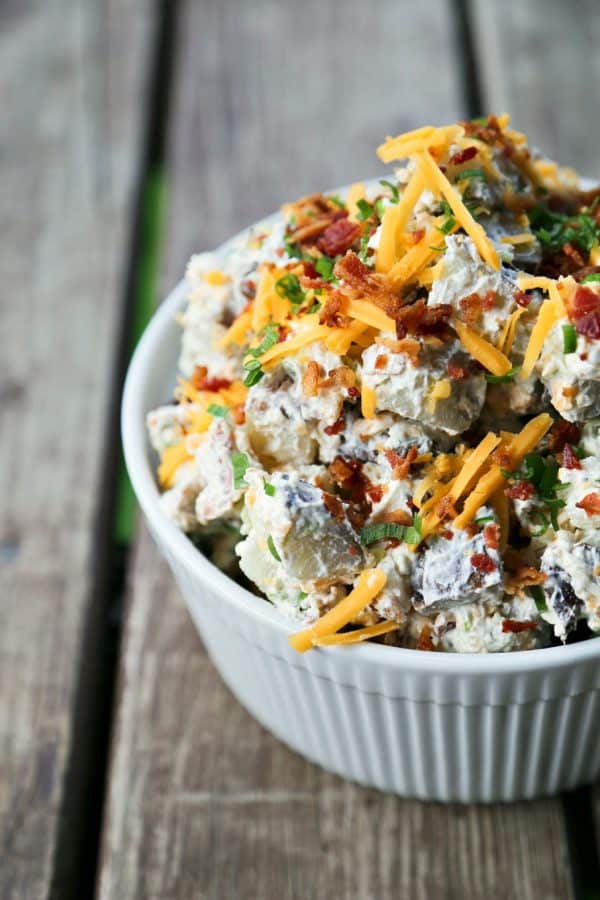 Connect with Foodie with Family
facebook | pinterest | instagram | twitter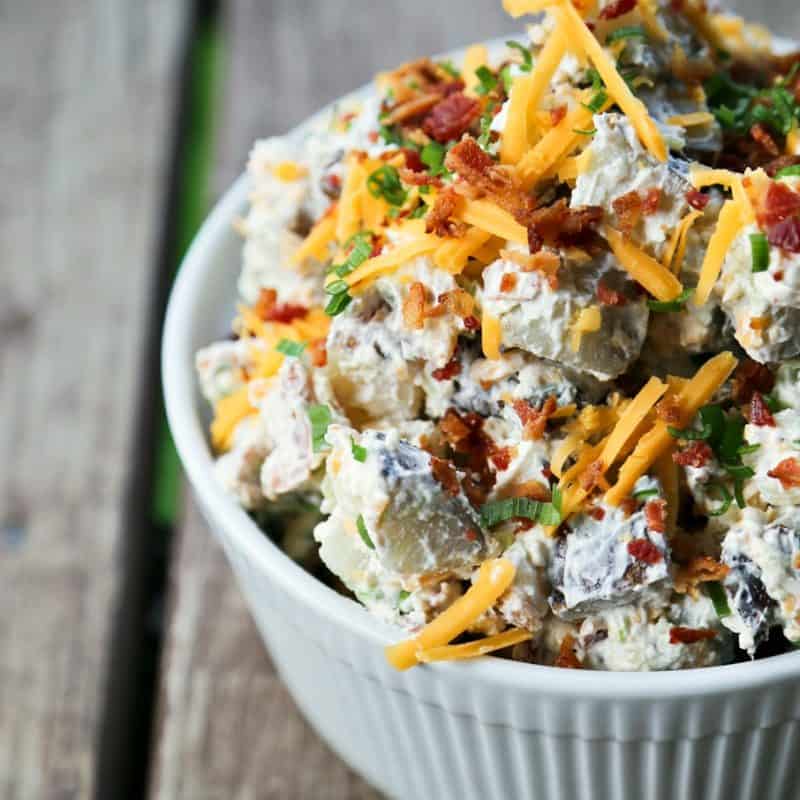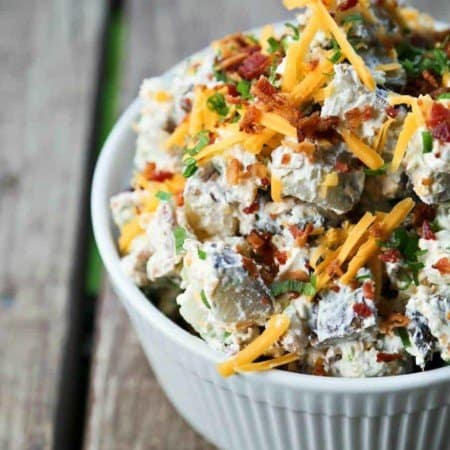 Everything you love about loaded baked potatoes -tender cubes of potato, sour cream, crispy bacon, Cheddar cheese, and green onions- in a summery salad form.
Ingredients
5

pounds

russet

gold, or red potatoes, baked and chilled, cut into bite sized pieces

3

cups

sour cream

1

pound

bacon

cooked 'til crisp and crumbled

4

ounces

shredded Cheddar cheese

4

green onions

trimmed of the root ends, halved, and thinly sliced

3/4

teaspoon

kosher salt

1/2

teaspoon

ground black pepper
Instructions
Reserve 2 tablespoons each of the crumbled bacon and grated cheese, and a teaspoon of the sliced green onions for garnish.

Stir together the potatoes, sour cream, remaining bacon, Cheddar, green onions, kosher salt, and black pepper. Serve immediately or refrigerate for up to two days, garnishing right before serving.
Nutrition
Calories:
365
kcal
Carbohydrates:
29
g
Protein:
9
g
Fat:
23
g
Saturated Fat:
10
g
Cholesterol:
51
mg
Sodium:
408
mg
Potassium:
771
mg
Fiber:
2
g
Sugar:
2
g
Vitamin A:
405
IU
Vitamin C:
9.7
mg
Calcium:
129
mg
Iron:
1.6
mg
Nutritional information is an estimate and provided to you as a courtesy. You should calculate the nutritional information with the actual ingredients used in your recipe using your preferred nutrition calculator.