I'm going to leave aside the question of whether or not you're a fan of bleu cheese, because I figure if you are, you'll read this through to the end. My question for you today is whether you spell it 'bleu' or 'blue' cheese. Clearly, I've given away MY answer already, and I don't mind saying that I got in the habit when I was a kid and using the French spelling seemed, well, fancier. I was a sucker for fancy. When you put a French spelling and an 'exotic' cheese together I was sold. Do we need to cover the fact that I lived in rural Northern Michigan in the seventies and bleu cheese really WAS kind of exotic and popular in those parts at that time? Anyone else remember Green Goddess dressing?
The vast interwebs assure me that either 'bleu' or 'blue' is considered correct. And while 'fancy' is no longer a driving force for me, I'm still a big fan of bleu or blue cheese however it's spelled, and however it's served. One of the things I love about it is that it's a simple way to deliver BIG flavour to just about anything. Case in point: Easy Bleu Cheese Dip or Dressing.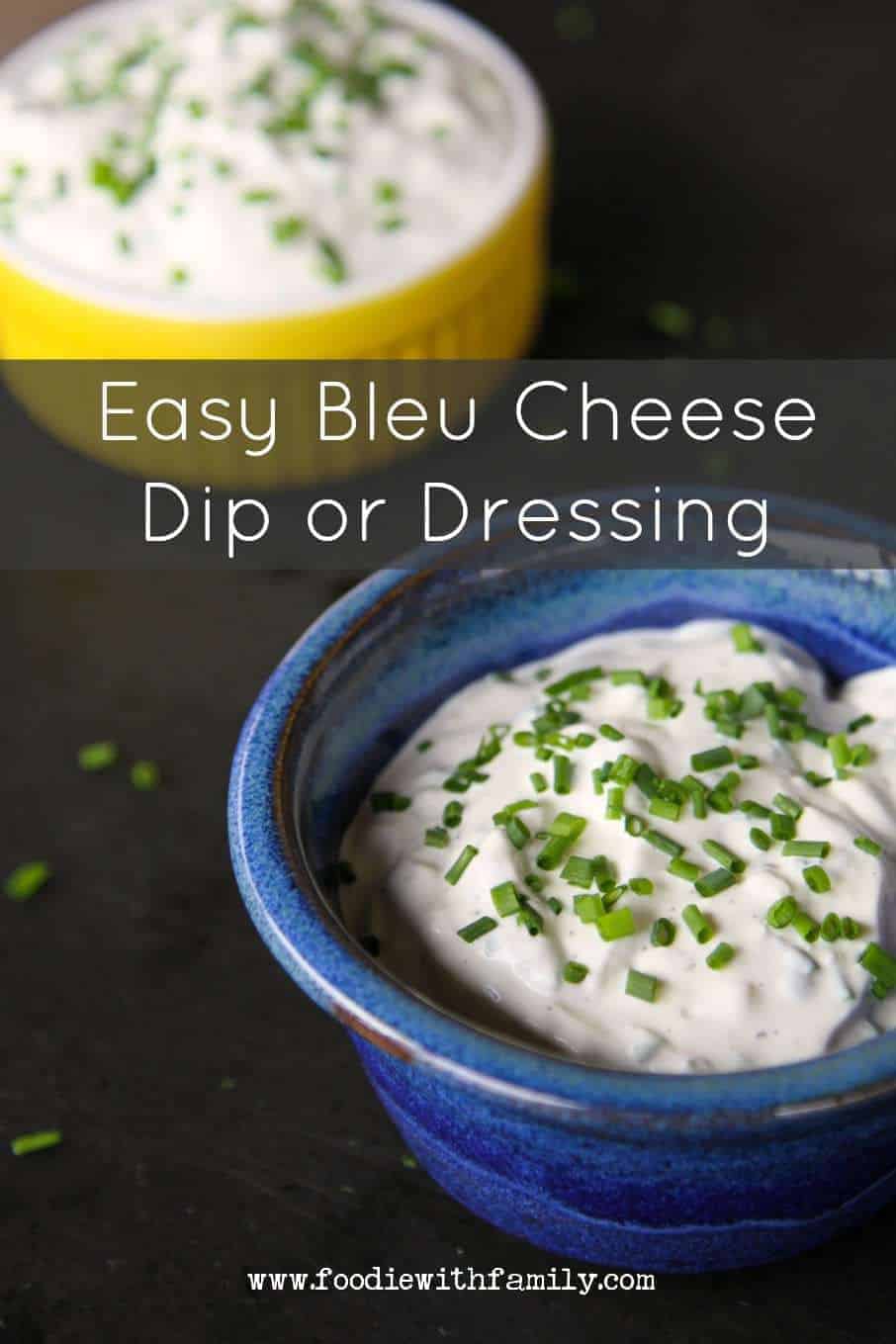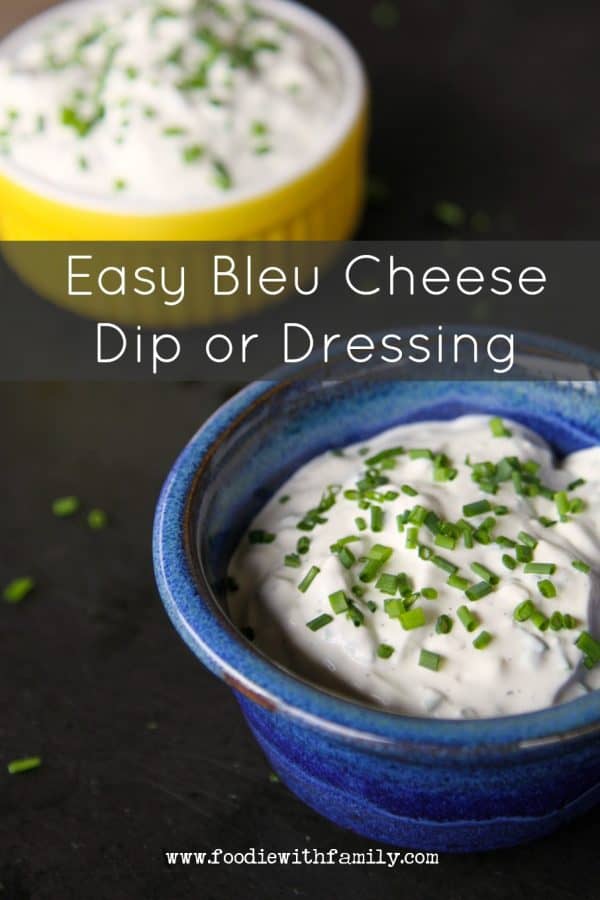 This Easy Bleu Cheese Dip or Dressing is like the little black dress of the condiment world. Creamy, thick, and absolutely riddled with bleu cheese and fresh chives, there are hints of fresh lemon, a wee bit of garlic, and some black pepper to round things out in this sour cream and mayonnaise based dip and dressing. The name is a dead giveaway that Easy Bleu Cheese Dip or Dressing is a killer dip for vegetable sticks, bread, pretzels, potato chips, and any other dippables. If you like thick salad dressings, spoon it over your salad. If you like it a little more pourable, just thin it with a splash of milk. But this is just where we get started with Easy Bleu Cheese Dip or Dressing. Spoon a little on a grilled steak, bacon bleu-burger, or baked potato. Dip your French fries, Boneless Buffalo Wings, regular chicken wings,  or Extra Crispy Fried Chicken Fingers in it. It comes together in five minutes or less and wallops the dang out of any store bought bleu cheese dip or dressing you've ever had.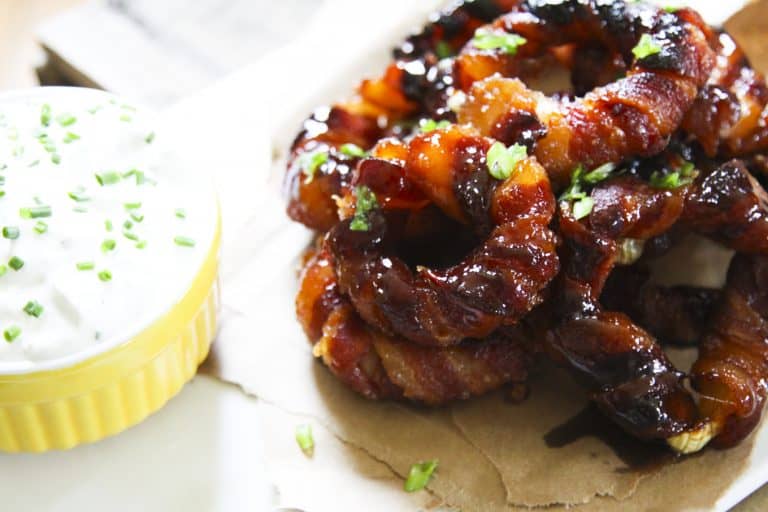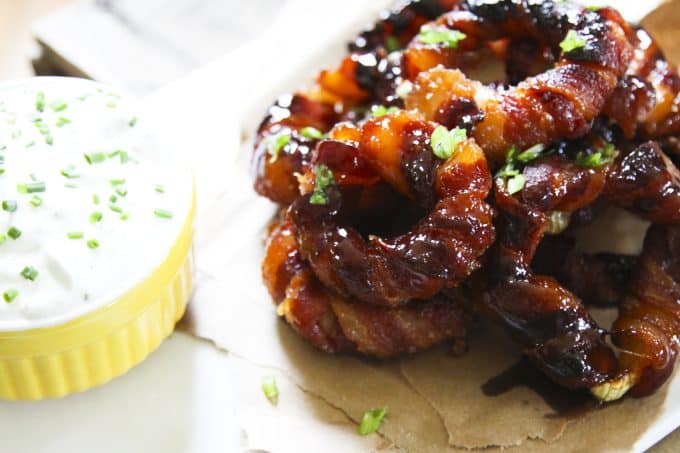 Oh, and you may want to whip up a batch of it to serve with the recipe I'm posting tomorrow…
Cook's Notes
There are a lot of bleu cheeses available out there and you don't need to be terribly picky about which kind you put in the dressing. You can choose to use the kind you find pre-crumbled in tubs in the store, or crumble it yourself from a wedge. I prefer the type I buy in a wedge and crumble myself because I think it has a creamier texture, but use what you like best.
Use fresh chives, please! They just plain taste better here.
Squeezing the juice of half a lemon into the dip rather than using bottled lemon juice lends a nice freshness to the dip. If you absolutely, categorically cannot lay your hands on a fresh lemon, substitute 1 tablespoon of a good bottled lemon juice.
You can serve this right away, but it tastes even better if you can let it mellow in the refrigerator for at least 30 minutes ahead of time. This gives the flavours a chance to meld and marry and gives it more depth.
Easy Bleu Cheese Dip or Dressing can be stored tightly covered in the refrigerator for up to a week after it has been made.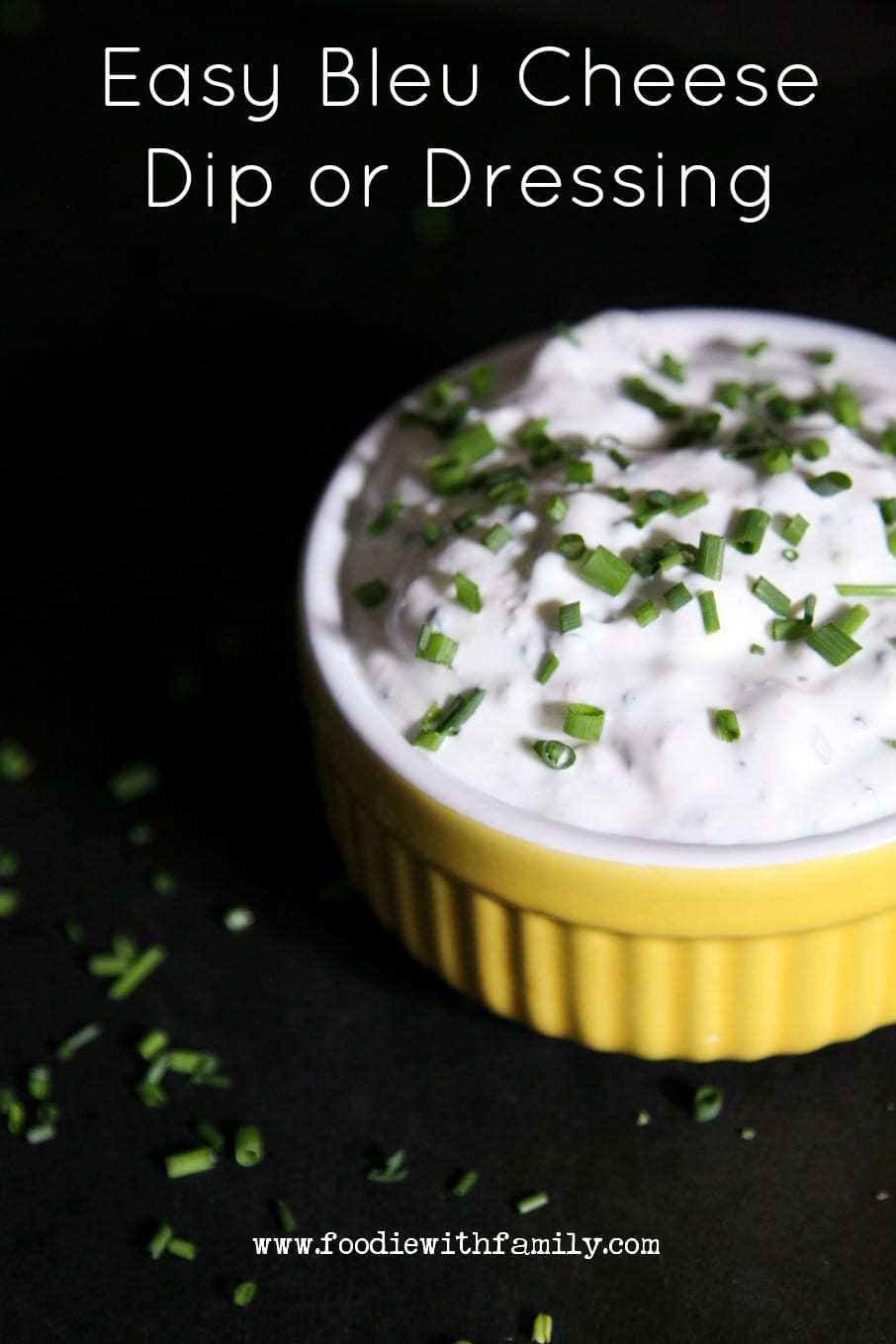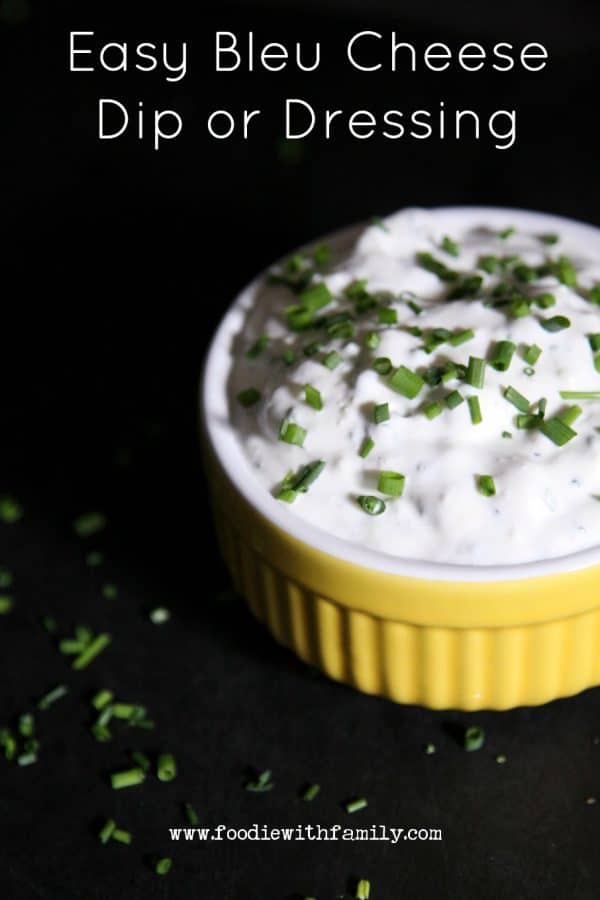 Connect with Foodie with Family
facebook | pinterest | instagram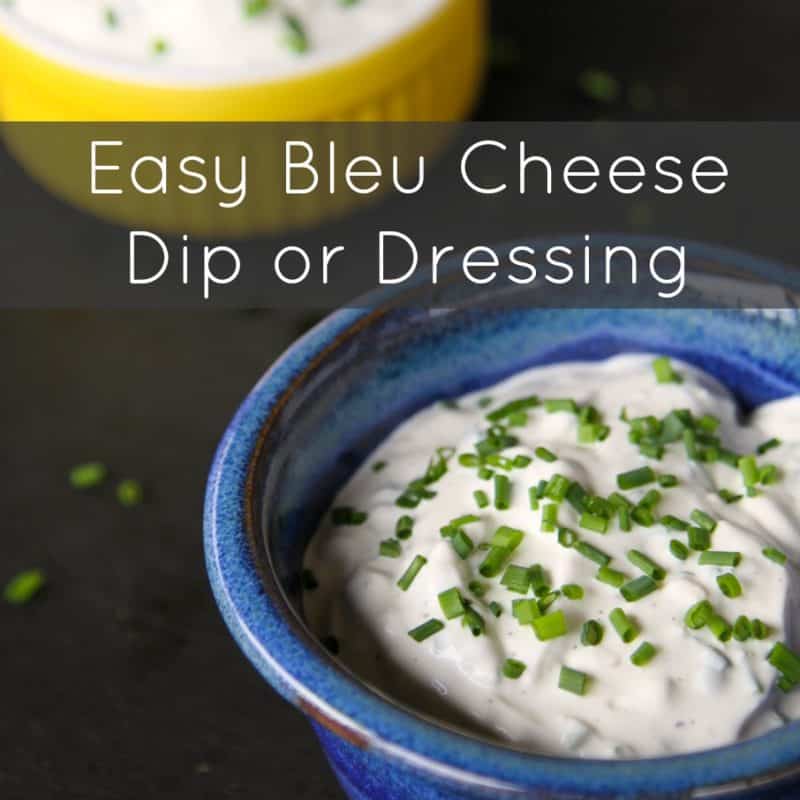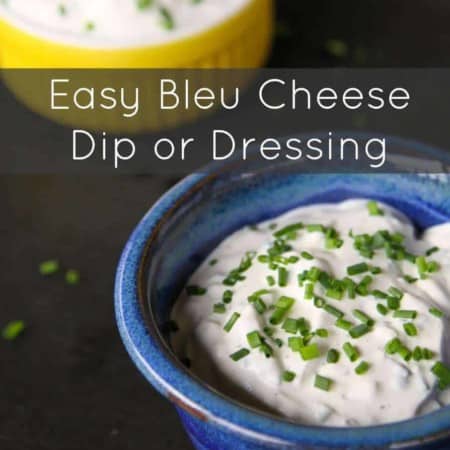 Ingredients
1

cup

sour cream

1/2

cup

crumbled bleu cheese

1/4

cup

mayonnaise

1

handful fresh chives

about 1/4 to 1/3 cup when chopped, finely chopped

the juice of half of a fresh lemon

1

small garlic clove

peeled and minced or pressed through a garlic press

1

teaspoon

kosher salt

1/2

teaspoon

cracked black pepper

1/2

teaspoon

granulated onion
Instructions
Mix all ingredients together in a bowl until evenly distributed. For best results, tightly cover the dip and refrigerate for at least 30 minutes before serving. Store leftovers tightly covered in the refrigerator for up to a week.
Nutritional information is an estimate and provided to you as a courtesy. You should calculate the nutritional information with the actual ingredients used in your recipe using your preferred nutrition calculator.