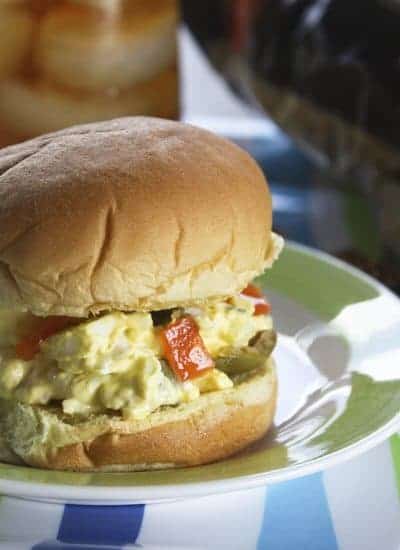 Fourteen years ago, almost to the day, I discovered I liked two things; egg salad and green olives. Furthermore, I learned that I liked them combined. This epiphany -after twenty something years of thinking that I despised both things- came at the table of my mother-in-law, Dolores.
Here's what happened… I was five months pregnant with my first child and ten months married to her youngest son; I was a newborn daughter-in-law and very eager to please. One day, right before my lunch hour at work, I called Dolores to see if she'd like me to pop by so she could inspect my burgeoning belly. She said, "Sure! Come on over! I'll make sandwiches!"
I slid the aforementioned belly in under her table, sipped at a cup of water and looked at the sandwich and chips on the plate she had put in front of me. EGADS. It was egg salad: my arch nemesis.
And horrors! It was chock-a-block crammed with chopped green (eep) olives. There was no way out of this one.
I had to eat it and I had to look like I liked it. This was my mother-in-law, and I was determined that she was going to be glad I had married her son. I wasn't going to wrinkle my nose at that sandwich. I girded my girthly loins (I'm sorry. That wasn't appetizing was it?), lifted the sandwich and took a bite.
And I loved it.
What?
Yes.
It was outstanding. The briny, salty olives cut through the richness of the mayonnaise that bound the eggs together.
Everything I had ever thought I found unappetizing about either of those things ended up perfectly complimenting the other. I tried to play it cool and act like I had always liked egg salad because what kind of dorko doesn't like egg salad, right? She probably saw right through me when I wept and hugged her after lunch, though.
If you're not lucky enough to have an egg and olive sandwich making mother-in-law, may I suggest you whip up a batch of this for yourself? It just might change your world a bit…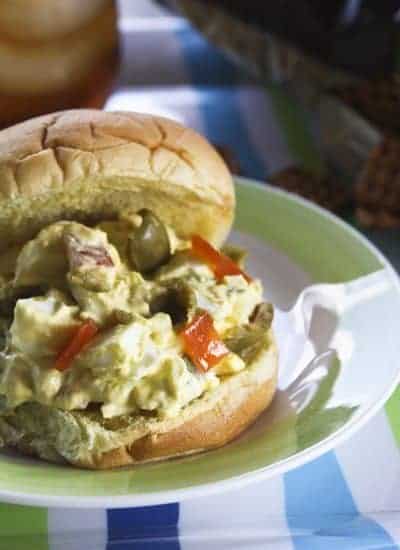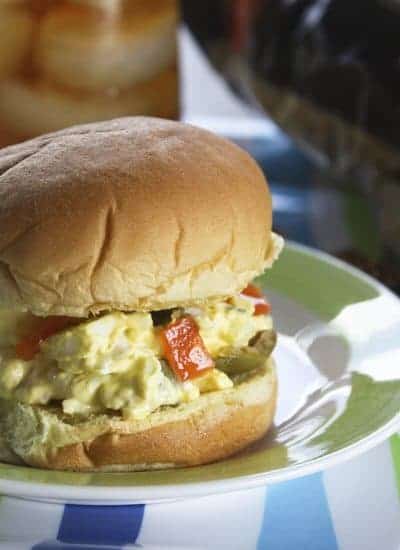 The briny, pungent olives cut through the richness of the mayonnaise that bindss the eggs together in this take on the classic egg salad. Serve on soft rolls or bread with a side of salty chips or pretzels!
Ingredients
For the Egg Salad
6

hard boiled eggs

peeled

2-4

tablespoons

mayonnaise

2-4

tablespoons

chopped green salad olives with pimientos

2

tablespoons

minced sweet onions

preferably Vidalia

1

teaspoon

brine from the olives

1

teaspoon

yellow mustard or dill pickle juice

1/4

teaspoon

celery seed

salt and coarsely ground black pepper to taste
To Serve:
4

soft sandwich rolls or 8 slices of bread

Optional: Additional chopped olives for the sandwich.
Instructions
To Prepare the Salad:
Put one egg in the bottom of a mixing bowl and chop roughly with the side of a fork.

Put another egg on top and chop roughly again with the fork. Repeat with remaining eggs until all the eggs are chopped together with pieces no larger than the size of a piece of bubble gum (*see notes).

Stir in the mayonnaise, olives, onions, mustard or pickle juice, celery seed, salt and pepper. Taste and adjust if necessary.

Chill until ready to serve.

Serve cold on soft sandwich rolls with additional olives on top, if desired.
Notes
*Many thanks to Katie who asked me to specify which type of bubble gum. Believe it or not, I meant Dubble Bubble. I'm not joking. Carry on!
Nutrition
Calories:
339
kcal
Carbohydrates:
31
g
Protein:
15
g
Fat:
16
g
Saturated Fat:
3
g
Cholesterol:
282
mg
Sodium:
524
mg
Potassium:
156
mg
Fiber:
1
g
Sugar:
2
g
Vitamin A:
405
IU
Vitamin C:
0.2
mg
Calcium:
92
mg
Iron:
2.8
mg
Nutritional information is an estimate and provided to you as a courtesy. You should calculate the nutritional information with the actual ingredients used in your recipe using your preferred nutrition calculator.