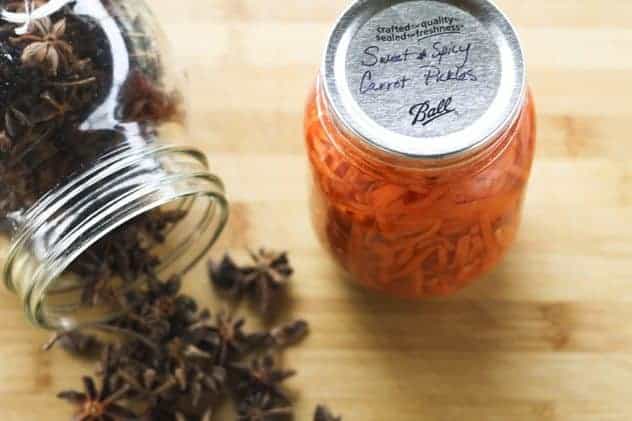 I harbour no illusions about my family's eating habits. I know some of them are weird. Take, for example, the fact that when my sons were turning 10, 8, 6, 4, and 2, respectively, we served onigiri at their collective birthday party. Not weird in Japan, admittedly, but we weren't in Japan. We were in Western New York. And while most of the friends present were pretty psyched to try something new, a couple kids and parents looked at us askew while making sure there was a clear path between them and the door. One poor woman involuntarily threw an onigiri back at the plate and it skittered across the table when she asked what the black stuff was around the rice ball and I responded, "Toasted seaweed!" enthusiastically.
Oh well. Can't convince them all.
All of this is to say that since that moment, I've been a little more circumspect about what I serve where and to whom. I try to know my audience, so to speak. This works pretty well for the most part.
Then this past weekend, I posted the following query on the Foodie With Family facebook page:
"I have a question for you all. I'm positively addicted to these sweet and spicy pickled julienned carrots I make… I put them on slacker sushi bowls, on bahn mi, on other sandwiches, on salads, in homemade sushi. Are any of you out there interested in the recipe or is that too weirdo for you?"
I thought the question would be D.O.A. In fact, I kind of wondered why I even posted the question. Imagine my surprise when I saw that within ten minutes of posting the question, there were already four people who said they'd love the recipe. I think my jaw might've slackened a little bit. But that wasn't where it ended. Within hours, twenty four people had assured me that they, too, wanted the recipe and twenty two other people had liked the status. At that point, my mouth was hanging open so far I looked a bit like a cod. We chat back and forth on facebook, but I can honestly say this was a pretty clear sign that I need to ask you guys more often what you'd like for me to post.
Here I'd been withholding one of my favourite staples from you all on the grounds that I was a dork and it was too strange/unique/niche/whatever for you guys when I could've just asked all along. Duh, right?
Lesson learned. I will now ask. But for the record, y'all are weirdos, too and I like you that way.
Let's talk some practicality here… because who wants to go to the trouble of canning something unless you know you're going to use it, right? Where can you put these gorgeous little orange strips? Use these anywhere you want a little bit of sweetness and a little bit of spice. Remember the candied jalapenos? These are in that category. Some ideas:
On bibimbap. This classic Korean dish gets a nice bit of oomph from the sweet and spicy pickled carrots.
On top of slacker sushi bowls. Rice piled in a bowl with sushi dressing poured over it, topped with these carrots, shrimp/tuna/salmon, cucumber cubes, cream cheese, green onions, wasabi, soy sauce, nori, sesame seeds, etc… Think of a Philadelphia sushi roll exploded in a bowl. Many deep thanks to Rebecca of Ezra Pound Cake and her sister for the addition of cream cheese and a cool name to something we'd been making haphazardly for years. )
On sandwiches. Yes. Homemade bánh mì, simple turkey sandwiches, chopped up in egg/chicken/tuna salad, etc… They all taste incredible with these spicy, sweet, tender crisp carrot sticks tucked into them.
On salads. Toss a few of these and a fistful of chow mein noodles on a salad before drizzling a nice sesame vinaigrette over top. You'll be blown away.
In summer rolls or spring rolls. These add a mega punch of flavour and texture to summer and spring rolls. Since you all told me you want an Asian style pickled carrot recipe, I'm going to go ahead and assume you like summer and spring rolls, too. See how I get?
By themselves. Every now and then I grab a jar of these out of the fridge and a pair of chopsticks and just nibble. Sometimes it's exactly what I need.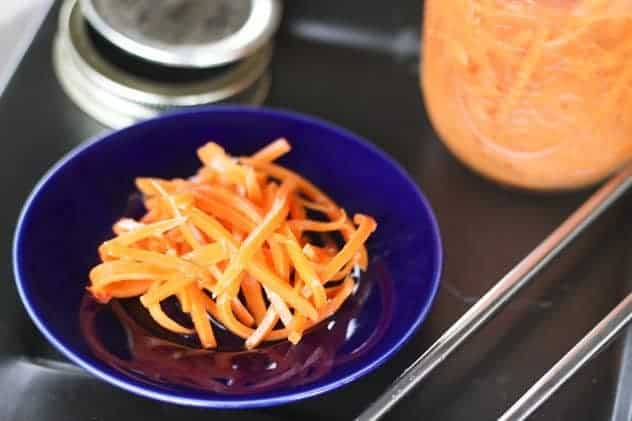 Some Cooking Notes:
In the recipe, I tell you to julienne the carrots (in other words, cut into matchstick size/shaped strips.) If this is too much effort and/or you don't own a mandoline slicer, you can always use a vegetable peeler to peel thin strips from the carrots. It won't tuck quite so neatly onto slacker sushi bowls or look quite so polished as the mandoline rendered strips, but it'll do and it'll taste every bit as good.
Don't be tempted to leave out the star anise. My husband hates (and I don't use the word lightly) star anise, but loves what they do here. They give the carrots a certain je ne sais quoi. Just try 'em.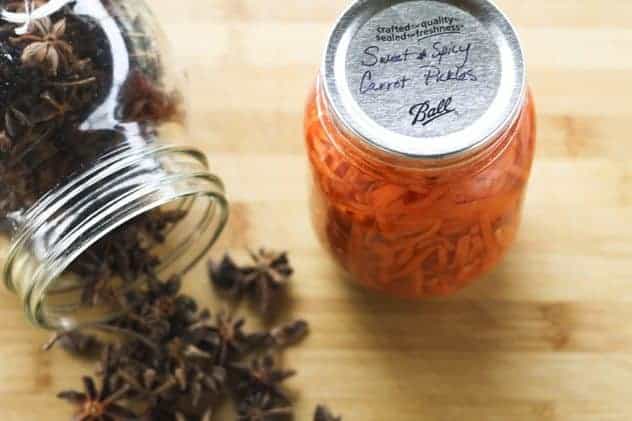 Sweet and Spicy Asian Style Pickled Carrots
Rate Recipe
These simple-to-make pickled carrot strips are sweet, spicy, tangy and flavourfully crisp-tender. Put them on sandwiches, bibimbap, sushi rice bowls, relish trays, tuck into salads and springrolls or just snack on them. Once you try them, you'll want to keep lots on hand!
Ingredients
2

pounds

of peeled carrots

julienned (or use a vegetable peeler to peel long thin strips of carrots.)

1 1/2

cups

cider vinegar

1 1/2

cups

water

1/2

cup

rice vinegar

3

whole star anise

3/4

cup

raw or granulated sugar

1

tablespoon

crushed red pepper flakes

3

tablespoons

minced fresh ginger root

1

clove

garlic

peeled and minced

1

teaspoon

kosher salt
Instructions
Clean and sterilize 3 pint jars, lids and rings (For instructions on how to do this, see this link )

In a stainless steel -or other non-reactive pot- combine the vinegars, water, star anise, sugar, crushed red pepper flakes,ginger root, garlic and salt. Bring to a boil, stirring just until the sugar is dissolved. Use a slotted spoon to remove the star anise from the boiling brine and divide them evenly between the jars.

Add the carrot sticks to the boiling brine. Bring the liquid back to a boil, about 2 minutes. Turn off the heat. Immediately use tongs or a slotted spoon to divide the carrot sticks between the jars, packing if necessary to fit them all in. Use a ladle to pour the hot brine over the carrot sticks, being sure to cover the carrot sticks with brine. Insert a sterile chopstick or knife into the jars to release air bubbles and add more brine if necessary to keep the carrots covered.

Moisten a paper towel with vinegar and wipe the rims of the jars. Position a lid on top of each jar and screw on the rings to finger tip tightness. If you over-tighten, the jars will not process properly.

Place the jars on a rack in a canner, add hot tap water to cover the jars by at least an inch and cover the pot. Bring to a full rolling boil and process for 10 minutes. After 10 minutes, turn off the heat, but leave the cover in place and let the jars rest for 5 minutes. After the 5 minutes have passed, carefully transfer the jars to a cooling rack or towel lined counter to cool, undisturbed for 24 hours.

Check the seals after 24 hours have passed. If it is a good seal, the center of the jar lid will be slightly sunken in and will not "poing" back up when pressed lightly with the finger. If the lid is domed, or it pops back up when pressed, store in the refrigerator.

Wipe down the jars with good seals, remove the rings, and label before storing in a cool, dark place for up to a year.
Nutritional information is an estimate and provided to you as a courtesy. You should calculate the nutritional information with the actual ingredients used in your recipe using your preferred nutrition calculator.