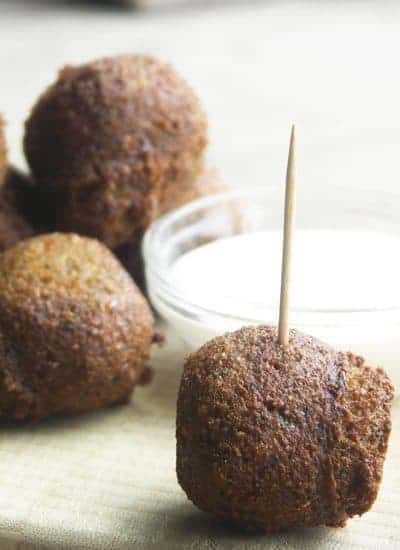 A meatless meal can be a hard sell in this home. My crew is a real meat-loving bunch. My eldest boy once described himself as ninety-eight percent carnivore and two percent omnivore.
Let that sink in for a moment.
While I do insist on the occasional meatless meal, let's just say my guys don't usually beg for them. Well, at least they didn't until I rediscovered falafel. Real falafel.*
*I'll quantify that in a moment…
Aside from being so good that you crave it even after immediately eating it, it seriously does a body good. Made from ground chickpeas, it is packed so full of nutrients that I feel like the fine print on a prescription drug commercial listing them all here; mega-protein, complex carbohydrates, dietary fiber, calcium, iron, magnesium, phosphorus, potassium, zinc, copper, manganese, Vitamin C, thiamine, pantothenic acid, Vitamin B, and folate. Not only that, but it's low in fat, cholesterol and sodium. Moreover, you know I love a recipe that's mouthwatering, nutritious and cheap, right? Well, hello! Falafel isn't just inexpensive, it's dirt cheap. Score!
I spent my long-ago vegetarian years eating a lot of falafel. Back in the (vegetarian) day, I ate the stuff that came in dry mix boxes (yes, me!) but once or twice I had excellent versions at Middle Eastern eateries. The boxed stuff just isn't my bag, so to speak, anymore. It's expensive and doesn't taste fresh. Mainly because it isn't. The contest provided just the push I needed to learn, after all this time, how to make my own falafel from scratch. A little fiddling around with soaked chickpeas resulted in a recipe that rivals the best falafels I ever ate in restaurants. In fact, I'd say (in sotto voce) it's the best falafel I've ever had.
While the history and origins of the dish are contested (not surprisingly) the general consensus is that falafel was originally created in Egypt. It has since spread throughout the Middle East as a staple food and is even considered the National Snack of Israel. One bite of a savory, steaming hot chickpea fritters, and it's obvious why it's so well loved. The crispy outer crust yields to a spicy, garlicky interior that is impossibly light for being made from such hearty beans.
Unlike most dishes made with chickpeas (i.e. hummus), falafel is made with dried beans that simply have been soaked, not cooked. That makes this dish easy-chickpeasy. Soak, blitz in the food processor with other ingredients, rest, pan fry, done. Such a small amount of work for such a massive pay-off at such a tiny price. This kind of discovery is thrilling, I tell you!
Whether you stuff it in pitas or simply serve as a finger food with a variety of dipping sauces (like Tahini Sauce or *gasp* ketchup), Falafel is sure to please even the pickiest eaters.
Allow me to set the stage.
Me: "Dinner time!"
Two Youngest Boys: "I don't wanna eat vegetables!"
Me: "Boys. Come try these fritters."
Boys: "Hey! Those are fried! Can I have them? Do I have to share? Can I eat it with my hands? Can I stab it with a toothpick?"
Me: "Yes."
Boys descend on plate like a swarm of locusts in the Holy land. Silence and an empty plate.
For the record, my carnivorous crew didn't like the falafel. They loved it. They inhaled it. They fished for little crunchy bits left on the plate. My little man who keeps promising he will like vegetables when he turns eight ate nearly his weight in it then asked whether we could have the 'Middle Eastern hushpuppies' again tomorrow. I'd call that an enthusiastic endorsement.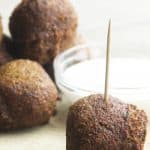 Falafel (Savory Chickpea Fritters)
Ingredients
2

cups

dried chickpeas

1

onion

roughly chopped

1/4

cup

flat-leaf parsley

roughly chopped

1/4

cup

fresh cilantro leaves

roughly chopped

8

cloves

garlic

peeled and roughly chopped

2

teaspoons

dried cumin

2

teaspoons

Kosher salt or sea salt

1

to 2 teaspoons ground cayenne pepper

to taste

1-1/2

teaspoons

baking soda

8

to 14 Tablespoons all-purpose flour

Canola

vegetable, safflower or peanut oil for frying.
Optional for serving:
Pita bread

Tahini sauce

see recipe below

Chopped tomatoes

Chopped onions
Tahini Sauce
1/2

cup

tahini

1/2

cup

Greek yogurt

or plain yogurt if Greek yogurt is not available

2

Tablespoons

lemon juice or white wine vinegar

2

garlic cloves

chopped

1/4

teaspoon

Kosher salt

1/4

teaspoon

freshly ground black pepper
Instructions
Rinse and pick over the dried chickpeas, removing any debris, discolored or misshapen beans in the process. Place the chickpeas in a bowl and cover with at least 2 inches of cool water. Place the bowl, covered, in the refrigerator for at least 12 hours and up to 24 hours.

Drain the chickpeas and place in the work bowl of a food processor fitted with a blade. Add the onions, parsley, cilantro, garlic, cumin, salt and cayenne to the work bowl, fix the cover in place and pulse until everything is finely ground but not pasty. Sprinkle the baking soda and 8 tablespoons of the flour flour over the ground chickpea mixture and pulse again until it is evenly combined. Scrape the falafel mixture into a mixing bowl. Use your hands to mix in the remaining flour until the mixture does not stick to you as much. Cover and refrigerate for at least 2 hours before cooking.

To cook:

Line a plate with paper towels and set aside.

Heat about 3/4 of an inch of oil to about 375°F in a high-sided, heavy-bottomed pan. While oil is heating, form the falafel mixture into ping pong size balls, using about 1-1/2 Tablespoons at a time.

When oil reaches the right temperature, drop about 6 balls in at a time. Fry for about 1 minute, flip the balls and fry for an additional minute. Use a slotted spoon or tongs to transfer the falafel to the lined plate.

Serve hot with a side of tahini sauce or stuffed into pita halves with chopped tomatoes, onion and tahini sauce.

Get 'em while they're hot, boys!
To Make the Tahini Sauce:
Add all ingredients to a blender, cover, and process on high speed until completely smooth. Taste and adjust salt and pepper to your liking. Serve over fried falafel or salad greens.