Quick Pickled Red Onions are a staple in my kitchen. They make their way into sandwiches and pasta, onto salads, and onto antipasto or charcuterie plates, and are used as garnish for their flavour, to be sure, but for their gorgeous hot pink colour as well!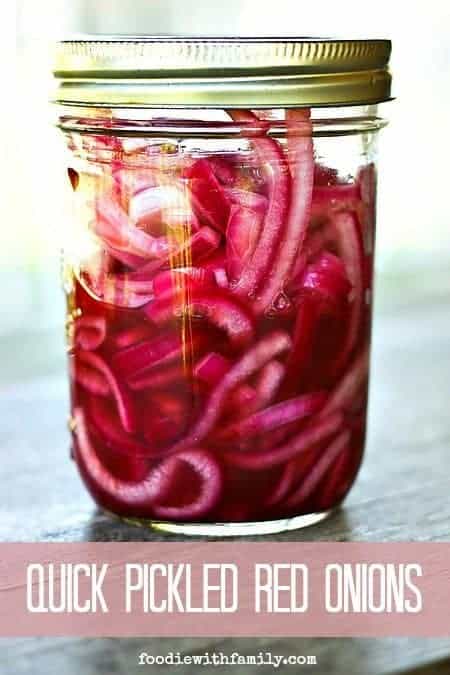 Simply put, I do not go more than a day without having Quick Pickled Red Onions in my refrigerator. There's no reason to, really, because they take about five minutes of hands-on time and add flair and zest to everything they touch. There's almost no savoury sandwich on which I wouldn't stuff a fistful of  crisp-tender, tangy, magenta Quick Pickled Red Onions. Salad? You bet. Whether we're talking lettuce, arugula, greens-of-another-sort, or pasta salad, they add the crunch and POP that wakes the whole thing up.  Smear some goat cheese on a cracker and top with a Quick Pickled Red Onion? Heck yes. Toss a couple with some scrambled eggs, cheese, and browned sausage into a warm tortilla and VOILA! Super speed breakfast burrito! A little bit of the pickle juice whisked into salad dressings adds a certain zip, too.
On hot days, I've been known to dip my fingers into the jar and nibble one or two. Somehow I feel like pickles cool me down. Am I alone on that one?
Pro-tip for you! The beauty of Quick Pickled Onion Rings is that you get all the crunch and taste of onion without getting the DRAGON BREATH and heartburn. The pickling process tames the fire of the raw onion without sacrificing the texture. Okay, it's STILL an onion, and there will be SOME onion breath, but it won't be like a raw onion and it doesn't share the tendency to -er- repeat on you.

Cook's Notes:
Don't slice the onions whisper thin or you'll lose some of the desirable crunch when you pickle them.
Conversely, don't make 'em too thick or they'll be like hot pink worms that slide out of your sandwich when you take a bite. Go for 1/8-inch (or 1/2-cm) slices for optimal results.
I'm pretty certain you can sub in other varieties of onions, but I love the BOOM PINK from the red onions.
This is a recipe designed for refrigerator storage and not for home canning. I do have a canning-friendly pickled onion ring recipe right here!
You can easily double or triple this recipe; I do regularly.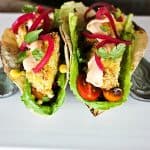 Quick Pickled Red Onions
Ingredients
1

large red onion

3/4

cup

red wine vinegar

3/4

teaspoon

salt
Instructions
Slice the blossom end off of a red onion, lay the now stable, cut surface on your cutting board. Slice the onion in half and remove the peel. Holding the root end, slice the onion into thin half moons. Put them into a heat-proof bowl. Bring the vinegar and salt to a boil and quickly pour over the onions. Wrap the bowl tightly with plastic wrap and let sit at room temperature for at least an hour, removing the wrap and tossing with tongs every 20 minutes, then re-covering, until the onions are bendable. When they reach that point, load them into a jar, pour the pickling liquid over them and screw a lid tightly in place. Refrigerate until well chilled.

Store tightly covered for up to a month in the refrigerator.