Before I get into the quinoa salad recipe, I want to remind you all that you have one more week to get us your submissions for the The Second Tuesdays Déjà Food Event. We're really looking forward to seeing what you all do with your leftover makeovers.
Now, back to business…
Quinoa has been the hot whole grain of the food blogging world lately. My method for cooking quinoa is not the one most recipes require. Most often, recipes tell you to wash the quinoa carefully to remove the bitter coating that it naturally produces. I use the toasting method to remove the bitterness and add a little extra nutty flavor to the end product. It's a personal preference. You're by no means obligated to do it my way! (But I do think it tastes better- I'm just saying…)
"Zangy" is a word my boys coined. To hear them tell it, "Zangy" describes food that is simultaneously zingy, zany and tangy. I guess it's sort of umami-light. When I made this quinoa salad I had no idea what to call it. I couldn't call it Latin flavors quinoa because it sounded clinical. As the kids happily munched away on the salad, I asked them what they thought. Ty, my 'no veggies/no fruits' guy said, "I like it. It's zangy." Liam and Aidan chimed in, "Yeah. It's zangy for sure. Mom. You should call this Zangy Quinoa Salad." And so without further adieu…
Zangy Quinoa Salad under blackened hake with chili garlic sauce, peach salsa and lettuce wraps. (This is the only picture I have of the salad since we ate so ever-loving much of it.)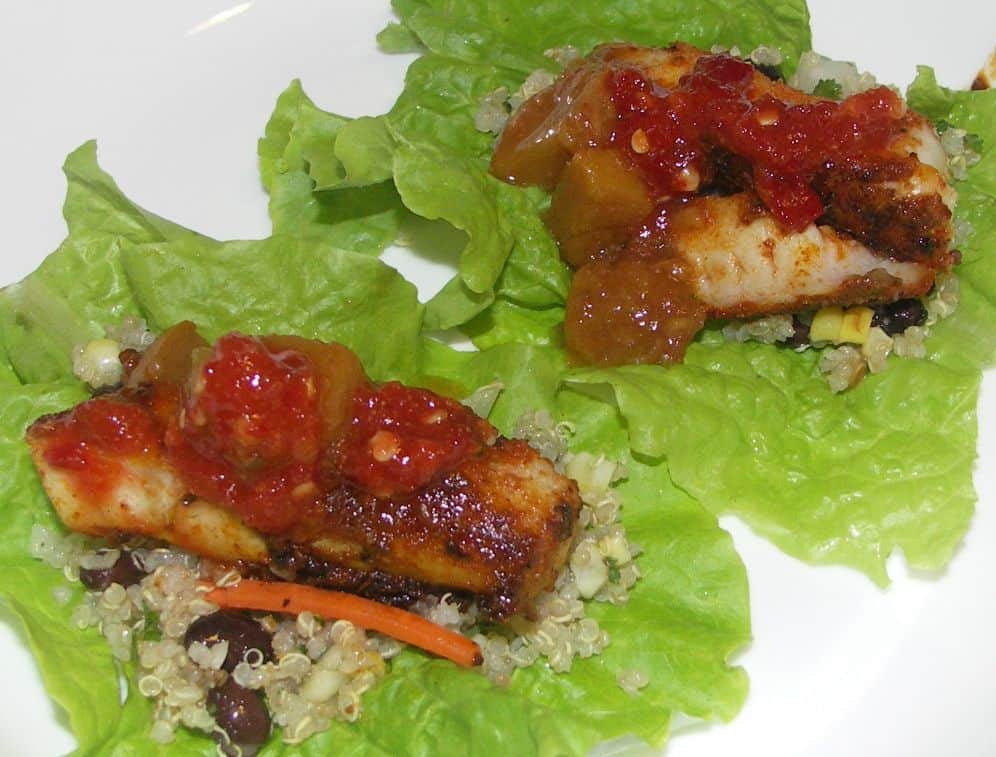 Zangy Quinoa Salad
I had no time to scale down my usual quantities. This week is madness. This is how I make it and it does make a lot, but it keeps well in the fridge for up to a week. You should start this salad early in the day so it has time to let it's flavors meld in the fridge. It makes it zangier.
Ingredients:
3 cups white or red quinoa
6 cups water or chicken stock
3 cloves garlic, minced (reduce if you're not a garlic obsessive like me.)
6 Tablespoons extra virgin olive oil
3 Tablespoons red wine or white wine vinegar
1/2 teaspoon lime zest
1 teaspoon crushed red pepper flakes (reduce if you're not fond of heat!)
1 teaspoon Kosher or sea salt
1/2 teaspoon fresh ground black pepper
1 bunch fresh cilantro (or parsley if you're in the anti-cilantro camp), washed and coarsely chopped
1 red bell pepper, seeded and diced
1 large carrot, julienned
1 large cucumber, diced
1 red onion, diced
Two ears of cooked sweet corn, kernels sliced from the cob (or 1 cup frozen corn, cooked and cooled)
1 1/2 cups cooked black beans (or 1 can, drained and rinsed)
Place quinoa in a large, heavy bottomed stockpot or skillet over medium high heat. Stir constantly until quinoa is golden and you hear popping sounds from the quinoa. Immediately remove from heat to a fine mesh strainer and run cold water over it, rinsing and draining thoroughly.
If using a rice cooker, add the quinoa and water or stock, close the lid, turn on and allow it to run the cooking cycle. If using the stovetop, put the stock or water into the pot used to toast the quinoa and bring to a boil. Pour quinoa into the boiling water, reduce heat to a simmer and cook, uncovered, until almost all the water is absorbed- about 15 to 20 minutes.
Whether using a rice cooker or a stockpot, when quinoa is done cooking, fluff with a fork, scatter the minced garlic over the top and cover, allowing it to sit for 10 more minutes off the heat.
In a pint jar with a tight fitting lid (or in a bowl with a whisk), add the olive oil, vinegar, lime zest, red pepper flakes, salt, black pepper and cilantro. Tighten lid and shake well to combine the ingredients. (If using a whisk, just put some elbow grease into your whisk work.)
Transfer quinoa to a large mixing bowl, pour dressing over the quinoa and toss gently. Add remaining ingredients and toss gently again. Tightly cover and refrigerate for at least an hour before serving.
How Did We Like This Recipe?
This recipe divided the house nearly along the predictable veggie lover/veggie hater fault lines. It got 10 thumbs up out of a possible 14 with the surprise defection of Ty from the veggie hater camp to the "Zangy Quinoa Salad" chock-full-of-veggies lover camp. It was a shock but a welcome one. I think it was the presence of the beans that won over The Unbending One. Leif and Rowan have not responded to the theory that if you put something in front of a child multiple times they will eventually come to love it. I'm not giving up, though, because this stuff is too good not to like. They'll have the opportunity to develop a love for it once a week for the rest of summer!