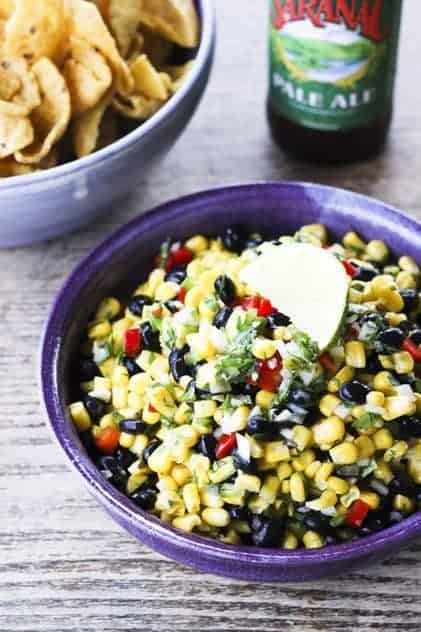 I'm a Fritos kind of gal. It's hard to go wrong with a salty, deep-fried corn chip, but there's just something special about Fritos. I've loved them as long as I can remember. When I was younger, there was more than one time I polished off a whole bag of Fritos in one sitting. These days, though, aging dictates that I can no longer sit and plough through an entire bag unaccompanied. Something about heartburn, calories, moderation, setting a good example for my children, blah blah blah.
Now I use Fritos not as a stand-alone food group but rather a tasty, salty, crunchy eating implement. They hold up well to my favourite kind of dips; those full of vegetables, garlic, herbs and beans. This time of year, a vegetable/bean salsa is just about the perfect way to round out a meal. Heck, when it's hot enough, a bowl of this IS a meal at our house. You don't have to fire up the oven. It's cool, flavourful, substantial but not heavy, and packed with nutrition. Don't EVEN tell me the Fritos cancel that out because I will stick both fingers in my ears and 'LAH-LAH-LAH' until you get tired of trying to get past my incredible display of loyalty and stubborness regarding snack food.
I did tell you. I'm a Fritos girl.
But the dip -the salsa, if you will- is where it's really at today. Sweet corn, black beans, crunchy red bell peppers, onions, garlic, lime, jalapeños and beaucoup cilantro are tossed together in a eye-catching salsa that can even stand alone as a salad. That's right. I'm saying you can eat it *GASP* without the Fritos. It is that good. I still dip it up with chips, but I also serve with ribs (hint, hint… not so distant post), in tacos, over baked potatoes, or tossed in cooked and cooled grains for a nutritionally complete meal. Mix up a big batch of it on the weekend and eat from it over the next several days. Fritos are optional.
Maybe.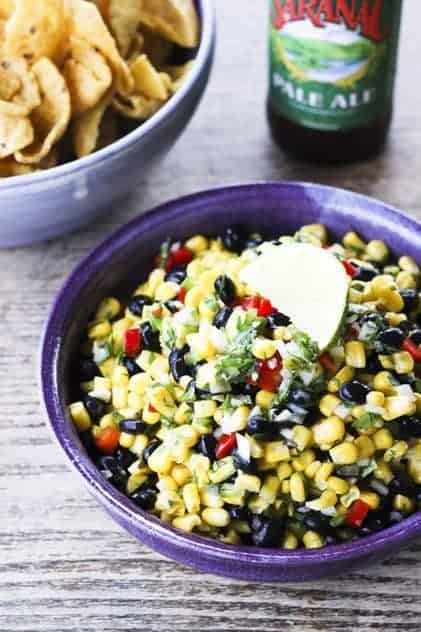 I love this Southwestern inspired, flavour-packed sweet corn and black bean salsa for dipping, certainly, but I also tuck it into tacos, on top of baked potatoes, use it as a stand alone salad with grilled meats, or toss it together with cooked and cooked quinoa or millet for a nutritionally complete summer meal.
Ingredients
1

pound

frozen sweet corn

thawed

1 1/2

cups

cooked black beans

drained and rinsed and drained again (or 1 can black beans, drained and rinsed and drained again.)

1

red bell pepper

stemmed, seeded and diced

1

half of a sweet onion

peeled and diced

1

jalapeno

stemmed, seeded and minced

1-2

cloves

of garlic

peeled and minced or pressed, according to preference

the juice of two limes

a large fistful of fresh cilantro or parsley

chopped

salt and pepper to taste
Instructions
Toss all of the ingredients together and refrigerate for at least 30 minutes before serving. Store leftovers in a tightly covered container in the refrigerator for up to a week.
Nutritional information is an estimate and provided to you as a courtesy. You should calculate the nutritional information with the actual ingredients used in your recipe using your preferred nutrition calculator.