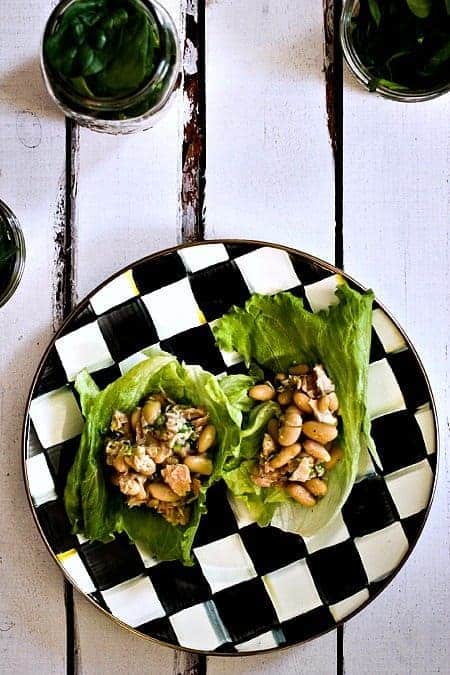 January is a weird month for me. I start it strong carried on a wave of warm fuzzies from Christmas and New Years, and all of my boys' birthdays, then exit the month sleepy and befuddled by the constant palette of whites and greys outside the window with the occasional glimpse of brown. My grandma describes January's weather as being like a fake smile: blue skies that belie the bone chilling cold. Maybe there's a thaw with a tantalizing peek of green mush under all the white. Maybe. Mostly, I feel the need to hibernate.
Bears have this one right.
This comes at the same time that the decadence and richness of the holiday diet winds down. I crave crunch -verdant, orange, red, yellow, green- and brightness that reminds you the sunshine will indeed be back in full force instead of just reflecting weakly from deep space off of the pure white surface of the snow.
I compensate for this by cramming as much FRESHNESS into our diet as I can. From mid-January through the end of April, I'm as far from a locavore as it's possible to be. Lemons? Yes, please… I fill the baby-seat portion of my cart (as I no longer have babies who sit there) with lemons and limes and avocados, NONE of which are local to Western New York or even the Northeastern U.S.). I pile the basket high with bunches upon bunches of cilantro, parsley, green onions, spinach, lettuce, chard with zero compunction or guilt. Why? Because if I didn't, I'd be hunched over, schlepping my kids from activity to activity, dragging my knuckles on the ground, looking like a variation on the outdoor colour scheme.
I need greenery and I need it badly.
Mediterranean Tuna and White Bean Salad fits the need in just about every category; it has bright flavours, healthy, lighter on the wallet AND calories, simple, and easy to find all of the ingredients even if you just east of the middle of nowhere like I do. It's full of protein, healthy carbs, fiber, vitamin c, iron, and glorious bits of chlorophyll courtesy of the punch of fresh herbs. Can't find fresh herbs? It's okay, I can only get them when I find myself in the grocery store that is thirty minutes from home. Dried parsley and oregano will do in a pinch.
It's fresh (there's that word again!), frugal, simple, and healthy. That's better than good!
Now a word or two about how to serve it. I have two favourite ways (although I'm sure there are more wonderful ideas out there… Maybe you could help me with some of them?)
Fill the bottom half of a pint jar with the Mediterranean Tuna and White Bean Salad. Pack the top half with baby spinach leaves. Fix the lid in place, refrigerate for up to three days, and TADA! Health lunches to go or fabulous post-workout snacks!
Pile the Mediterranean Tuna and White Bean Salad into a whole lettuce leaf. Romaine, Leaf or Iceberg* are all good choices.
*I refuse to join the anti-iceberg snobbery club. Iceberg is an economical, easy-to-find-anywhere option for freshness in the middle of winter. Long live wedge salads!
Does January have the same effect on you?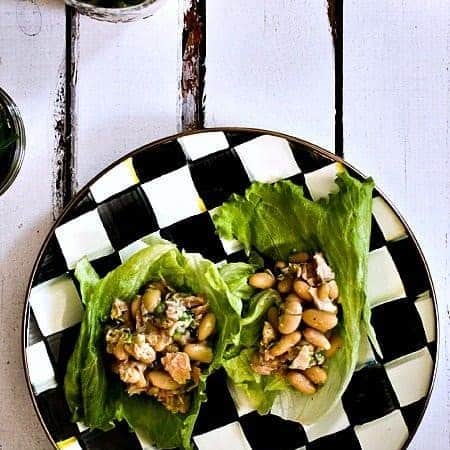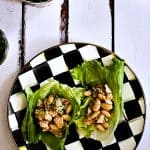 Print
Mediterranean Tuna and White Bean Salad
Ingredients
Mediterranean Tuna and White Bean Salad:
the juice and zest of one whole lemon

2

tablespoons

extra virgin olive oil

1/2

teaspoon

kosher or sea salt

or more to taste

1/2

teaspoon

freshly ground black pepper

or more to taste

1

bunch green onions

1/3

cup

fresh parsley leaves

or 1 tablespoon dried parsley flakes, roughly chopped

1

tablespoon

fresh oregano leaves

or 3/4 teaspoon dried oregano flakes, finely chopped

3

cups

cooked

or 2 cans, drained and rinsed, drained and rinsed cannellini beans

2

cans solid white albacore tuna packed in water

5-6 ounces each, drained
To Serve:
Fresh

whole lettuce leaves ~or~ baby spinach

Optional:

Clean pint jars with tight fitting lids
Instructions
To Make the Salad:
Combine the lemon zest and juice, extra virgin olive oil, salt, and pepper in a medium sized mixing bowl using a whisk. Toss in the green onions, parsley, and oregano to coat. Toss in the beans and mix until everything is evenly combined. Finally, break large-ish pieces of the tuna into the bowl of beans. Stir gently to combine, but try not to break the tuna up too much. It's more fun to find big pieces of albacore in the salad.
To Pack Salads for later:
Fill clean pint jars halfway with the bean and tuna mixture. Pack baby spinach leaves in on top of the salad. You don't have to worry about being a little rough with the leaves to really get a lot of spinach in there; as long as you're not squishing the beans at the bottom of the jar, you're applying pressure that the spinach can handle. Refrigerate and consume within three days of preparation.
To Serve Salads Immediately:
Pile the bean and tuna mixture on whole lettuce leaves. Wrap the lettuce leaf around the salad and eat. Repeat! It's good for you!