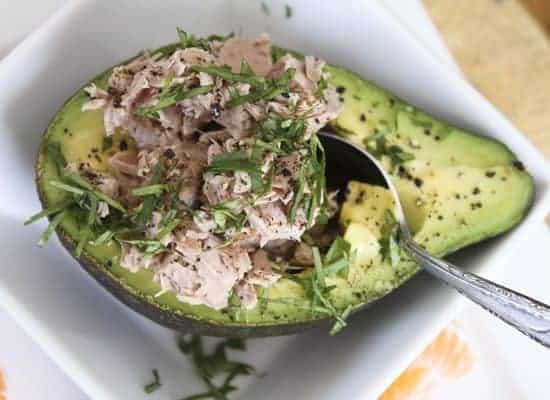 Welcome to my favorite lunch of all time. In the dog days of summer, I eat this at least two times a week. It throws together in a trice* and fills me up without weighing me down. In the winter, I eat this as a way to stave off the cold-weather blahs.
*Trice. Did I really just type that? What does this say about me?
This lunch comes with a side of epiphany. It  is a dish so simple that I hesitated to post it. And here's where that light bulb went off…
Simple food is what we all need. And the fact that I -a mom of five in secluded Amish country- eat this all the time doesn't mean that everyone else does. Hey, I didn't say my epiphany was brilliant.
*crickets*
Anyway. This dish. It takes less than five minutes to create. Five minutes. That's better tasting than takeout (unless your takeout comes from Ad Hoc or Ma Pêche), faster than a speeding microwave, cheaper than delivery and ever-so-good-for-you. What's that? Oh, yes. This lunch is healthy. Mega-healthy. Power healthy. Allow me to enumerate:
Tuna provides lean protein (helpful in building lean muscle mass), Omega-3 fatty acids (shown to promote heart, blood, and brain health), folic acid, magnesium and other good-for-yous.
Avocados are packed with vitamin E, vitamin C, folate, fiber, iron, potassium, lutein and beta-carotene. And yes, you want all those. As if that wasn't enough, the consumption of avocados has been shown to lower the bad cholesterol and regulate blood pressure.
Limes! They're not just there to keep the avocado from browning. Aside from keeping the avocado pretty, limes deliver a vibrant burst of flavor and are a readily available source of vitamin C and antioxidants.
Did you know cilantro has natural antibacterial properties? It's true! Beyond that, you get dietary fiber, magnesium, manganese, and iron. Such a lot of power in such a little package; I call that efficient.
But wait! There's more! (I get an inordinate amount of joy from saying that.)
The avocado is so creamy, it acts as the dressing for the tuna. No mayonnaise needed*! The silky, substantial avocado and lean tuna combine to make an incredibly fresh, light, satisfying meal. It doesn't just taste great and look pretty, it makes you feel great when you eat it. That's a whole lot of payoff for less than five minutes of work!
*This is not me hating mayonnaise. But really, tuna tastes great without the ubiquitous filter flavor of mayonnaise, too. I encourage you to try it 'clean' if you haven't done so before.
For the best results, use a good tuna;  That doesn't necessarily mean an expensive one! Do some investigating and find a brand that has actual pieces of tuna in it. Albacore is a safe bet in most brands, but some chunk light tuna is better than others. Just try a few and decide which you like best.
Do you dislike cilantro? Tuna? Don't pitch the idea, substitute green onions, parsley or chives for the cilantro. Swap out the tuna for salmon, fresh or canned, or leftover chicken, diced. You can use lemon or orange juice instead of lime juice. It's wide open for interpretation and interpretation tastes delicious!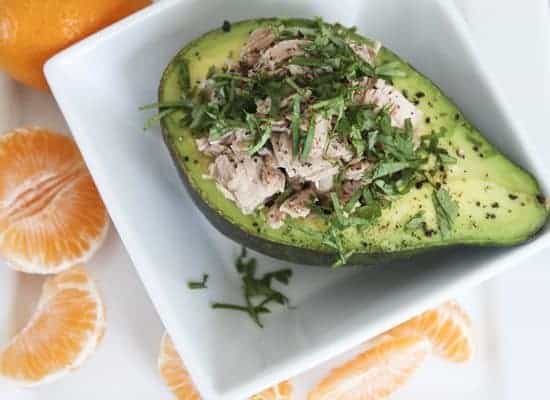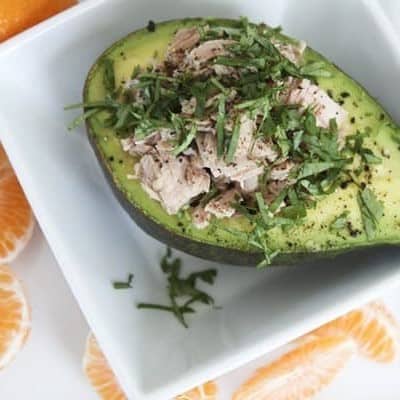 The avocado is so creamy, it acts as the dressing for the tuna. No mayonnaise needed! The silky, substantial avocado and lean tuna combine to make an incredibly fresh, light, satisfying meal.
Ingredients
1

perfectly ripe avocado

I prefer Florida avocados for this salad because of the large well left by the pit, but Haas avocados taste wonderful, too.

2

wedges of lime or 2 tablespoons of lime juice

separated

2

cans of chunk tuna

drained but not squeezed dry

fresh

coarsely ground black pepper, to taste

fresh cilantro

coarsely chopped

sea salt

to taste
Instructions
Halve an avocado lengthwise. Remove and discard the pit. Squeeze a wedge of lime over the cut surfaces and into the wells of each avocado half. Put half of the tuna in each avocado well. Grind a generous amount of black pepper over the tuna and avocados. Sprinkle chopped cilantro and sea salt over the top. Squeeze the second lime wedge over the tops (or drizzle with the remaining tablespoon of life juice. Eat.
Notes
To easily halve an avocado, slice through the skin of the avocado lengthwise, and down through the flesh until you reach the pit. Hold the knife against pit and pivot the avocado around the knife. When you've sliced around the circumference of the avocado, rotate the halves against each other. They should come apart easily. The pit should pop out of the avocado with little effort. If it is stubborn, gently slide a spoon around the edges then under the pit before popping it out.
Nutritional information is an estimate and provided to you as a courtesy. You should calculate the nutritional information with the actual ingredients used in your recipe using your preferred nutrition calculator.