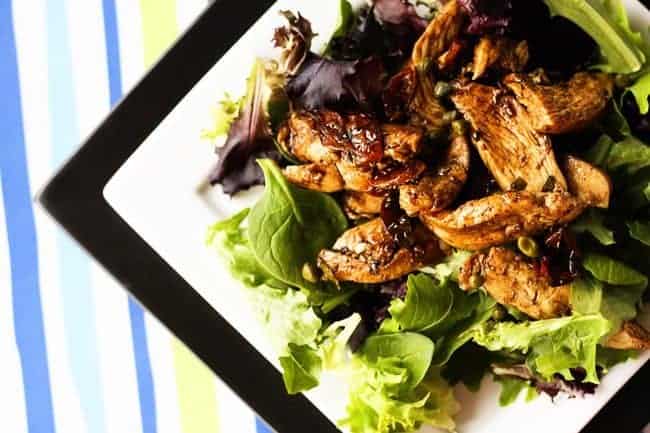 You know those go-to dishes? The ones that you can't mess up and no matter how often you make them, you never tire of them? The dishes that you can make with your eyes closed and one hand tied behind your back? You are looking at one of mine.
That, my friends, is a dish I've been making for almost two decades. It started as a recipe clipped from a Wegman's sales circular. Somewhere -about fifteen years ago- I made a couple of changes to the recipe based on what we had on hand and we liked it so much it stayed that way.
Balsamic Chicken Salad. I have an almost Pavlovian response to the name of the dish I love it so much. Tender strips of chicken are tossed with a balsamic vinegar, sun dried tomato and caper pan sauce over a bed of fresh greens.We are talking the ultimate dinner salad, here. If you serve this with a lovely hunk of baguette or some corn muffins and some sweet cream butter, you really don't need anything else.
Now, if you're not a salad person *GASP*, or can't lay your hands on good mixed greens this time of year, don't let this stop you. The chicken is so good by itself, you must -ABSOLUTELY HAVE TO- make it. I can't keep my fingers out of the pan sneaking bites here and there. It is wonderful on sandwiches or tossed into bow-tie pasta with a shower of grated Parmesan cheese.
Mercifully, this eminently craveable dish is shockingly fast to make and budget friendly all while being impressive enough for company. You can't beat that with a stick!
I'll tell you, it does make quite a bit of chicken. This IS a dinner salad, after all. Don't fret, though, if you're cooking for less than a regiment, because the leftovers are great chilled on salad or folded into other dishes (hint hint… There's a recipe that is especially good with it coming up in the next couple of weeks…)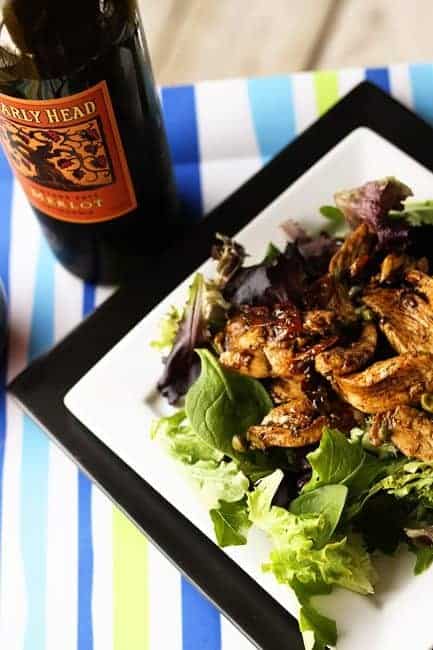 Tender strips of chicken are tossed with a balsamic vinegar, sun dried tomato and caper pan sauce over a bed of fresh greens.We are talking the ultimate dinner salad, here.
Ingredients
6

boneless

skinless chicken breast halves, sliced into thin strips.

1

cup

sun-dried tomatoes

not the oil packed variety

1/2

cup

semi-dry or dry white wine

1/4

cup

extra virgin olive oil

2

cloves

of garlic

peeled and minced or pressed

1/3

cup

balsamic vinegar

1 1/2

tsp

brined non pareil capers

drained

5

basil leaves

ripped into strips

Mixed salad greens

salt and freshly ground pepper
Instructions
Heat the white wine in a saucepan or microwave until steam is rising from the top. Pour over the sun-dried tomatoes in a heat-proof bowl and cover with a saucer or plastic wrap. Set aside to rehydrate.

Sprinkle the sliced chicken breasts with salt and pepper. Place a large, heavy-bottomed skillet over medium high heat and add 1 tablespoon of the olive oil. When the oil is shimmery, add as much of the chicken as you can without overcrowding the pan.

Sautee the chicken until just cooked through and lightly browned. Transfer to a plate and repeat with the remaining chicken. Repeat with the remaining chicken, adding 1 tablespoon of olive oil each time. You will probably have 3 batches, depending on the size of the chicken breasts.

When the final batch of chicken has been removed from the pan, add any remaining olive oil and the garlic and stir for about 15 seconds, or until the garlic is fragrant. Add the vinegar stir the remove any tasty bits stuck to the pan. When the vinegar boils up and starts to thicken, add the sun-dried tomatoes in the white wine, the capers, the basil, and return the chicken to the pan. Toss to coat and heat through. Remove the pan from the heat.

Add two cups of mixed salad greens to a plate for each of the desired number of servings and use tongs to arrange about a cup of chicken over each salad. Spoon pan sauces over the chicken, if desired.
Nutritional information is an estimate and provided to you as a courtesy. You should calculate the nutritional information with the actual ingredients used in your recipe using your preferred nutrition calculator.