Oh mercy. The  Honyaks, The Evil Genius and I are all so sugared out from Easter candy that  it's not even funny. We're all draped over pieces of furniture craving fresh fruits and veggies and some decently Spring-like days. At this point we'd all settle for a sunny day without the -30°F winds. Cripes! It's April, already. So I'm taking matters into my own hands. I'm turning some of our favorite summer standards (any of them that CAN be done with what's available in stores, the freezer and the pantry at this time of year) in the hopes that the weather will notice what we're doing and get into gear.
This Spicy Corn and Black Bean Salad is another from our Bean Files. It's another great reason to keep containers of cooked black beans in the fridge or freezer. The corn we used? Well, shoot. This time of year it had to be frozen ('cause I don't do canned corn.)  And you know something? I use the frozen corn for this salad even when corn is in season. It's perfect for this application. Just thaw the bags of corn in the fridge overnight. If you're in a real hurry, you can thaw it in the microwave, but try not to cook it. Part of the appeal of this salad is a little snappy texture from the corn. Since many of the cell-walls have already been burst in the process of blanching and freezing the corn, you really don't want to push it  along into mush-territory by cooking it.
Do you need help choosing and handling the perfect avocado? Go armed with these tips and you should come home with some good ones:
Examine the skin of the avocado. It should be a uniform color. If there are darker or discolored areas or perforations, it could indicate over-ripe or discolored areas under the skin. It could also indicate a bad avocado.
Locate where the stem is attached to the avocado. Push on it gently like a button. If the stem doesn't move easily, it's not yet ripe. If it flies into the avocado with no resistance, it's overripe and past its prime. If it yields to pressure, without being squishy, it's probably the perfect avocado.
Once you find the perfect avocado treat it gently! Put it in your cart or basket where it won't get banged around. Keep an eagle eye on where it lands in the grocery bags so you can carefully take it home. Place it in the middle of your fridge and use within a day or two for best quality.
We like this pretty spicy (as evidenced by the habaneros we used for the spice-kick here). If your tastebuds don't do chile-peppers, you can always substitute bell peppers for the hot peppers. Feel free. I won't judge!
I have to say that a big bowl of this is a good, light dinner in my book. But if you are so inclined it makes a wonderful side dish for any and all grilled meats. And if you were feeling crazy, you could add some crispy crumbled bacon to it and you probably wouldn't regret it. But then again it's pretty hard to regret adding bacon.
For a photo-free, printer-friendly version of this recipe, click here!
Spicy Corn Salad
Ingredients: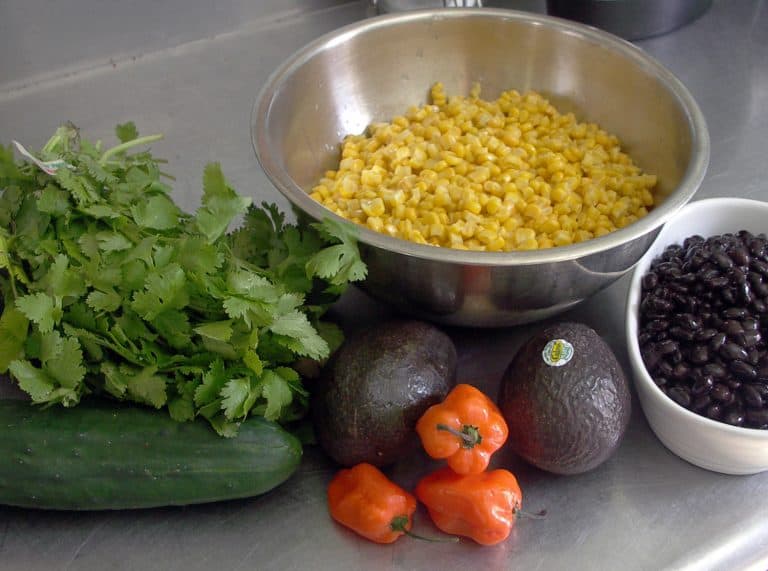 36 ounces frozen corn, thawed but not cooked
2 1/2 cups cooked and drained black beans (or 2 cans black beans drained and rinsed)
2 avocados
2 cucumbers (preferably English seedless, but any two will do)
BIG handful fresh cilantro
1-4 fresh jalapeno or habanero chile peppers (depending on heat preference)
Dressing:
1 1/2 teaspoons minced garlic or garlic paste
1/3 cup lime juice
1/4 cup rice wine vinegar
1 teaspoon prepared yellow mustard (I'm not joking. It's really crucial!)
2 teaspoons chili powder
1 1/2 teaspoons ground cumin
3/4 teaspoon kosher salt
black pepper to taste
1/2 cup canola or peanut oil
Combine corn and black beans in a large mixing bowl and set next to your cutting board. If using English cucumbers, remove plastic wrap, slice into long strips then slice the long strips into cubes then add to the corn and beans. (If using a standard, wax-coated cuke, peel first, halve, then seed the cucumber before slicing into long strips and cubes and adding to the corn and beans.)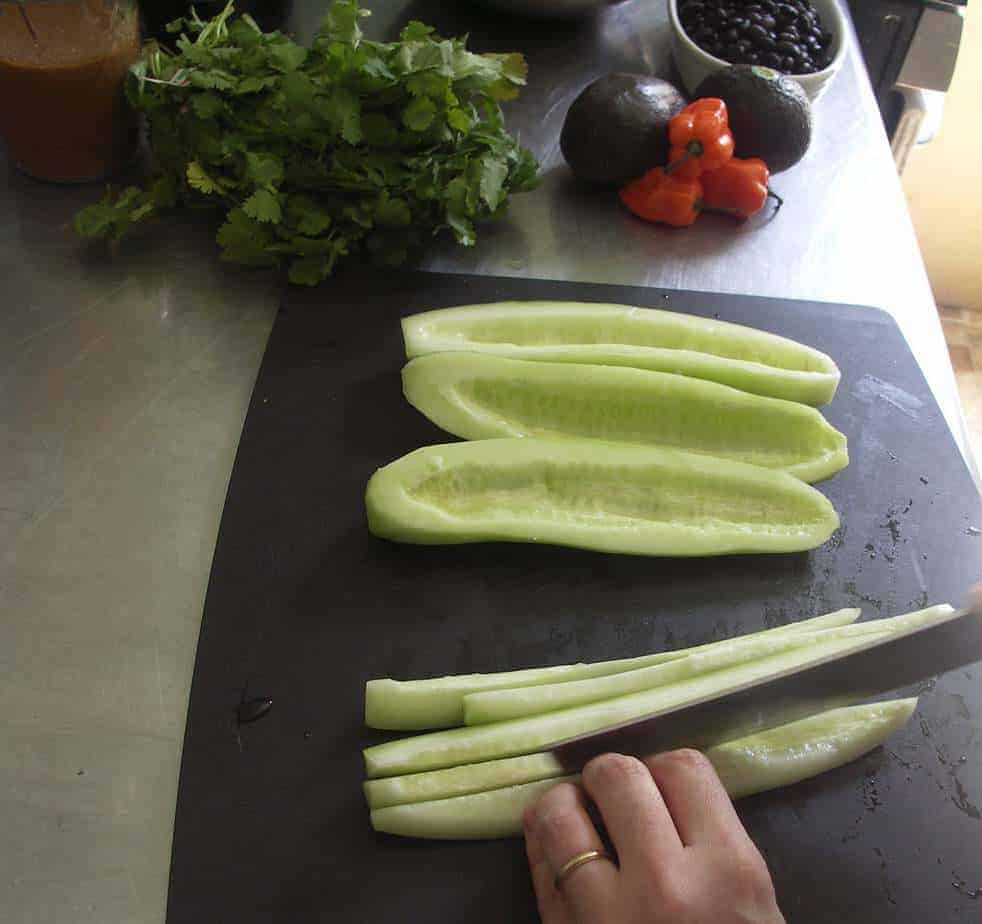 Wear gloves to stem and seed the chile peppers.
Slice peppers into thin strips and then turn and cut across the strips to create tiny diced pepper pieces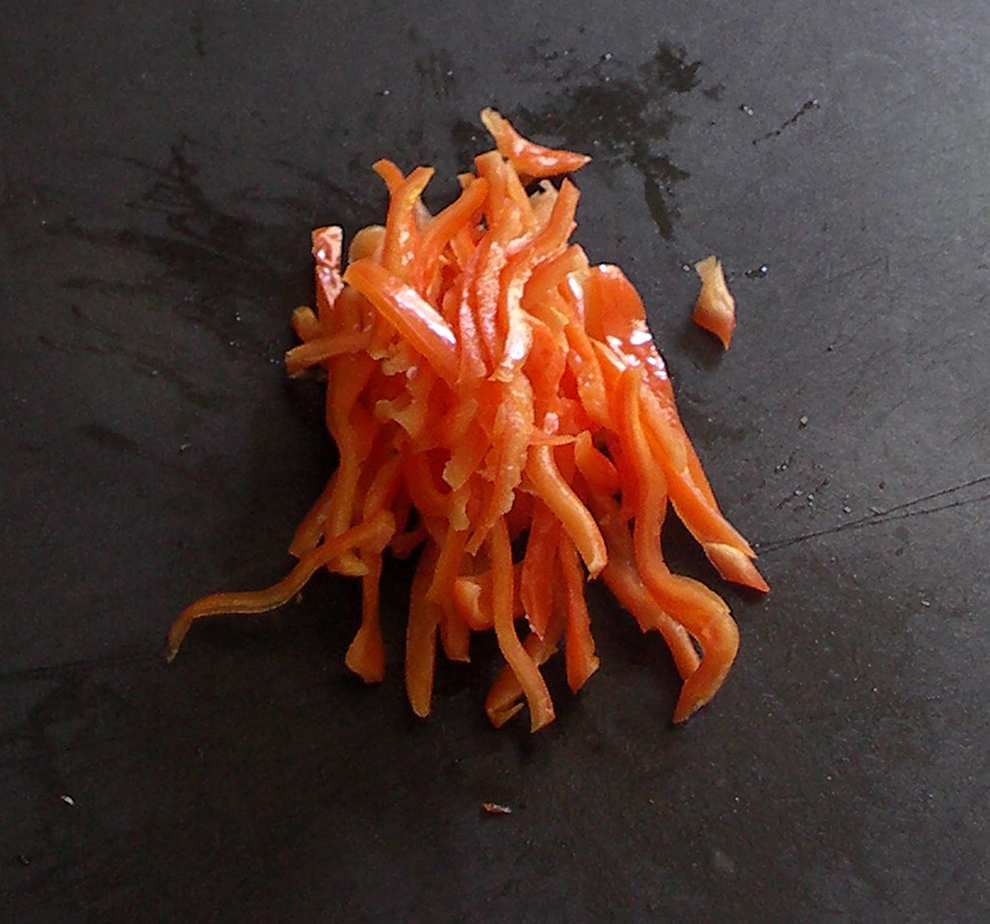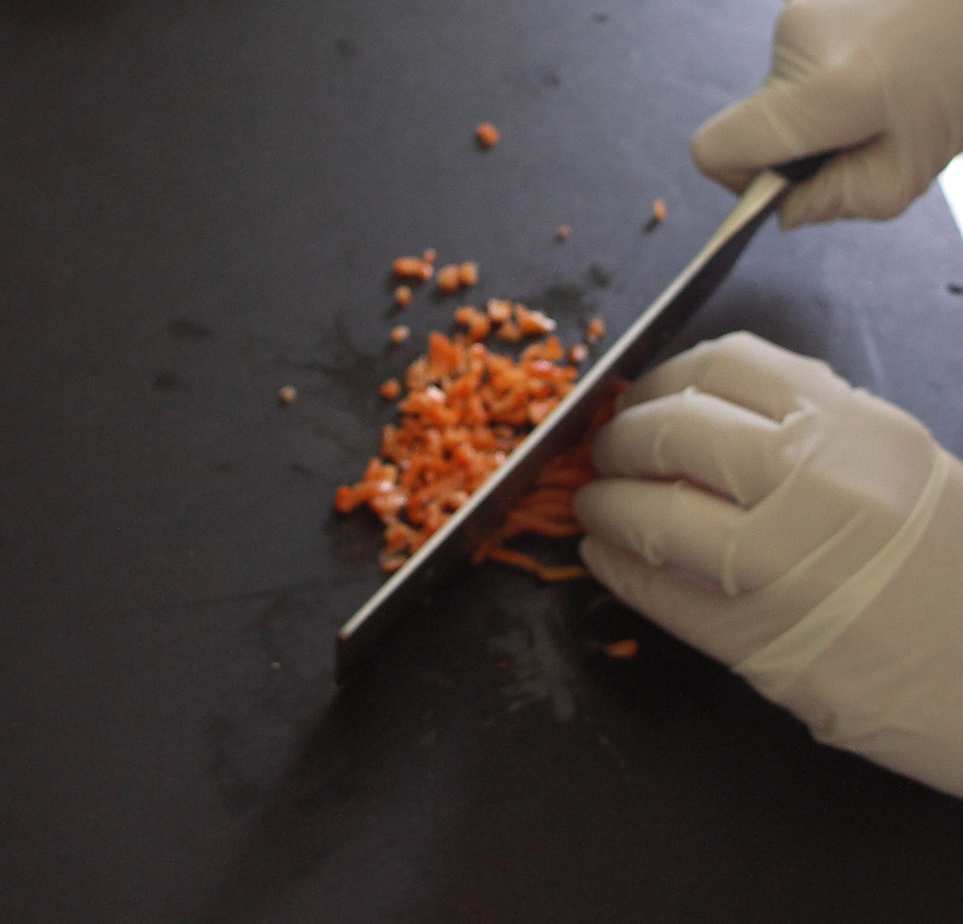 Add to the other veggies. Toss gently to mix.
Remove large stems from your cilantro and roughly chop the leaves before adding to the veggies in the mixing bowl.
In a jar with a tight fitting lid, add all ingredients for the dressing except the oil. Firmly screw the lid in place and shake like crazy until everything is evenly mixed. Remove the lid, add oil, replace lid and shake like the dickens. When the oil is suspended in the mixture (you don't see pools of unincorporated oil) the dressing is ready.
Just before serving, halve the avocados and remove the pits.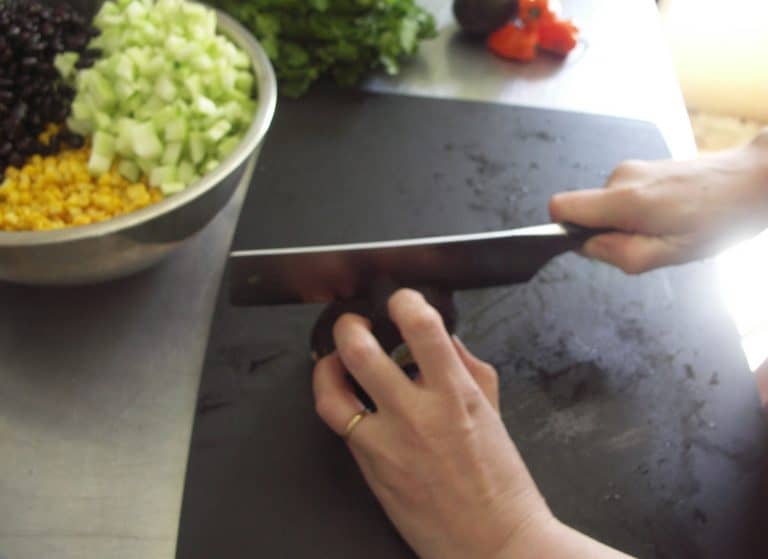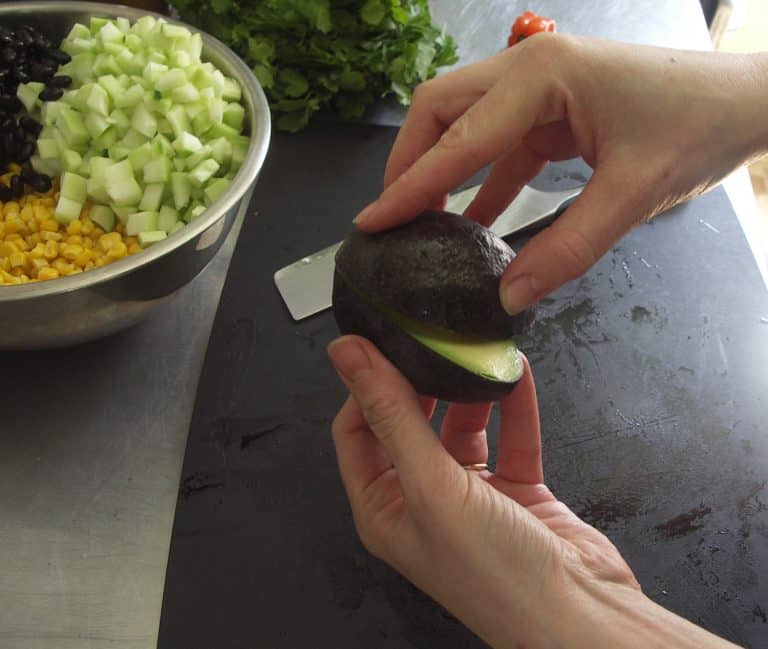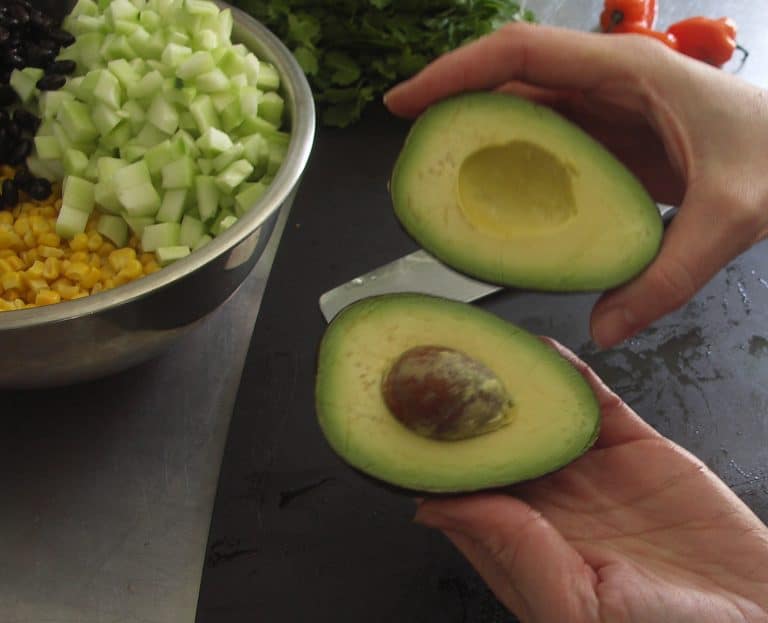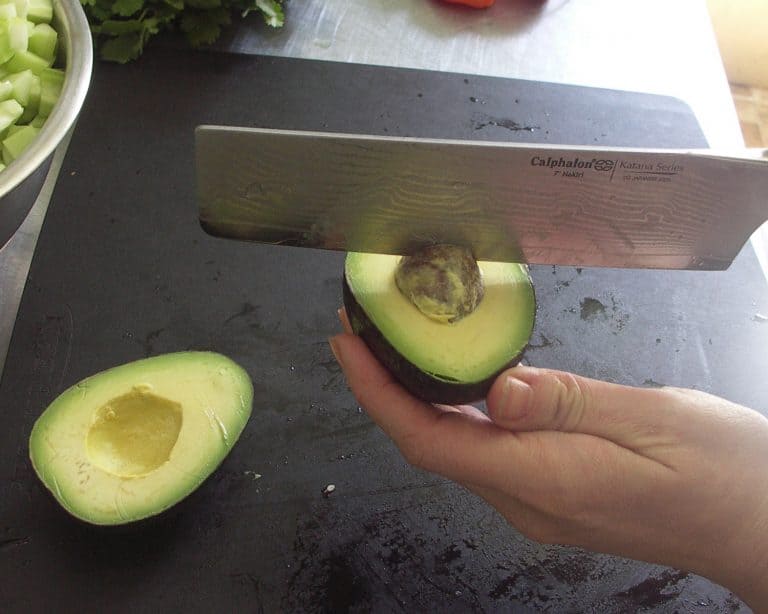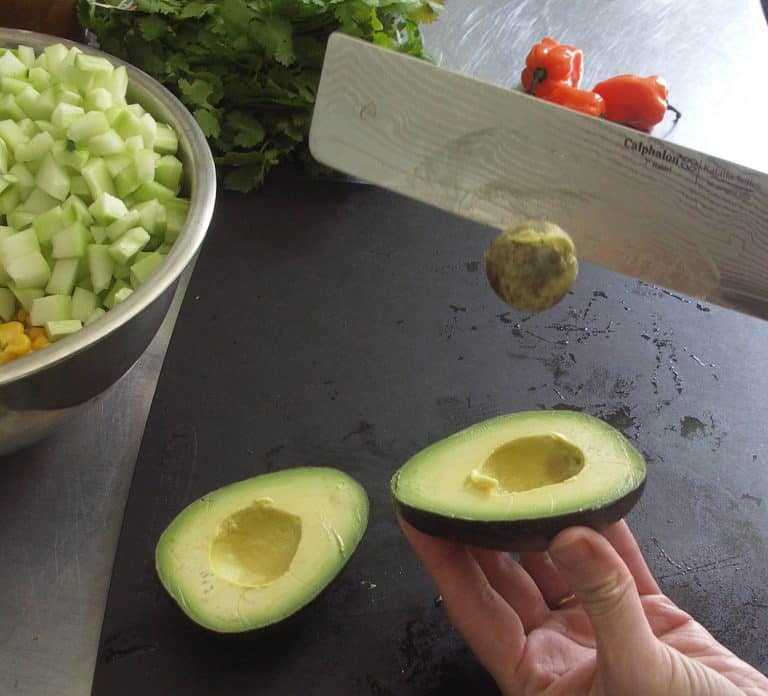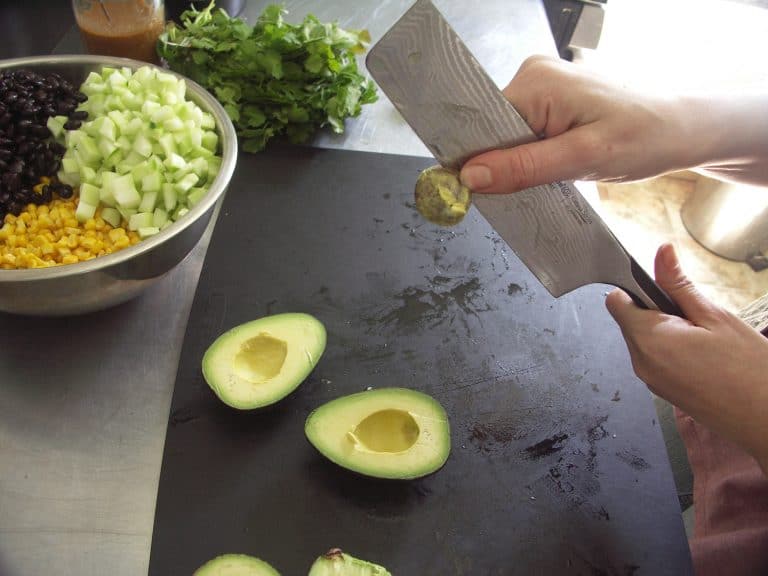 Use a butter knife to make slices in the avocados at even intervals from end to end without slicing through the skin. Rotate the avocado 90° and use the knife to cut across the slices you already made to create a grid.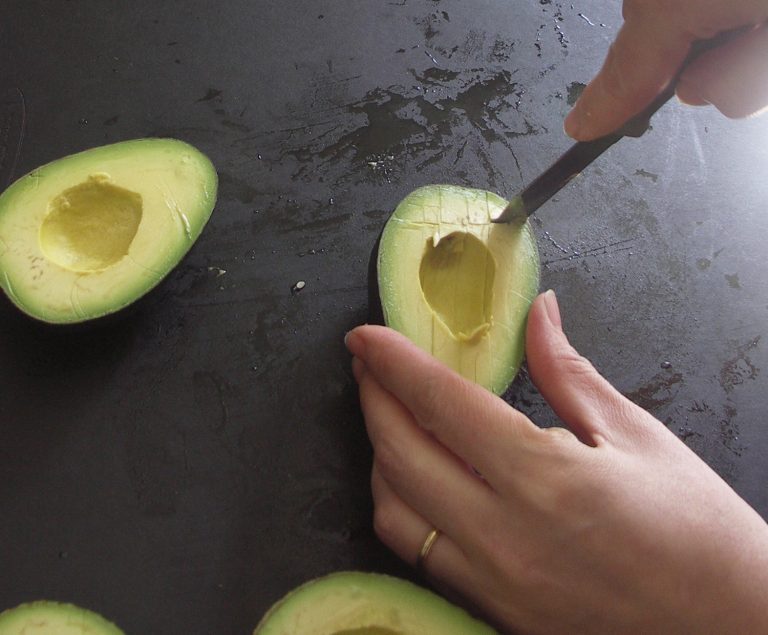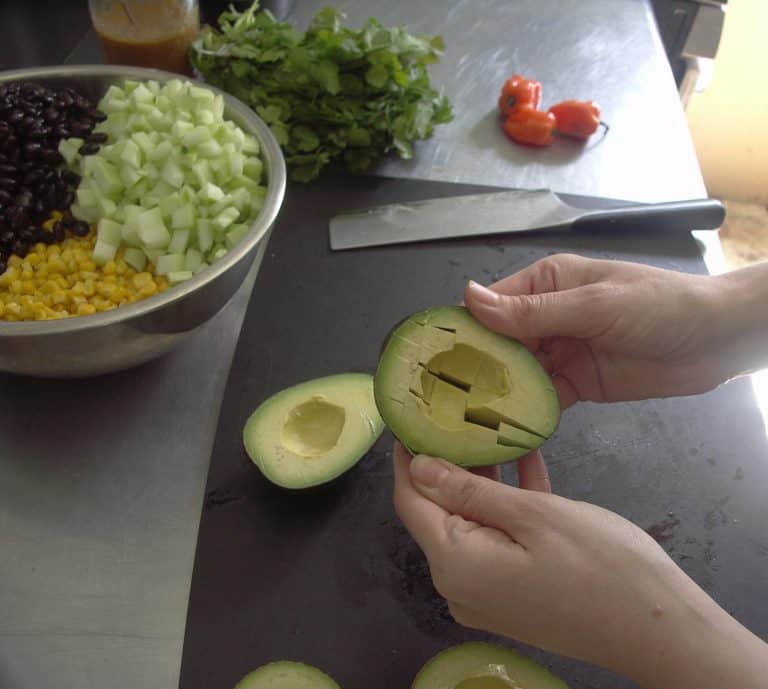 Insert a serving spoon between the skin and flesh of the avocado.
Follow the contours of the avocado with the spoon down to the base of the avocado and up and out the other side.
The perfect cubes of avocado should come easily away from the skin. Add to the salad with the cilantro, pour the dressing over top, toss and serve immediately!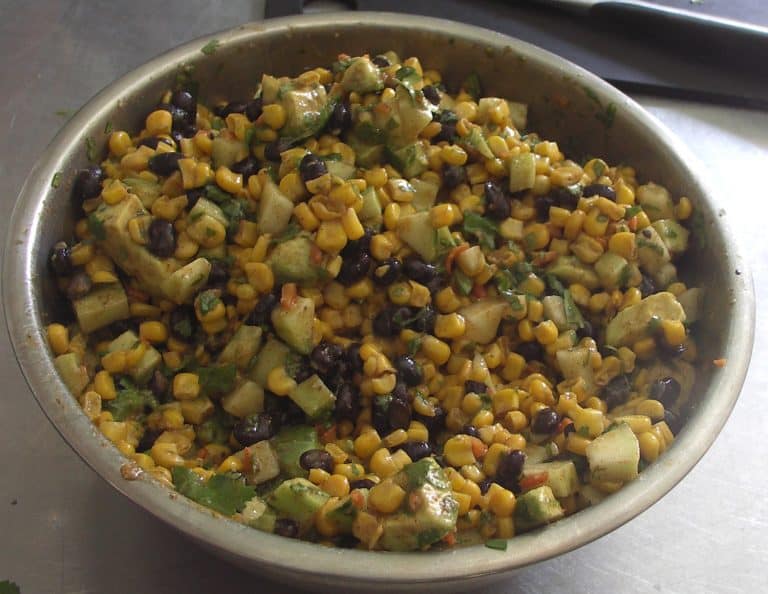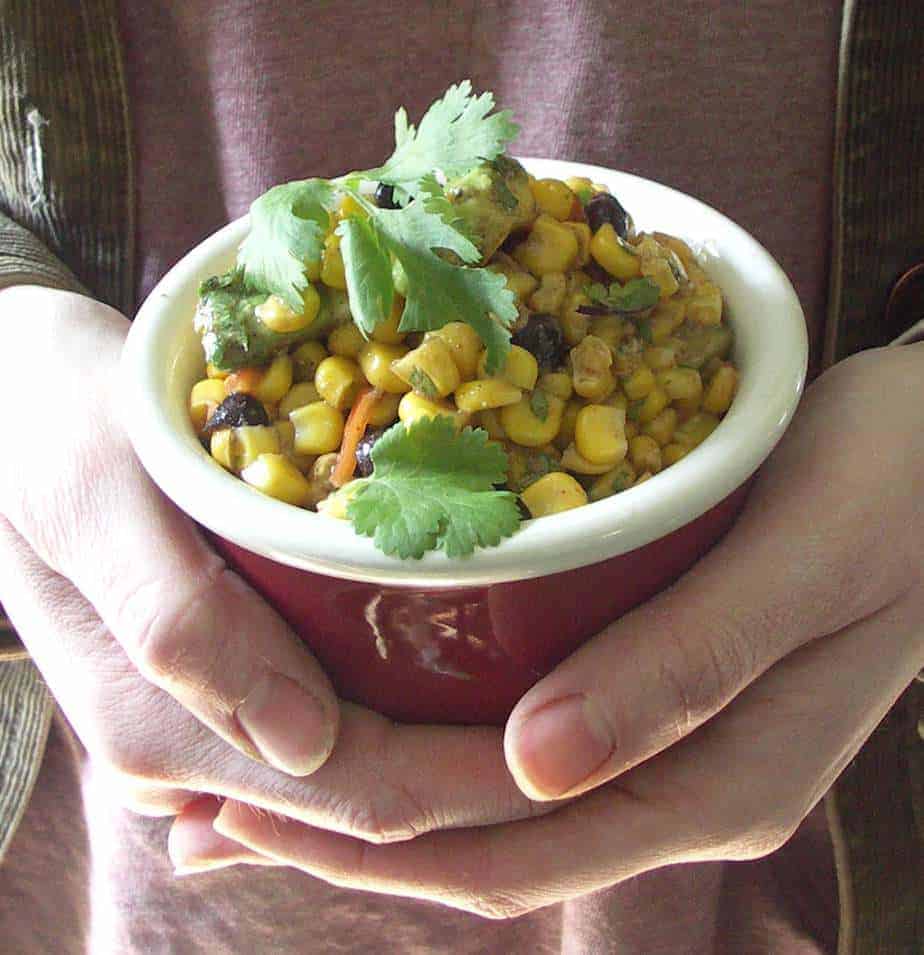 Leftovers can be refrigerated for a day or two and will taste wonderful, but the avocado will likely discolor. It's still good to eat, just not quite as pretty!