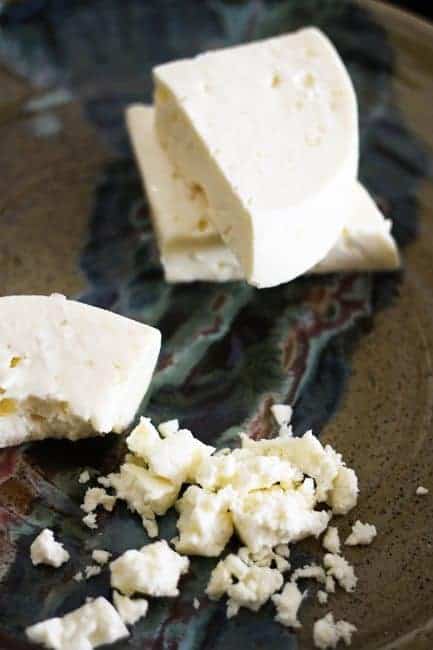 I have been promising to bring you my homemade feta cheese recipe for a while (Ahem, probably a couple of years. Eek.) Today is finally the day. You may be wondering why I bother making feta cheese from scratch. The answer-as is often the case-  is that homemade tastes great and because I can. I am, after all, the daughter of a man who feels driven to walk laps around the house outside in blizzards when authorities warn that you shouldn't go out unless you have to do so.
There's an enormous satisfaction in doing something that seems just undo-able, isn't there? Not only does homemade feta taste incredible, but it delivers a pioneer, up-by-my-bootstraps joy that a store-bought version just can't give no matter how wonderful it is.
…But there's another reason to take the plunge and it's a doozy. For the cost of three gallons of milk (it can be pasteurized/homogenized or raw, cow or goat milk) and about a dollars worth of other stuff, you get a massive amount of feta cheese. As in a gallon jar of brined feta cheese. If you're fearful of trying your hand at cheese making, just think of it this way; the risk is about twelve dollars worth of materials (depending on milk cost near you) versus a potential payoff of about forty dollars worth of cheese and an enormous ego boost. If it -bumbum BUM!!!!!- goes wrong, you can feed the errant cheese to dogs, cats, pigs, etc… They'll be happy.
I'm going to get right into it because even if I'm being succinct, this post is going to be long on account of the how-to photos… There's no getting around it. Some important notes:
Stay calm! Cheesemaking is not supposed to be stressful. It may seem complicated, but it isn't. Just go one step at a time and you'll get there.
Don't get freaked out by the length of time it takes to make this. Much of the time is hands-off time. Another warning for those who haven't made cheese or fermented something before; it gets a little, um, pungent smelling at times. Keep a-going. Don't worry! Remember that cheese making is essentially controlling how fast and in what way milk 'goes bad'. If it goes bad the right way it's delicious!
The only special equipment you really need to pull this off is a large stainless steel or other non-reactive pot, a heat source, a long knife or off-set spatula, a colander, something from whence to hang the cheese and butter muslin (extra, super, mega fine cheesecloth.)  Do not confuse this with the "fine" cheesecloth you get in the grocery store or hardware store. It's confusing terminology, but that stuff is so not fine. Just look for something called butter muslin and you'll be fine. Finer than cheesecloth. Sorry. You can get it here.
You can opt to use raw OR pasteurized/homogenized milk. It can be cow milk or goat milk. Any of those choices will be delicious.
Goat milk is naturally more tangy, so if you use cow milk, you may want to consider adding a bit of lipase powder. Lipase is an enzyme that naturally occurs in higher amounts in goat milk. If you want cow milk feta to have that bite that is found in feta, lipase powder is your answer. You can get it via my beloved Amazon.com should you wish to.
As far as specialty ingredients go, the lipase is optional, but rennet and mesophilic culture are not optional. Again? You can turn to Amazon.com. Here's one for mesophilic culture.
Whatever you do, don't think Junket Rennet will do the job. It simply won't. That's for custard making. My preferred cheesemaking rennet is made from animal sources.
Finally, I suggest you start the process around lunch time. This gives you the time needed to do the Day One portion of the recipe before too late in the day.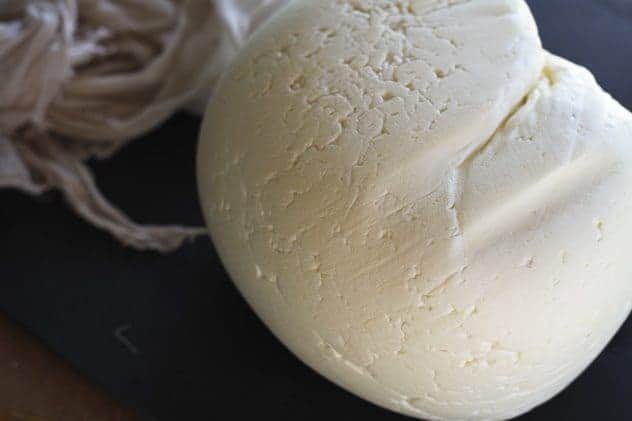 Just think what you'd do with a gallon jar full of fabulous feta cheese. You can go nuts with feta! On pizzas, spanakopita, this tempting salad from my friend, a baked potato, in soup, in omelets, with olives and bread, IN bread, and in just about any recipe that calls for cheese. Where would you use your wealth of feta?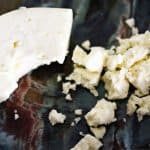 Print
Homemade Feta Cheese | Make Ahead Mondays
What do you get when you combine three gallons of milk, a little know-how and some time? A big batch of homemade feta cheese that tastes incredible and gives you major bragging rights. Don't fear the cheesemaking! Method gently adapted from and with thanks to
Fias Co Farm
Please visit her site for great feta cheese trouble shooting and other pointers.
Ingredients
For the Cheese:
3

gallons

fresh raw or pasteurized and homogenized goat or cow milk

1/4

teaspoon

Mesophilic culture

see link in post for source

1/4

teaspoon

lipase powder if using cow milk

Omit for vegetarian cheese. Lipase is animal derived.

1

teaspoon

single-strength liquid rennet dissolved in 1/2 cup of cool

or 1/2 teaspoon double strength liquid OR 3/4 of a vegetarian rennet tablet crushed, UNCHLORINATED water.

kosher salt

no substitute
For the Brine:
1/2

cup

kosher salt

no substitute

1

gallon

cool

UNCHLORINATED water
Instructions
To Make the Cheese:
Sterilize all of your equipment with boiling water before beginning (including the cheesecloth.)

In a very large, non-reactive pot, bring all of the milk up to 86°F.-88°F. Add the mesophilic culture and the lipase powder, if you are using it. Stir well with an up and down motion, cover the pot and let rest for one hour. Try to maintain the 86°F temperature. If you have trouble with that, you can set your large pot inside a larger pot with an inch of hot water in the bottom of it. This should help regulate the temperature more gently than firing up a burner directly beneath the milk. The goal is to avoid rapid temperature changes.*See notes.

After 1 hour, add the dissolved rennet to the milk and stir vigorously for 15-20 seconds. Remove the spoon from the pot, cover it, and let it stand undisturbed for 30-40 minutes or until the curd 'breaks' cleanly when you insert the tip of a knife and lift as shown below.
[img src="https://www.foodiewithfamily.com/wp-content/uploads/2013/01/homemade-feta3.jpg"]

Cut a 1/2-inch grid pattern into the curd. Don't get perfectionist here, you'll get frustrated. The curd likes to move while you try to cut it, so just do your best.
[img src="https://www.foodiewithfamily.com/wp-content/uploads/2013/01/homemade-feta.jpg"]

After you have the grid pattern, hold the knife at a 45° angle and retrace the cuts you've already made. This is going to make MOST of the curd in the pot into roughly 1/2-inch pieces.
[img src="https://www.foodiewithfamily.com/wp-content/uploads/2013/01/feta-in-brine.jpg"]

The ones that didn't get cut that small will break up later in the process. DO NOT STIR THE CURD YET.

Let the curd rest undisturbed for 10 minutes.

After 10 minutes, stir gently, breaking up any larger pieces you missed with the knife. Again, don't sweat this too much... Just try to have most pieces in the neighborhood of 1/2 an inch.

Keep the curd at 86°F to 88°F for 45 minutes, stirring from time to time to keep the curd from sticking to itself. You'll notice the curd getting slightly firmer and smaller. This is because as you stir it and hold it at this temperature it releases more whey.
[img src="https://www.foodiewithfamily.com/wp-content/uploads/2013/01/homemade-feta-1.jpg"]

Dampen your butter muslin/cheesecloth and use it to line a large colander. I usually position the colander over another large stockpot because I like to save the whey for baking.
[img src="https://www.foodiewithfamily.com/wp-content/uploads/2013/01/homemade-feta-2.jpg"]

Carefully and gently ladle the curds and whey into the lined colander.
[img src="https://www.foodiewithfamily.com/wp-content/uploads/2013/01/homemade-feta-4.jpg"]

When all the curds are in the colander, draw all 4 corners of the cheesecloth together to form a bag and tie in a sturdy knot. Hang the bag over the sink or a bowl or pot so it can drain freely.
[img src="https://www.foodiewithfamily.com/wp-content/uploads/2013/01/homemade-feta-5.jpg"]

Let the cheese drain at room temperature for 3-4 hours, carefully lower the bag into the colander and untie the bag. At this point, the cheese will be smooth on the bottom and spiky on top.
[img src="https://www.foodiewithfamily.com/wp-content/uploads/2013/01/homemade-feta-6.jpg"]

Flip the curd over so the spikes are at the bottom, retie and rehang the bag. Let it drain for 24 hours.
Here is where you're going to notice a certain stank coming from the vicinity of your cheese. That's okay. It means you're on the right track. Don't back down!
After 24 hours, lower the cheese, untie the bag and put the curd onto a sterilized cutting board. Cut it into blocks. I usually aim for pieces that are about the size of a deck of cards but about 2 inches thick.
[img src="https://www.foodiewithfamily.com/wp-content/uploads/2013/01/homemade-feta-9.jpg"]

Generously sprinkle all of the surfaces of the cut cheese with kosher salt then load the cheese into a sterilized, large, food-safe container with a tightly fitting lid.
[img src="https://www.foodiewithfamily.com/wp-content/uploads/2013/01/homemade-feta-10.jpg"]

Let the cheese rest at room temperature (DO NOT REFRIGERATE even though it is counterintuitive.) for 2 to 3 days so that it can continue releasing whey and hardening up. This will help it store longer.
To Prepare the Brine and Store the Cheese:
Pour the whey the cheese has released into a sterilized large, food-safe container with a tightly fitting lid. Arrange the cheese blocks in it.

Add the gallon of water and 1/2 cup of kosher salt to a non-reactive pot. Stir well over medium heat until the salt is completely dissolved. Let the brine come to room temperature before pouring it over the cheese. Put the lid in place tightly on the container and store the cheese in the refrigerator.

Let the cheese age at least two weeks before eating. It is good for up to a year as long as it is kept submerged in the brine and refrigerated. It will continue to get stronger in taste as it ages.
Notes
*If your room temperature is too cool and you are having trouble maintaining the temperature of the milk, you can either set the pot inside a larger pot with an inch or two of hot water in the bottom. When the temperature of the milk starts dropping, you can turn the burner on under the larger pot and the hot water will help gently raise the temperature of the milk in the inside pot. The goal is to avoid rapid temperature changes with can affect the culture at work in the milk as well as risk scorching. Scorched cheese is blechy.
Another option -and my preferred one- is to set the pot on top of a warm but not hot heating pad. This is my go-to procedure during cooler months when I have to wear a sweat-a to make feta.
Nutrition
Calories:
392
kcal
|
Carbohydrates:
46
g
|
Protein:
14
g
|
Fat:
17
g
|
Saturated Fat:
10
g
|
Cholesterol:
54
mg
|
Sodium:
2006
mg
|
Potassium:
596
mg
|
Sugar:
36
g
|
Vitamin A:
780
IU
|
Calcium:
530
mg
|
Iron:
0.2
mg