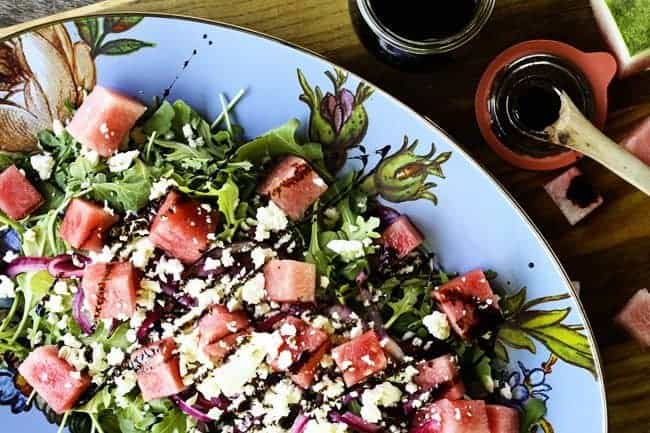 The names a mouthful, eh? It is so long, in fact, that I had to leave off the whole Make Ahead Mondays part of the title. Leaving the moniker off of the title doesn't make it any less of a Make Ahead Mondays superstar, though because this salad is f-to the-abulous! It is beyond good.
Last week, I was at Disney attending Food Blog Forum and I brought my mom and two of my sisters along with me. While I got inspired and educated (oh, and choked and almost died, but who's keeping track, really?) by a-list bloggers, my mama and sisters wandered around Disney in the ninety-degree temps and fifty-thousand-percent humidity riding rides and finding the best salads Disney had to offer. The one they raved about was an arugula, watermelon, feta, and pickled red onion salad that was drizzled with a balsamic reduction. "It's so good, Beccy! We HAVE to get you one!" they said. Not in unison, but you get the idea.
On our last day in Florida, I finally got to grab one of these salads at the Florida Fresh booth in Epcot Center. I understood the enthusiasm with my first bite. Peppery arugula topped with sweet, icy cold watermelon, crunchy pickled red onions, briny crumbled feta, and balsamic vinegar that was so concentrated it tasted almost sweet? Hoo yeah. I was hooked. Aside from a Dole Whip (soft serve pineapple frozen yogurt) I can't think of another thing that would've satisfied my hunger without weighing me down in that oppressive heat. I vowed to them I would recreate it STAT when we got home.
This salad isn't just delicious, it's gorgeous. Just look!

(Many thanks to Diane Cu and Todd Porter for the introduction to animoto.com.)
So why is this such a mega-watt Make Ahead Mondays addition? Because it's a three-fer. Heck, you might even say it's a four-fer.
ONE: It makes enough pickled onions to make at least six dinner sized salads ~or~ make four dinner sized salads and tuck some into several sandwiches. These onions are better than good, they're great!
TWO: It makes enough balsamic reduction to drizzle over at least fifteen dinner sized salads. I think you'll find more things to drizzle than just salads when once you've tried it, though. I love it on roasted potatoes (sweet or regular) or carrots or turnips, fried eggs, corned beef hash, or glazed on grilled or roasted meats or fishes. Holy over-conjunctions, Batman. Seriously, though? So good.
THREE: It uses another Make Ahead Mondays alumna; Homemade Feta Cheese. Oh, sure… You can use purchased feta, but if you made that gallon jar a while back, you may be looking for ways to use it up. This is a home run and a half!
FOUR: This salad! This salad is your four-fer qualifier. It's so dad-burned good I'm at a loss for words. I guarantee it will cool you down and make you happy on the hottest of days. I can't think of a better accompaniment to grilled ANYTHING than this.
Once you have the pickled onions and balsamic reduction in the refrigerator, you can assemble this salad in minutes. And once you've had this salad once, you're going to want it again and again. Work-a-day weeknights, parties, picnics, and any old time is the right time for this mouthful of a salad.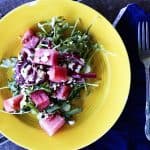 Print
Watermelon, Feta, Pickled Red Onion and Arugula Salad with Balsamic Reduction
Peppery arugula topped with sweet, icy cold watermelon, crunchy pickled red onions, briny crumbled feta, and balsamic vinegar that was so concentrated it tastes almost sweet. All things combine to form the perfect summer salad!
Ingredients
For the Balsamic Reduction:
3

cups

balsamic vinegar

1

tablespoon

honey

1

bay leaf
For the Salad:
6

cups

baby or tender arugula

2

cups

cubed watermelon

well chilled

1/2

cup

Quick Pickled Red Onions

drained

1/2

cup

crumbled feta cheese

or more to taste

balsamic reduction to taste

Start with 1 teaspoon and work up from there.
Instructions
To Create the Balsamic Reduction:
Add the balsamic vinegar to a heavy-bottomed pot over medium high heat. Stir in the honey, add the bay leaf and bring to a boil. Reduce the heat to medium and let the balsamic vinegar simmer for about 30 minutes, or until it has reduced in volume to about 1 1/4 cups total. Immediately pour into a sterile jar with a tight fitting lid. Refrigerate until ready to use. Be sure it is well chilled before pouring on a salad. This will store indefinitely in the refrigerator.
To Assemble the Salad:
Arrange the arugula on a serving platter. Scatter the pickled onions over the top, followed by half of the crumbled feta, the watermelon cubes, and the remaining feta. Use a spoon to drizzle the balsamic vinegar reduction over the salad immediately before serving.