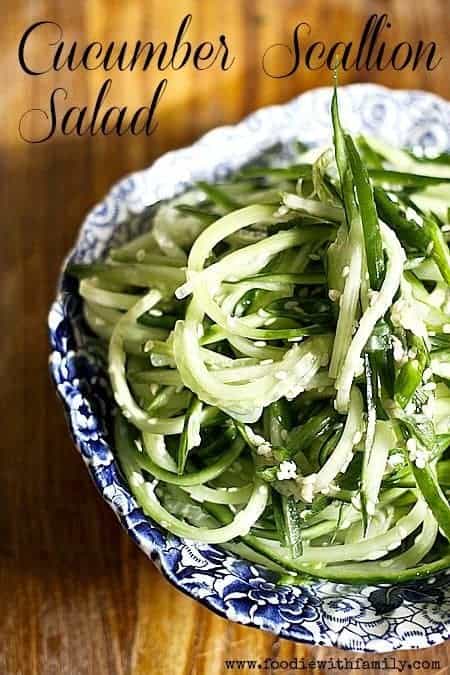 This delicate cucumber scallion salad is about as simple as it gets; julienned seedless cucumbers and scallions are tossed with a simple dressing of rice vinegar, oil, and sesame seeds. It pairs beautifully with fish and delicate proteins.
With the notable exception of vegans, is there anyone out there who couldn't possibly use a few more vegetables in their diet? I know my family could.
This is most especially true of my potatoes-peas-and-the-occasional-carrot third child and my two youngest, the charter members of the anti-veg contingent. The two eldest eat everything that isn't nailed down. They're not an issue.
Cucumbers are a pretty easy sale around here. One of the three veg phobes actually LIKES them.
Two will tolerate them. I call that a win across the board. Because it doesn't take any herculean efforts to get people to try them, they're on regular rotation at our dinner table. Mercifully, there are virtually no cucumber salads that take anything longer than a few minutes to toss together.
Today's salad is a variation on one of my all-time faves: Asian Marinated Cucumber Salad. It's not a HUGE departure from the original recipe I posted, but it is enough of one that it warrants its own post.
In this version, the cucumbers are julienned (sliced into long, thin, matchstick thick strips) on a mandoline or -if you have mad skills and the patience of Job- with a good, sharp knife.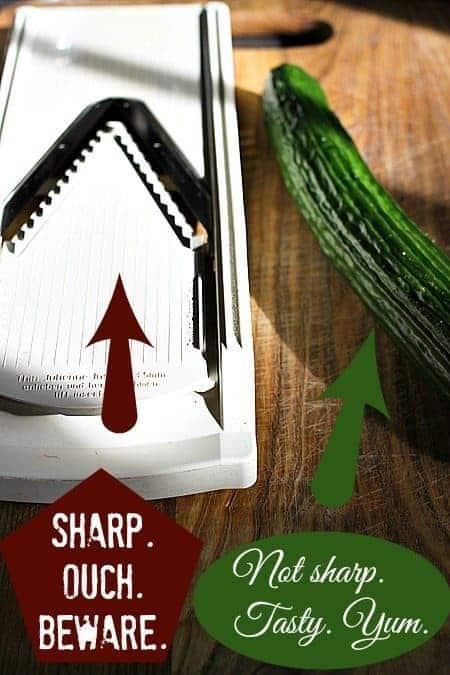 Have you ever used a mandoline? If not, I have a little advice for you: BE CAREFUL!
I don't mean to scare you, but everyone I know who has used these seriously helpful (Not: I don't say handy. Because IT COULD REMOVE ONE.) but dangerous devices has either cut themselves OR is going to do so eventually. I needed to close a mandoline-induced-near-finger-removal with superglue to get it to stop bleeding and my best friend took the tip of one finger right off.
This is truth. There is a reason Amazon suggests "cut proof gloves" as an add-on purchase when you pop one of these babies in the cart. That being said, you should have one AND A CUT PROOF GLOVE because it makes food dead purdy.
My theory is that mandolines (a French invention… we all know the French have a historical acumen with blades) and not medieval DIY beauty practices led to the French maxim "Il faut souffrir pour être belle." "You must suffer to be beautiful."
Still, PRETTY SALAD. Is this a good time to drop an affiliate link for a mandoline and cut proof glove into the post or is that too much? Oh well. Here goes.

You're absolutely 100% welcome to do this job with a knife, it'll just take you five to six times as long. With a mandoline and cut proof glove, the cucumber is sliced in three minutes flat, then dressed in less than two.
That makes this a five minute light, refreshing side dish that accompanies fish and chicken beautifully. In fact, it goes like a dream with this Korean Miso and Honey Glazed Cod.
Do you love substantial side dish salads? Try our Bresaola Parmesan Salad, Cranberry Brussels Salad with Bacon Vinaigrette, Melting Sweet Potato Salad with Candied Maple Pecans and Bacon, Fattoush -Crumbled Pita Chip Salad, Farro Salad with Kale, Marinated Chickpea Salad, Layered Chopped Taco Salad, Mediterranean Tuna and White Bean Salad, Barbecue Bacon Ranch Chopped Salad, and Grilled Mexican Street Corn Salad.
Cucumber Scallion Salad
Do not expect this cucumber scallion salad to knock you in the tastebuds. It is intended to be mild and refreshing -a palate cleanser of sorts- not a BANG YOU'RE EATING CUCUMBER HOW'S THAT FEEL NOW? salad.
Serve this salad with grilled, broiled, or pan-seared fish or chicken, for sure, but it's also great as a component in Lazy Sushi Bowls.
While it is best served within a couple of hours of being made, you can store leftovers in the refrigerator. It will give off a lot of liquid the longer it sits, though, so if you're serving a day or two after making it, you may want to drain off the liquid and re-dress it to taste.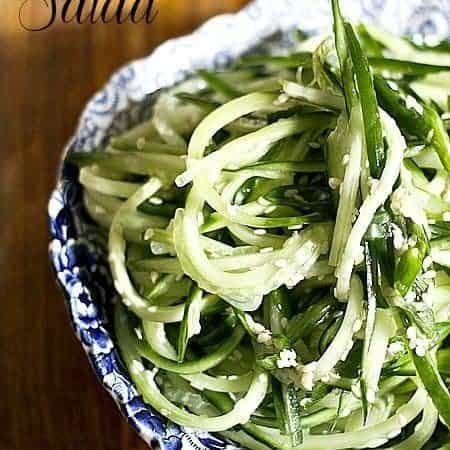 Ingredients
1

large English cucumber

3

scallions

green onions, roots trimmed and discarded

1/3

cup

unseasoned rice vinegar

1

tablespoon

toasted sesame seeds

3/4

teaspoon

kosher or sea salt

3/4

teaspoon

sugar
Instructions
Julienne the English cucumber lengthwise so you have long, thin, matchstick strips. Transfer them from the cutting board to a bowl. Use a sharp knife to cut the green onion lengthwise into long, thin strips as well, then cross cut them to a length of about 3 inches. Add those to the cucumber strips in the bowl along with the remaining ingredients. Toss to coat and let stand at least 10 minutes before serving.
Nutritional information is an estimate and provided to you as a courtesy. You should calculate the nutritional information with the actual ingredients used in your recipe using your preferred nutrition calculator.