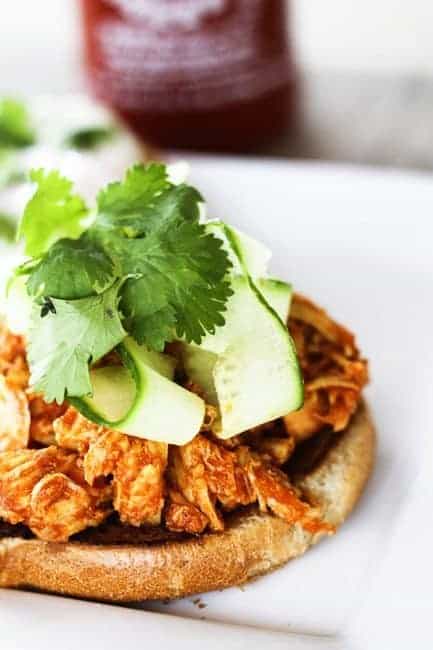 That is a sandwich you need in your life right now. Luckily, it takes little time to accomplish such a sandwich even though the Honey Sriracha Barbecue Chicken is made in the slow-cooker. Before I go any further, I'd like to thank Kalyn from Kalyn's Kitchen for her original recipe that inspired my version you're seeing here today.
Now, let's get into what makes this chicken so very good. I am a chicken breast lover in a dark meat chicken loving household.
Most often, I use chicken thighs because it seems to be a happy medium and it's usually far less expensive per pound. This chicken, however, starts with boneless, skinless chicken breast. Mrawrrrrrrrr.
Although all by itself, boneless, skinless chicken breast tends to cook more quickly than dark meat chicken, it gets a boost here by being trimmed, cut in thirds lengthwise and then in half crosswise. What this does for us to reduce the cooking time even further.
You start it cooking the Honey Sriracha Barbecue Chicken on HIGH for an hour then drop it to low for the remaining two hours. That's right. Three hours to slow-cooked perfection. That means that you might even be able to squeeze this in on a week night.
Cutting the chicken thusly serves another purpose, too, though. It sets it up for shredding more quickly and into more manageable bite sized pieces. See? This is the chicken straight from the slow-cooker.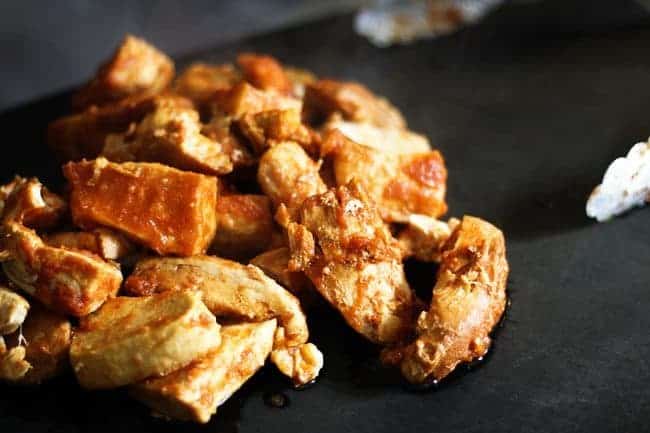 And two forks and five minutes later…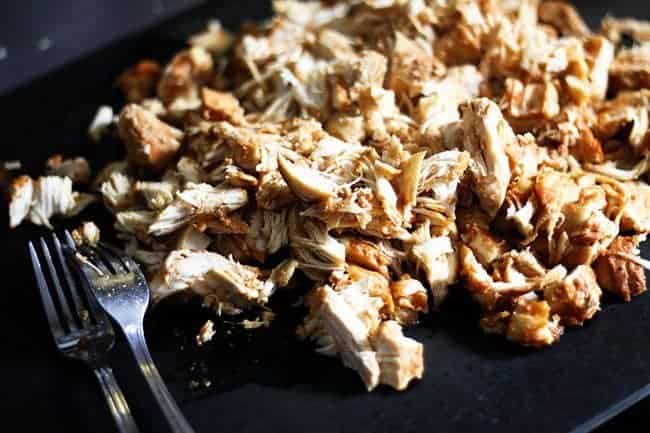 As for the sauce, there's nothing complicated to it. I drop all the ingredients in the blender (including the onion and garlic) and whizz 'til smooth.
If you're blender-averse (or blender-less) you can chop the onions and garlic separately then whisk it into the liquid ingredients before adding to the slow-cooker. When you take the chicken out of the slow-cooker, simply pour the sauce into a saucepan and reduce it over high heat until it's thick.
You return the chicken to the slow-cooker while it's reducing, then pour the thickened, reduced sauce over the chicken and toss. Fast and fabulous is hard to beat.
This recipe also holds the distinction of being something every one of our family members loved. My kids like spicy foods, so we went with the high end of the Sriracha. If you have more delicate taste buds in your crew, reduce that down, but don't omit it; it delivers such flavour, the chicken would be lost without it.
So why is this a Make Ahead Monday recipe? Because this recipe feeds my hungry horde two full meals! It's hard to believe that six little boneless, skinless chicken breasts could stretch like that, but it does.
And you could easily increase it to the point where you've filled your slow-cooker. In that case, it might take just a wee bit longer to cook, but the end game remains the same: tasty honey tinged gently spicy barbecue shredded chicken for topping salads, pizzas, sandwiches, and more.
Speaking of sandwiches, I chose to serve the chicken on toasted whole wheat buns with a simple salad of cucumber ribbons (just cut a cucumber in quarters lengthwise and use a vegetable peeler to cut the ribbons) and fresh cilantro leaves. That was topped -in turn- with a runny-yolked fried egg.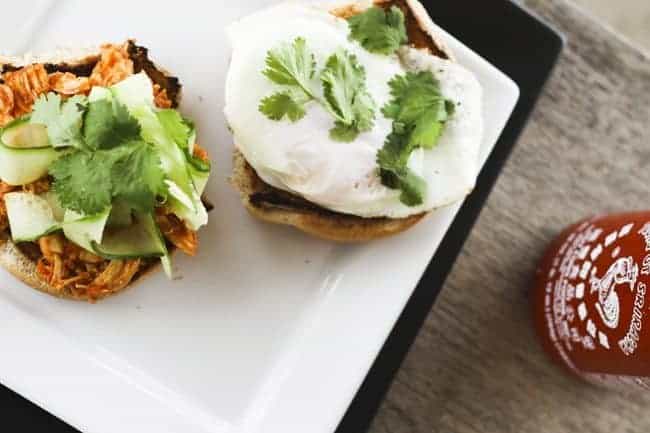 It's eye-roll-into-the-back-of-your-head good. Really. Just look at that. I can't help myself around runny yolked eggs. I get weak in the knees with joy. I lose control of my better senses; I lick the plate in front of my children.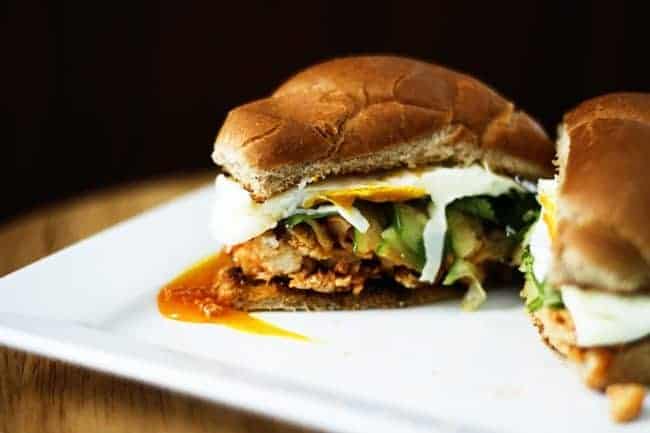 So today, YES, please today, make yourself a batch of this chicken and divide it into meal sized portions. You'll be so glad you did!
XO,
Rebecca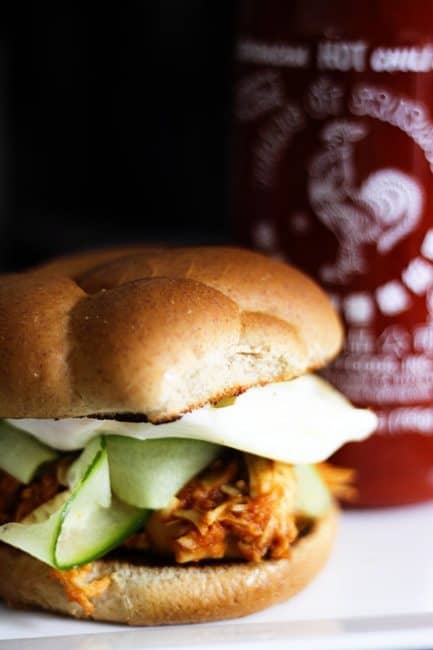 Slow-Cooker Honey Sriracha Barbecue Chicken | Make Ahead Mondays
Rate Recipe
Gentle sweetness from honey brings out the best of the tasty heat from Sriracha in this great Slow-Cooker Honey Sriracha Barbecue Chicken. Pile the chicken high on sandwiches topped with a cucumber, cilantro salad, and a fried egg ~or~ on a tossed salad, in tacos or on a chicken fajita or barbecue pizza. Leftovers store beautifully in individual portions in the freezer. Adapted from and with thanks to
Kalyn's Kitchen
Ingredients
For the Sauce:
3/4

cup

ketchup

1

onion

*See Notes, peeled and roughly chopped

3

cloves

of garlic

*See Notes, peeled and roughly chopped

1/2

cup

honey

1-3

tablespoons

of Sriracha

depending on your heat tolerance

2

tablespoons

rice vinegar

2

tablespoons

soy sauce

1

teaspoon

toasted sesame oil
For the Chicken:
6

boneless

skinless chicken breasts trimmed of visible fat

salt and pepper to taste

but don't add until the sauce has been reduced.
For the Sandwiches:
1

English cucumber

cut in quarters lengthwise then into ribbons with a vegetable peeler

fresh cilantro leaves

to taste

1

fried egg per sandwich

1

whole wheat sandwich bun per sandwich
Instructions
Cut the chicken breast into three strips lengthwise, then cut once crosswise. This will reduce each chicken breast into 6 pieces for faster cooking and shredding when it is done. Lay all of these in the bottom of a slow-cooker crock.

Place all of the sauce ingredients in a blender, fix the lid in place, and blend on HIGH until smooth. Pour this over the chicken in the slow-cooker. Put the slow-cooker lid in place and cook on HIGH for 1 hour. At that time, reduce the heat to LOW and cook for another 2 hours or until you can pick up a large piece of chicken with the tongs and break it in half easily by pressing it against the side of the slow-cooker crock.

Use tongs to transfer all of the chicken to a cutting board. Pour the sauce into a saucepan and place it over medium high heat to reduce, stirring frequently to prevent scorching. While it reduces, use two forks to shred the chicken and return the shredded chicken to the slow-cooker on the Keep Warm setting or off, but either way, put the lid on to keep the chicken warm and prevent it from drying out.

When the sauce is reduced, pour it over the chicken and use the tongs to toss to coat it with sauce. Taste the chicken and adjust with salt and pepper to taste.

Serve hot on a toasted whole wheat sandwich bun topped with cucumber ribbons, cilantro leaves and a fried egg, cold on salads, tucked into tacos or baked on pizzas.

Leftovers can be frozen in individual meal-sized portions in airtight containers.
Notes
*If you do not have a blender, finely chop the onions and garlic and whisk them into the liquid sauce ingredients before pouring over the chicken in the slow-cooker.
Nutrition
Calories:
363
kcal
Carbohydrates:
37
g
Protein:
39
g
Fat:
6
g
Saturated Fat:
1
g
Cholesterol:
136
mg
Sodium:
894
mg
Potassium:
879
mg
Fiber:
1
g
Sugar:
31
g
Vitamin A:
295
IU
Vitamin C:
8.3
mg
Calcium:
39
mg
Iron:
1.4
mg
Nutritional information is an estimate and provided to you as a courtesy. You should calculate the nutritional information with the actual ingredients used in your recipe using your preferred nutrition calculator.