We're getting close to the unofficial start of summer; this means lazy weekends, picnics, cook-outs, and grilling. You can't just slap a steak on a plate and be done with it, though, folks. To me, the true art in summer entertaining comes in the form of side dishes to compliment what you just grilled to perfection.
Shoot. Sometimes we make a warm-weather meal of those side dishes instead of standing over a hot stove or grill. In short, it's time for potato, macaroni, and other pasta salads to re-emerge from the pantry they hid in over the long, cold winter.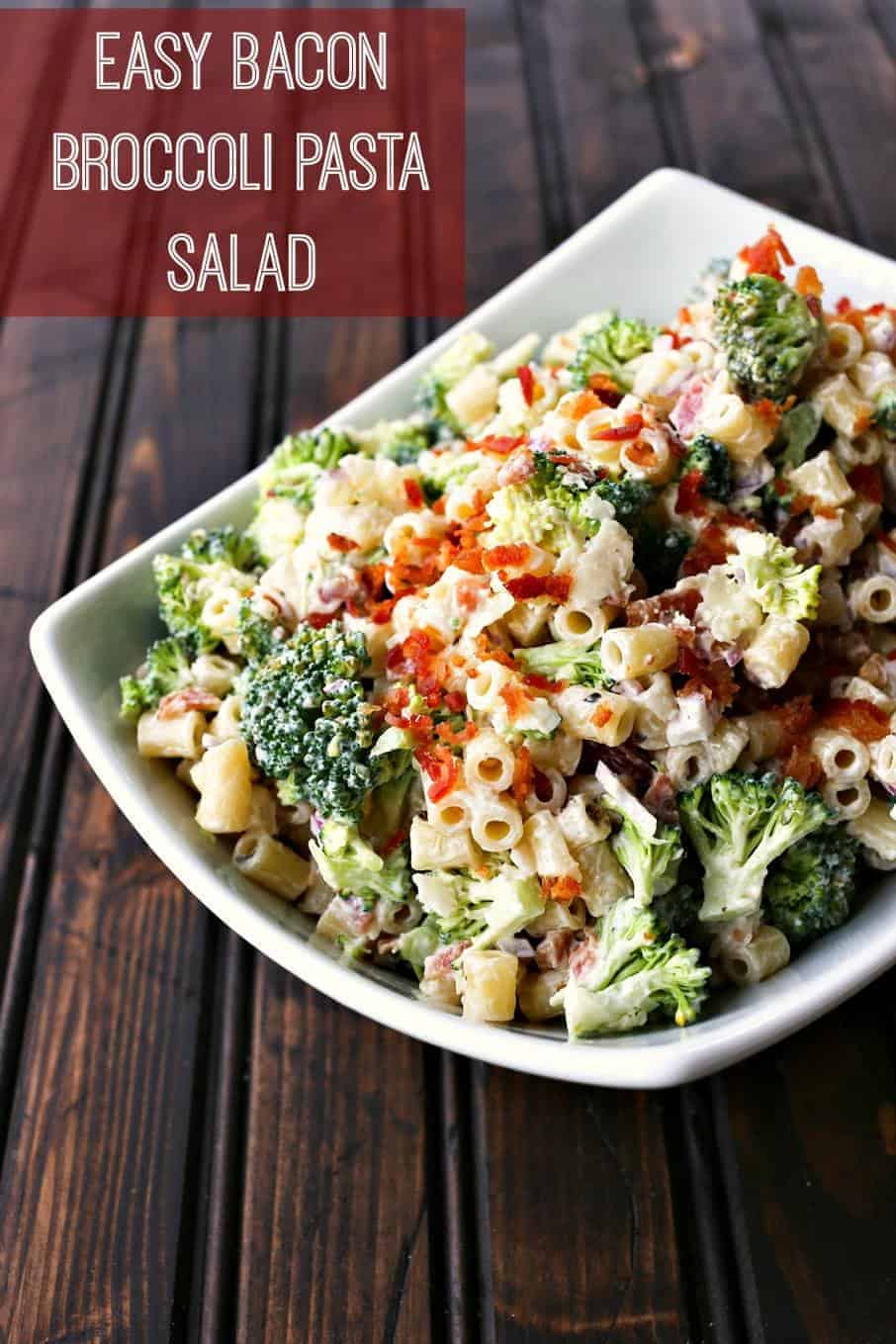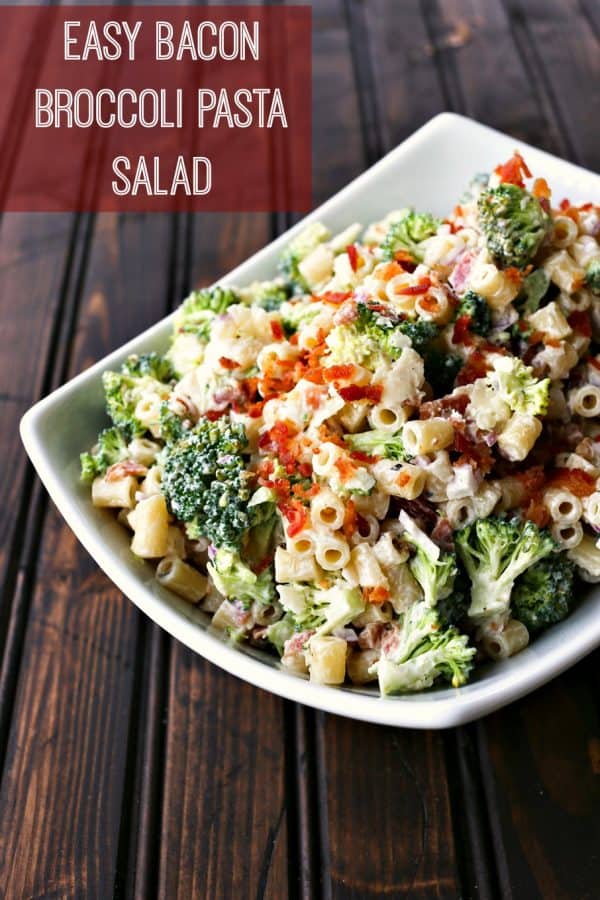 I confess that I am not always a fan of pasta salads. I think this is probably because they're often too pasta heavy for me, and I like mine with a glut of vegetables.
Easy Bacon Broccoli Pasta Salad is my ideal pasta salad. The pasta is balanced perfectly by a generous presence of crunchy, raw, bite-sized broccoli florets.
The two are tossed with coarsely grated Cheddar cheese and a simple, creamy dressing made flavourful by crunchy bacon, mayonnaise, and red onion. As far as pasta salads -or any salads for that matter- go, it's about as easy as it gets, but MAN does it pack some serious punch in the taste department.
Easy Bacon Broccoli Pasta Salad is the food equivalent of two kids of identical weight on either end of a teeter-totter. It's not too heavy and it's not too light. It's just right.
Conveniently, it gets even better when given a day or two to rest -tightly covered- in the refrigerator, making it an ideal make-ahead component for those busy summer days.
Easy Bacon Broccoli Salad is NOT complicated, nevertheless, there are a couple of things to keep in mind as you're making it.
Calling all pasta and potato salad fans! I have you covered in abundance for your summer salads! Check out our Salmon Pasta Salad, Potato Salad with Bacon, Spicy Bacon Cheddar Pasta Salad, Dill Pickle Egg Salad, Asian Pasta Salad, Easy Bacon Pea Pasta Salad, Veggie Lover's Greek Pasta Salad, Loaded Baked Potato Salad, and Bacon Horseradish Potato Salad.
Bacon Broccoli Pasta Salad
You don't have to break out the calipers and ruler, but shoot for bite-sized, roughly evenly sized pieces of broccoli floret. I like to keep mine no bigger than a quarter. I chop up and save my broccoli stems in a zipper top bag in the freezer for cream of broccoli soup cravings.
Are you wondering which type of bacon to use? This isn't the time to splash on pricey bacon, unless you have major disposable income.
The inexpensive stuff will work just fine in Easy Bacon Broccoli Pasta Salad. I just recommend cooking it to chewy crisp and not using an over-sweet type (maple or somesuch) as that may compete a bit flavourwise.
Most of the time I finely chop my bacon for Easy Bacon Broccoli Pasta Salad. I like to disperse the bacon flavour throughout every single bite. If you prefer bigger, more recognizable pieces of broccoli, simply crumble it or chop it more roughly.
I highly recommend you grate your own Cheddar cheese on the coarse area of your cheese grater. The pre-grated stuff you can buy in bags is often tossed with anti-clumping powder which keeps it separate in the bag AND in your dish.
Freshly grated Cheddar goes a long way to contributing to the overall creaminess of the finished Easy Bacon Broccoli Pasta Salad. It's worth the small amount of time it takes.
Since we're talking Cheddar, I'm sure some of you may want to know whether to go with mild, sharp, or extra-sharp for the Easy Bacon Broccoli Pasta Salad.
The truth is that you should use whichever Cheddar you'd be likely to nibble on as a snack. Our household almost exclusively goes with extra-sharp, so that's what I used and I felt it held its own nicely against the assertiveness of bacon and raw broccoli. If mild or sharp is more to your liking, though, use it by all means.
Which pasta should you use? I am almost always going to choose ditalini (small rings) for pasta salads because I think they intersperse among the other ingredients more readily than rotini, which seems to be the mainstay of pasta salads.
If ditalini is unavailable where you are, go with elbows. Either way, cook the pasta to al dente because it will soak up some of the mayonnaise as it melds and marries in the refrigerator.
Speaking of the pasta soaking up mayonnaise, you may find that after a day or so in the refrigerator, the salad has become quite dry. You can easily remedy this by stirring in a tablespoon or two of mayonnaise along with a splash of pickle juice before serving.
Keep this trick in your back pocket all summer, because it works well for most pasta and potato salads. Never suffer a dry salad again!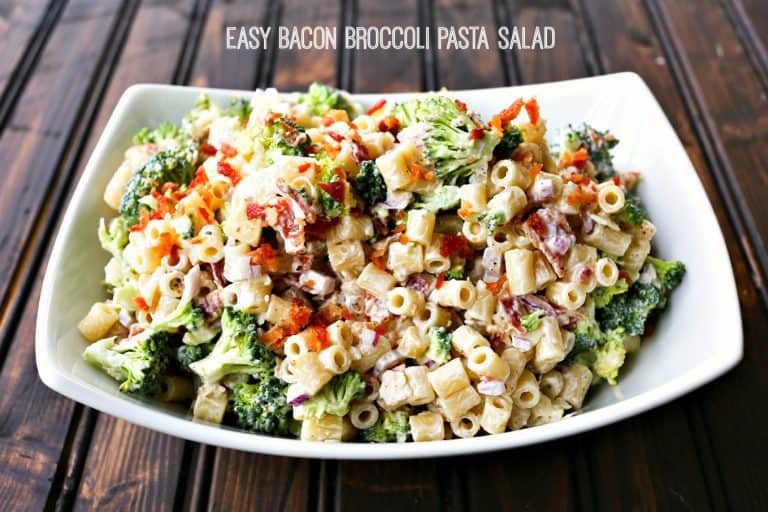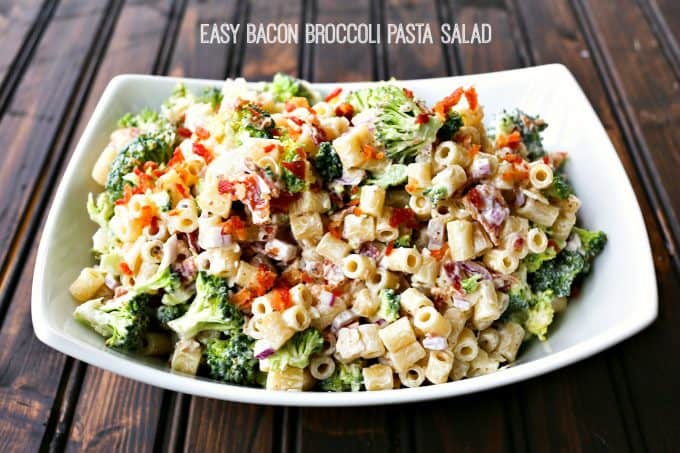 Connect with Foodie with Family
facebook | pinterest | instagram | twitter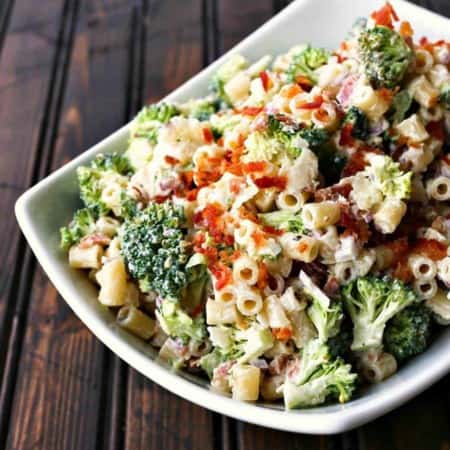 The pasta is balanced perfectly by a generous presence of crunchy, raw, bite-sized broccoli florets. The two are tossed with coarsely grated Cheddar cheese and a simple, creamy dressing made flavourful by crunchy bacon, mayonnaise, and red onion.
Ingredients
1

pound

ditalini pasta

cooked to al dente according to package directions

2

broccoli crowns

cut into bite sized florets

12

ounces

to 1 pound package of bacon

cooked to chewy-crisp, finely chopped

1

cup

shredded Cheddar cheese

1

cup

mayonnaise

1

small red onion

peeled and finely chopped

3/4

teaspoon

kosher salt

3/4

teaspoon

freshly ground black pepper
Instructions
Combine all of the ingredients in a mixing bowl. Cover with plastic wrap and allow to meld in the refrigerator for at least 30 minutes but up to 3 days before serving. Stir gently before serving.
Nutrition
Calories:
461
kcal
Carbohydrates:
36
g
Protein:
14
g
Fat:
29
g
Saturated Fat:
8
g
Cholesterol:
36
mg
Sodium:
546
mg
Potassium:
486
mg
Fiber:
4
g
Sugar:
3
g
Vitamin A:
750
IU
Vitamin C:
91.1
mg
Calcium:
128
mg
Iron:
1.5
mg
Nutritional information is an estimate and provided to you as a courtesy. You should calculate the nutritional information with the actual ingredients used in your recipe using your preferred nutrition calculator.