Love this 15 Minute Korean Style Beef? Check out our other fabulous Korean Food Recipes!
Raise your hand if you need a go-to dish that delivers major taste-bud tingling, pleases everyone in the house, is easy on the wallet, and is done in about 15 minutes from start to finish? Yeah. I'm seeing a lot of hands. It's kind of universal, isn't it? Enter 15 Minute Korean Style Beef, stage right.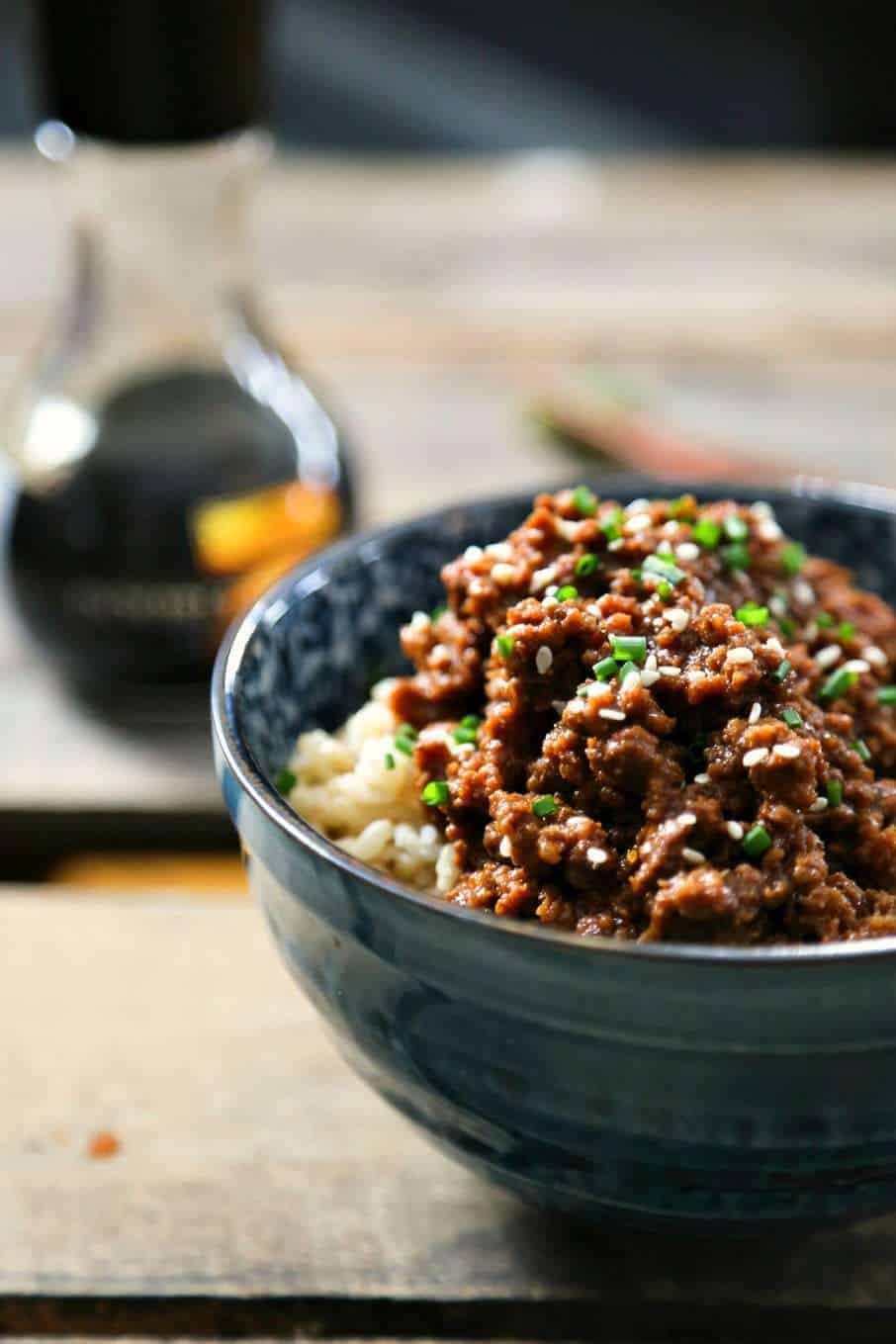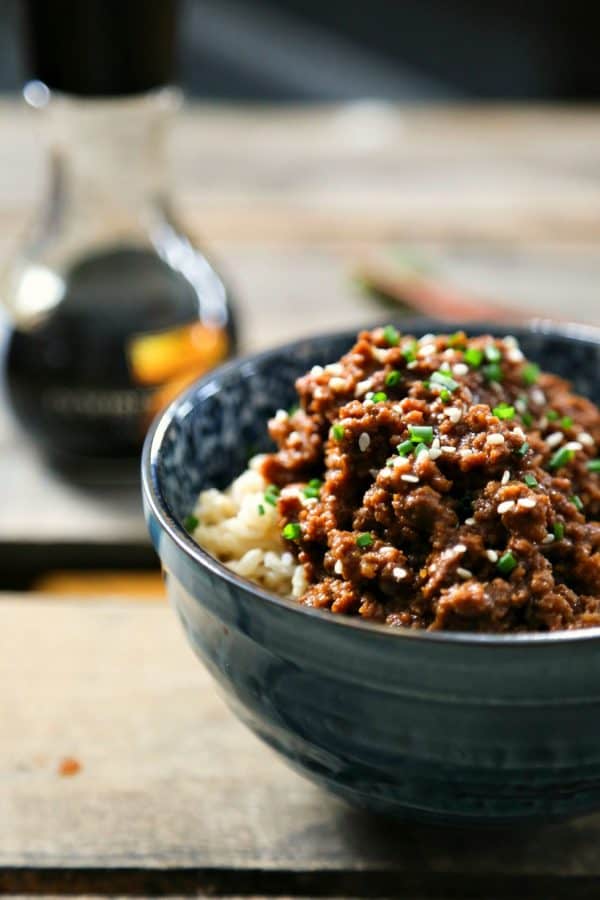 Slightly spicy, saucy, and reminiscent of Korean bulgogi (Korea's famous barbecue beef), 15 Minute Korean Style Beef takes significantly less work and puts significantly less strain on the budget because it's prepared with ground beef instead of the traditional flank steak or tenderloin. Even having made it three times in as many weeks, my kids are still asking me to make it again soon.
We keep it simple, serving it over rice with a side of Roasted Ginger Sesame Green Beans or Spicy Asian Broccoli, but there have been a few none-too-subtle request to serve 15 Minute Korean Style Beef with a fried egg on top and kimchi on the side, too. That will be in our not-too-distant future because we will be relying on this dish on nights when we need something satisfying, hearty, and fast, fast, fast to feed our crew.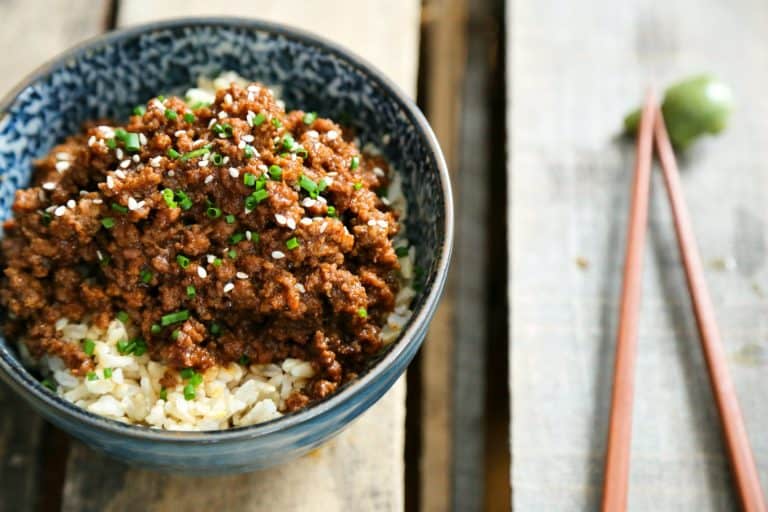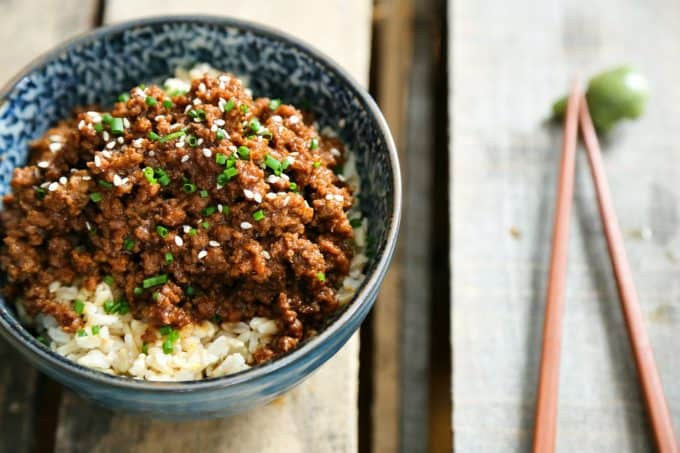 Cook's Notes
I want to share one of the best cooking tips I was ever given with you today. Not only will it make preparing this dish easier, but it'll make dealing with any ginger-centric dishes easier, too. When you get your fresh ginger root home from the grocery store, break it into 6-inch pieces, wrap them tightly, put them in a zipper top freezer bag, and freeze until solid. Any time you need fresh ginger, simply remove one piece of ginger and grate as much as you need for the recipe before re-wrapping and returning the rest of the chunk of ginger to the freezer. No need to peel or anything and your dish will be full of delicious ginger flavour with no stringy or tough pieces. This will change the way you work with ginger forever.
I love gochujang in this dish. It is not hard to find in moderately well stocked grocery stores nowadays, as Korean food is gaining in popularity. Wegman's, Whole Foods, Trader Joes, Giant Food Mart, and Amazon.com all carry the ubiquitous, sweet, spicy Korean chili paste. If you absolutely cannot find it, you can replace it with an equal amount of chili garlic sauce, but it will lack some of the characteristic Korean flavours.
Speaking of equal amounts, you're sure to notice there is a pretty wide range given for the amount of gochujang used in the recipe. Truth: I eat spicier foods than many people, so I use the high end. If you're not into heat at all, use the lower end of the range, but DO use some gochujang, please. It's the sweet and spicy that makes it so Korean inspired.
I like to use coconut sugar for the 'sweet' portion of the programme, but I've also made it and loved it using honey and brown sugar. Choose your own sweetener adventure.
Don't be tempted to reduce the recipe for 15 Minute Korean Style Beef. Only garnish the portions you eat because the leftover 15 Minute Korean Style Beef leftovers are even better on day two and day three, but the garnish won't hold up that long. If, by some weird freak of fate, have it left beyond day 3, you can freeze it in individual meal sized portions to reheat and garnish later.
While normally I'm a big fan of an 80/20 blend of ground beef, I prefer to use a leaner 90/10 ground beef.
I use unsweetened pear juice, both because it's very authentically Korean, and because I can a large amount of it annually. If you can't find unsweetened pear juice, you can substitute an equal amount of unsweetened apple juice, which is widely available enough to be found even in many gas/convenience stores.
Low sodium soy sauce. Use it. Trust me on this one. If you don't, you'll find this dish to be terribly salty. This is also widely available at most grocery stores.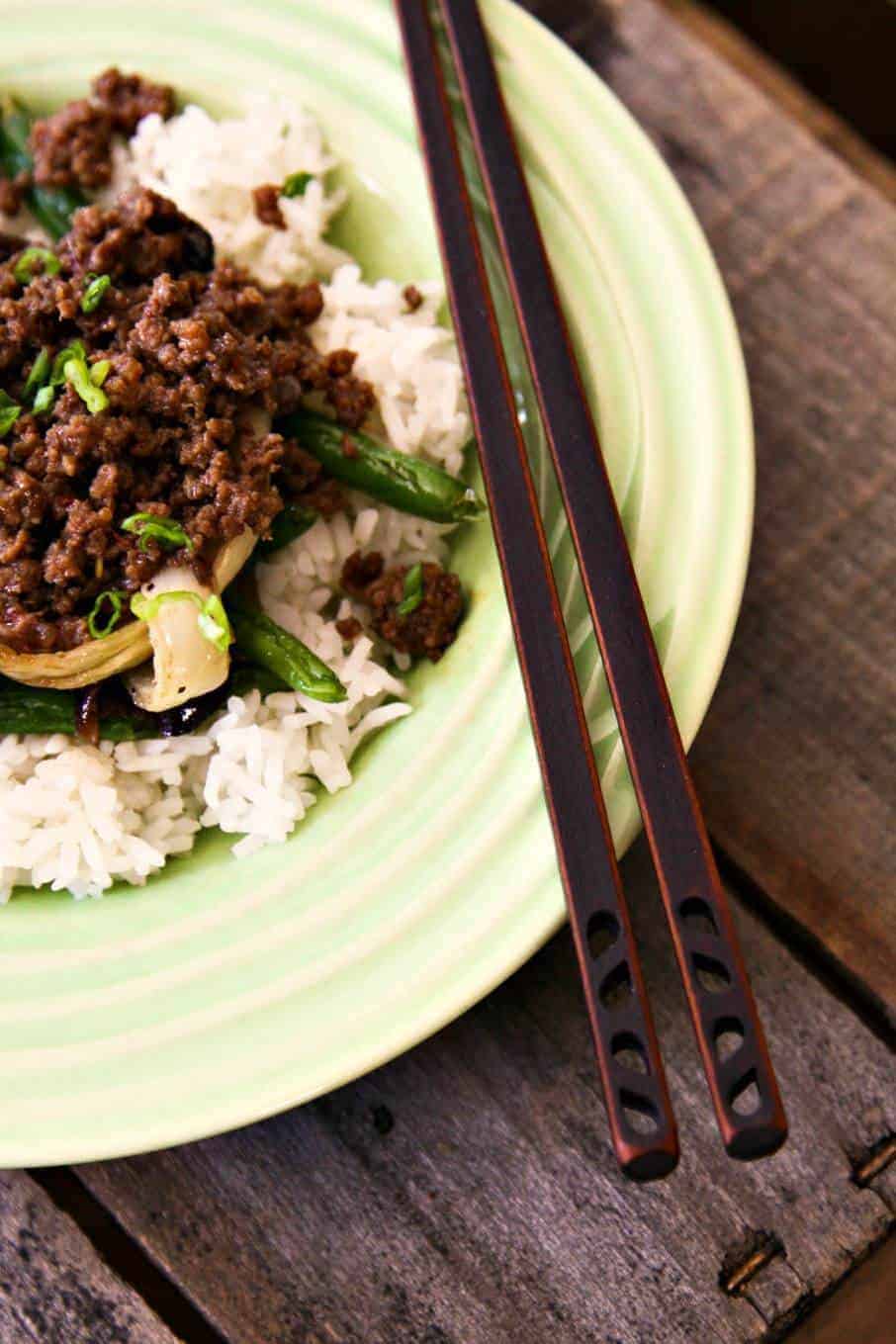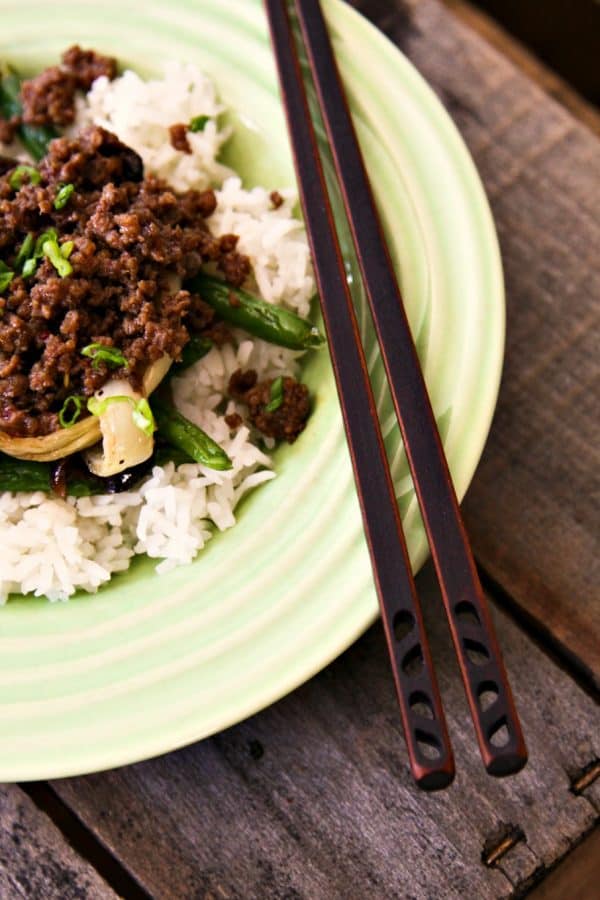 Connect with Foodie with Family
facebook | pinterest | instagram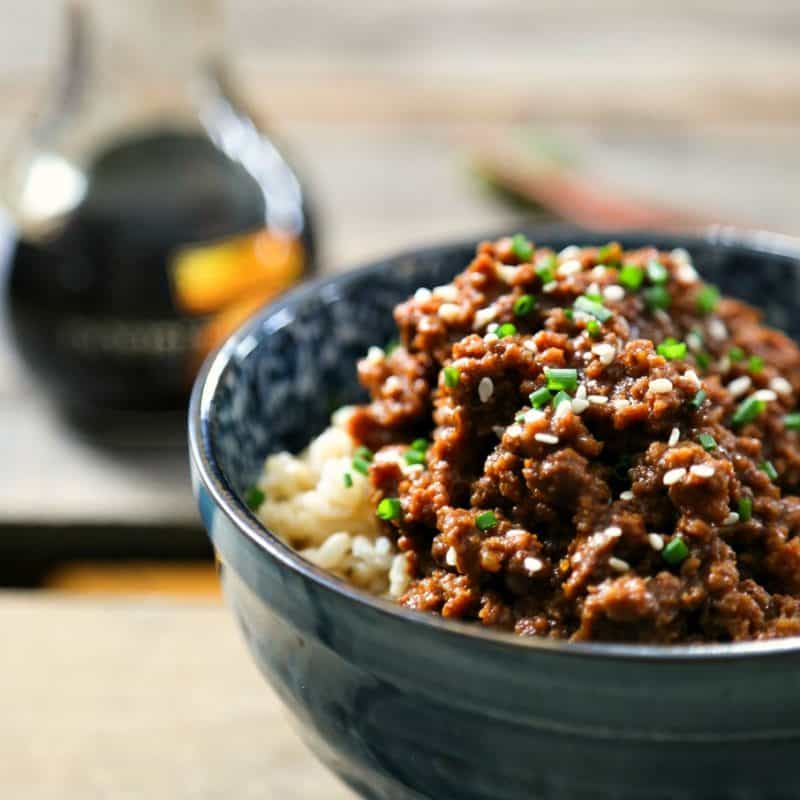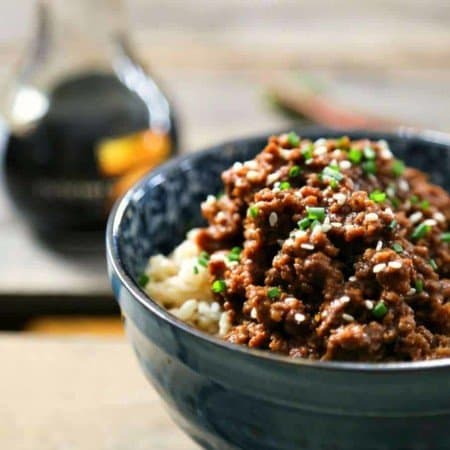 Ingredients
2

tablespoons

toasted sesame oil

plus extra for garnish

2

pounds

90/10 lean ground beef

8

cloves

garlic

peeled and minced or pressed through a garlic press

2

to 3 inch piece of ginger

grated

1/3

cup

honey

brown sugar, or coconut sugar

1/3

cup

low sodium soy sauce

1/3

cup

unsweetened pear or apple juice

1

teaspoon

to 3 tablespoons gochujang or chili garlic sauce
For Garnish and to serve:
hot

cooked rice

8

green onions

trimmed of root ends then thinly sliced

toasted sesame seeds
Instructions
Heat the sesame oil in a large, heavy-bottomed skillet or frying pan over medium high heat. Break up the ground beef over it and cook, breaking the pieces up smaller and smaller with a wooden spoon, until the beef is browned and cooked most of the way through. Drain off any fat that accumulates and return the pan to medium high heat.

Add the garlic and ginger to the beef and stir-fry until fragrant, about 1 minute. Add the soy sauce, pear or apple juice, honey or sugar, and gochujang to the pot and stir to evenly distribute. Bring to a boil and let it cook until the sauce has reduced and thickened a bit and clings to the beef. Remove from heat and serve over rice garnished with the thinly sliced green onions, sesame seeds, and a small drizzle of toasted sesame oil, if desired.
Nutritional information is an estimate and provided to you as a courtesy. You should calculate the nutritional information with the actual ingredients used in your recipe using your preferred nutrition calculator.
More recipes using Gochujang:
Slow-Cooker Korean Style Barbecue Pork
Korean Miso and Honey Glazed Cod
If you liked 15 Minute Korean Style Beef, you might also like:
Asian Turkey Meatballs from Very Culinary
Salty, Spicy, Sweet, and Sticky Asian Chicken from Barefeet in the Kitchen
Grilled Chicken Peanut Asian Salad from Country Cleaver
Asian Lamb and Noodle Toss from Bev Cooks