We have a lot of serious cooking holiday cooking looming on the horizon, and even though I love it, there are some nights leading up to and following the big events that I just plain don't feel like cooking. Those nights call for a solid bed of mixed greens, a handful of leftover meat (maybe this, this, this, this, or this?), some grated or cubed cheese, some pickled onions, a little homemade salad dressing, and a scoop of Marinated Chickpea Salad.
Marinated Chickpea Salad is as easy as it gets; drain a can or two or chickpeas, toss them with some extra virgin olive oil, some red wine vinegar, Italian seasoning, coarse salt, cracked black pepper, minced garlic, and crushed red pepper flakes. It's dandy right away, but it's even better as it sits in the refrigerator over a couple of days. We love it on our dinner salads, but we also love it spooned over hot cooked rice for a quick, satisfying lunch, or whizzed up in a food processor for an Italian style hummus.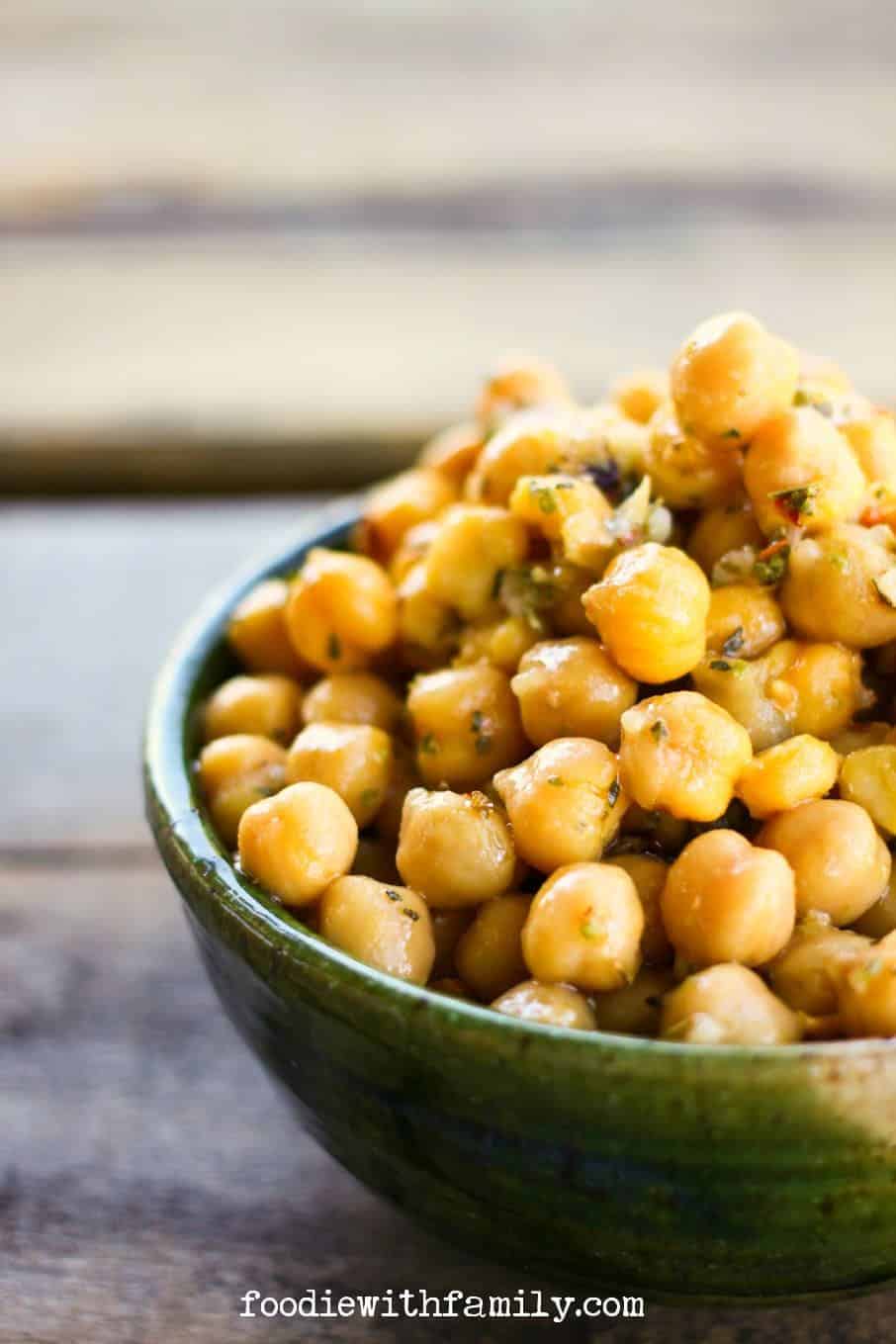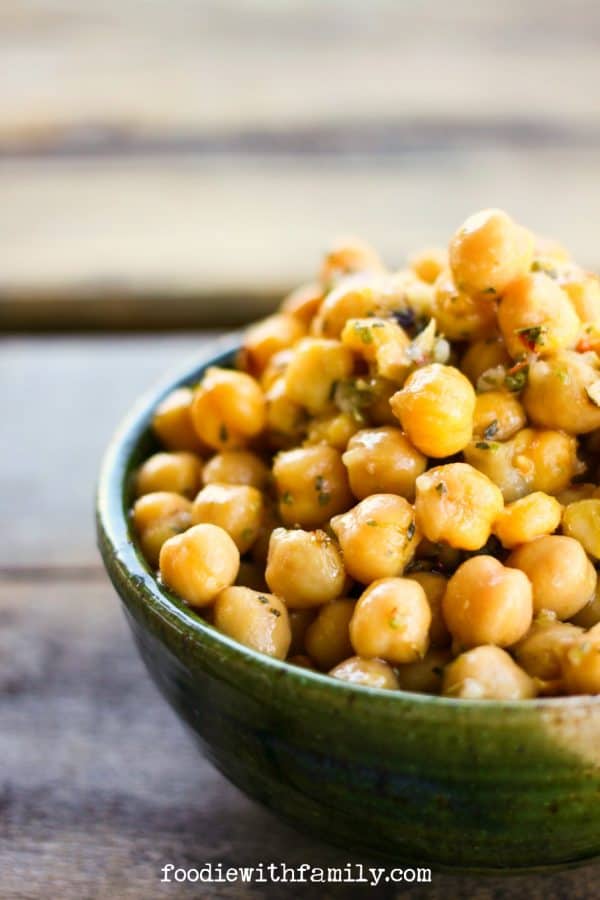 Cook's Notes
I usually make Marinated Chickpea Salad with canned chickpeas for convenience's sake, but I have made it more than once using chickpeas that I soaked and cooked by myself and it's wonderful. If you choose to use soaked and cooked chickpeas, simply substitute 1 3/4 cups for each can of chickpeas.
I prefer to mince my garlic for Marinated Chickpea Salad by hand, as it damages the cell walls of the garlic less making the final product more pleasantly garlicky and less SMACK YOU UPSIDE THE HEAD GARLICKY.
If you have lovely fresh oregano, basil, rosemary, and thyme, use it, by all means! Those are a little tricky to come by in these parts without a long drive to a grocery store, so I most often make it with dried Italian seasonings. I love the dried herbs in this salad and I think they truly bloom as the salad marinates for a day or so in the refrigerator which leads me to the next point…
This salad is great right when it's made, but its also improves beautifully for a week after being tossed together, as long as it is stored in a tightly lidded container in the refrigerator.
If you toss a drained can of albacore tuna into the Marinated Chickpea Salad, you have a VERY French style, fast and healthy lunch that provides great protein to keep you fueled for the rest of the day.
If you find yourself with a little Marinated Chickpea Salad leftover, pop it into the blender or food processor and whirrrrrrrr it 'til smooth for an almost instant Italian style hummus that is marvy on carrot sticks or crackers or even as a healthier alternative to mayonnaise on a sandwich. (Pssst. Think leftover turkey and Italian hummus for post-Thanksgiving!)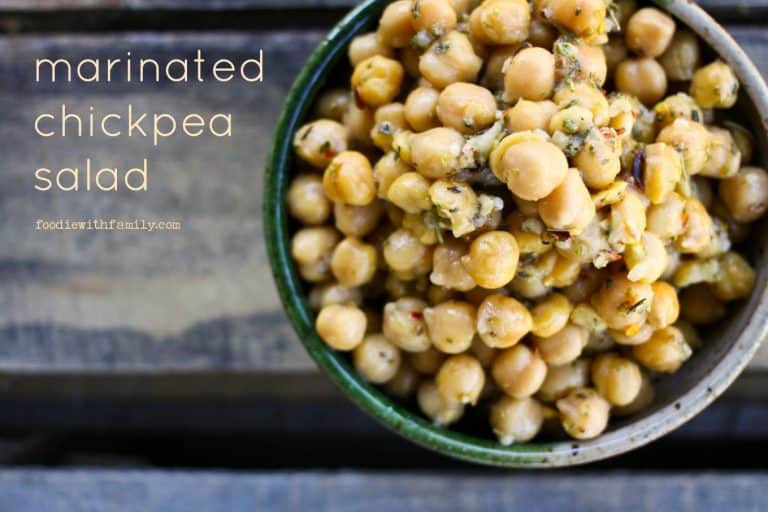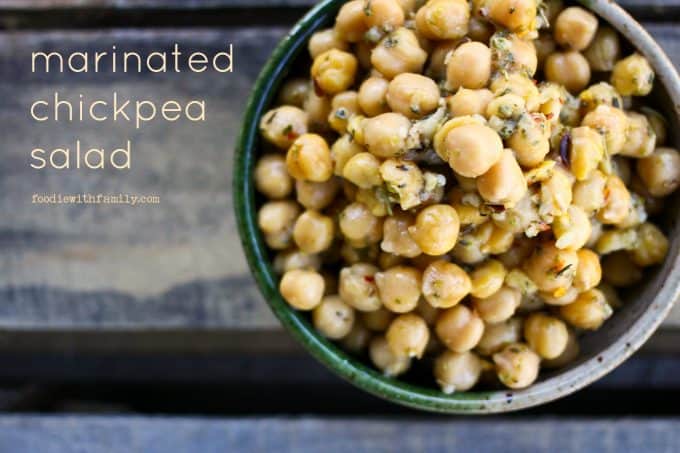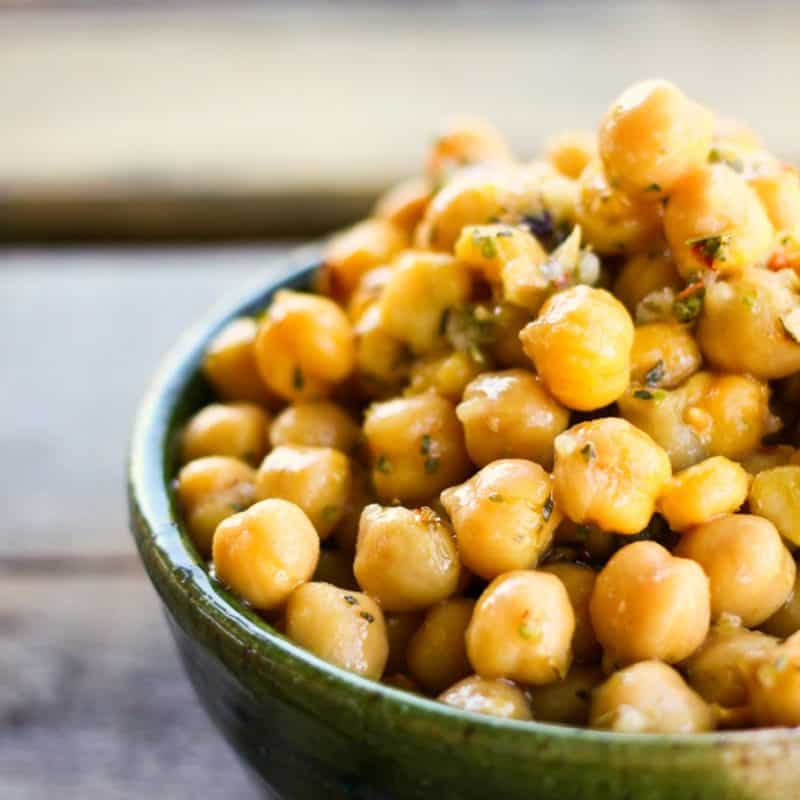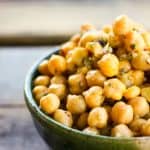 Print
Marinated Chickpea Salad
Ingredients
2

cans chickpeas

or 3 1/2 cups, drained and rinsed in a colander

the juice and zest of two lemons or 1/4 cup red wine vinegar

1/4

cup

extra virgin olive oil

2

garlic cloves

peeled and finely minced

2

teaspoons

dried Italian seasonings

1/2

teaspoon

kosher salt

1/2

teaspoon

cracked black pepper

1/4

teaspoon

crushed red pepper flakes
Instructions
Toss all of the ingredients together. Serve immediately or refrigerate, tightly covered, for up to a week. Toss gently before serving.
This is my twelfth post in my commitment to post every. single. day in November for NaBloPoMo (National Blog Posting Month). Follow the craziness all month as I share recipes, family anecdotes, and throw a couple of giveaways in for good measure!