I'm an utter fool for coleslaw. We all know I'm cuckoo for salads in general, but coleslaw is in its own category. It's a definitive warm weather food for me. I've shared one of my two favourite coleslaws here before, but I just realized as I stuffed a bunch of my all-time favourite Buttermilk Coleslaw onto a sandwich (which will be coming to the blog in the very near future) that I hadn't shared the ne plus ultra of the coleslaw world. A crime, I tell you. It's a crime.
Buttermilk Coleslaw is the perfect representation of what most folks would probably consider classic coleslaw. It's creamy, tangy, slightly sweet, and crunchy as all get out with two simple vegetables sharing billing for center stage; cabbage and carrots. There's nothing complicated or exotic about it at all, it's just effortlessly perfect. Who doesn't need a little perfect in their life?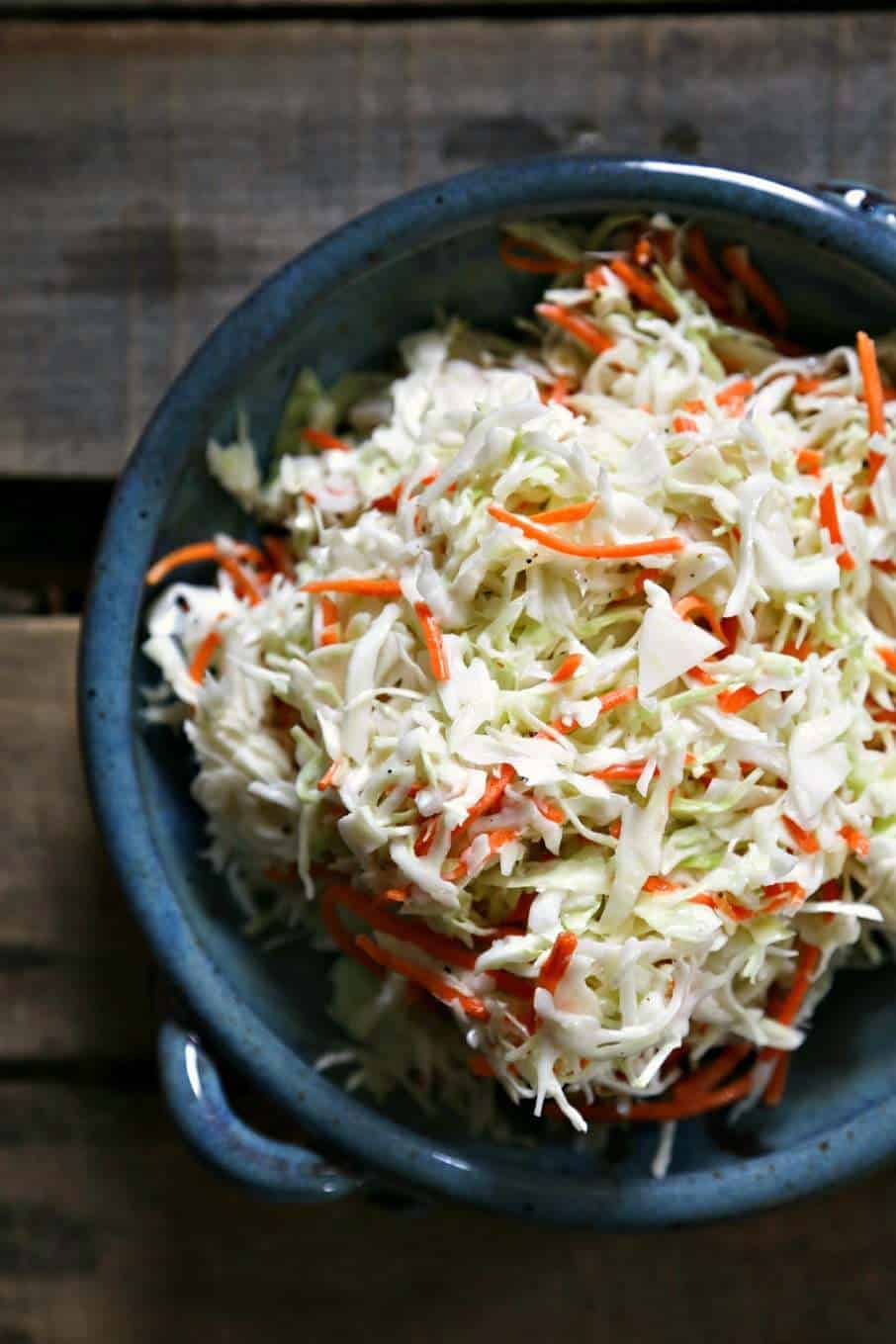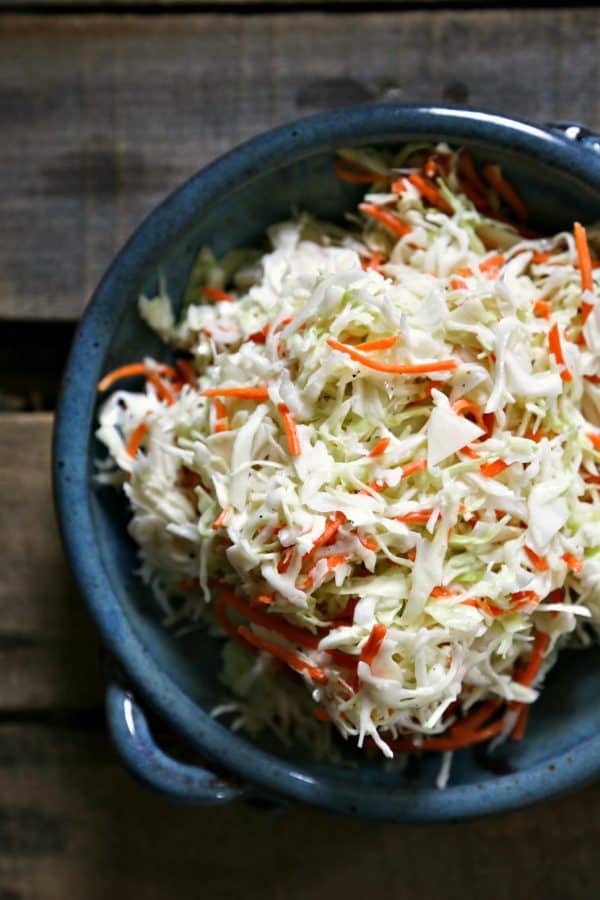 It doesn't take a rocket scientist -although my baby sister is about to graduate from Cornell University with a degree in that, so if you're in need of a rocket scientist, I can hook you up. And yes, I'm totally bragging- to understand that coleslaw is an easy choice to accompany meat or veggie burgers, pork chops, grilled chicken, fish, steak, or sandwiches of any stripe. But perhaps you don't know about Buttermilk Coleslaw's secret identity as an ingredient ON sandwiches. People. You will never reach for the mayo again when once you've crammed Buttermilk Coleslaw in between those pieces of bread or burger buns. And if you've ever adventurously crammed a generous amount of Buttermilk Coleslaw on top of a chili dog, you know what I'm talking about, too. It's just so good.
Cook's Notes
I know that mixing vinegar in milk will approximate buttermilk in most situations, but for this Buttermilk Coleslaw, please use real cultured buttermilk. It will provide a silkier texture to the finished coleslaw dressing as well as lending a subtle flavour that the vinegar soured milk just can't provide.
I use the thin slicing blade on my food processor to cut up my cabbage, because I like the floss-thin, crunchy slices. If you prefer, you can certainly grind it or grate it instead. Heck, if you're opposed to knife or food processor work, you could even buy a bag of pre-shredded cabbage. I do think that freshly sliced or grated cabbage will give you a little certain extra something something, though. When a dish is dead simple, the freshness of the ingredients can really shine through.
Speaking of cabbage, I'd normally reach for the biggest head of cabbage at the grocery store or farmer's market. In this case, however, one small head of cabbage is going to yield just about the perfect amount of cabbage (about 8 cups, give or take.)
On the subject of shredding or slicing, I will say that I shoot my carrots through the matchstick blade on my food processor, too. I know that's a less-widely-owned blade, though, and I made Buttermilk Coleslaw for YEARS with carrots that I grated on my box grater. I'm here to tell you it's delicious that way. And again, if you fear the grater and don't own the food processor, some grocery stores sell bags of pre-grated carrots.
I highly advise letting the finished salad rest in the refrigerator for up to 30 minutes before serving it. This will allow the flavours to meld and marry. It'll taste even better 24 hours after being thrown together, so if you have patience -which I often lack- you will be rewarded.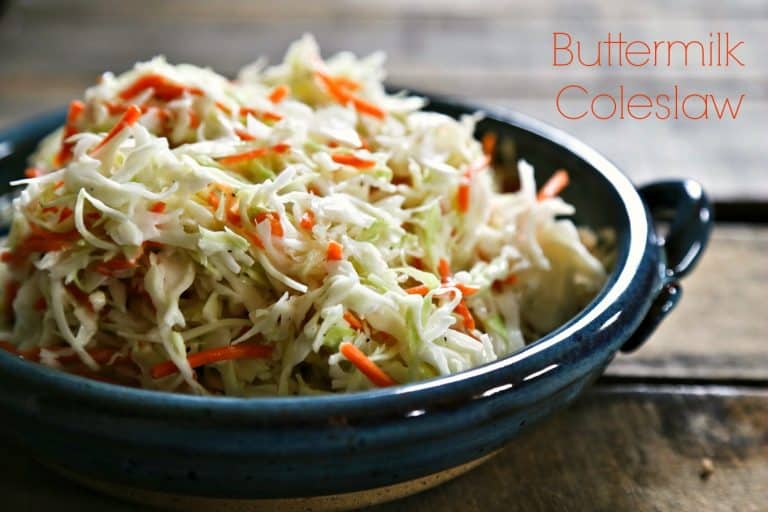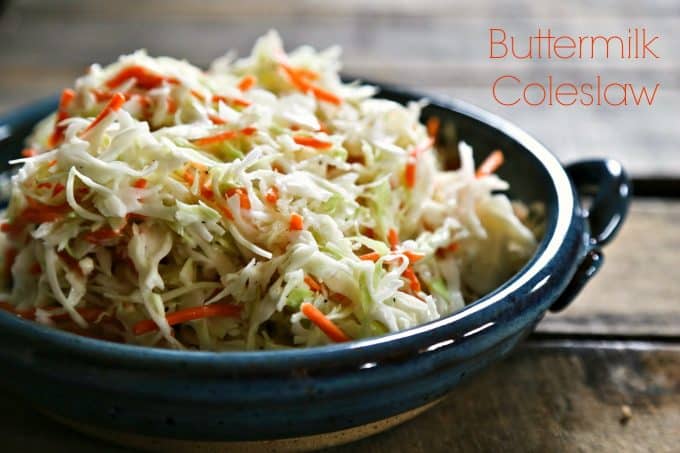 Connect with Foodie with Family
facebook | pinterest | instagram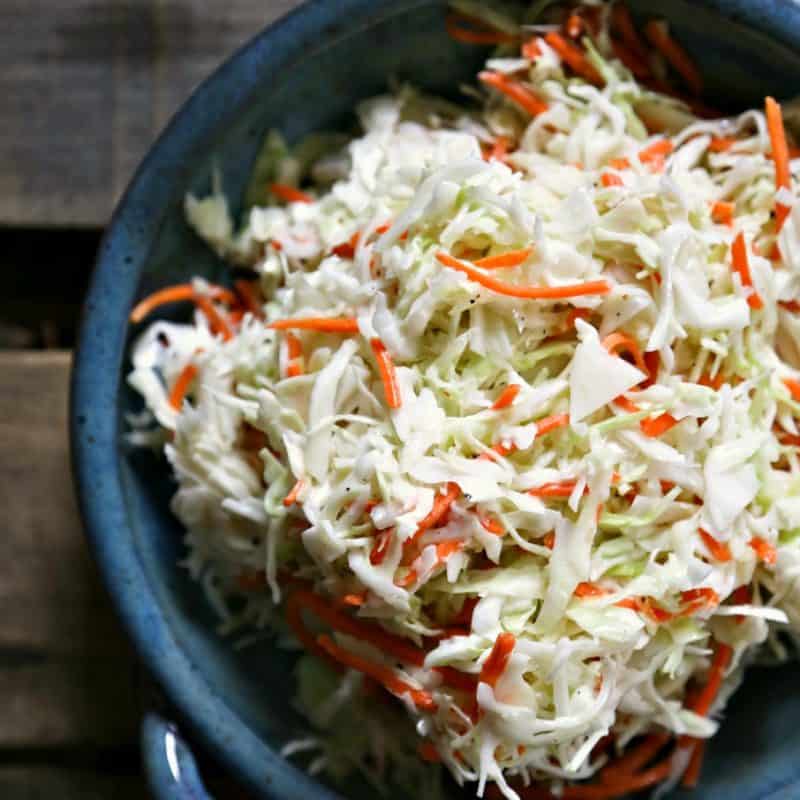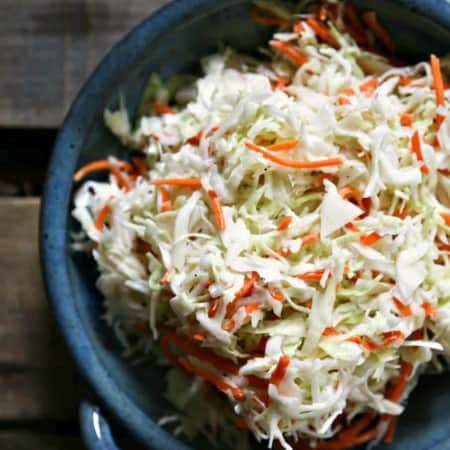 Buttermilk Coleslaw is creamy, tangy, slightly sweet, and crunchy as all get out with two simple vegetables sharing billing for center stage; cabbage and carrots. There's nothing complicated about it at all, it's just effortlessly perfect.
Ingredients
1/2

cup

mayonnaise

1/2

cup

real cultured buttermilk

purchased or homemade

1/2

cup

granulated sugar

2

tablespoons

apple cider vinegar

preferably raw

the juice of half a lemon

2

teaspoons

kosher salt

1/2

teaspoon

freshly ground black pepper

1

small head cabbage

cored and thinly sliced or coarsely shredded, about 8 cups

3

large carrots

peeled and cut into very thin matchsticks or coarsely shredded, about 2 cups
Instructions
In a large mixing bowl, whisk together the mayonnaise, buttermilk, granulated sugar, apple cider vinegar, lemon juice, kosher salt, and black pepper until smooth. Toss in the shredded cabbage and carrot and cover. Refrigerate for at least 30 minutes before serving. When stored in an airtight container, the coleslaw is good for up to 5 days in the refrigerator. Toss well before serving.
Nutritional information is an estimate and provided to you as a courtesy. You should calculate the nutritional information with the actual ingredients used in your recipe using your preferred nutrition calculator.