I have a thing for fish. I love it.
In fact, I could eat it most nights out of the week. I'm not super picky, I like just about every variety.
All my kiddos share my adoration of fish dinners. They have a special fondness for battered, deep fried fish served with *gag* ketchup.
Don't get me wrong, I love fried fish, too, but that's not an every night kind of dinner.
What you see above, though, is just that. That is a simple Easy Cajun Blackened Salmon coated in a lovely homemade Smoked Cajun Spice Blend (recipe included below), fried in a little oil in a cast-iron skillet, and served on a bed of rice with some equally lovely homemade Mango Salsa (recipe located HERE!).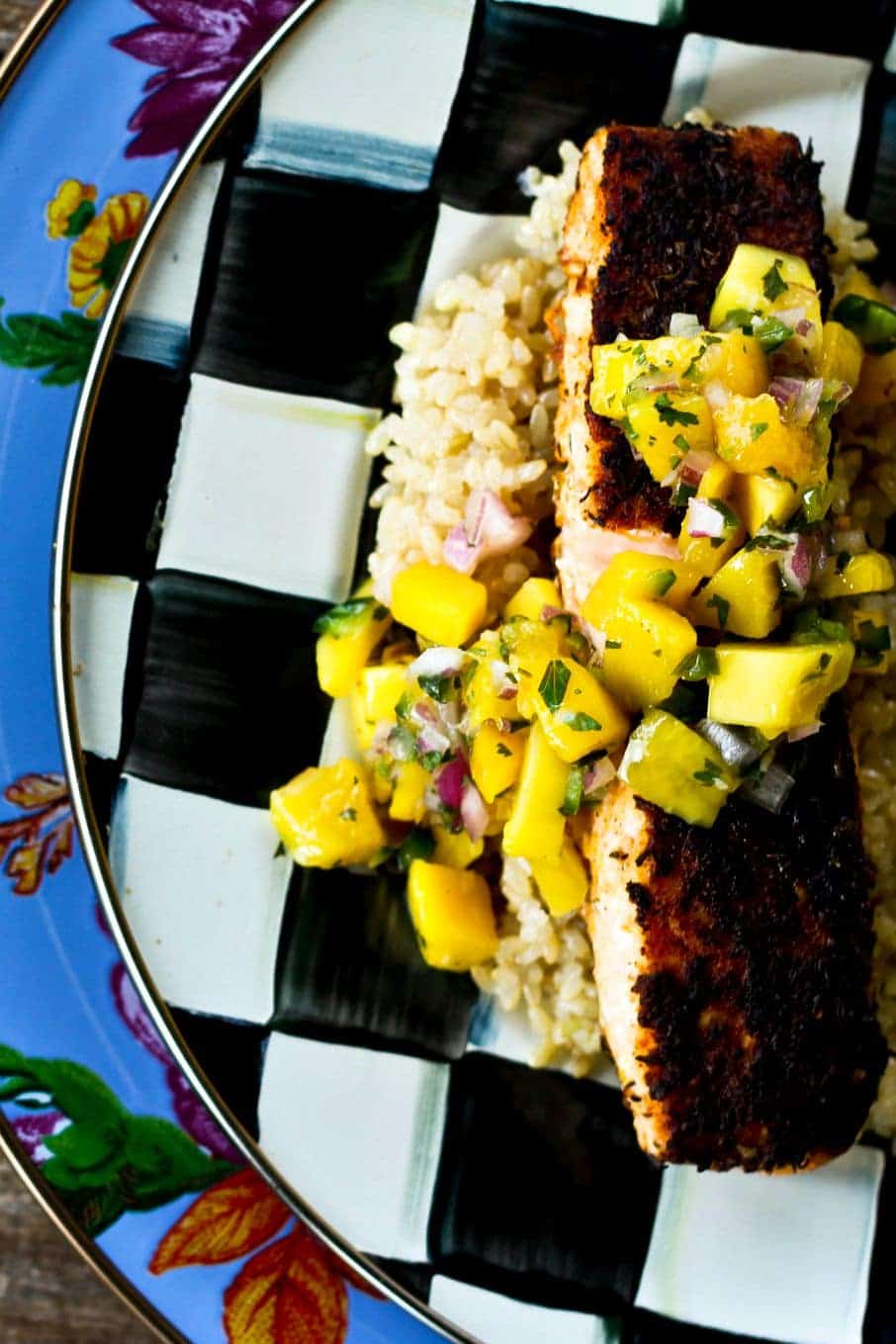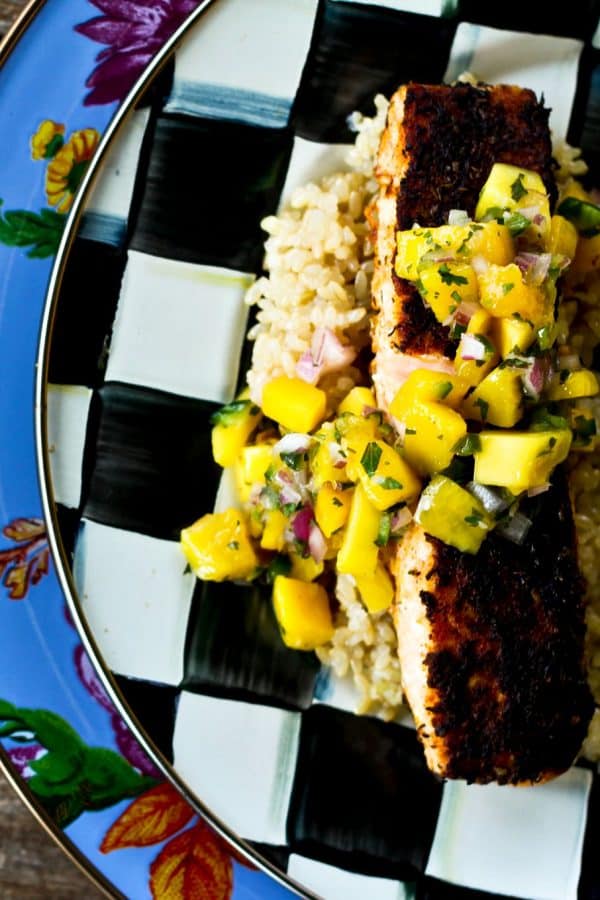 Is the Homemade Smoked Cajun Spice Blend spicy?
The short answer is that it is entirely up to you! Isn't homemade wonderful?
We like pretty fiery stuff, so I mix ours up pretty hot. The recipe I've shared below is what I think of as middle-of-the-road (I add significantly more ground cayenne pepper to our version), but you can reduce, omit, or increase the spicy stuff to make it exactly what your family loves. The most important ingredient is the Smoked Sweet Paprika
.
To make it just a little easier for you, I've made a list of all of the spices and herbs you need to whip up your very own batch of Smoked Cajun Spice Blend. If you don't feel like going to the store, they are conveniently all Amazon.com affiliate links so you could order them and wait for your ingredients to come to you!
This recipe makes a goodly amount of spice blend. You KNOW I wouldn't saddle you with a one-trick pony, right?
This spice blend is so darned good on the Easy Cajun Blackened Salmon, which probably goes without saying since I've put the two recipes here together, but it's also wonderful on chicken and pork, whether grilled, broiled, pan-fried or what-have-you'd. We've sprinkled it on popcorn and homemade tortilla chips, too!
Easy Cajun Blackened Salmon
Easy Cajun Blackened Salmon is not a fancy pants salmon. This particular filet in the pictures came from a bag of frozen, individually wrapped salmon fillets from the Wegman's seafood section.
I've used frozen, IQF salmon fillets from Aldi and been happy, too. If, by chance, you are one of those lucky folks who live somewhere that fresh salmon is plentiful and affordable, you can make this with fresh fish as well.
Oh, and if you're one of those people, would you mind terribly if my family and I moved in with you? We take up a little space what with there being seven of us, three dogs, thirty something chickens, a couple of ducks, a kingly amount of Legos, and a few musical instruments, but we're super helpful and have great attitudes.
No? Whatever. Fine. Salmon hogs. My point is this, make it with whatever salmon you can lay your hands on easily.
Do I have to thaw the fish first? Sorry, but yes.
If you have the frozen fillets, thaw them according to directions. There is no short-cut there.
You need fully thawed fish for this to work, and I don't recommend a microwave thawing method, because that can thaw unevenly and cook some of the edges before you mean to cook it. That makes for rubbery, yucky, grody fish.
Trust me. So, how do I make frozen fish fillets taste great?
It really is simple, the keys are thawing the fish properly, then seasoning it properly, then cooking it properly. Sounds like a ton of pressure, right?
Wrong. It's three easy steps, and I do mean easy.
Thaw the fish slowly. This could mean overnight.
Please don't microwave thaw the fish. You'll regret it.
If you're in a serious hurry, put the filets on an upside down metal cookie sheet and flip it every 15 minutes or so until its thawed. (This is NOT an FDA recommended method, but I'm keeping it real folks. Do this at your own risk.)
After your fish is thawed and unwrapped (or vice versa), dab both sides with a paper towel to dry the surface a bit. It doesn't need to be bone dry, just not drippy.
Lay it on a pan or platter. Now you can season. Today we're talking Easy Cajun Blackened Salmon, so the homemade Cajun seasoning (or purchased Cajun seasoning of choice) is what we'll be using.
Heat a clean, dry, cast-iron skillet over medium-high heat. After that you can add the oil, swirl until it's shimmery and THEN -and only then- can you add your seasoned fish.
Make sure you're laying it down in the pan where you want it to sit, because you are not going to TOUCH that fillet for a couple of minutes. I mean it. Resist the urge to scoot and mangle that poor thing around the pan.
Flip when the fish looks cooked about 2/3 of the way up the sides, cook 'til the fish looks done all the way up both sides, let it go another minute, then pull those lovely fillets out of the pan and onto a plate to rest, lightly tented, for a couple of minutes before serving. That doesn't sound too daunting, does it?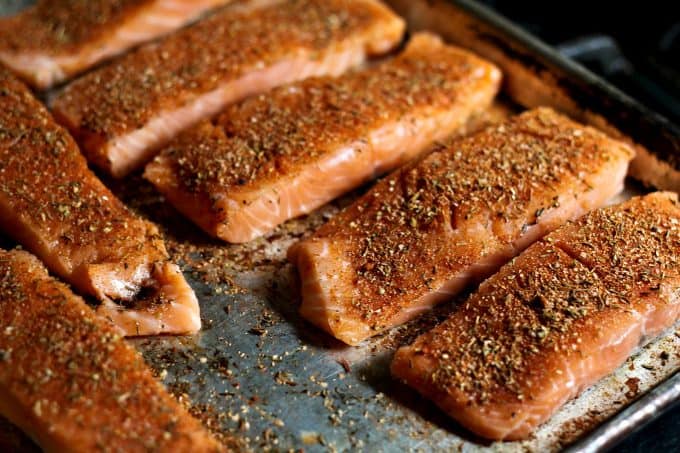 I'd be a horrible, terrible, no-good blogger if I didn't tell you that you'll probably want leftovers of Easy Cajun Blackened Salmon. What? Left-over fish? I haven't taken leave of my senses, however it may sound.
Leftover Easy Cajun Blackened Salmon is the key ingredient in my Blackened Salmon Caesar Salad and that salad is one of my best-loved dishes from my kitchen. Want a sneak peak?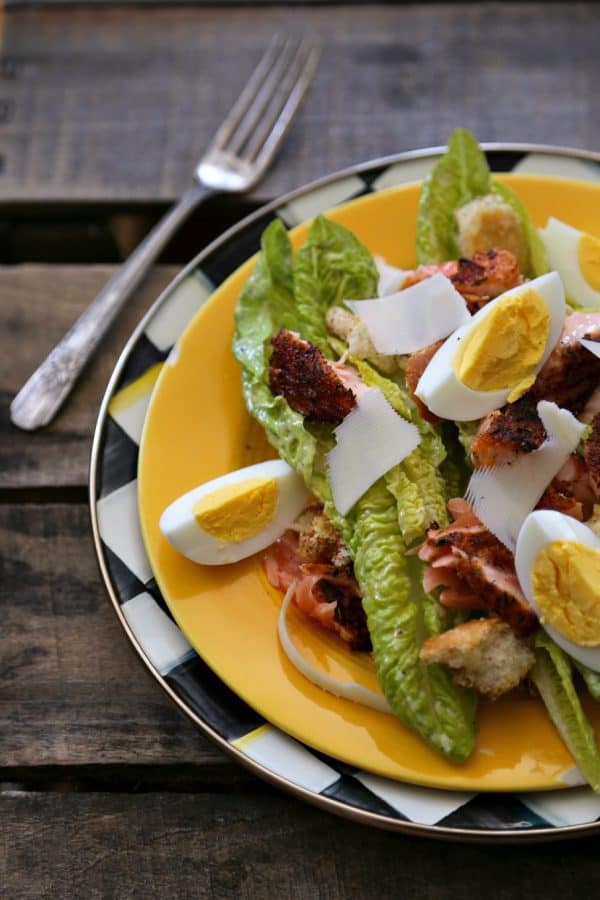 This is one time when leftover fish is very, very good indeed!
And if you have some extra blackened salmon leftover, you can use it in place of smoked salmon in my smoked salmon pasta salad.
Connect with Foodie with Family
facebook | pinterest | instagram | twitter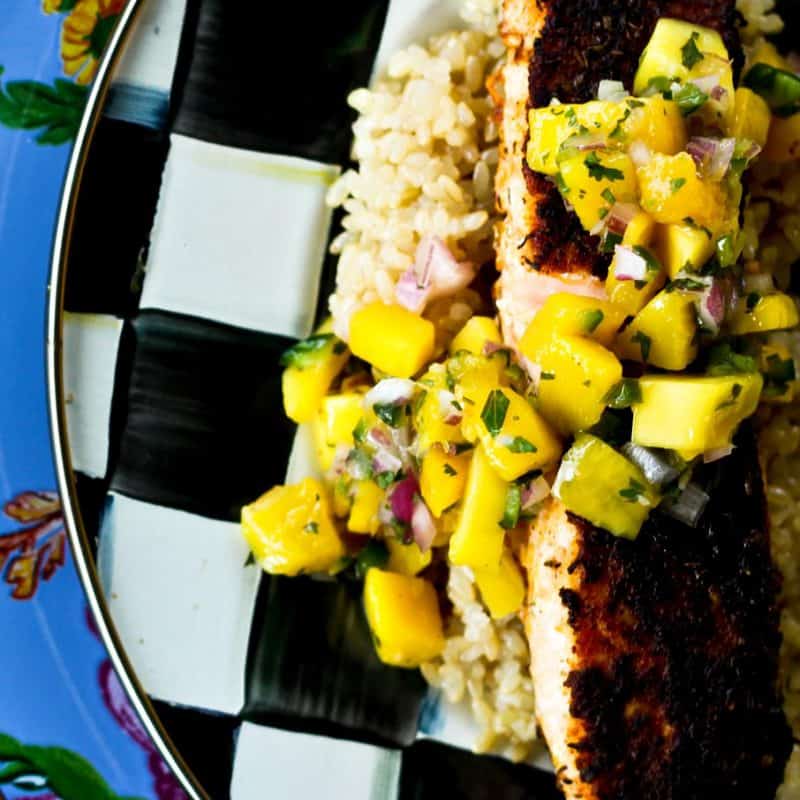 Easy Cajun Blackened Salmon | Quick and Easy Main Dish
Rate Recipe
Fabulous, flavourful, versatile Homemade Smoked Cajun Spice Blend and a fast, fantastic Cajun Blackened Salmon. Family-friendly and frugal to boot!
Ingredients
For the Smoked Cajun Spice Blend:
6

tablespoons

smoked sweet paprika

4

tablespoons

kosher salt

4

tablespoons

garlic powder

3

tablespoons

dried thyme

2

tablespoons

onion powder

2

tablespoons

cayenne pepper

can be adjusted up or down or omitted entirely depending on your heat tolerance.

2

tablespoons

dried leaf oregano

1

tablespoon

black pepper
For the Cajun Blackened Salmon (per serving):
1

skinless

if frozen, thawed completely according to package instructions, boneless salmon fillet

1

teaspoon

or more Homemade Smoked Cajun Spice Blend

to your own taste

2

teaspoons

canola

grapeseed, or peanut oil
Optional, for serving:
Hot cooked rice

Mango Salsa or other fruit salsa
Instructions
To Make the Smoked Cajun Spice Blend:
Whisk all the ingredients together. Store in a jar with an airtight lid for up to 6 months.
To Make the Cajun Blackened Salmon:
Lightly pat both sides of the fish fillet with a paper towel to remove any excess moisture. Do not squash the fish; you're not trying to completely dry it. Sprinkle at least 1/2 of a teaspoon of the Homemade Smoked Cajun Spice Blend over each side of the fish fillet. For stronger Cajun flavour (or if you're using a larger fillet), sprinkle up to 2 teaspoons of the Smoked Cajun Spice Blend over each side of the fillet.

Place a clean, dry cast-iron skillet on a medium-high burner for at least 1 minute. Pour the oil in the pan and swirl it to coat. When the oil is shimmery, lay the seasoned fish fillet down in the pan and do not touch it (I mean it!) until the fish appears to be cooked (colour has changed from bright pink to opaque light pink) 2/3 of the way up the sides. If it smells like the spices are blackening too quickly, turn the heat down a smidge. When it appears cooked 2/3 of the way up the sides, carefully flip it over. Again, do not move or squish the fish! Let it cook for at least 1 more minute, or until the fish appears opaque or cooked all the way up the sides. Transfer the fillets to a plate or platter and lightly tent with foil. Do not crimp the foil, or you'll destroy the crispy spice coating you worked to achieve! Remember, too, that fish -like meat- continues to cook a bit from residual heat when removed from the pan.
To Serve:
Serve the cooked fillets over hot rice with a scoop of fresh

mango salsa,

or other fruit salsa.
Nutrition
Calories:
579
kcal
Carbohydrates:
58
g
Protein:
40
g
Fat:
19
g
Saturated Fat:
2
g
Cholesterol:
93
mg
Sodium:
880
mg
Potassium:
1318
mg
Fiber:
4
g
Sugar:
4
g
Vitamin A:
2580
IU
Vitamin C:
2.1
mg
Calcium:
72
mg
Iron:
3.2
mg
Nutritional information is an estimate and provided to you as a courtesy. You should calculate the nutritional information with the actual ingredients used in your recipe using your preferred nutrition calculator.
This post was originally published on August 22, 2013.