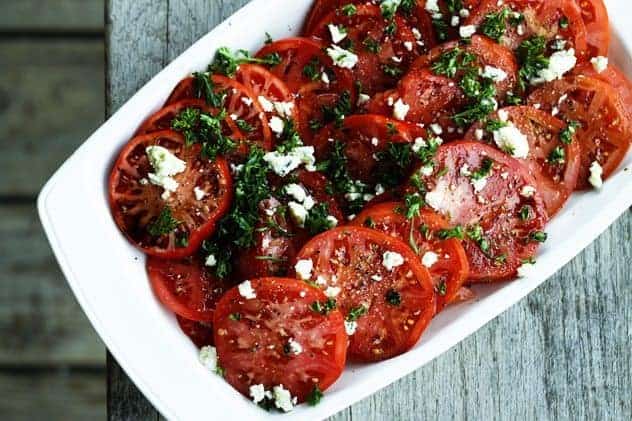 This weekend, my mom embarked on an adventure. She decided to live a little more simply. Okay. A lot more simply. She decided to try giving up running water and most electricity a couple months ago and move into a building on our property where she could do that without committing to a piece of real estate. This weekend was the big move.
My kids have always called her Nana and in the last month we've tagged "Free Range" onto the front of that. She is to be known, henceforth, as Free Range Nana. As part of the move, she plundered her own garden at her old rental property and brought down a goodly bowl of beautiful salad tomatoes. In order to properly welcome her to our little corner of paradise, I decided to whip up a salad of epic proportions on the flavour scale but negligible proportions on the effort scale.
Everyone knows that a good tomato doesn't need much tinkering, and this salad takes advantage of that trait. Free Range Nana loves a good salad. I simply sliced those gorgeous, ruby-red orbs, fanned them out on a platter and hit them with a little nice aged balsamic vinegar, a drizzle of olive oil, and some cracked black pepper and sea salt. Here, however, is where the big bang really happened: I tossed a bunch of crumbled smoked blue cheese and parsley over the whole thing.
Smoked. Blue. Cheese.
Have you had this yet? If you haven't, and you like regular ole blue cheese, I cannot encourage you to try it strongly enough. Let me 'splain. My little sister, Jessamine, lived her whole life thinking she didn't like blue cheese. She came to my house and I exerted my inimitable big sister skills and shamed her into trying my stash of smoked blue cheese. She relented, sprinkled some on her pizza and was instantly and irrevocably hooked. In fact, she was asking me the other day whether I'd be down for splitting an entire wheel of the stuff. (I am down.) It's true. Ask her!
My favourite comes from Rogue Creamery: Smokey Blue by Rogue Creamery
. If you've never had this let me explain a little why it's so transcendent. It's sharp and creamy blue cheese, that's for sure, but it's also cold smoked for sixteen HOURS over Oregon hazelnut shells.
THUD.
That's me falling to the floor thinking about just how amazing this cheese is.
My second favourite smoked blue cheese (Yes. I have a second favourite.) is Moody Blue from RothKäse, USA. Dear goodness, it's amazing. This one is smoked over fruit woods.
It's just that Rogue Smokey Blue. I just can't. I just.
Just get some.
Then sprinkle it over this tomato salad and sit down with a fork and a knife and a bib and warn everyone that conversation will die when they start eating this salad.
Don't fret. It'll pick up as soon as everyone realizes it's gone. It'll mostly consist of things like, "My word. That salad." and "Smoked blue cheese completes me." or "How late did you say that cheese shoppe was open?"
Whatever you do, make this salad soon. Summer tomatoes are almost gone, and I don't think I need to tell you that all the smoked blue cheese in the world isn't going to save a January tomato. Right?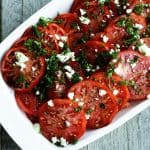 Print
Fresh Tomato Salad with Smoked Blue Cheese | Five Minute Recipe
This five minute dinner salad is easy enough for every night and elegant enough for company. Make it while the tomatoes are still magnificent. A great fresh tomato needs nothing more than the simple dressing of balsamic vinegar, olive oil, salt and pepper, and smoked blue cheese.
Ingredients
Per Serving:
1

medium to large sized salad or beefsteak type tomato

1

teaspoon

balsamic vinegar

1

teaspoon

olive oil

kosher or sea salt and freshly ground pepper to taste

1

tablespoon

smoked blue cheese crumbles

chopped fresh parsley
Instructions
Core and slice the tomato. Arrange the slices on a plate, fanning them out slightly. Drizzle the balsamic vinegar and olive oil over the tomato slices and then sprinkle them with salt and freshly ground pepper. Scatter the smoked blue cheese crumbles over the top and add chopped parsley, if desired. Serve immediately.