This crab rangoon recipe was sponsored by Silver Spring Foods and their delectable family of horseradish and mustard products. All recipes, photos, and opinions remain -as always- my own.
I am powerless when in the presence of Crab Rangoon. Seriously powerless. That crunchy wonton stuffed with creamy crab filling makes me weak at the knees.
So why would I mess with a good thing and change up the recipe? Because I can.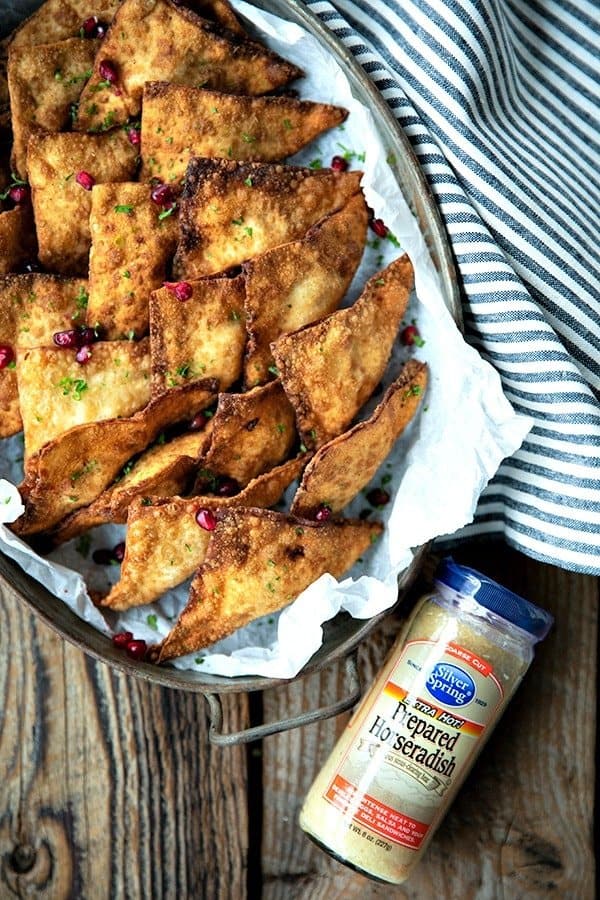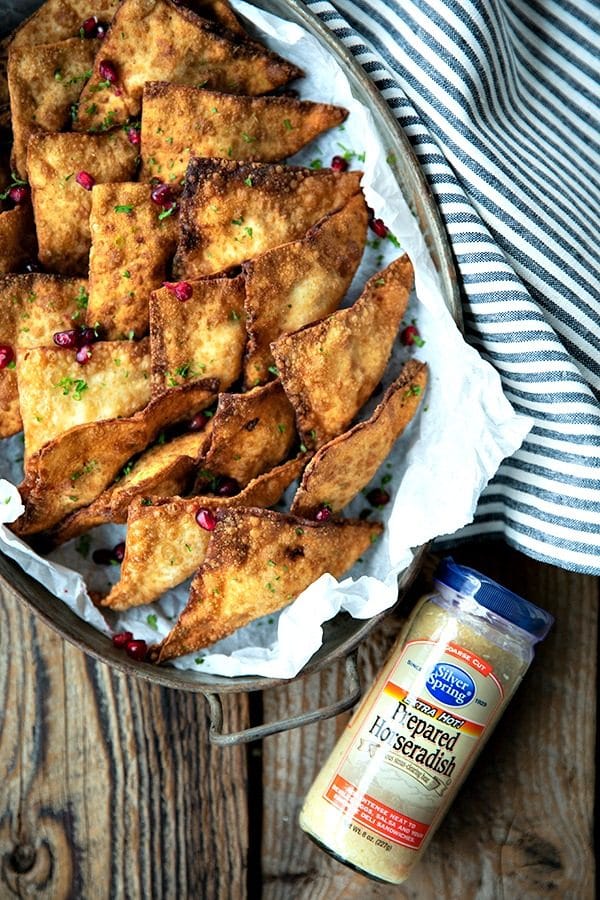 I decided to turn my culinary amp to eleven and stuff my crab rangoon recipe not just with the usual cream cheese and imitation crab. I used cream cheese, to be sure, but I used actual lump crab meat, crispy bacon, and extra hot horseradish, to boot.
I mean, honestly, can you hear my heart going pitter-pat from where you sit now? Because the results were swoon-worthy. That smoky umami hit from the bacon and the unmistakable ZING of the horseradish made these homemade crab rangoons a darned good reason to stay in and not go out.
Because while crab rangoon makes me swoon, so does horseradish, in a very big way. I love the zing, zip, and WHOA BABY that eating a spoonful of horseradish provides.
This quick primer on how to make crab rangoon won't clear your nasal passages, though. It's a more subtle hit of horseradish. If you really want the eye-watering presence, feel free to dip into horseradish when you serve it.
Do I need to use imitation crab meat for my crab meat rangoon?
In a word, no. You certainly can, but I love real crab meat when I can get it at a good price, so for this crab meat rangoon, I used the real deal. If that's out of your budget, never fear; you can substitute imitation crab meat in equal amounts for the lump crab meat called for in this recipe.
What IS imitation crab meat?
It's fish, guys! At it's most basic, imitation crab meat is white fish that has been finely ground and mixed with egg whites, food starch, crab flavouring, and a little sugar. The paste is then shaped to look like crab leg meat. It sounds kind of weird, but it's basically the same process by which chicken nuggets are made.
It's not some big, bad, awful thing; I just plain like real crab meat better most of the time.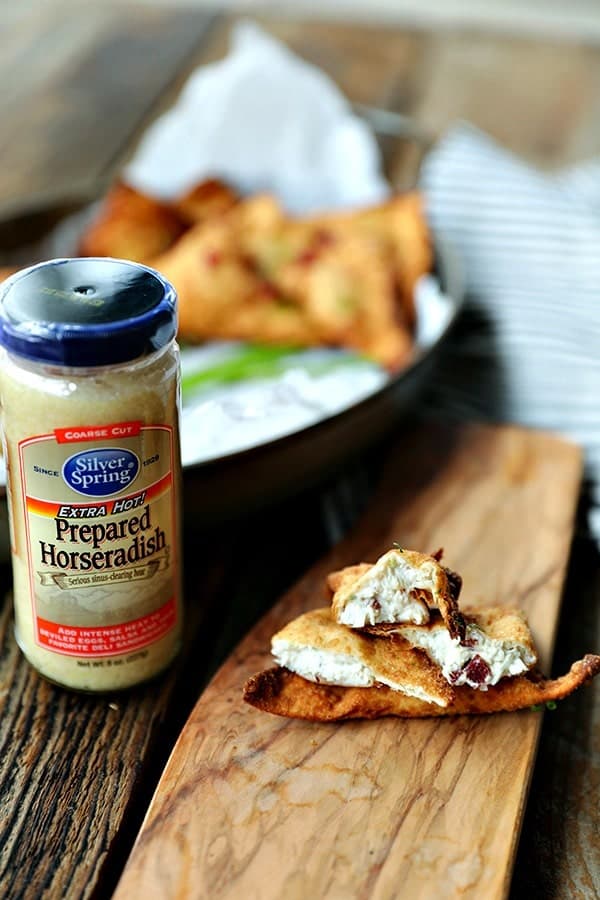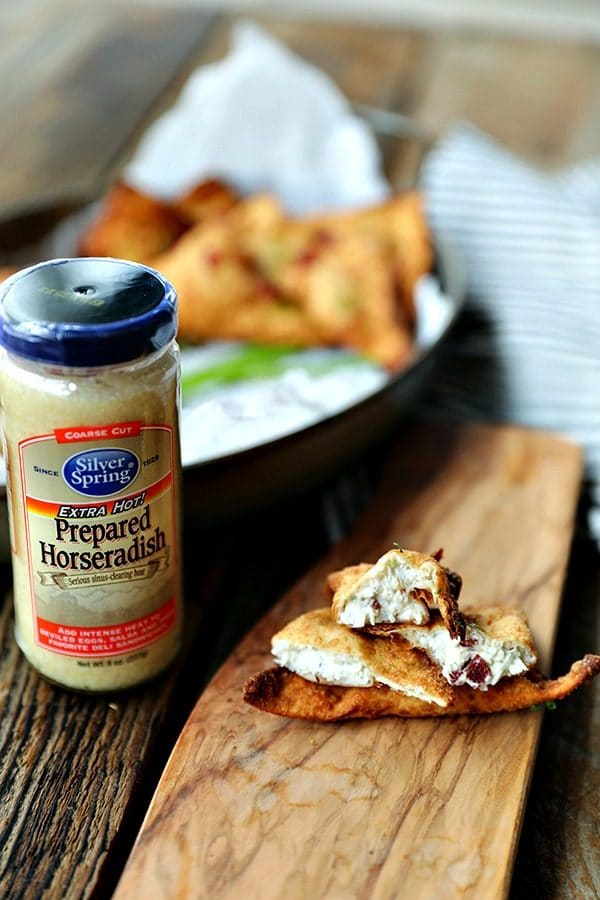 What kind of horseradish should I use for my crab rangoon recipe?
I like to use the strongest horseradish I can find for insides of my crab rangoons to make sure the flavour stands out.
My favourite horseradish for the job is the Extra Hot Horseradish from Silver Spring Foods. It is the easiest way to give it zing, no matter what "it" is!
Family owned Silver Spring is the world's largest grower and processor of horseradish, so they clearly know what they're doing when it comes to the zingy condiment. Using horseradish like I've done in this crab rangoon recipe is the perfect way to take a recipe from traditional to traditional with a twist.
Where do I find wonton wrappers for my crab rangoon?
The simplest place to find wonton wrappers is at your local Asian market. They are almost always well stocked.
If you don't have an Asian market nearby, though, most grocery stores have wonton wrappers ready to use in the produce section. Almost all Wegman's stores have them on hand there.
If the two previous options don't work for you, try the freezer section! Many grocery stores stock wonton wrappers in the deep freezers. And if none of this works? Well, don't worry. See the work around I have for you in the section below.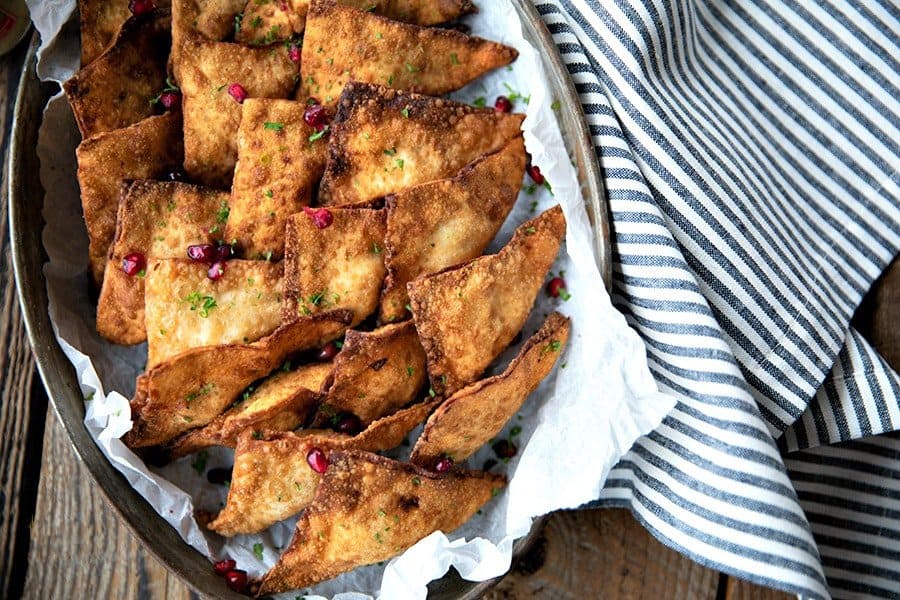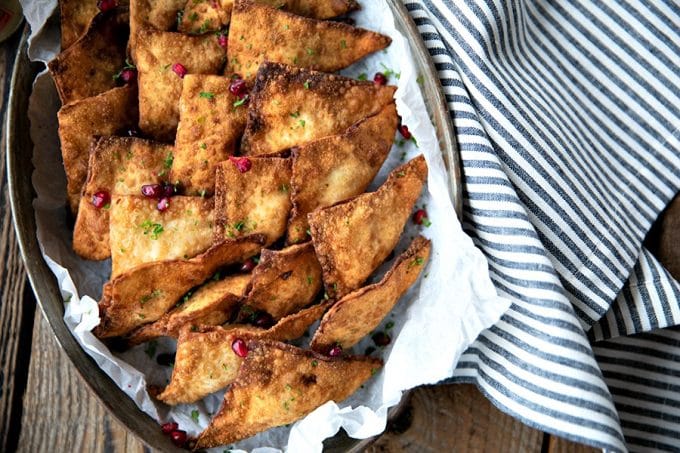 How to Make Crab Rangoon
This is a very easy process, really. Basically you soften cream cheese and mix in your crab meat, bacon, horseradish, and Worcestershire sauce until it is an even mixture.
Then you have a couple of options, most of which start with wonton wrappers.
Option 1:
Simple folded wonton method; this is my go-to method. I brush two edges of the wonton with beaten egg, plunk about 1 teaspoon of filling into the center, then fold the wonton over the filling.
Run your finger along the edges to seal the wonton, squeezing out as much air as you can. Ta-da!
Option 2:
Beggar's purse method; this one is a little prettier, but a little fussier. Brush the entire wonton lightly with the beaten egg, scoop your teaspoon of filling into the center, then gather the wonton up around the filling.
You'll still be squeezing out as much air as possible, but you'll be pinching the extra wonton near the top of the filling to seal it in. You'll want to let it sit for about three minutes before deep frying.
Option 3:
The Crab Rangoon Dip Method; this is the method you'll want to use if you can't find wontons. Scrape your filling into a greased baking dish and pop it into a preheated 350°F oven until bubbly. Voila! Crab Rangoon Dip! Serve this with your favourite crackers or vegetable sticks.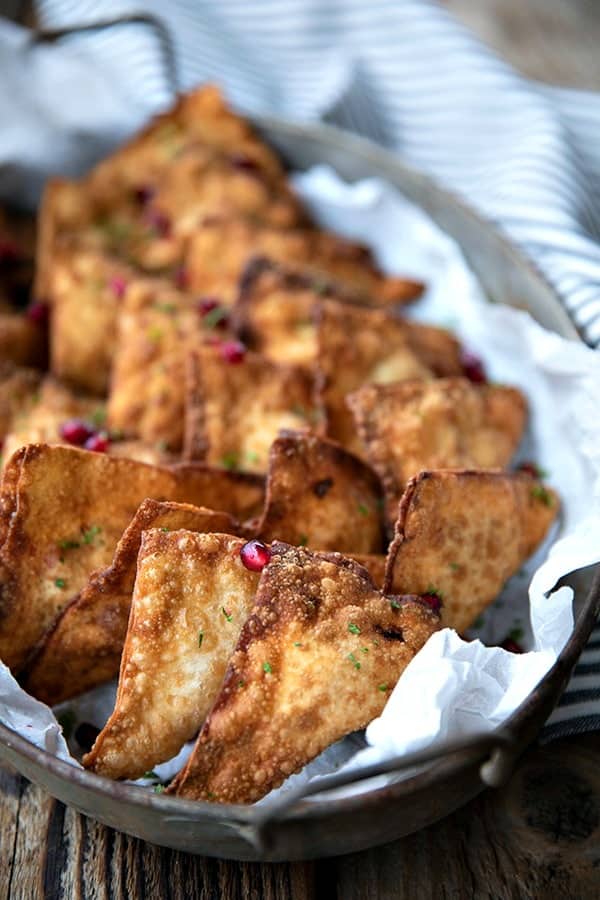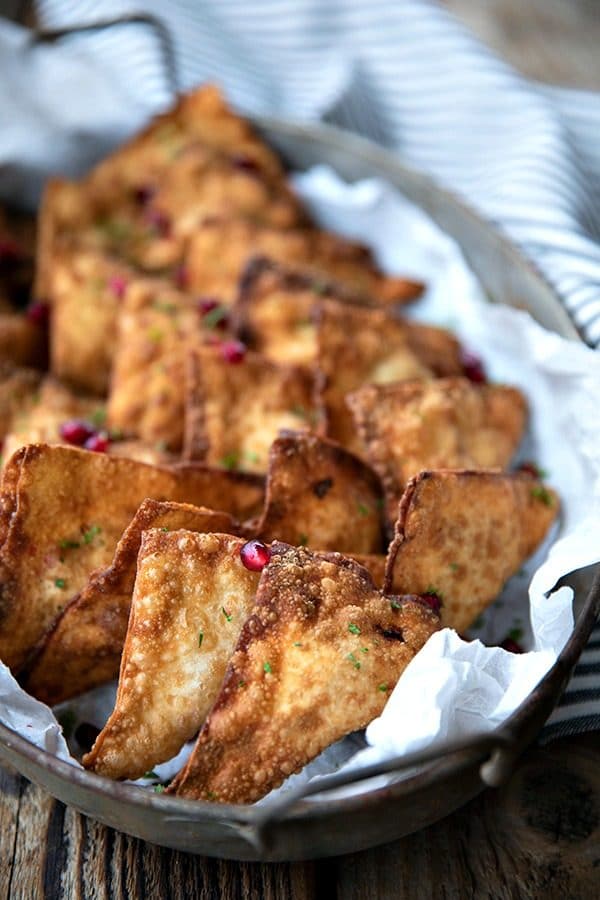 Crab Rangoon Cook's Notes
I like to use a hand mixer to mix together my room temperature cream cheese, horseradish, and Worcestershire because it makes it easier to stir the bacon and crab into the mix. This is strictly optional. You can definitely mix it by hand.
If you do opt to mix this by hand, I still advise mixing the cream cheese, horseradish, and Worcestershire together with a sturdy spoon before adding the mix-ins.
This is a job for finely chopped, crispy bacon rather than chewy bacon. You don't want the texture to compete with the texture of the crab meat.
If you use jumbo lump crab meat, you may want to run your knife through it to break it up just a wee bit. Giant pieces of crab will make it harder to mix your filling and to seal your wontons.
To fill out your party table, whip up a Blackened Salmon Caesar Salad, baked ricotta appetizer, everything soft pretzels, roasted parmesan garlic almonds, cream puffs for dessert, and some Lady Greyhound Cocktails to wash it down with.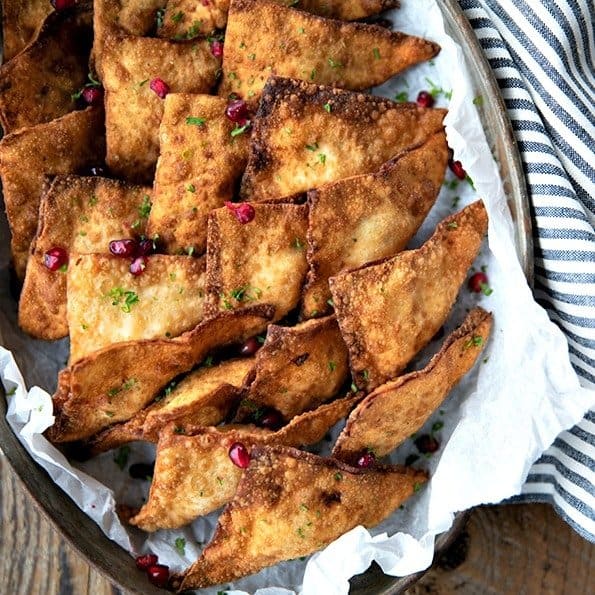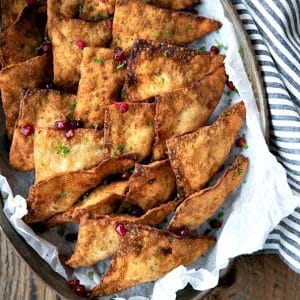 Ingredients
4

ounces

cream cheese

softened to room temperature

1

tablespoon

prepared horseradish

1/4

teaspoon

Worcestershire sauce

4

ounces

lump crab meat

4

strips

bacon

cooked 'til crispy and finely crumbled or chopped

4

green onions

roots removed and thinly sliced

30

wonton wrappers

1

egg

beaten

oil for deep frying or brushing before baking
Instructions
To deep fry:
Preheat about 3 inches of oil in a heavy-bottomed pot to 350°F over a medium high flame.


Use a hand mixer or sturdy spoon to beat together the cream cheese, horseradish, and Worcestershire sauce until smooth and more loose.


Stir in the lump crab meat, bacon, and green onions until evenly distributed.


Arrange a wonton wrapper on a plate or cutting board like a diamond.


Brush the edges of a wonton wrapper lightly with beaten egg. Scoop about 1 teaspoon of filling into the center, then fold the wonton wrapper up over the filling to cover it.

Use your fingers to gently squeeze as much air from the wonton as you can while sealing the edges together.


Repeat until the filling is used up.


Use a skimmer or tongs to carefully lower the rangoon into the oil 1 at a time. Make sure that you only put as many into the pan as can freely float in the oil. Fry for 1-2 minutes each, or until brown and crispy.

Transfer to a paper towel lined plate to drain. Serve immediately.

To bake
Preheat oven to 375°F.

Brush or spray the filled wontons with oil, then bake for 15 to 18 minutes, or until browned and crispy.

Nutrition
Calories:
159
kcal
Carbohydrates:
14
g
Protein:
6
g
Fat:
8
g
Saturated Fat:
3
g
Cholesterol:
41
mg
Sodium:
332
mg
Potassium:
97
mg
Vitamin A:
225
IU
Vitamin C:
2.1
mg
Calcium:
33
mg
Iron:
1
mg
Nutritional information is an estimate and provided to you as a courtesy. You should calculate the nutritional information with the actual ingredients used in your recipe using your preferred nutrition calculator.