When it comes to pasta salads, I am a little high maintenance. I want to have to play "hunt for the pasta among the vegetables" and that is why I bring you Veggie Lover's Greek Pasta Salad today. Vegetable lovers rejoice! This Veggie Lover's Greek Pasta Salad is absolutely bursting with feta cheese and the freshness of baby spinach, cucumbers, cherry tomatoes, bell peppers, Greek olives, and red onions all in a tantalizing garlicky herbed lemon dressing. This is my idea of an excellent pasta salad.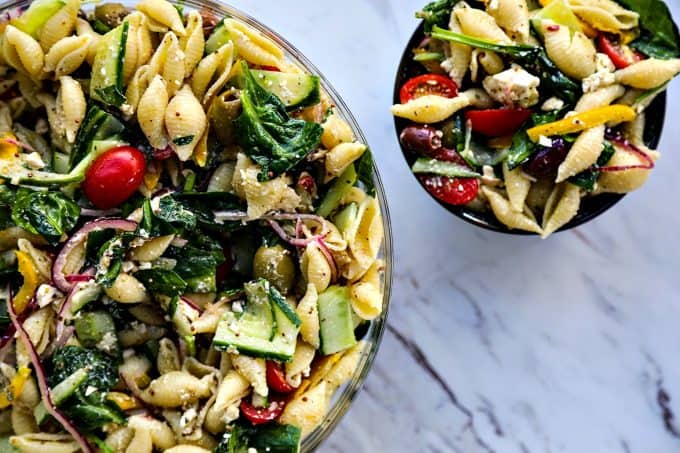 Whip up a batch Veggie Lover's Greek Pasta Salad to accompany a grilled dinner or by itself as a light meal, then enjoy the leftovers for the next few days… it keeps improving as it rests in the refrigerator.
Cook's Notes
I prefer to use an assorted marinated olive blend for the olives in our Veggie Lover's Greek Pasta Salad. If you can't find those, pitted kalamata or oil cured olives will be delicious.
You can either use pre-crumbled feta or crumble your own feta and you can choose between plain feta or (as I did for this salad) Mediterranean herb feta. Many well-stocked grocery stores carry a few options. Play with it and choose which you like best!
For best results, cook the pasta to al dente rather than soft. The pasta will soak up the dressing as it rests and will soften more than is desirable if you begin with overcooked pasta.
Check out this handy trick to keep the raw red or purple onions from being too spicy or hot! It's so easy. First, slice the onions as thinly as you possibly can before adding it to the mixing bowl on top of the baby spinach. As soon as you've drained the hot pasta, plunk it on top of the sliced red onions and let it sit for 2 minutes then toss like you mean it. This will accomplish two things; it will remove some of the bite from the raw onions and it will gently wilt the spinach which is desirable in our Veggie Lover's Greek Pasta Salad.
Don't worry if it appears there's too much dressing. Much of it will be soaked up by the pasta.
If at all possible, let the salad rest in the refrigerator for at least an hour prior to serving to allow the flavours to meld and marry. It is worth the wait if you can stand it.
Use these to make Veggie Lover's Greek Pasta Salad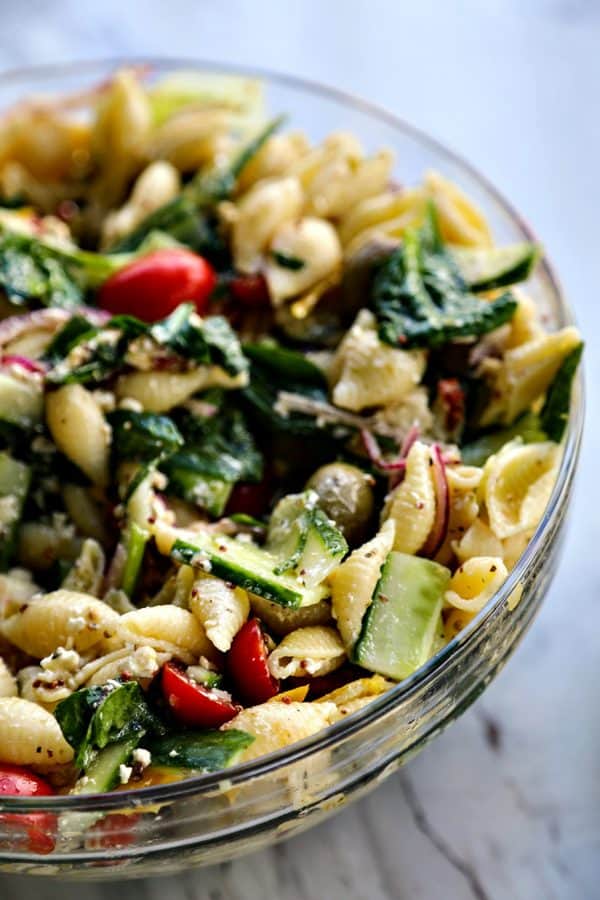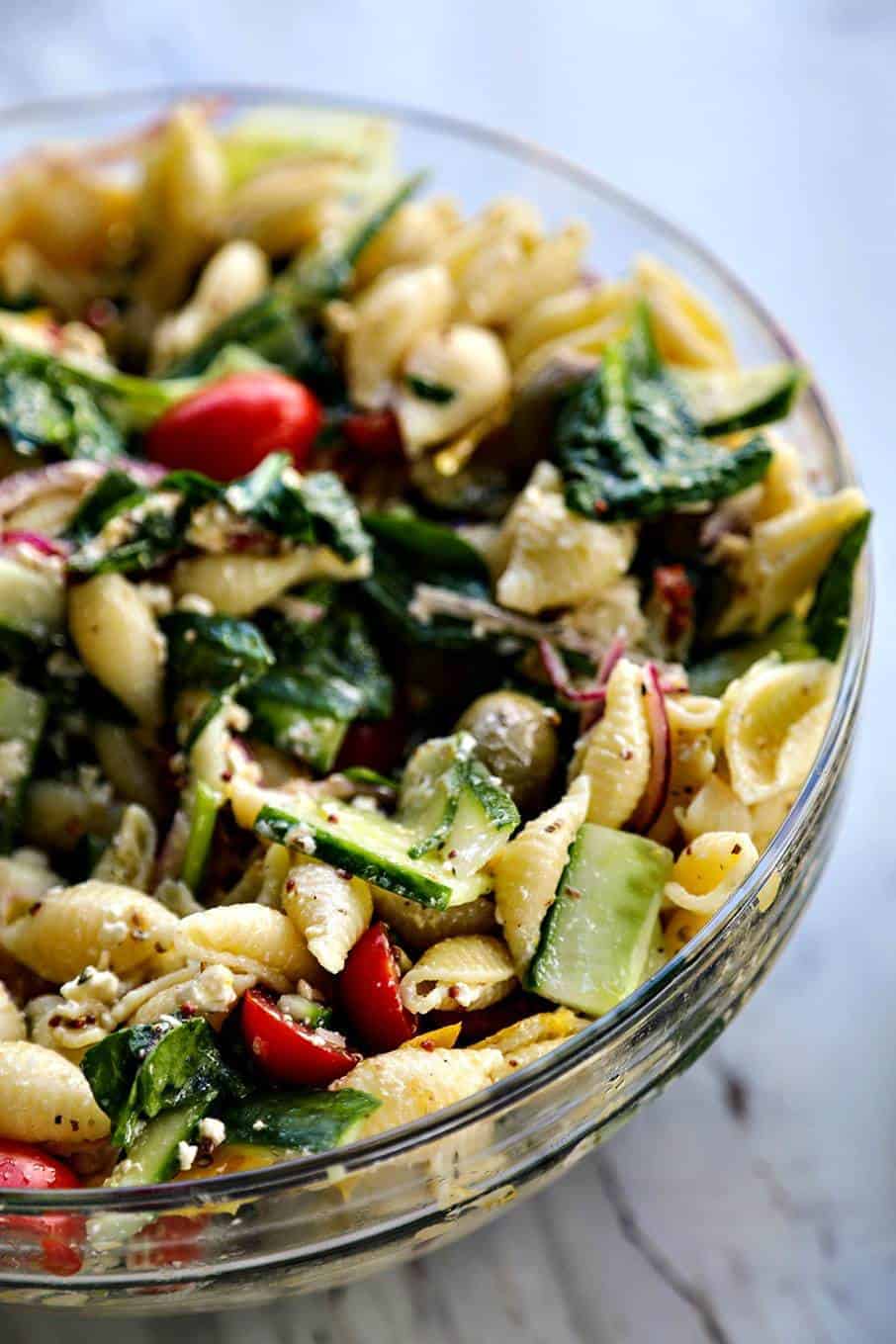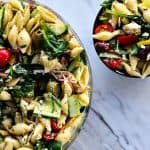 Ingredients
10

ounces

baby spinach

1/4

large red or purple onion, skin removed, very thinly sliced

1

pound

medium shell pasta

cooked to al dente according to package instructions and drained

1 1/2

cups

Assorted Marinated Greek Olives or pitted kalamatas or oil cured olives

1

bell pepper, any colour, stem and seeds removed

1

English or seedless cucumber, divided in 4 sections, each section halved lengthwise then thinly sliced

1

pint

cherry tomatoes, halved

1

batch

Greek Salad Dressing (homemade)

or purchased

1

cup

crumbled herbed feta or plain feta
Instructions
Add the baby spinach and thinly sliced onion to a large mixing bowl in that order. As soon as you have drained the al dente shell pasta, pour it over the onions and spinach and let it rest for 2 minutes then toss. Add the olives, bell peppers, cucumber slices, and cherry tomatoes and toss to evenly distribute. Pour in the Greek Salad Dressing and the feta crumbles and toss to coat. Cover the salad and refrigerate for at least an hour before serving to allow the flavours to meld.

Store in a tightly covered container for up to 5 days, stirring well before each serving.

Save
Save