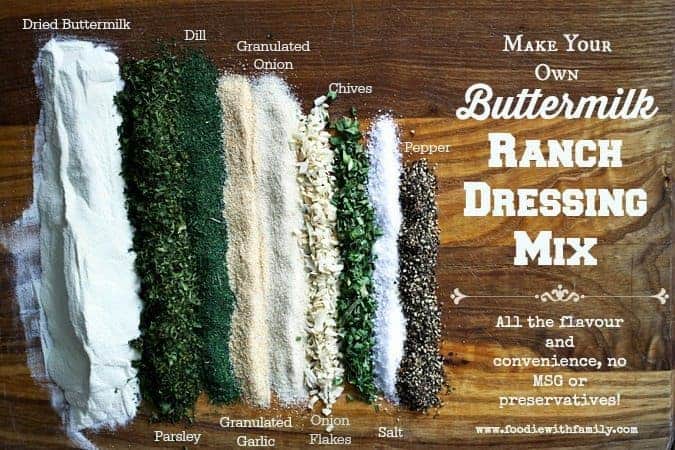 When I shared my Homemade Cool Ranch Doritos recipe two weeks ago, I suggested using homemade dry ranch dressing mix in the seasoning. I then received several kind but confused emails from readers asking just where on  FWF they could find this recipe. Um, oops? I hadn't published it yet. Today, I make it right by giving you Homemade Buttermilk Ranch Dressing Mix.
Our family has an annual bunny bread tradition for Easter Sunday. The day before Easter, I bake a bread shaped like a bunny. When we get back from church, I cut the belly of the bunny out, put a bowl in filled with Ranch dip, and surround the bunny bread with 'bunny food': carrot and celery sticks, broccoli and cauliflower florets, cucumber slices, olives (do bunnies eat olives? In my world they do.), green onions, and snow pea pods. The boys rip off pieces of the bunny bread and dunk the pieces (and vegetables) in the dip with great enthusiasm. They anticipate this even more than their baskets. It is entrenched tradition, people.
I've spent a small fortune on Ranch dressing mix over the years. Yes, I'm familiar with the canisters of the mix which are far more economical than the little paper packets, but still, the volume of Ranch my family goes through is a little indecent. I caught one of my boys trying to drink Ranch dressing with a straw once, if that's any indication…
Our not-so-little family is blessedly free of food sensitivities, but we have some dear relatives and friends who are not and they love Ranch, too. Ranch dressing mix presents some problems for them so I started playing around with homemade Ranch. Making Ranch dressing from fresh herbs is a no-brainer. It's delicious and nutritious and a decidedly summer indulgence. Making Ranch dressing from scratch in the winter months when fresh herbs are scarce and/or expensive purchases at the grocery store is another story. Besides this, my kids just plain favour the dressing and dip made from dry mix. They insist it's ranch-ier. I aim to please.
The beauty of Homemade Buttermilk Ranch Dressing Mix is that it's always ready… waiting for you. All you need is a jar, a cup of milk, a cup of mayonnaise, a little whisking, and VOILA!… you have a jar full of the good stuff. A whole two cups of Ranch dressing mix that's indistinguishable from it's commercially purchased counterpart.
"BUT WAIT! THERE'S MORE!" as the trustworthy British infomercial salesman says… This mix does more than just dressing! It may not slice and dice for you, but it is fantastic in Ranch dip, added to bread dough (for Ranch seasoned bread and then croutons from the aforementioned bread), on homemade Cool Ranch Doritos, and mixed into sour cream to top a baked potato, among other things. It's like the little black dress of the kitchen.
Anyone for  a salad?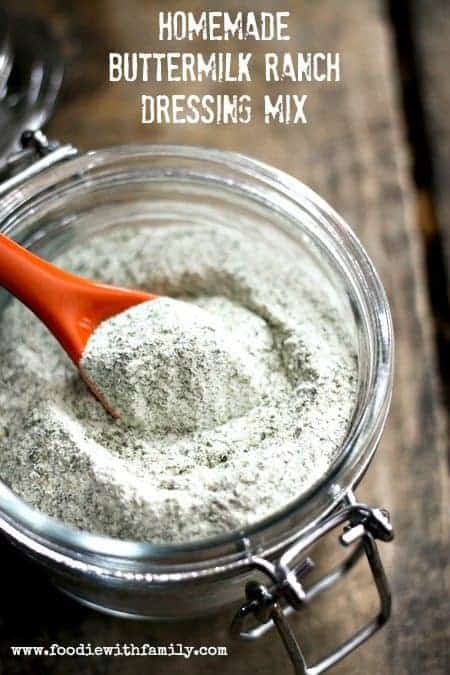 Cook's Notes:
Dried Buttermilk is the trickiest ingredient to find for this recipe and it's not all that hard to get. You can look at local bulk foods or baking supplies shops, health food stores, King Arthur Flour, or (amazon affiliate link) from Amazon.com. You can use buttermilk powder in baked goods, too, so don't worry about it being a culinary one trick pony.

If you're dealing with folks who don't like to see visible flecks of anything recognizable as an herb in their dressing, you can pulverize all of them when you blend the powder together. I like to replicate the little flakes of parsley in the commercial mix because that's what my kids like, so I reserve some aside and whisk them in at the end. Either way, it's all good.
Store your mix in a tightly sealed container at cool room temperature in a dark place (inside a cabinet) where the temperature doesn't fluctuate wildly for optimal storage. If it clumps in storage break it up with a fork before blending with mayonnaise and milk.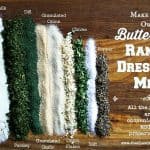 Homemade Buttermilk Ranch Dressing Mix
Ingredients
For the Buttermilk Ranch Dressing Mix:
1/3

cup

dry buttermilk powder

3

tablespoons

dried parsley flakes

divided

2 ½

teaspoons

granulated garlic

2 ½

teaspoons

granulated onion

2

teaspoons

dried onion flakes

2

teaspoons

dried dill weed

2

teaspoons

dried chives

1 ½

teaspoons

kosher or sea salt

1

teaspoon

cracked or ground black pepper
For Dressing Made from the Mix:
1

cup

mayonnaise

1

cup

milk

3

tablespoons

Homemade Buttermilk Ranch Dressing Mix
Instructions
To Make the Buttermilk Ranch Dressing Mix:
Put the buttermilk, 1 ½ tablespoons of the parsley flakes, granulated garlic and onion, onion flakes, dill weed, chives, salt, and pepper in the carafe of a blender. Pulse about 8 to 10 times, or until the onion flakes, parsley, and chives are broken down very small and almost powdered like commercially available ranch dressing mix. Stir in the remaining parsley flakes and transfer to a jar with a tight fitting lid. Store the mix in a tightly lidded container at cool room temperature in a dark place for up to 6 months. You may need to break up clumps from time to time. Shake the closed container to do so, or use a fork to break apart especially tenacious clumps.
To Make Buttermilk Ranch Dressing:
Whisk together all of the dressing ingredients until smooth and refrigerate for 30 minutes prior to serving. Use this dressing within 1 week of being made.
Looking for an easy way to get all the ingredients for this dressing delivered to your door? My darling Amazon.com can get it to you pronto. (These are all Amazon affiliate links.)
Buttermilk Powder

Parsley Flakes

Dill Weed

Granulated Garlic

Granulated Onion

Minced Onion Flakes

Dried Chives

Kosher salt

Black Peppercorns