It was raining and cool just as it had been for two weeks solid. The house was quiet and I dug through my suitcase in my sister's dining room while she bustled around preparing dinner. Even if I hadn't caught the pungent, spicy, rapidly mellowing aroma of garlic toasting in olive oil on the air, I would've heard the sizzle followed by the combustive sound of a cold liquid being added to a hot pan; the Leidenfrost Effect. It was followed by a sudden burst of orange aroma as real and unmistakable as though someone had just squeezed an orange slice right beneath my nose. I lost any interest in what I had been searching for in my bag and looked up, "What are you doing in there, Christina? It smells amazing!" "Just making a farro salad with kale," she said, "it's based on a salad I got at Wawa."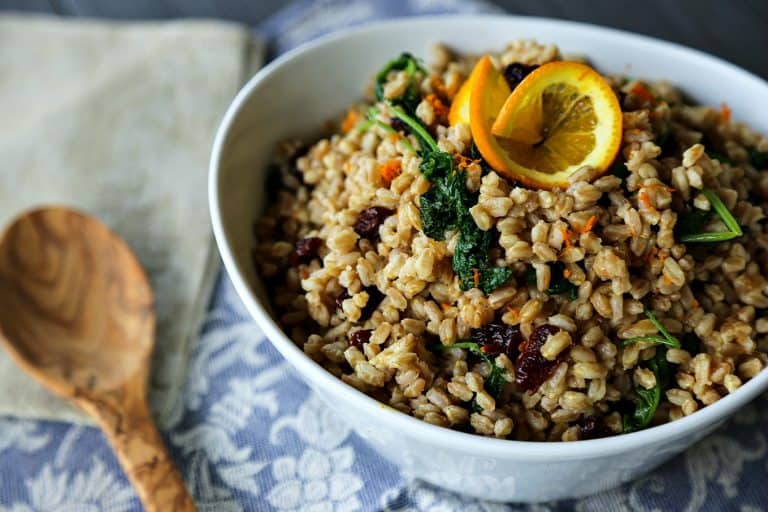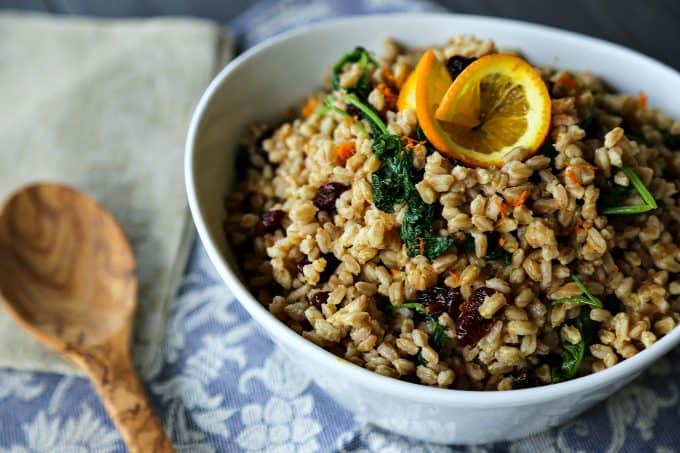 Um. What? A gas station made farro salads? What kind of sorcery exists in Virginia that their gas stations makes farro salads? As it turns out, the gas station salad to which my sister referred was made with quinoa (Still, what?) and had cranberries and apples. Again, I say, "What?" As it was, the Wawa salad inspired my sister, but the results were all her own.We are talking about a heavenly nutty grain salad with wilted, mild baby kale, and toasted garlic; all with a fresh burst of aromatic orange. Christina served her Farro Salad with Kale warm and topped with crumbled goat cheese. It might have been the most perfect rainy day food ever.
As soon as I got home, I set about recreating my sister's inspired Farro Salad with Kale. I toasted chopped garlic in extra virgin olive oil until lightly browned and fragrant. In went the farro to be tossed with the oil and toasted until nutty smelling, then a half an orange was squeezed over the grains and the chicken stock was added to the party. The zest of an orange and a half was added to the pot and the whole thing was brought to a boil. Heat was lowered and the pan was lidded and it simmered undisturbed for about a half an hour. After that time, it sat nicely with its lid on for 10 minutes while I washed a container of baby kale and sat some dried cherries to soak in the juice of another orange and a half. I had decided that the only thing I would add to what she did was dried cherries because I'm a little crazy for dried cherries with kale. That being said, it was one of the first seriously hot days of the year, so a warm salad just wasn't calling to me. I chilled my Farro Salad with Kale. I forgot to buy goat cheese and was going to use crumbled feta in its stead, but then forgot all about adding any cheese whatsoever. The Farro Salad with Kale didn't suffer at all for the omission. It was magical. The cherries plumped in orange juice were magical with the nutty Farro Salad with Kale.
The same basic ingredients from two humans from the same basic background yielding two completely unique and strangely similar dishes. Salads as a metaphor for sisterhood might be a bit far-fetched, but the salads themselves are not in question. Hot or cold, with goat cheese or without, with cherries or without, Farro Salad with Kale makes a brilliant addition to a drowsy, rainy spring meal, or a picnic on a sweltering summer day. I've heard it both ways.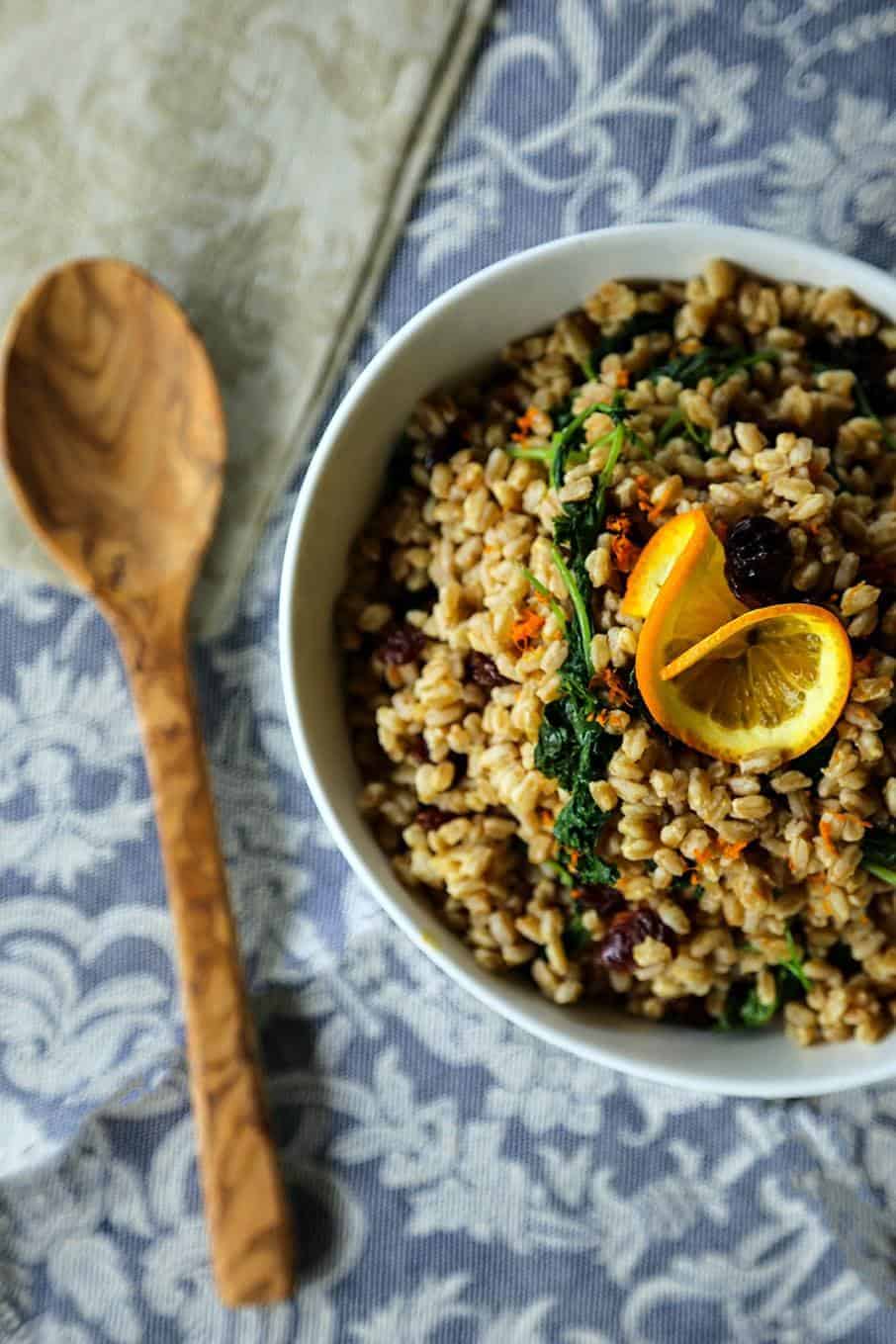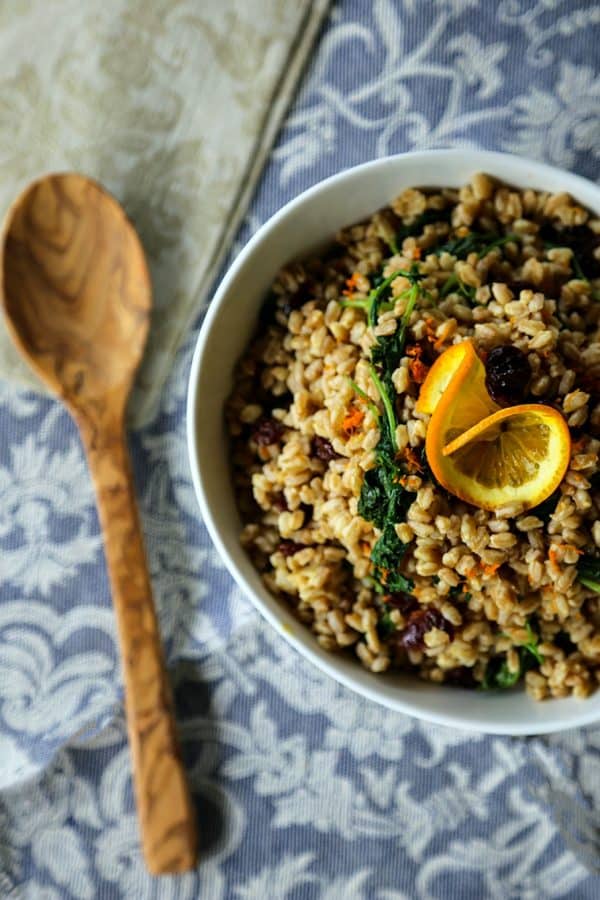 Cook's Notes
Farro Salad with Kale can be served hot or cold.
If you wish to include the feta or goat cheese, serve the cheese crumbles in a separate dish to be added to each individual serving. This will keep it from falling apart and disappearing into the leftovers in the refrigerator.
When it comes to the cooking liquid for the farro, you have a couple of options. I love the depth of flavour imparted by chicken stock. If you prefer, you can use lower sodium chicken broth or vegetable stock or broth instead. If you're out of all stock or just plain prefer to do so, you can substitute water, but it will be a more pure grain flavour which some people find less round and pleasant than grain cooked in stock or broth.
Dried cherries make this salad something extra special, but if you can't find them or your budget doesn't allow for them, Farro Salad with Kale will still be delicious.
Are you having trouble finding farro? Try the bulk grains bin at your local grocery or health food store. No time or desire to hunt it down? Amazon to the rescue! You can order it here.
Connect with Foodie with Family
facebook | pinterest | instagram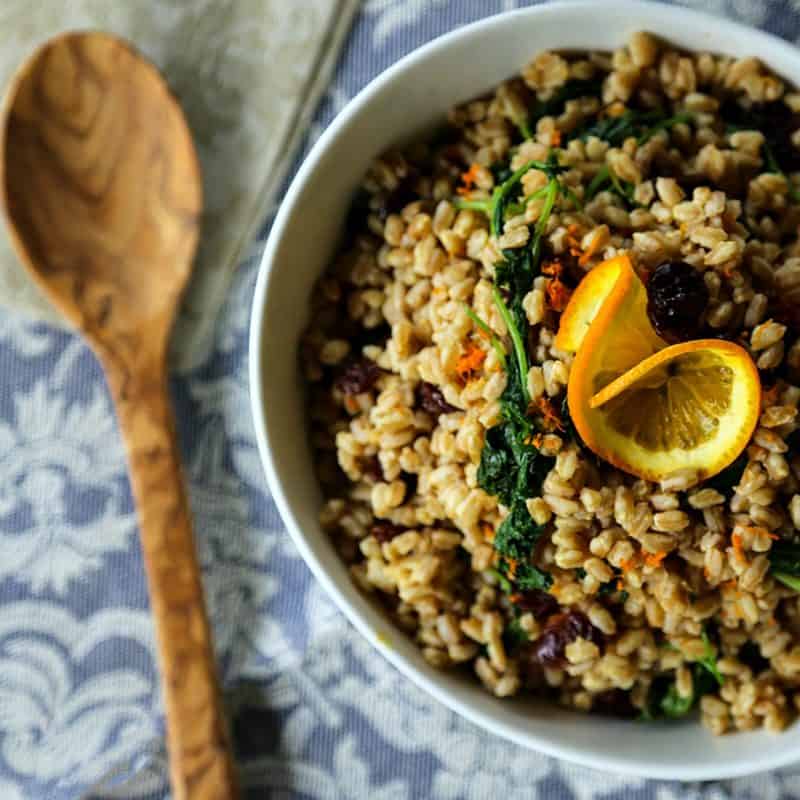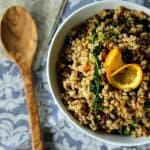 Print
Farro Salad with Kale
Heavenly nutty grain salad with wilted, mild baby kale, and toasted garlic; all with a fresh burst of aromatic orange juice plumped dried cherries. Serve warm or cold.
Ingredients
3

tablespoons

extra virgin olive oil

divided

3

large cloves garlic

peeled and minced

1

pinch plus 1 teaspoon kosher salt

divided

1

pound

pearled farro

2

oranges

zested and juiced

4 1/2

cups

chicken or vegetable stock or low-sodium broth

or water

2/3

cup

dried cherries

5

ounces

baby kale

washed
Optional garnish:
crumbled goat cheese or feta cheese
Instructions
Drizzle 2 teaspoons of the extra virgin olive oil over the bottom of a 2 1/2 to 3 quart saucepan with a tight fitting lid over medium heat. Add in the minced garlic with a pinch of salt. Fry the garlic, stirring constantly, until it is light golden brown and fragrant. Add the dry farro grains to the pot and toss to coat with the garlic oil. Continue stirring until the farro smells nutty, about 3 minutes.

Add about 1/4 cup of the orange juice to the pot. It should sizzle and smell fragrant immediately. Reserve 1/2 teaspoon of the orange zest and add the rest to the pan along with the remaining kosher salt, chicken or vegetable stock, or water. Bring the mixture to a boil. Reduce the heat to as low as it can go, put the lid in place, and let it simmer, undisturbed, for 30 to 35 minutes (as specified in the cooking instructions on the package of farro.)

Stir the dried cherries into the remaining orange juice and toss to coat. Set aside to soak at room temperature.

After the cooking time is up, move the pot to a cool burner, leaving the lid in place, and let it rest for 10 minutes. After 10 minutes have passed, open the lid and toss in the baby kale while fluffing the grains of farro. The baby kale will wilt perfectly in the heat of the farro. Once it has all been combined, drizzle the remaining olive oil over the farro, pour in the cherries and orange juice, and toss to distribute evenly. Sprinkle the remaining orange zest over the salad. Serve warm or cold. If desired, garnish with crumbled goat cheese or feta cheese.