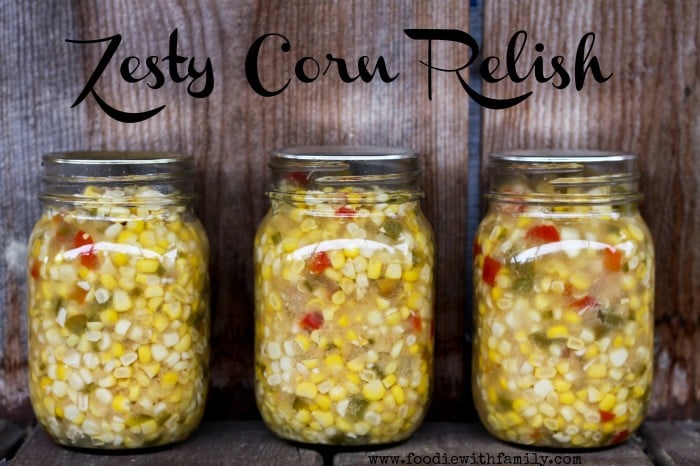 I had a realization yesterday. It dawned on me that I am what you call a volume canner.
I always thought, "I do a fair amount of canning." and was fine with that. But when I posted a picture of a small portion of what I had taken advantage of the long holiday weekend to preserve, folks' reactions made me consider it a little more deeply.
"Wow!!" "Woah!!!" "Holy moly!" Er, what?
Oh, I guess not everyone fills five hundred jars in an average summer? (Duh, Rebecca.)
Obsessed? Yeah, quite possibly… but here's the thing.
I fill jars with items that are delicious, versatile, and NOT PURCHASABLE. Okay, maybe some of the items can be bought in a store, but the majority of them are unattainable unless you make them yourself or are friends with an obsessive canner (like me) who likes to share the proverbial or literal fruits of their labor.
(Like me. Alright. The truth is that if you walk in my house in canning season, you're likely to find yourself cornered with a spoon full of something pushed toward your face and the phrase, "Try this and tell me what you think!" uttered earnestly.)
And the items that can (pun alert) be bought? I like to think my version tastes a little fresher, is a little better for you, and has a little more romance to it. I'm looking your way concord grape jelly made from grapes I picked with my kids.
I have about five items I make in quantities that give even me pause when I contemplate the numbers. Smoky Roasted Tomato and Tomatillo Salsa (at least 86 pints each summer), Candied Jalapenos (in excess of 100 jars annually between what we eat and what we give for gifts), and Garlic Dill Pickles (anywhere between 76 and 96 quarts).
I also make Homemade Unsweetened Fruit Juice (apple, Concord grape, Niagara grape about 60 quarts of concentrate), and the good stuff you see in that picture above (this year, I have about 50 pints and I'm still planning on another couple of batches!) What you're looking at is Zesty Corn Relish.
Zesty Corn Relish is the combined adaptation of a recipe from 'The Joy of Pickling' by my little sister, Jessamine, and I. Jess and I share the canning madness and when the weather cools, we often swap our goods.
A while back, Jess passed a jar of her version of the corn relish my way. It sat on my shelves among my other canned goods for a while waiting for the right moment.
That moment came one night when we had Pulled Pork Tacos (made with this recipe!) on deck and I realized I had forgotten to make any goodies to serve on top. The jar of Jessie's corn relish came up from the basement and disappeared instantly amidst indecent noises of approval and joy. We knew that was getting made in abundance at that moment.
Jess shared her alterations to the recipe with me, and I decided to add a little more heat to the party by adding jalapeños. The result is a jar of FRESH corn taste (you know corn never tastes as good as when it's fresh from the field, right?
This gets pretty darned close and is a heckuva lot closer than any frozen or canned corn you can buy at the store in February!) that has a surprising chameleon quality. It goes with e.v.e.r.y.t.h.i.n.g.
Tacos, chili, beans and rice, pot roast (this use comes straight from my Grandma and it is glorious, let me tell you!), grilled or broiled chicken, pork, or fish, sausage… Put it on or in just about anything, stir it into jarred salsa for extra texture or serve it alone with tortilla chips as a stand alone salsa.
My sis serves it as a side salad sometimes! Trust me. Once you've tried this, you're going to want shelves lined with crunchy, savoury, sweet, zippy, Zesty Corn Relish.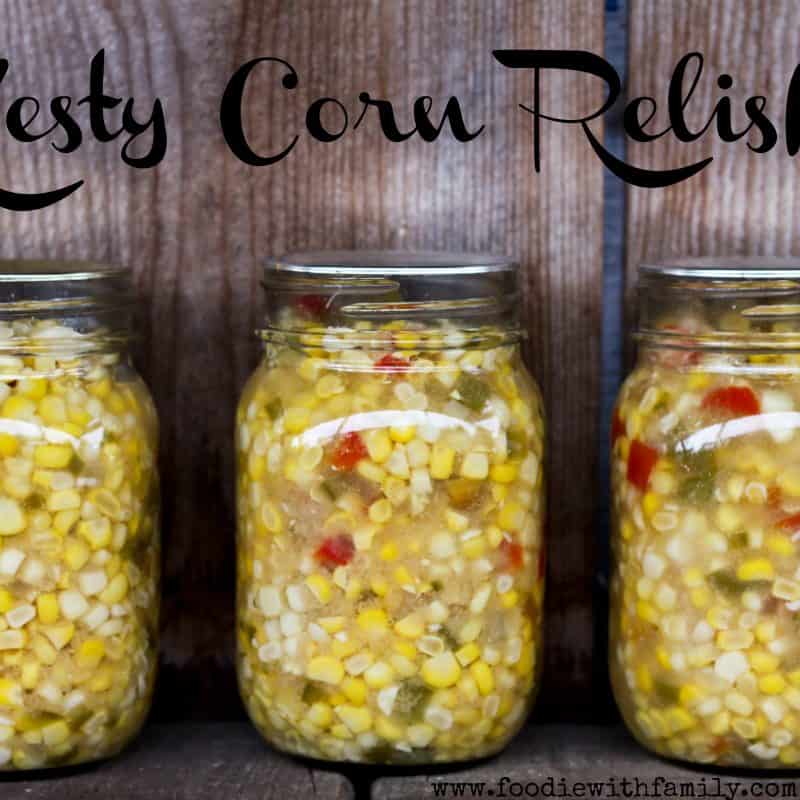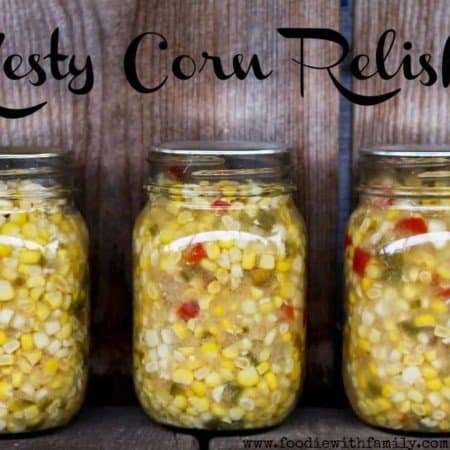 Serve this updated classic corn relish with tacos, chili, beans and rice, pot roast, grilled or broiled chicken, pork, or fish, sausage, stir it into jarred salsa for extra texture or serve it alone with tortilla chips as a stand alone salsa. You can even chill a jar and serve it as a side salad! Trust me. Once you've tried this, you're going to want shelves lined with crunchy, savoury, sweet, zippy, Zesty Corn Relish.
Ingredients
18

ears of fresh sweet corn on the cob

2

cups

diced red bell pepper

1 1/2

cups

diced green bell pepper *See Notes

1/2

cup

minced fresh jalapeno **See Notes

1/4

cup

minced garlic

2

tablespoons

coarse Kosher salt

4

teaspoons

dried mustard powder

4

cups

cider vinegar

1

cup

water

2/3

cup

light brown sugar
Instructions
Sterilize at least 10 pint jars (you may only use 6, but it's better to have too many jars ready than to have to sterilize more jars while your relish waits!) If you need help learning how to do this,

follow these instructions.

Shuck the corn and carefully remove the silks. Stand each ear of corn sturdily on its end on a cutting board and use a sharp knife to remove the kernels. Discard the cobs

(or use in Corn Stock

In a large stainless steel or other nonreactive pot, stir together all of the ingredients and bring the mixture to a boil, stirring occasionally. When it reaches a boil, reduce the heat to medium low and simmer for 20 minutes.

Ladle the hot corn relish into sterile jars, leaving 1/2-inch of headspace in the jar. Remove air bubbles, adjust corn and liquid level if necessary to maintain the 1/2-inch headspace. Wipe and clean the rim of the jars with a paper towel moistened with vinegar. Fix new two piece lids in place and screw the rings to fingertip tightness.

Put the filled, lidded jars in a canner, ensure they are covered by at least an inch of hot water, bring to a boil, and process for 15 minutes at a full boil, covered. When the 15 minutes are up, turn off the heat, remove the lid and let the jars rest in the water for 5 minutes before carefully transferring to a wire rack or a clean towel lined counter top.

Let them cool, undisturbed, for 24 hours. When they are completely cool, carefully remove the rings, wipe the jars clean, label (with sharpie or sticker), and store on a shelf in a place out of direct sunlight for up to a year.
Notes
You can adjust the proportions of green bell peppers and jalapenos to make the level of heat exactly as you prefer it. Want it totally mild? Omit the jalapenos entirely and use 2 full cups of green bell pepper. Would you like it to pack some punch? After stemming the jalapenos, leave the seeds intact when you're mincing them and increase the overall amount of jalapenos while decreasing the amount of green bell peppers. IMPORTANT! If you are increasing one type of pepper, do not forget to decrease the overall amount of the other pepper by the same amount. You must keep the total of the green or jalapeno pepper at 2 cups to maintain the proper acidity to prevent microbial growth in this relish.
*If you want your jalapenos to be a little more powerful, leave the seeds in when you mince them. I prefer to remove the seeds before mincing because I like the texture better. Follow your own preference for the ultimate Zesty Corn Relish.
Nutrition
Calories:
73
kcal
Carbohydrates:
15
g
Protein:
1
g
Sodium:
447
mg
Potassium:
204
mg
Fiber:
1
g
Sugar:
8
g
Vitamin A:
425
IU
Vitamin C:
22.9
mg
Calcium:
10
mg
Iron:
0.4
mg
Nutritional information is an estimate and provided to you as a courtesy. You should calculate the nutritional information with the actual ingredients used in your recipe using your preferred nutrition calculator.
So tell me… do you can? Are you a hobby canner or an obsessive one or somewhere in between? If you're new to canning and need the gear, below are links to my favourite canning equipment.
Canning Gear Basics:
(all Amazon.com affiliate links.)