A while back, I talked about my deep and abiding love for the Greek Salad Gyro Plate I had when I went out to lunch with my mom and sisters. That meal was pure perfection to my brain.
It was a salad, and we ALL know how I feel about those. (See here and here for examples, if it slips your mind.) But it wasn't just a salad…
It was a plate of salad bigger than my head and it was topped with fresh tomatoes, thick cucumber slices, kalamata olives, crumbled feta cheese, and a gigantic pile of crisp gyro meat and a little ramekin of Greek Dressing on the side. I was over the moon.
And even though I didn't get an item that my vegetarian lunch companions wanted to sample, they were kind enough to share a couple of their dolmades (stuffed grape leaves) with me. SCORE! Those grape leaves belonged on that salad, I tell you.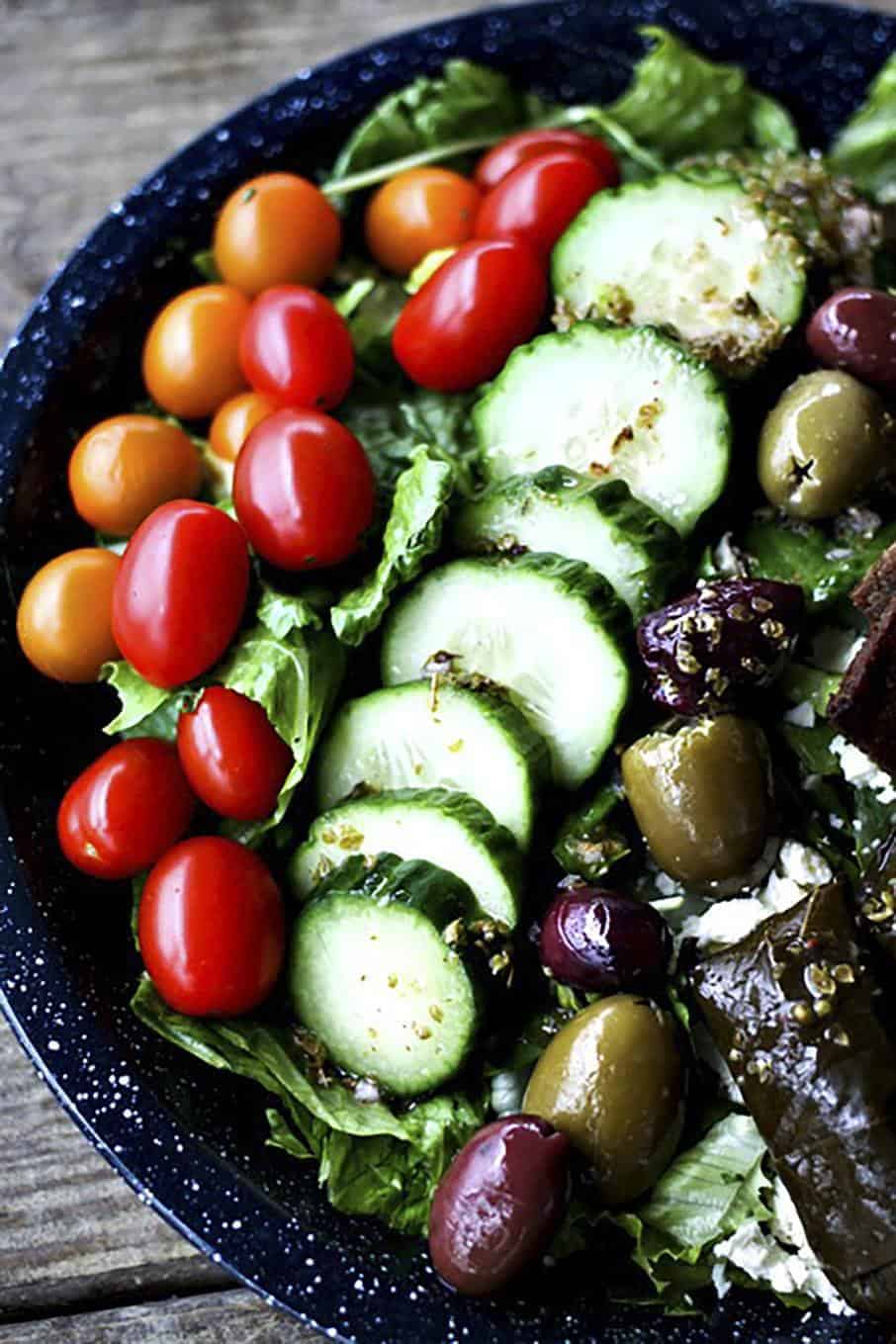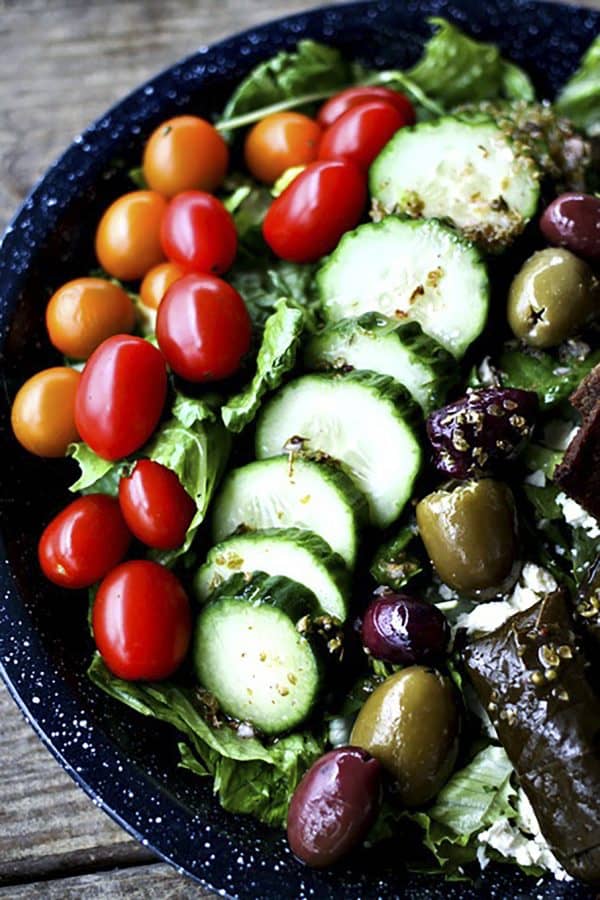 So when I decided to recreate the plate at home, I knew the dolmades would be on my version. I did not make them myself, owing largely to a total lack of available ingredients and the unwillingness to source them when the nearest Wegman's sells fantastic ones from their Mediterranean Bar (read: olives and salad goodies) quite inexpensively.
If you are fortunate enough to have a grandmother who makes them FOR you, or you have all the requisite items needed to make them yourself, go for it! Also, I'd like to give you my address so you and/or your grandmother can ship some to me. Thankyouverymuch.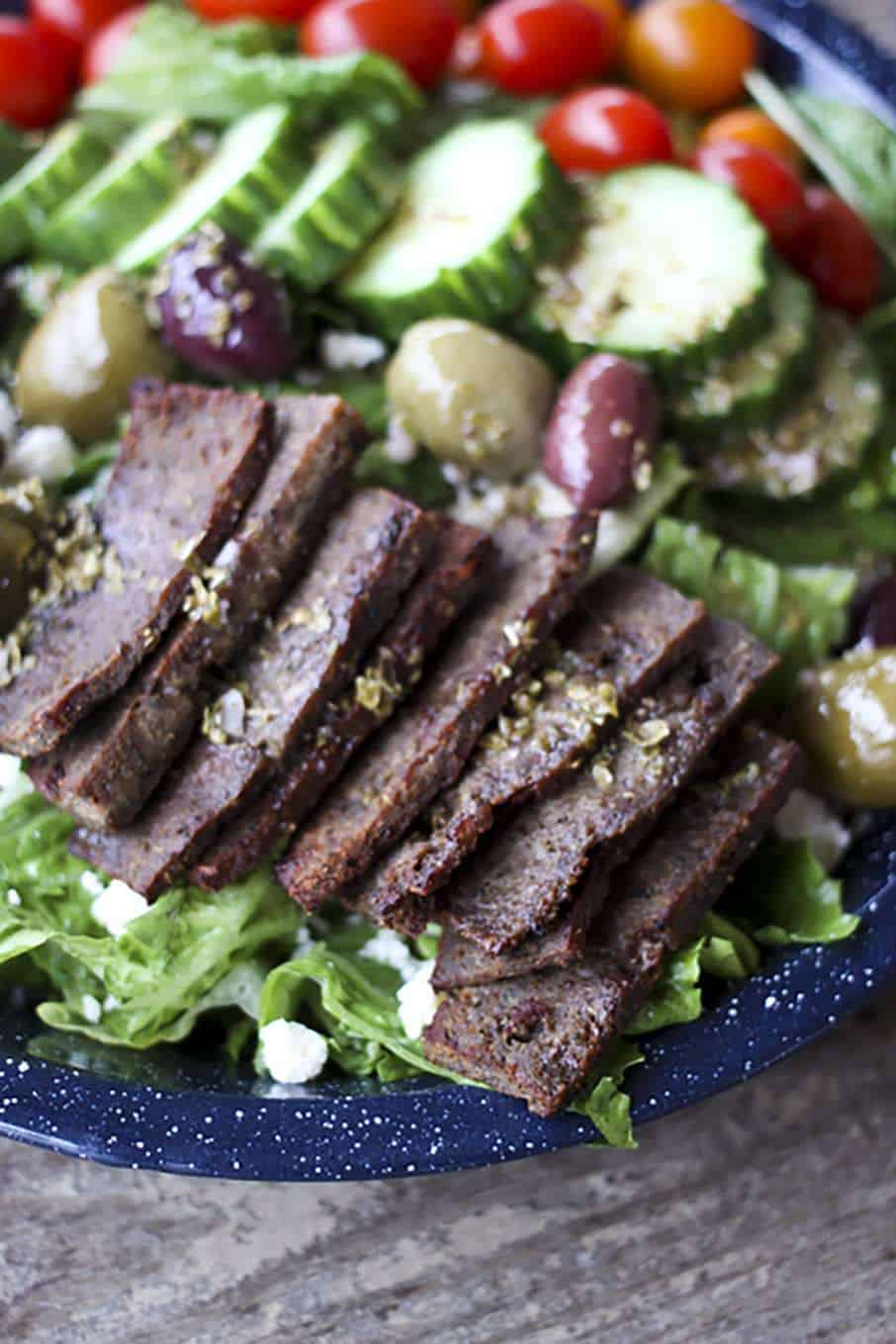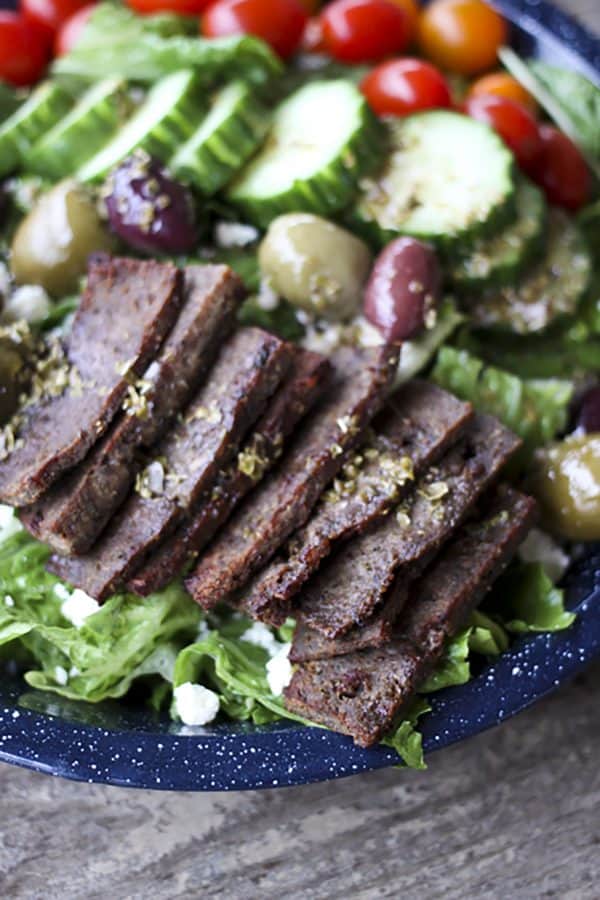 Now here's the deal. If you made the Gyro Meat, you are just a few minutes of lettuce washing and drying and cucumber slicing away from this salad.
You WANT to be just a few minutes away from this salad. Check that.
You want this salad in front of you now. The beautiful thing about it, though, is that even if you're out of gyro meat, you can sub in leftover slices of roasted or grilled chicken, pork, or beef. I promise you it really sings, though, with the gyro meat.
This Greek Salad Gyro Plate is no side salad; it's a meal. If you serve a big pile of pita wedges with it to sop up the Greek dressing and feta bits, no one will walk away hungry.
A word to the wise, though… be sure you have enough for lunch the next day because thoughts of it will abide in your brain until you have a second one. Trust me.
If Main Dish Salads are your thing, too, we also have Bo Luc Lac (Vietnamese Shaking Beef Salad), Cheeseburger Salad, Greek Salad, Pizza Salad, Tex-Mex Cobb Salad, Spicy Southwestern Chicken Salad + Meal Prep, and Blackened Salmon Caesar Salad.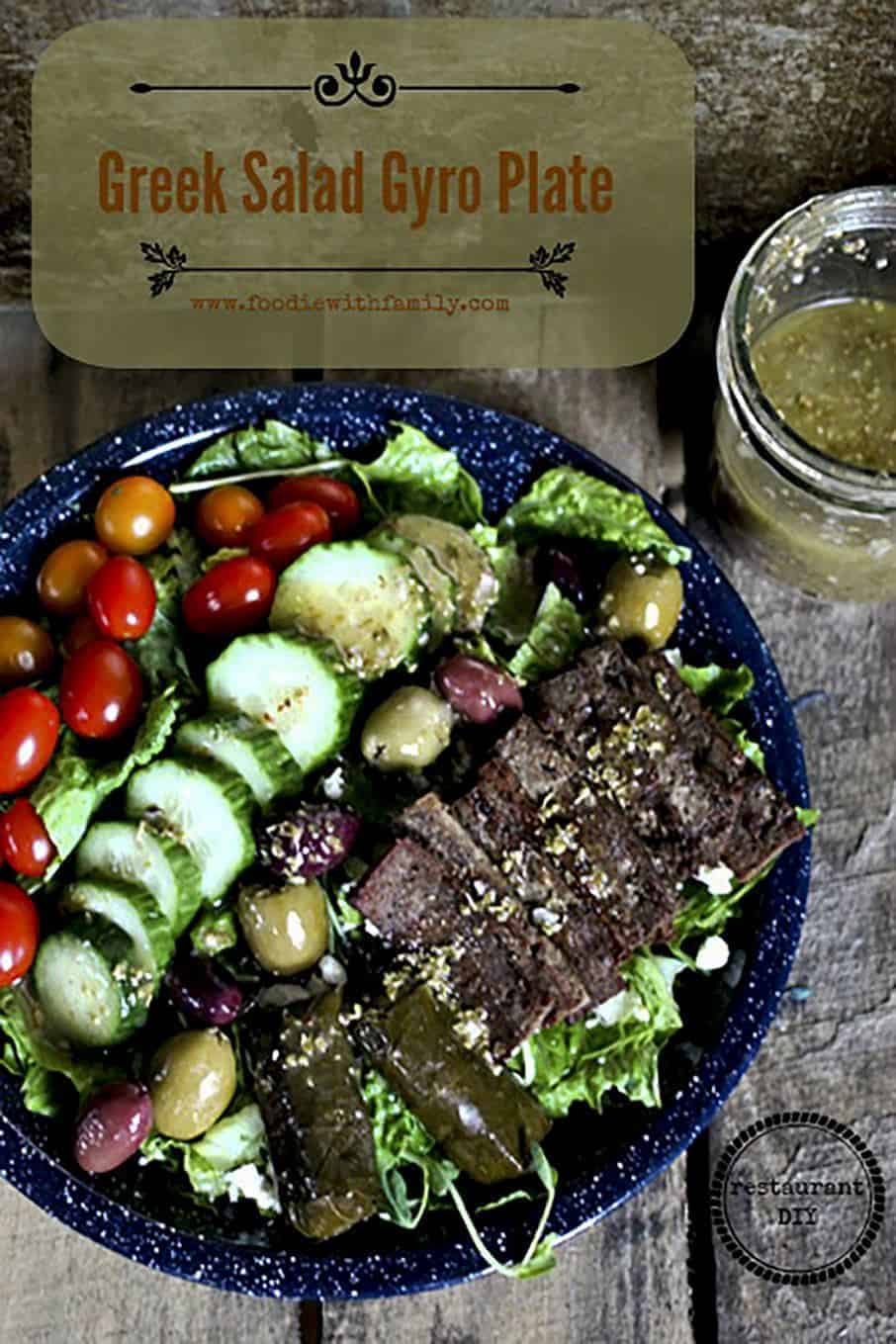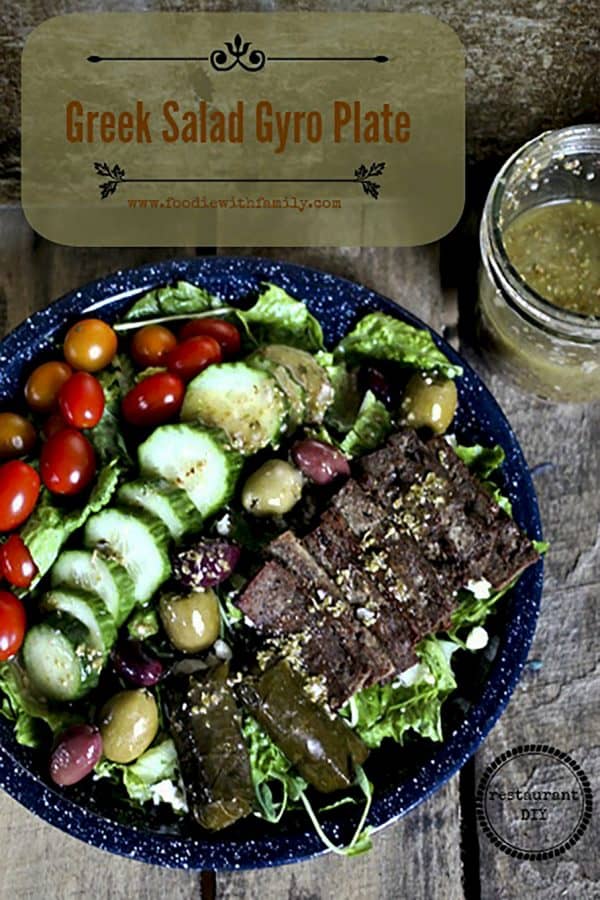 Greek Salad Gyro Plate
The Greek Gyro Salad Plate I had at Aladdin's Eatery in Rochester used romaine lettuce and I loved the crunch, so I highly recommend using torn or chopped romaine for the bulk of the greens in this salad. You can lighten up the texture a bit with some spring mix, butter lettuce, and pea shoots, too, but make sure at least half of your greens are romaine.
If you're so inclined, you can slice the cherry tomatoes to keep from having to chase the roly-poly things around your plate with a fork. I like the pop of a whole cherry tomato when I bite it, so I opted for the chase.
I did not put raw onion slices on my salad although they were on the restaurant plate. The reason for this is that I'm having trouble laying my hands on a less-fiery-than-the-hinges-of-hell red or sweet onion this time of year. If you can get a hold of a nice sweet onion, by all means, add a few thin slices in if you like them.
I choose to serve the dressing on the side to be used immediately before serving. I don't think this salad benefits from being pre-dressed, in fact, I think it has a tendency to get soggy-fied when dressing is added before the table.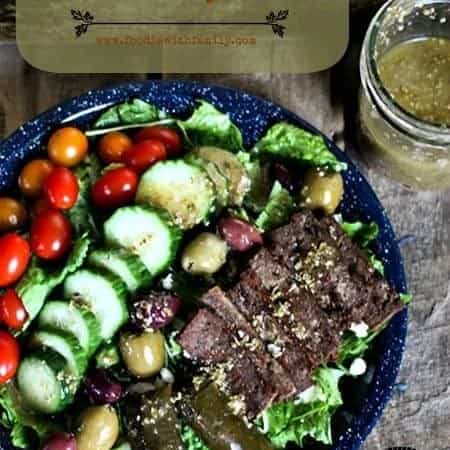 This Greek salad Gyro Plate is no side dish; it's a meal in itself. Crisp romaine lettuce a,fresh cherry tomatoes, cucumber slices, kalamata olives, crumbled feta cheese, dolmades, Greek dressing, and gyro meat all combine to create a salad that will fill you up without weighing you down.
Ingredients
Per Salad:
4-6

cups

mixed salad greens

mostly romaine

10-12

slices

gyro meat prepared as for gyros

1/2

of an English cucumber

seedless, sliced into 1/4-inch thick rounds

1/2

cup

small cherry tomatoes or chopped

seeded tomatoes

1/4

cup

pitted kalamata olives and/or feta stuffed olives

1/8

to 1/4 cup crumbled feta cheese

2-3

dolmades

stuffed grape leaves
Instructions
Place the salad greens in a large bowl or on a large plate. Arrange the cherry tomatoes, sliced cucumbers, and olives in rows on the salad greens. Crumble feta cheese over everything then pile the prepared gyro meat on a corner of the salad. Serve with Greek Salad Dressing on the side to dress just before eating.
Nutritional information is an estimate and provided to you as a courtesy. You should calculate the nutritional information with the actual ingredients used in your recipe using your preferred nutrition calculator.
This post originally published March 31st, 2014.