I'm a pretty big vegetable lover. My husband is serious vegetable guy, too. In fact, when I met him, he introduced me to the phrase "run it through the garden" when ordering subs. We assumed this meant all of our kids would be big vegetable fans. The two eldest are huge vegetable eaters, so we figured that anyone who came after them would be as well. Boy were we wrong. The three youngest are the definition of picky when it comes to vegetables, each having an extremely limited number of vegetables they like. Today's dish isn't for them. It's for their big brothers, their daddy, and me. Asian Pasta Salad is a vegetable lover's dream come true. Purple cabbage, snow peas, green onions, spinach, Napa cabbage, three colours of bell peppers, cucumber, and pea shoots or bean sprouts all make an appearance in large quantities in Asian Pasta Salad. Of course, there's pasta, too, or it would be called Asian Salad instead of  Asian Pasta Salad. The pasta, however, is more of a counterpoint for the vegetables than the main attraction.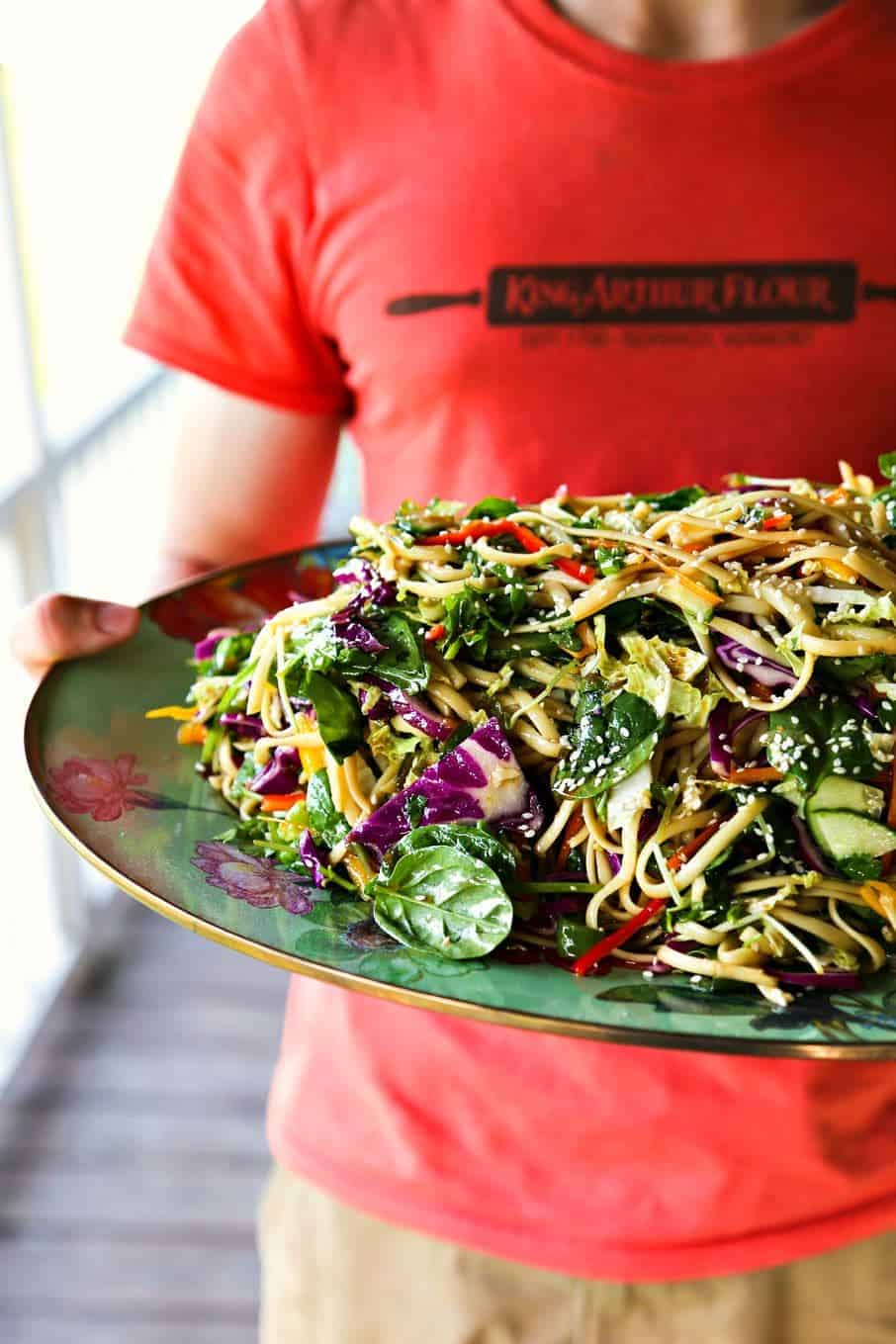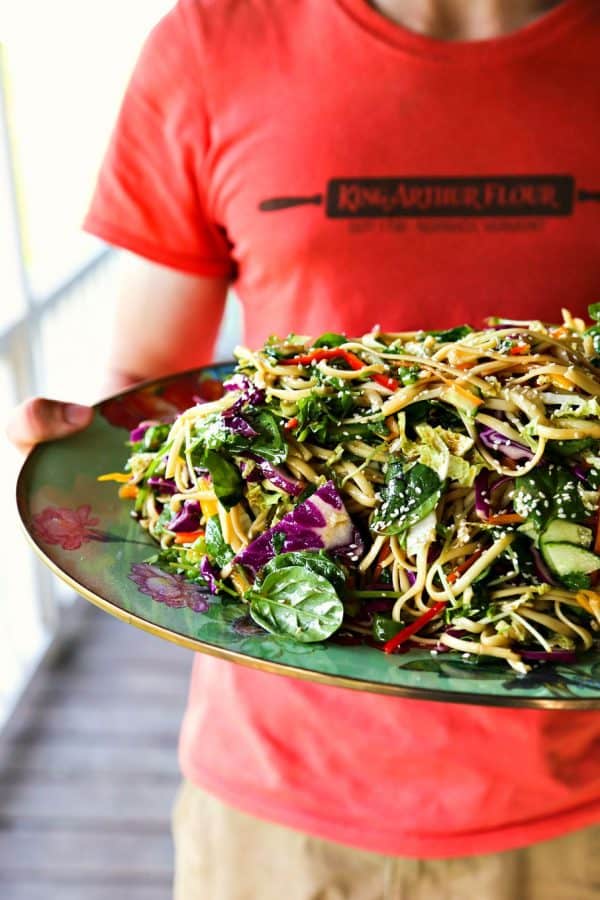 With all those gorgeous colours and fabulous textures, Asian Pasta Salad is a feast for the eyes as well as the mouth. Granted, the recipe for Asian Pasta Salad makes a lot. This is not a bad thing, though, because once you start eating Asian Pasta Salad, it's really, really, REALLY hard to stop. When there are so many gorgeous, great for you vegetables, stopping is highly overrated anyway.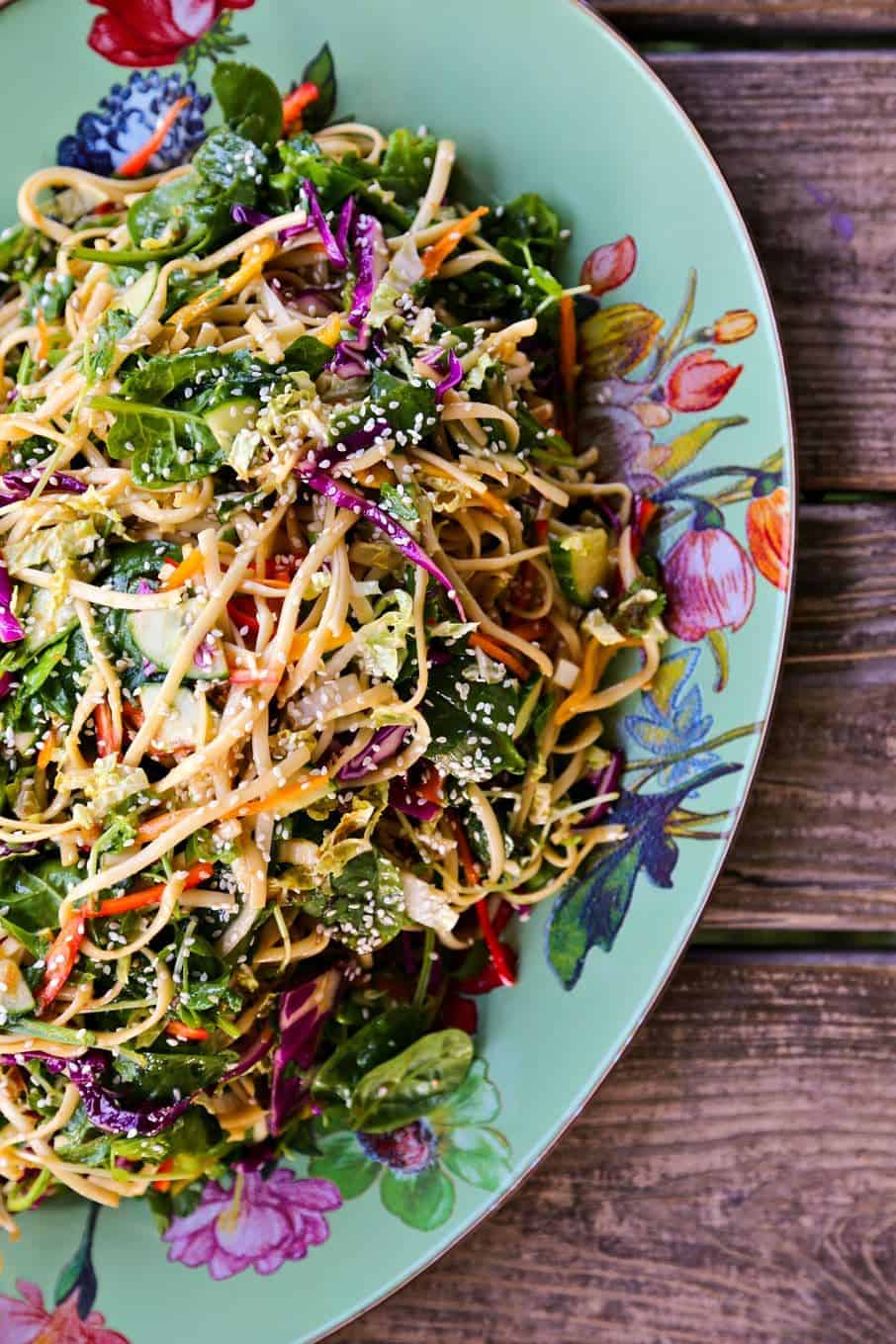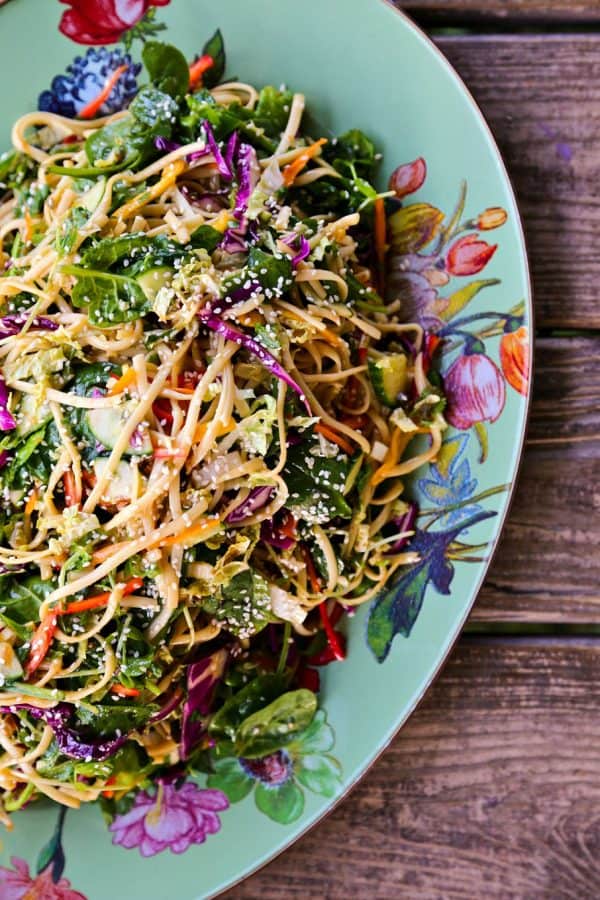 Cook's Notes
Please cook your linguine noodles to al dente for Asian Pasta Salad. Please, please, please. If your salad is going to sit in the refrigerator for anything over 2 hours, it will absorb the dressing and begin to soften a bit. If you've started the process with soft noodles, they'll be borderline mushy after sitting in the dressing.
Asian Pasta Salad is at its very best within 2 hours of being made. Everything is tremendously crunchy and vibrant. That being said, I've been known to double the recipe to have planned leftovers for summer days. My husband and I happily munch on it for three days or so after its made. The main difference is that the noodles have softened just a wee bit and some of the vegetables are crunchy tender. Not an issue for us. Yum.
Eaten by itself, Asian Pasta Salad is wonderful. Served with grilled fish or chicken on the side or on top, it's an absolute masterpiece.
There's no getting around it, there's a lot of slicing and dicing involved in making this dish. If you tend to freak out over doing a lot of cutting, you can cut down on the work (KNIFE PUN) by purchasing a bag of pre-sliced purple cabbage. Many grocery stores also carry pre-sliced bell peppers in the summer.
Please note that I suggested pea shoots or bean sprouts (also called mung bean sprouts). My preference is for pea shoots, but they're not always easy to find. If you can't get them, bean sprouts (which are far easier to find) are also delicious. If you can't find fresh bean sprouts, you can add drained and rinsed canned sprouts.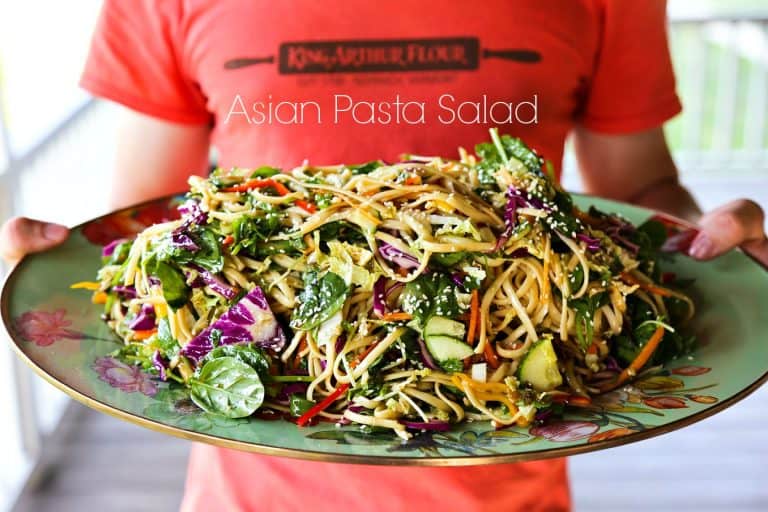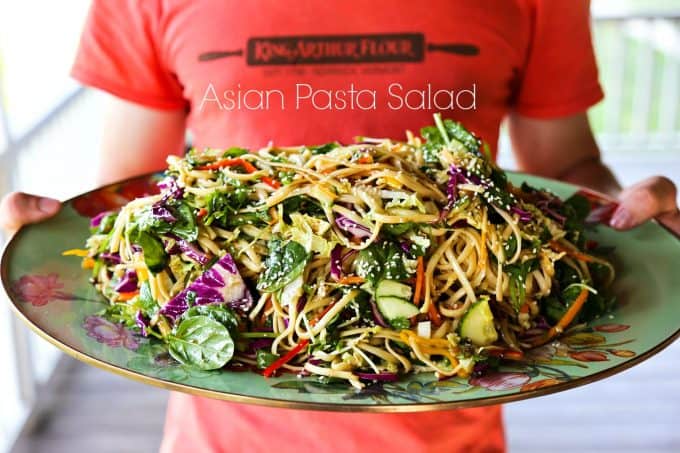 And if you should happen to have a handsome, strapping teenage son around to serve the salad, even better. Lawn work and salad service, that's why I had them.
Use these to make Asian Pasta Salad
Connect with Foodie with Family
facebook | pinterest | instagram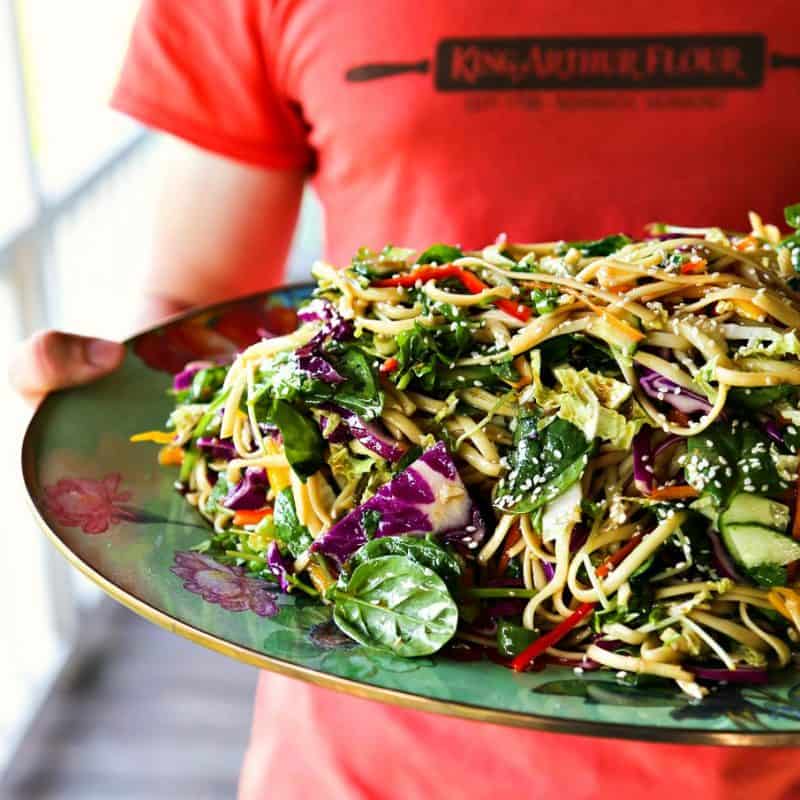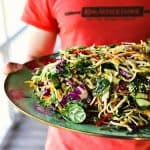 Asian Pasta Salad
This delightful pasta salad is seriously heavy on the crunchy vegetables with a garlic and ginger soy vinaigrette. Adapted from and with thanks to
The Pioneer Woman, Ree Drummond
Ingredients
For the Dressing:
2

limes

juiced

1/3

cup

low sodium soy sauce

1/3

cup

extra virgin olive oil

1/3

cup

brown sugar

1/4

cup

of ginger

about a 4-inch section, frozen and grated or peeled and minced

3

tablespoons

toasted sesame oil

3

jalapenos

stemmed, seeded, and minced

3

cloves

garlic

peeled and minced or pressed through a garlic press
For the Salad:
1

pound

linguine

cooked according to package directions, drained, and shocked with cold water, then chilled

1

small head Napa cabbage

thinly sliced

1

container baby spinach

1/2

a head of purple cabbage

thinly sliced

1

English cucumber

seedless, quartered lengthwise, then thinly sliced

1

red bell pepper stemmed

or 3 baby red peppers, seeded, and thinly sliced

1

yellow bell pepper stemmed

or 3 baby yellow peppers, seeded, and thinly sliced

1

orange bell pepper stemmed

or 3 baby orange peppers, seeded, and thinly sliced

1

bunch green onions

trimmed of hairy root ends, thinly sliced

2

bunches cilantro

washed, tough stems removed, roughly chopped

2

cups

snow pea pods

roughly chopped on a diagonal

2

cups

pea shoots or bean sprouts
For Garnish:
2

tablespoons

toasted sesame seeds
Instructions
In a quart sized mason jar, combine all of the dressing ingredients.Reach a fork into the jar and give it a swirl to get the brown sugar lifted from the bottom of the jar. Lid the jar tightly and shake to dissolve the sugar and combine evenly. Set aside.

In a very large mixing bowl, toss together all of the salad ingredients with your hands or a pair of tongs. Shake the jar of dressing vigorously to recombine, pour over the salad, and toss to coat. Sprinkle with toasted sesame seeds and serve immediately. Leftovers can be stored in a tightly lidded container for up to three days in the refrigerator.
Nutrition Facts
Asian Pasta Salad
Amount Per Serving
Calories 227
Calories from Fat 72
% Daily Value*
Total Fat 8g 12%
Sodium 195mg 8%
Potassium 270mg 8%
Total Carbohydrates 32g 11%
Protein 6g 12%
* Percent Daily Values are based on a 2000 calorie diet.
If you like Asian Pasta Salad, you might like:
This post was originally published August 5, 2015. Updated July 2017.
Save