Disclosure: I am thrilled to share today's Pepperoni Pizza Bialys Recipe post is sponsored by the excellent people at Rhodes Bake-N-Serve. All photos, recipes, and opinions remain, as always, my own. If you've never had a bialy, you're in for a treat. They're kin to bagel, but where a bagel has a hole and is boiled, a bialy has a divot filled with goodies and is baked.

I don't know if you live anywhere near a Wegman's, but if you do, you're probably a big fan of the bakery section. Well, if you're like me, you are. And if you're a fan of the bakery section, you're quite likely familiar with the delicious Pepperoni Pizza Bialys (pronounced 'bee-alleez') that practically jump out of the bakery case and into your cart as you walk by them.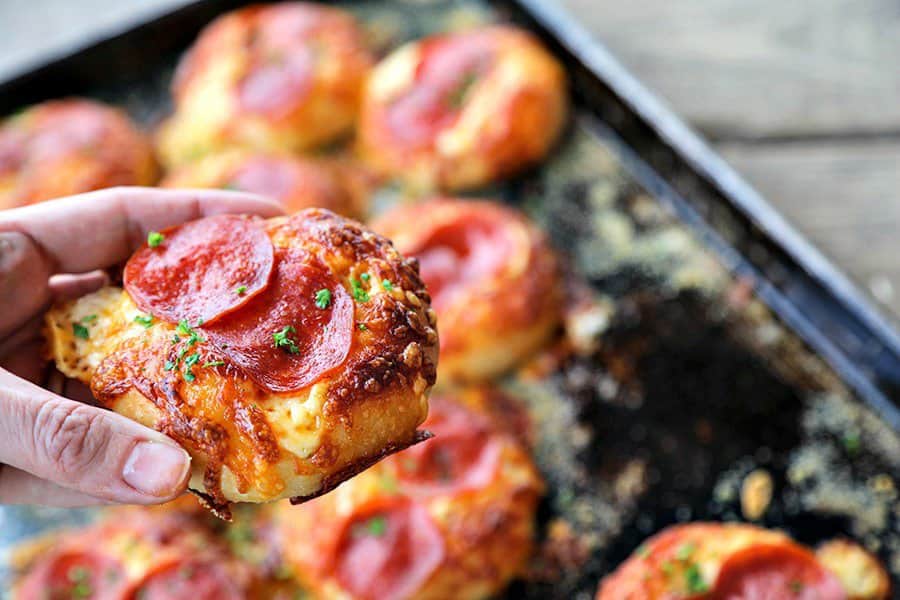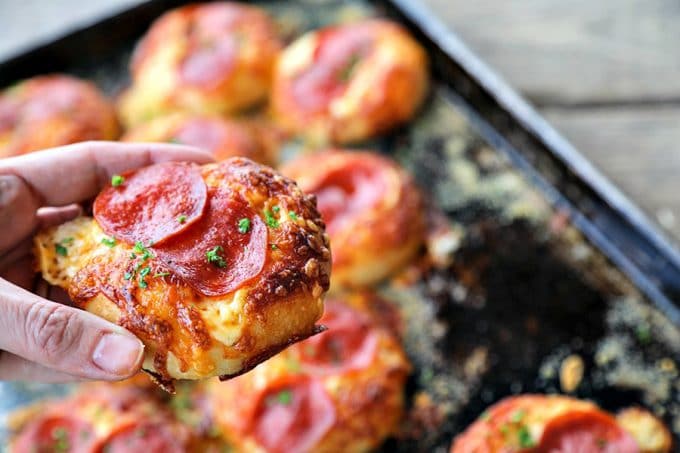 Honestly, we're talking fresh-from-the-oven, chewy, bagel-like bread topped with chopped garlic, the barest hint of pizza sauce and olive oil, a generous cap of melted cheese, and a couple of crispy-edged pepperoni to crown it.
I ask you, could you walk by it? If you can, you're a stronger person than I am.
Luckily for all of us, I have a Pepperoni Pizza Bialys recipe that can keep us ALL in pizza bialys whether or not we're within driving distance of a Wegman's, and even better? Our pepperoni pizza bialys recipe is ridiculously easy to make.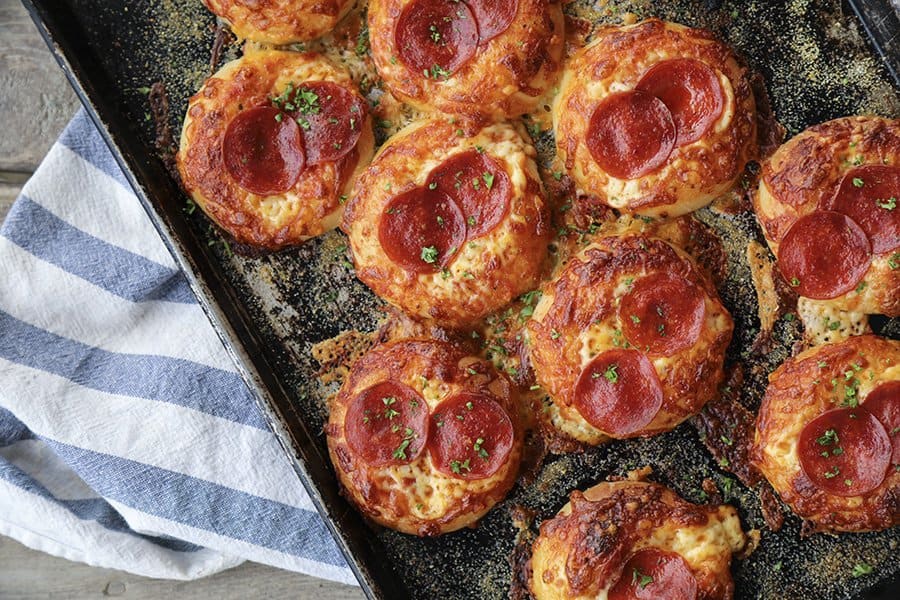 While I am a serious bread baker and have an extensive collection of bread recipes here, I enjoy getting a helping hand from Rhodes frozen yeast dinner roll dough for our pizza bialys recipe.
The dough is excellent and is made from high-protein, non-GMO flour, cane sugar, is Vegan AND Vegetarian, and has no preservatives, plus it is Kosher Pareve and made in the USA, too! First and foremost, though, I use it because it is delicious and saves me time on this recipe.
My kids go bonkers over these Pepperoni Pizza Bialys and I think your crew will, too. Whether you serve them for breakfast, lunch, or dinner, with a side of marinara sauce for dunking, or simply eat them out of hand, they're delicious.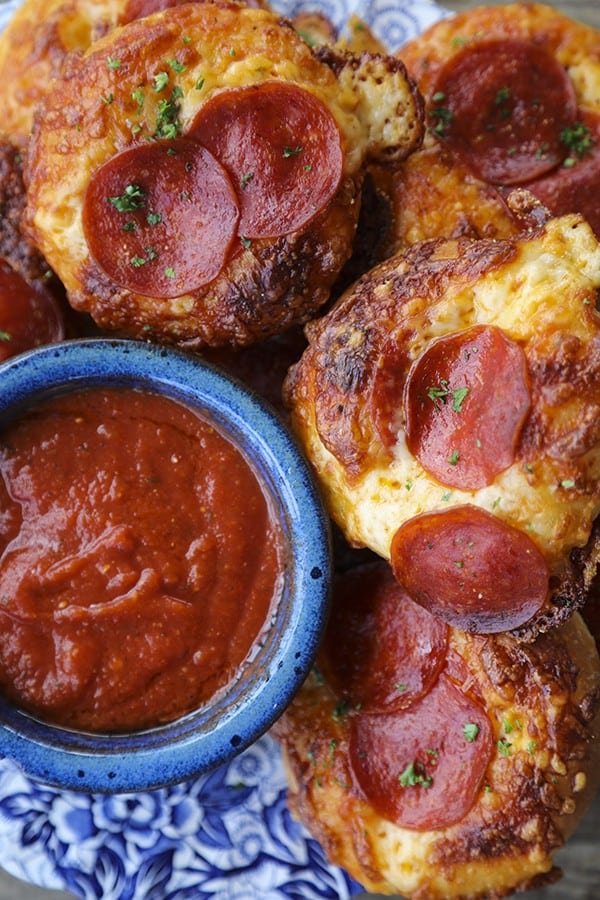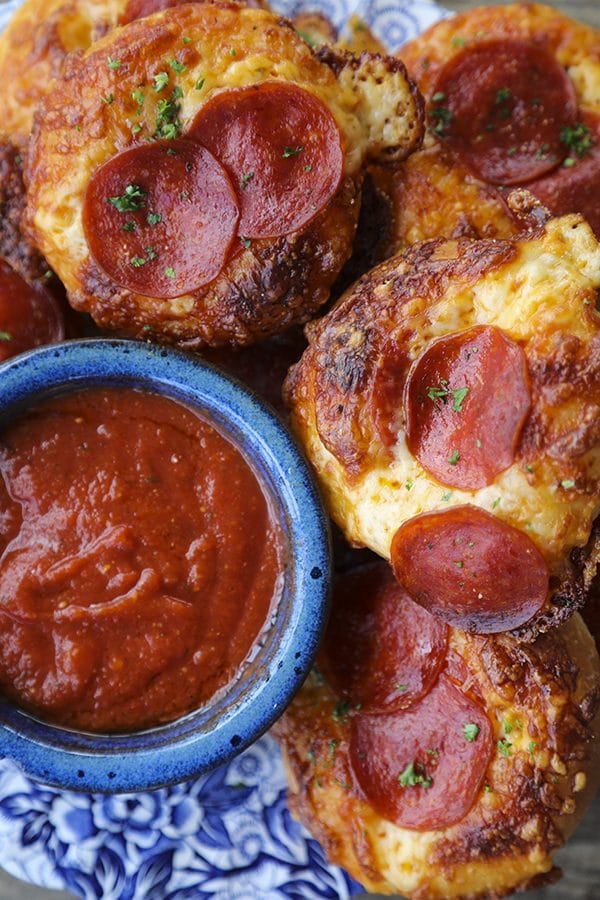 Pepperoni Pizza Bialys Recipe
Spray a rimmed half-sheet pan with non-stick cooking spray or brush with oil, scatter cornmeal or semolina flour over the pan, then space Rhodes Bake N Serv Yeast Dinner Rolls 3 or more inches apart on the pan. Follow the rapid thaw directions on the back of the package, just until the roll dough is thawed completely and room temperature. This should take no more than 45 minutes.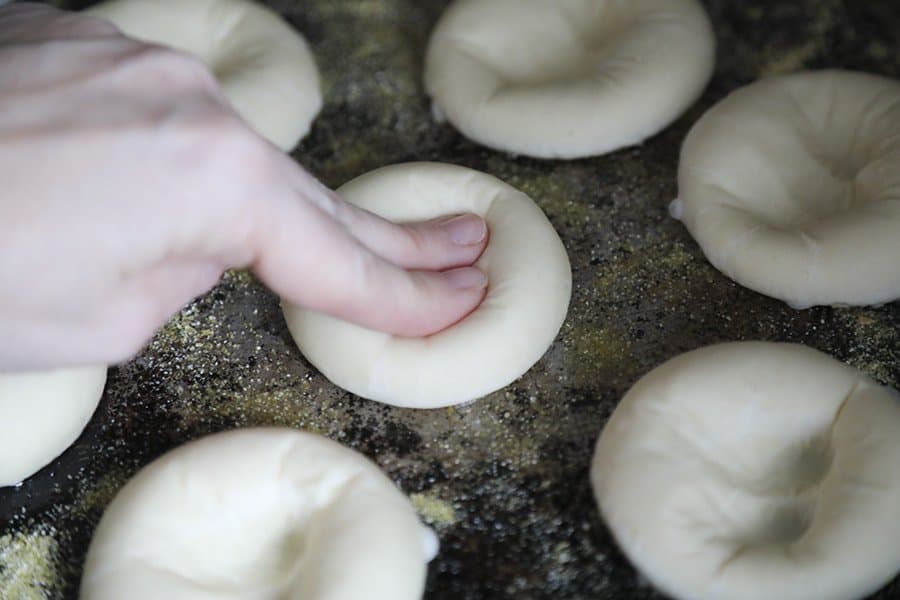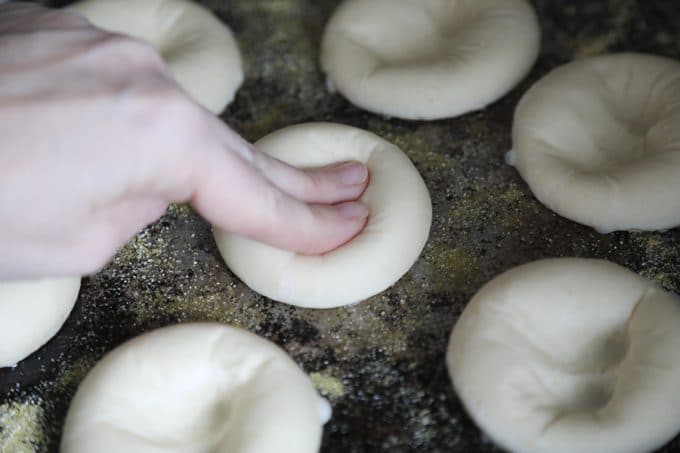 After thawing, you'll need to let them be exposed to the air for about 10 minutes. This is a good time to remove the pan of water you used to help speed the thawing from the oven. Preheat your oven while the rolls dry out a bit. This will help prevent the roll dough from sticking to your hands when you make the indentation in your pepperoni pizza bialys.
To make the perfect pizza bialys indentation, use the flats of your index and middle finger to press down in the center of the dough, deflating it in the middle and creating a divot. Once you get your little bit of sauce in there, you'll press a pepperoni down on it again, causing the sauce to squish upward and onto the dough a bit.
This helps maintain the divot once you've topped it with the generous amount of cheese, more pepperoni, and baked it.
While neither of these are strictly necessary, I do love to garnish my fresh-from-the-oven Pepperoni Pizza Bialys with a little chopped fresh parsley and serve them with warm marinara or pizza sauce for dunking.
I like our pepperoni pizza bialys best when served hot or warm, but they are still delicious when room temperature. Pssst. These make an excellent lunch or light dinner when served with a tossed salad.
Store leftover pepperoni pizza bialys tightly wrapped and in the refrigerator for up to 3 days. You can reheat them in the microwave, or wrapped lightly in foil in a 350°F oven just until heated through.
Connect with Foodie with Family
facebook | pinterest | instagram
twitter | our exclusive Foodie with Family Insiders group
Connect with Rhodes Bake-N-Serv
website | facebook | twitter | pinterest | instagram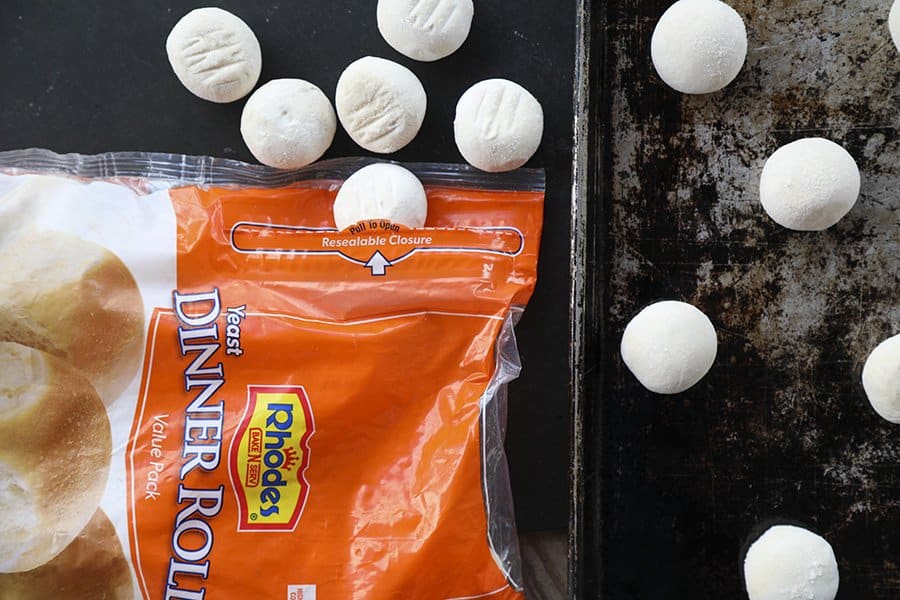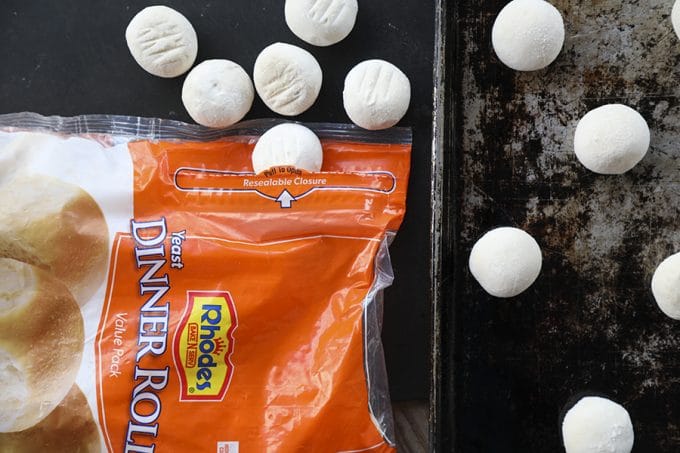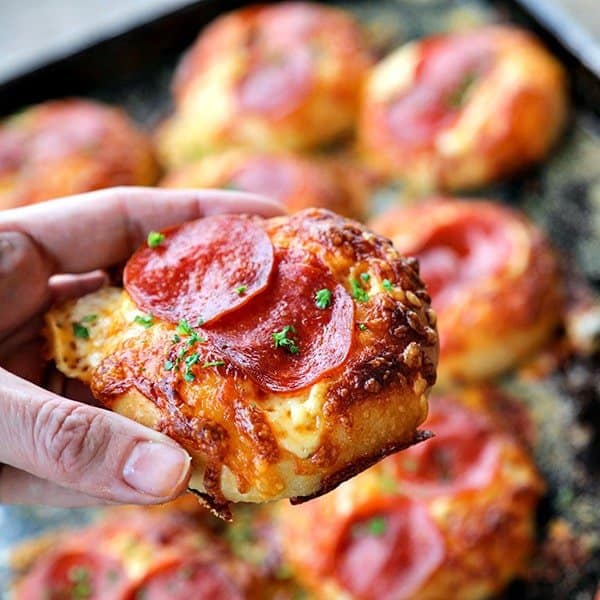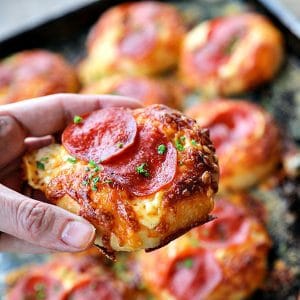 Pepperoni Pizza Bialys Recipe: fresh-from-the-oven, chewy, bagel-like bread topped with chopped garlic, the barest hint of pizza sauce and olive oil, a generous cap of melted cheese, and a couple of crispy-edged pepperoni to crown it.
Ingredients
15

frozen roll dough pieces

nonstick cooking spray

1/4

cup

cornmeal

for the pan

1/3

cup

smooth marinara sauce

2

tablespoons

garlic extra virgin olive oil

or regular extra virgin olive oil

2

garlic cloves

peeled and minced

45

slices

pepperoni

1 1/2

cups

shredded mozzarella

1/2

cup

shredded cheddar cheese
Instructions
Spray a rimmed half sheet pan with nonstick cooking spray or brush generously with oil. Scatter the cornmeal evenly over the pan, then place the frozen dough balls on top, leaving about 3 or more inches of space between them. Preheat an oven to 200°F, and place a cake pan with boiling water in it on a lower shelf. Place the pan of roll dough on the shelf above the water, turn the oven off and close the oven door.


Begin checking the rolls at 25 minutes to see if they're thawed. When the rolls are completely thawed and softened, place the pan on the stove top or counter, uncovered, and discard the water from the cake pan.

Preheat the oven to 425°F while the dough sits out and dries on the surface. In a small bowl, combine the marinara sauce, olive oil, and minced garlic. Toss together the mozzarella and cheddar cheese in another bowl. Set both aside.


Use the flat part of your index and middle fingers to press down in the center of each dough round. Press firmly, deflating the dough and leaving a divot in the center. This should also spread the dough out a little. Don't flatten the round, though. That little well in the center holds goodies.

Spoon 1 teaspoon of the sauce mixture into each divot. Lay a piece of pepperoni over each divot and press each one into place, causing the sauce to squish up around its sides and onto the dough. Divide the cheese evenly between the bialys, then top each one with two slices of pepperoni.

Bake for 16-20 minutes, or until the cheese is melted, bubbly, and golden brown and the pepperoni is crisp around the edges. If desired, garnish with chopped fresh parsley. Let them rest on the pan for 5 minutes before serving.
These can be served with any remaining marinara mixture as a dipping sauce.

Nutrition
Calories:
109
kcal
Carbohydrates:
3
g
Protein:
5
g
Fat:
8
g
Saturated Fat:
3
g
Cholesterol:
19
mg
Sodium:
233
mg
Potassium:
55
mg
Vitamin A:
135
IU
Vitamin C:
0.5
mg
Calcium:
88
mg
Iron:
0.3
mg
Nutritional information is an estimate and provided to you as a courtesy. You should calculate the nutritional information with the actual ingredients used in your recipe using your preferred nutrition calculator.
Do you love these Pepperoni Pizza Bialys? Try these other pizza goodies!