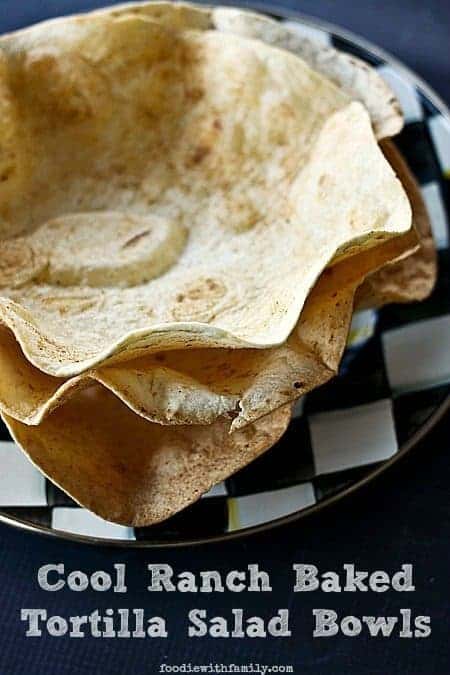 There are very few days where I don't eat a salad of one sort or another. I eat small salads, big salads, side salads, and dinner salads made from just about anything that could possibly be found in a salad on one continent or another. I'm kind of a salad-a-holic. The truth is, though, that I eat these salads almost as much for the crunchy croutons and toppings as I do for the greens and whatnot themselves.
When out of croutons and bread with which to make them, I've happily topped my salads with Fritos, pretzels, potato chips, and/or Doritos. Of the myriad flavour choices for the latter, Cool Ranch is my tippy-top, best-loved tortilla chip. It is, however, fifteen ways from impossible to keep an intact bag of Cool Ranch Doritos in a home with five sons, two of whom are teens, one of whom is on the cusp, and the other two of whom possess an innate and freakish ability to sniff out a sealed bag of chips through a massive head cold. "It's a gift," they say, happily munching on my secreted stash of chips. "It's a curse!" I mumble, sad and chipless with a naked, crunchless salad in front of me.
Being robbed of one's chips for salad has a way of making you inventive, though. A little creative rummaging through the cabinets yields flour tortillas, dry Ranch dressing mix, cheese powder, a few herbs and spices, and some oil. The oven is fired up, the tortillas are brushed with oil on both sides, sprinkled with a quick blend of the dressing mix, cheese powder, and spices, draped over some oven safe bowls, then slid into the hot oven. Ten minutes later, it smells like Cool Ranch Doritos in my house.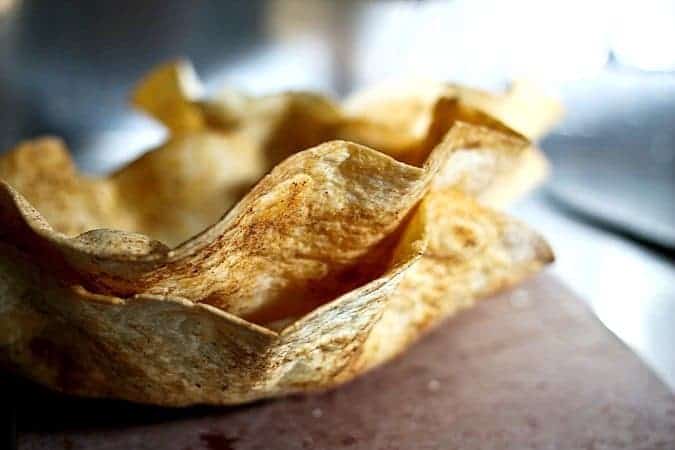 Out come the now-crisp tortilla bowls. They sit on the stove to firm up and cool down so they don't wilt my salad, then comes the moment of glory. They're filled with salad.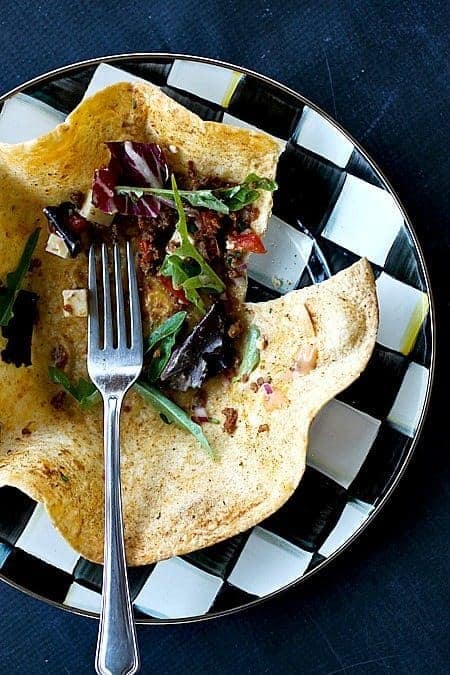 It's a delayed gratification kind of crunch. While I nibble at the edges of the tortilla bowl as I eat my salad much in the same way that you nibble at the edges of the cone as you eat ice cream, the lion's share of crunching comes when the salad is gone. It's a pretty nice moment. Not that you need a reward for eating a salad in my world, but if you did, this would be the best one ever.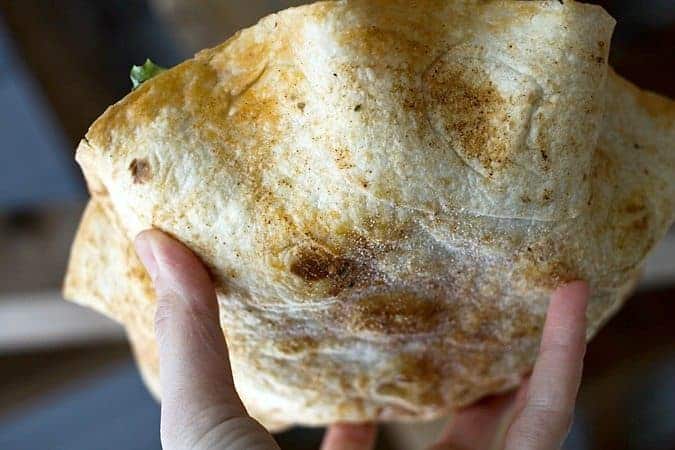 Sticking with the ice cream cone, analogy, I'll caution you against making like my little sister always did when we had ice cream as kids. You shouldn't eat the bottom first. I figure you probably already know that, but then I figure my sister already knew it anyway when she bit the bottom of her cone off before finishing her ice cream. She'll tell you she just couldn't help it. I'll look away if you can't help yourself and have to nibble the bottom of your tortilla salad bowl.
Oh, and hey… if you're looking for the perfect salad to fill your Cool Ranch Baked Tortilla Salad Bowl, I have just the thing coming up for you tomorrow.
Cook's Notes:
The beauty of this is that you can make as many as oven safe bowls are in your possession. I have little fluted metal tortilla bowl mold thingies (technical term) but any small plain old stainless steel bowl or oven-safe bowl will work.
The more generously you sprinkle the tortillas with the seasoning powder, the more they will taste like Cool Ranch Doritos. Of course, you can go subtler if you want. Isn't it nice to make food exactly as you like it?
Any leftover bowls can stored in an airtight container at room temperature for up to three days.
Are they verging on stale? Boost them with a quick re-toast in a 350°F for five to eight minutes then let them cool back down completely. Vi-oh-lee! Crisp again!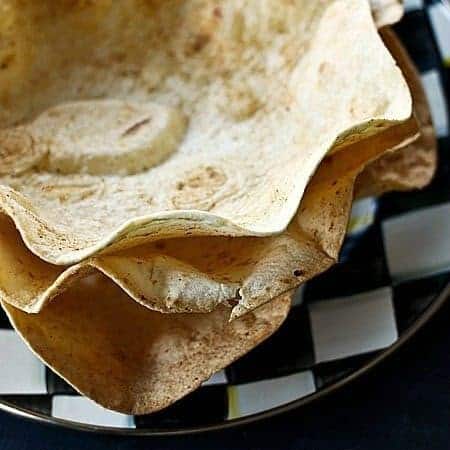 Ingredients
4

large flour tortillas

1/4

cup

peanut

vegetable, or canola oil

1

tablespoon

dry Ranch Dressing Mix

from a canister or packet

2

teaspoons

cheese powder

*See Notes

1/2

teaspoon

smoked paprika

1/4

teaspoon

granulated garlic

1/4

teaspoon

granulated onion

1/4

teaspoon

salt
Instructions
Preheat oven to 375°F. Stir the Ranch dressing mix, cheese powder, smoked paprika, granulated garlic and onion, salt, and dried tomato powder (if using) with a small whisk or fork in a little bowl until evenly combined.

If you can, warm the tortillas in the microwave briefly to make them more pliable. Brush both sides of the tortillas with oil. Sprinkle both sides generously with the seasoning mixture, then drape each tortilla over an inverted oven-safe bowl or tortilla form on a baking sheet. Bake for 8 to 12 minutes, or until crisp and golden brown. Remove the baking sheet from the oven and let the tortilla bowls firm up on the forms or bowls. Remove the firm bowls and let them cool completely before filling with salad.
Notes
* You can buy cheese powder in bulk from health food stores, Amazon.com, baking supply catalogues, or you can rob the cheese packet from a box of macaroni and cheese. I won't tell.
**Tomato powder is also available in bulk from health food stores, Amazon.com, and baking supply catalogues. In a pinch, you can blitz some firm (not oil-packed) sun dried tomatoes in a food processor to get a similar effect.
Nutritional information is an estimate and provided to you as a courtesy. You should calculate the nutritional information with the actual ingredients used in your recipe using your preferred nutrition calculator.
Are you still here with me? Then please allow me to share a little fun news with you. Foodie with Family is a finalist in the "Favorite Family-Friendly Cooking Blog" category of The Homies sponsored by TheKitchn. 
I'm ridiculously excited to have been nominated by enough people to have made it into the finals. The prize is roughly a metric ton of traffic and eyeballs directed at the winning blog. I could SO handle that. I'm feeling a little sheepish to ask, but if you appreciate what I'm doing here at Foodie with Family, would you mind throwing a vote my way?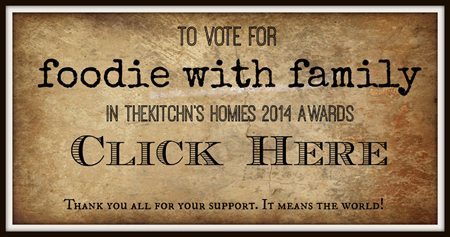 Merci beaucoup, muchas gracias, thank ye thank ye, and all that good stuff. I kiss you all. Unless, of course, that makes you uncomfortable, in which case I nod thankfully in your general direction.