Hot Bacon Vinaigrette Dressing is just the dressing to win over the salad doubters in your life. It is absolutely magnificent when poured hot over Brussels sprouts or warm over spinach salad, but is also a-okay at room temperature over a tossed salad with romaine or leaf lettuce and all the fixings.
This culinary classic gets a little update when we use Dijon mustard and maple syrup or honey in it. I challenge someone who says they don't like salad to resist it when topped with Bacon Vinaigrette Dressing!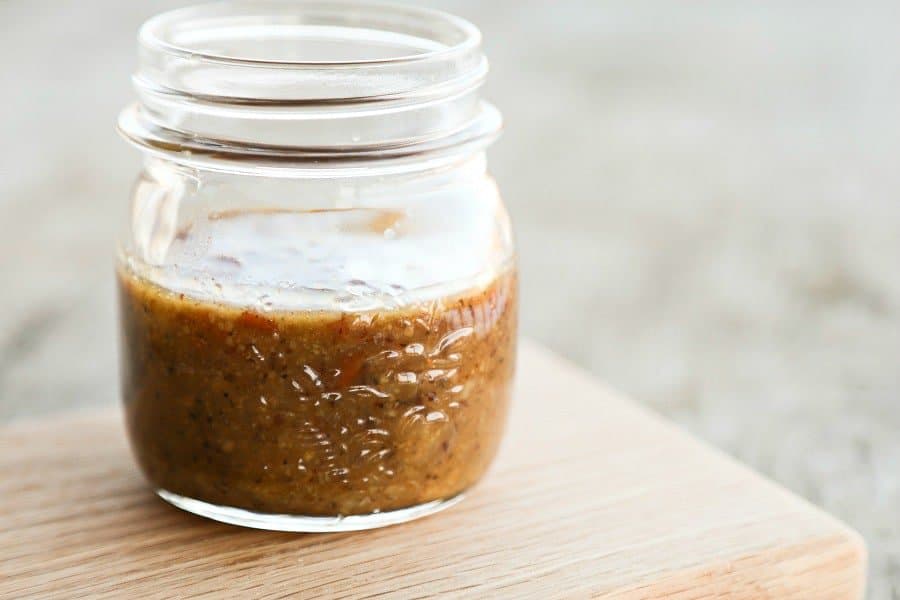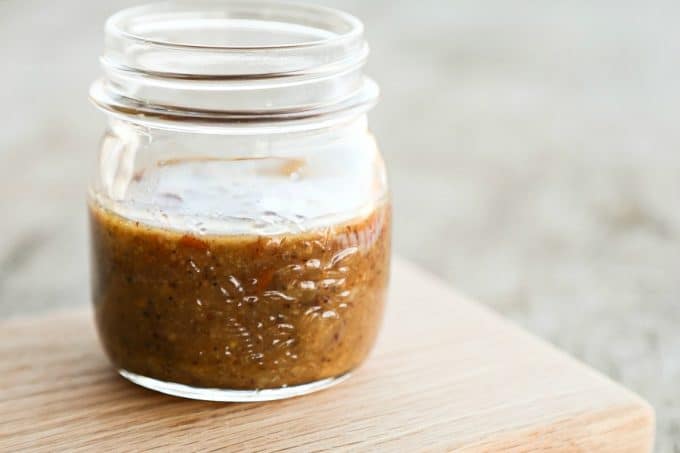 I am always and forever a sucker for salads. This is no secret if you've been reading me for anything more than, oh say, a week.
Salads complete me. My normal, day-to-day salad dressing is a simple drizzle of oil and vinegar with black pepper and coarse salt, but when I'm making a more composed salad or want something special, I like to break out the Warm Bacon Vinaigrette Dressing.
It's a bacon vinaigrette is a seriously impressive dressing when it is drizzled warm or hot over a beautiful baby spinach salad. There's a complexity to the dressing that you just can't get from most bottled dressings, especially since using it when it is warm wakes up the taste buds even more.
Tart, smoky, peppery, and sweet, with little nuggets of bacon in it like treasure, this bacon salad dressing wins over even the most dyed-in-the-wool non-salad-eaters in my family. It is that good.
In addition to being simply lovely on my Cranberry Brussels Salad, Hot Bacon Dressing is the one -the only- dressing that I for the magnificent salad that I'll be sharing with you tomorrow. Be sure to check back in to see this most wonderful and romantic salad.
(Does that make anyone else think of "Drop Dead Fred"? No? Just me?)
Cook's Notes
I prefer to use thick cut bacon in our hot bacon dressing because it dices easily into nice cubes that suspend beautifully in the dressing unlike crumbles which tend to sink. It's not the end of the world if you need to use thin bacon, you'll just need to stir it a little more often to distribute the bacon.
While I normally advise cooking bacon in the oven, for our bacon vinaigrette dressing, I prefer to cook the bacon in a saucepan on the stovetop. That allows us to make the whole recipe in one pan vs. having to clean a baking sheet AND a saucepan.
To dice the bacon, I stack four strips, cut it in half, then stack those together and turn it 90° so that the strip is running perpendicular to the edge of the countertop. I slice it lengthwise, then, into 1/8-inch strips, then turn THOSE perpendicular again and cut across them, making 1/8-inch cubes.
Start browning the bacon over medium low temperature until some of the fat begins to render, then turn the heat up to medium. Since you'll be using the bacon drippings in the vinaigrette, you want to try not to scorch it by cooking the bacon at too high a temperature.
We should save the crispy vs. chewy debate for another day, you want this bacon crispy because it will be sitting in the vinaigrette and will soften somewhat, so crispy is desirable as a starting point.
Use a slotted spoon to transfer the crisp bacon to a paper towel lined plate and do your best to keep all of the bacon fat drippings in the pan.
THIS IS KEY: Add the minced garlic BEFORE you add the rest of the ingredients and give the pan a swirl. This takes the edge off of the raw garlic, making the dressing far more pleasant to eat and less, er, dragon-breath inducing.
Whisk the remaining bacon dressing ingredients into the hot grease in the pan, turning the heat under the pan to medium high. Bring to a boil and let it boil for 2 minutes, or until the dressing has reduced somewhat.
The dressing is done when it coats the back of a spoon that is dipped into it and leaves a trail when you run your finger through it. Then, and only then is the crispy bacon returned to the dressing.
Use immediately or transfer the contents to a jar with a tight fitting lid. Store it in the refrigerator for up to 5 days.
It is best warmed before serving. You can do this by putting the jar in a pan with super hot tap water and swirling from time to time or by removing the lid and heating at 50% power in the microwave in 20 second bursts until heated through.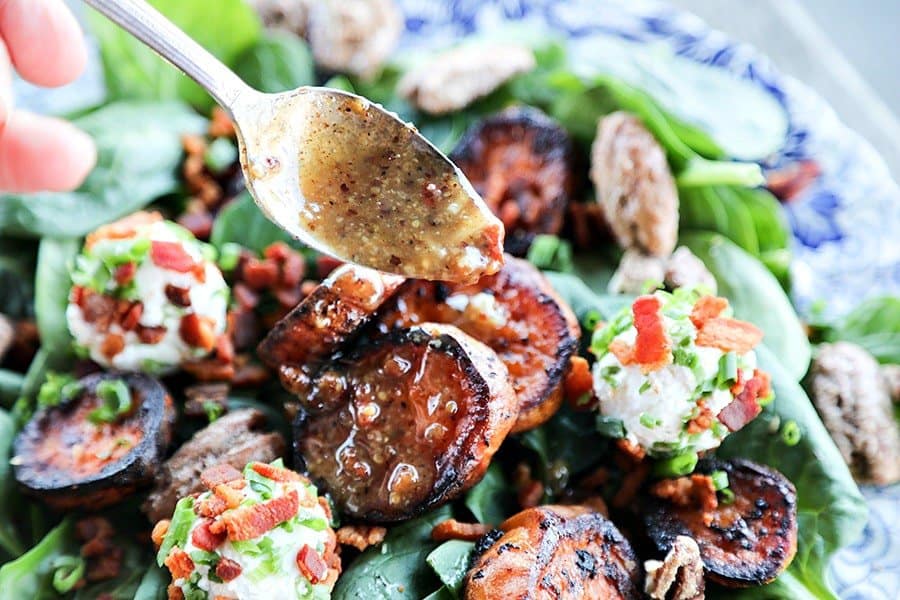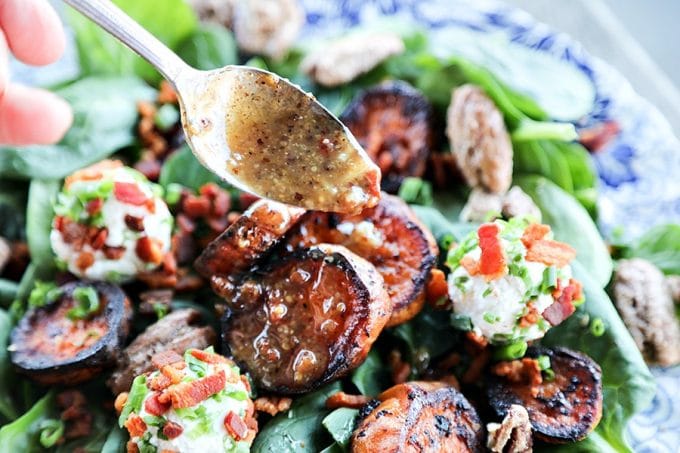 Connect with Foodie with Family
facebook | pinterest | instagram
twitter | our free Extra+Ordinary newsletter
our exclusive Foodie with Family Insiders group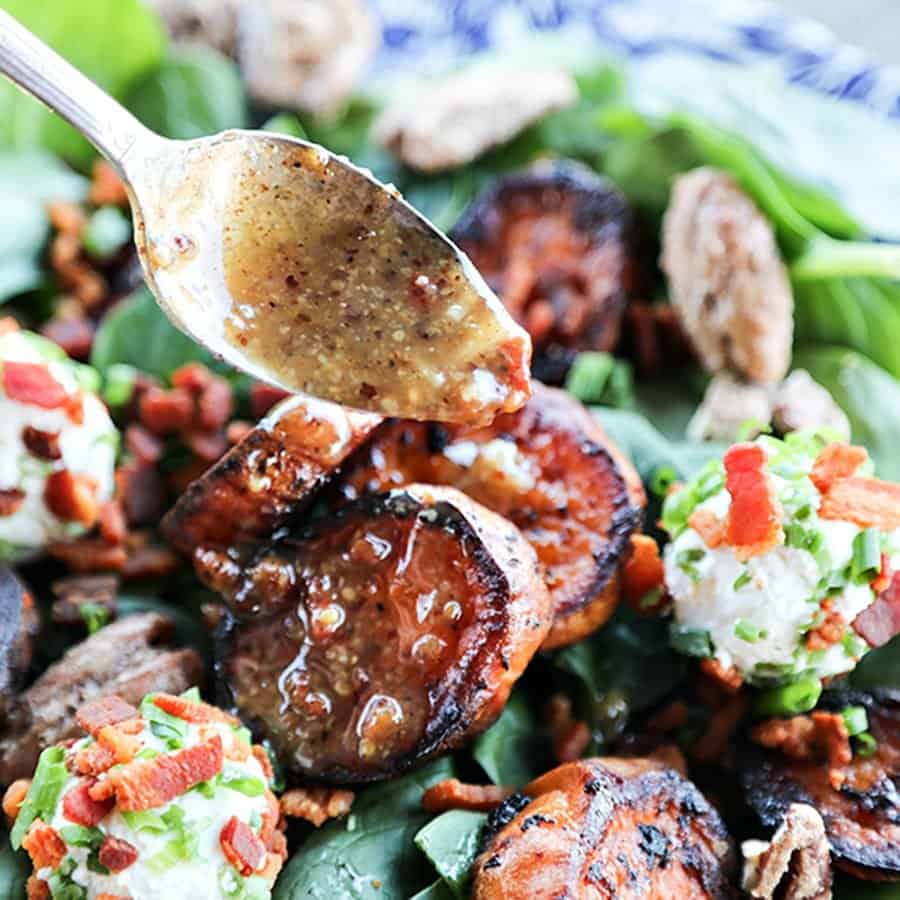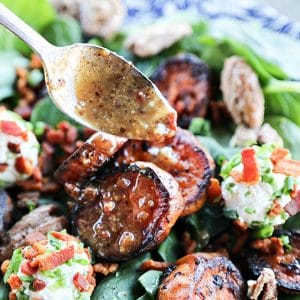 Ingredients
4

strips

thick cut bacon

diced into 1/8-inch cubes

3

cloves

garlic

peeled and minced

3

tablespoons

maple syrup or honey

3

tablespoons

Dijon mustard

smooth or grainy

1/4

cup

apple cider vinegar

1

teaspoon

coarse ground black pepper

1

teaspoon

kosher salt
Instructions
Place the bacon in a medium saucepan over low heat and stir until some of the fat begins to render from the bacon. Raise the heat to medium and cook the bacon, stirring frequently, until it is crispy. Use a slotted spoon to transfer the crisp bacon to a paper towel lined plate, keeping all of the fat drippings in the pan.

Return the pan to the burner. Add the garlic, swirl, and immediately add the remaining dressing ingredients. Bring the mixture to a boil and let it cook for 1 minute, or until the dressing coats the back of a spoon. It should leave a trail when your finger is drawn through the dressing on the back of the spoon. Stir in the bacon.

Use immediately or transfer to a heat proof jar with a tight fitting lid and store in the refrigerator for up to 5 days, gently reheating and stirring before serving.
Nutrition
Calories:
82
kcal
Carbohydrates:
4
g
Protein:
2
g
Fat:
5
g
Saturated Fat:
1
g
Cholesterol:
9
mg
Sodium:
379
mg
Potassium:
56
mg
Sugar:
3
g
Vitamin A:
5
IU
Vitamin C:
0.2
mg
Calcium:
11
mg
Iron:
0.1
mg
Nutritional information is an estimate and provided to you as a courtesy. You should calculate the nutritional information with the actual ingredients used in your recipe using your preferred nutrition calculator.
Love Bacon Vinaigrette Dressing? Try these Salads!