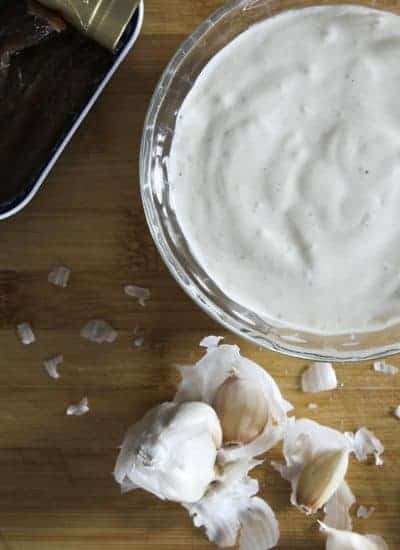 Stinky is good.
When it comes to food, that is. Some of the best food in the world is the stinkiest. In fact, I'd hazard to say that within reason*, the stankier it is, the better it ends up tasting.
*Exceptions: Durian and, um, durian.
Stinky is one of the identifying characteristics in many foods considered to be great sources of umami; anchovies, bleu cheese, fish sauce, garlic, onions, bacon… They give a rounder, fuller-bodied flavor to foods even when included in minute amounts. Their presence assures us that whatever we're eating will have that certain satisfying something something to them that is almost indefinable.
Anchovies and garlic are two of my favorite odiferous ingredients that are always and forever and without fail in my pantry. I add those two in varying amounts to most savoury dishes that come out of my kitchen. And no, we're not picking hairy little anchovy bones from our teeth constantly. When you smash them lightly with a fork and toss them into oil or butter or sauce as it simmers, anchovies have the marvelous property of melting into whatever it is they're thrown. The result is a subtle flavor, not at all assertive, that elevates just about any dish in which it hides.
Some of my favorite subtle places to tuck smashed anchovies:
Pizza and marinara sauce (duh, right?)
Cream sauce for pork chops or pan fried chicken
Salad dressing (Et tu, Caesar Salad?)
Stuffed, halved cherry tomatoes
And my favorite places to take advantage of the whole, long fillets of oil-packed anchovies:
On homemade flatbread with black olives and sun-dried tomatoes for pissaladière
On pizza
Tossed into salads
Served with bread and butter
And one of my most favorite applications is blending it into mayonnaise with garlic, lemon, salt and pepper. When thick, it makes a stupendous savoury spread for sandwiches or dip for vegetable sticks. When thinned, it turns into a gorgeous, flavorful, creamy Caesar salad dressing. The first time my kids tried it, they thought it was Ranch dressing*. Hey ho! Good stuff, 3 main ingredients, no preservatives? Anchovies for the win!
*From my kids, that is the ultimate stamp of approval. If it tastes like Ranch they will eat it. No questions asked.
Last night we used it on our falafel fresh from the deep-fry. It comes highly recommended by six out of our seven. The last abstained from voting because he preferred to eat the garlic anchovy mayonnaise by the spoonful and eschew the falafel.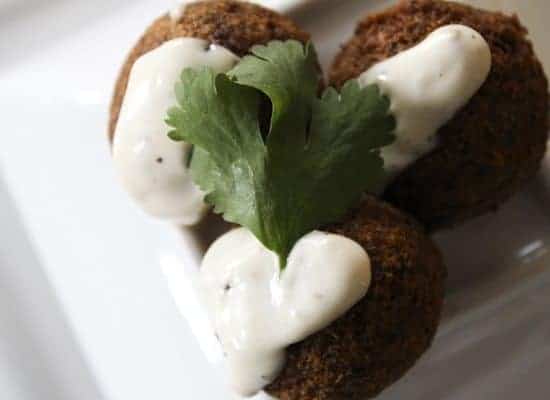 Great ways to serve 2 Minute Garlic Anchovy Mayonnaise:
As dip for vegetables or falafel.
Spread on bread for a sandwich.
On the side of grilled steak, chicken or pork.
As sauce for fajitas or gyros.
With steamed artichokes for dunking leaves.
Tossed into Romaine lettuce with leftover grilled chicken for a fast Caesar salad.
How would you use it?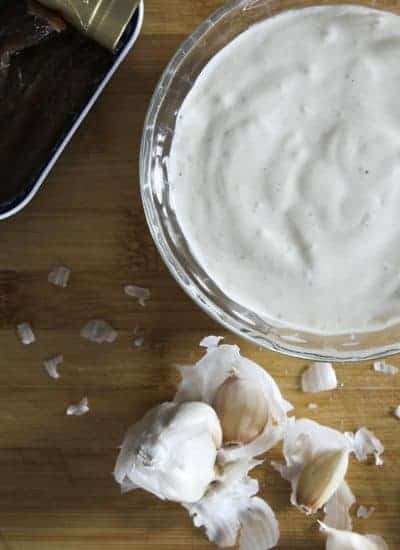 Just four main ingredients plus salt and pepper make this creamy, savoury spread-slash-dip-slash-dressing reminiscent of Caesar salad flavours. Use on sandwiches, vegetables, or grilled meats.
Ingredients
1

cup

mayonnaise

homemade or store bought

2

peeled cloves of garlic

minced or pressed

2

anchovy fillets

2

teaspoons

lemon juice

salt and freshly ground pepper

to taste
Instructions
Add the garlic, anchovy fillets, and lemon juice to a blender or food processor fitted with a blade. Process on high until smooth.

Add the mayonnaise and pulse on high until all you have an even, mostly smooth texture.

Scrape into a bowl or jar. You can serve immediately or cover tightly and refrigerate for up to 4 days.
Notes
If you choose to thin this for use as dressing, you can either add a splash or milk or another splash of lemon juice.
Nutritional information is an estimate and provided to you as a courtesy. You should calculate the nutritional information with the actual ingredients used in your recipe using your preferred nutrition calculator.