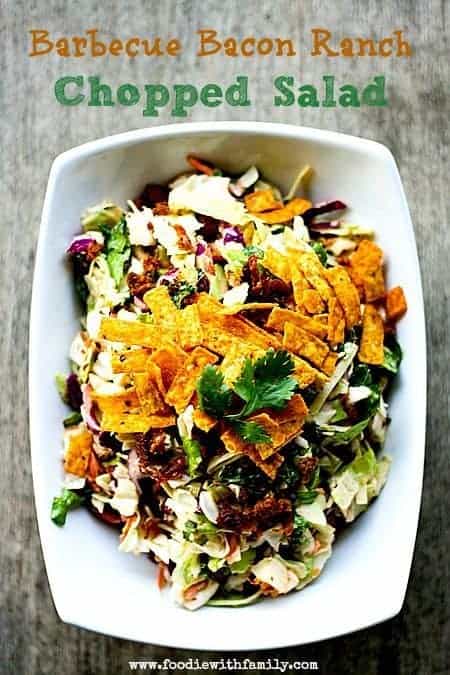 I've told you before I'm a complete salad addict. I need salads. If I go more than a couple of days without them, I feel antsy. It's not the health factor (because you could probably argue that with the amount of croutons and other various crispy and greasy things I prefer to load onto salads they are no longer 'healthy' food) that keeps me coming back; it's everything else about salads that keeps me coming back. They're almost endlessly variable with a near infinite number of salad dressings, toppings, ethnic derivations, and styles. They can be hot, cold, and everywhere in between. While my all-time favourite is a mixing bowl size serving of spring greens with croutons, Bacos*, and whichever dressing is my current darling, I'm an equal opportunity salad muncher. None is safe around me.
*Yes, I know… but I love them dearly and no one will ever take my Bacos away from me.
…And I go through salad phases where I'll eat the same salad over and over and over and over until either my family calls UNCLE or I do. It's usually the former rather than the latter. Right now, my go-to salad is Barbecue Bacon Ranch Chopped Salad. Chopped salads are the in-salad right now, if it's possible for a salad to be in… Is it possible? Someone? I have no perspective when it comes to salads.
I'm not entirely sure why there's so much mystery surrounding the things because chopped salads are exactly what they sounds like they are. Essentially, it's all your salady bits chopped and tossed together and dressed before it hits the table. Not complicated, but tasty!
I like to include a mix of textures and flavours in my chopped salads, so I go for crispy romaine and iceberg or savoy cabbage, red cabbage, hearty kale, tender herbs, and crunchy julienned broccoli stalks and carrots. Don't skip the broccoli stalks! I know a lot of folks toss them or only use them in soups, but the stalks -when peeled- are a delicious addition to any salad and most especially to this one. These particular choices also share the added advantage of being particularly hearty.
You can make enough salad for a week at a time.
If you toss them together undressed (meaning the salad… not you… Although should you choose to be undressed while tossing an undressed salad, who am I to judge?) and store them in a zipper top style storage bag in the refrigerator, the salad should hold up for a full week. At dinner time, take out as much as you'd like, toss with your dressing, the bacon bits, and the tortilla chips (if you're using them) and salad is ready to go! There is one crucial thing to remember if you're going to make salad in abundance to store it.
All ingredients for salad must be bone-dry before chopping, combining, and storing.
In other words, after washing the lettuces, cabbages, greens, herbs, yaddayaddayadda, you must let them completely air dry or spin them completely dry before chopping and combining.
The amounts I specified in the recipe are about the amount I would eat by myself in two to three days. If you're less obsessed with salad than I am, that should be good for one meal's worth of side dish for a family with a moderate appetite. If you're a fan of salad or plan on storing it in the refrigerator to eat off of all week, you may want to double the recipe.
Mmmmmmm, salad. What's your favourite salad?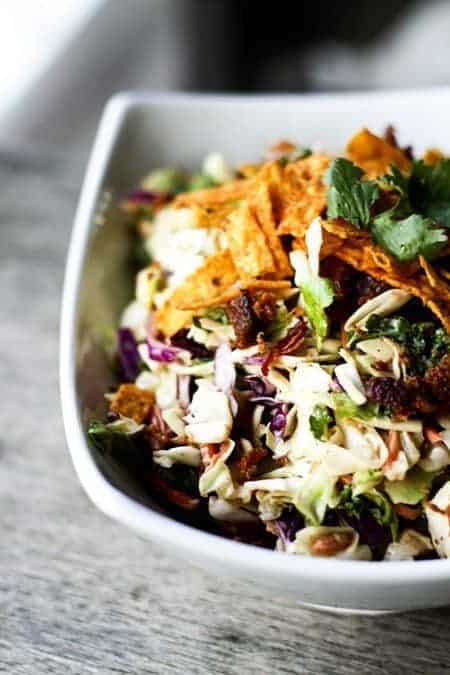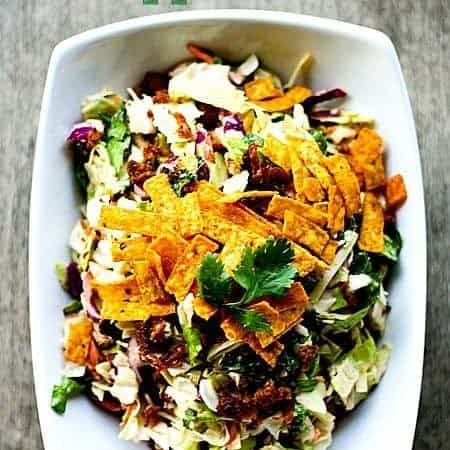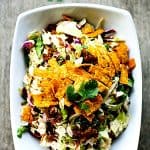 Print
Barbecue Bacon Ranch Chopped Salad
Fresh chopped salad full of romaine lettuce, kale, red cabbage, tender julienned broccoli stalks, carrots, and herbs, tossed with barbecue ranch dressing and crispy bacon, and topped with crunchy tortilla strips or chips. Bonus: Undressed salad keeps for up to a week in the refrigerator.
Ingredients
4

cups

chopped romaine lettuce

2

cups

chopped kale

1

cup

chopped purple cabbage

1

cup

chopped iceberg lettuce or savoy cabbage

3

broccoli stalks

*See Notes, peeled of the tough outer skin, then julienned*

1

large or 2 small carrots

*See Notes, peeled and julienned*

1/2

cup

coarsely chopped fresh cilantro or parsley

1/2

cup

chopped

fully cooked and crispy bacon

1/4

cup

barbecue sauce

homemade or purchased

1/4

cup

Ranch dressing

homemade or purchased

Optional:

Crispy tortilla strips or chips for garnish
Instructions
In a large mixing bowl, toss together the romaine lettuce, kale, purple cabbage, iceberg lettuce or savoy cabbage, julienned broccoli stalks and carrots, and cilantro or parsley. If you plan on storing all or part of the salad, transfer the part you don't plan to eat immediately into a zipper top storage bag and keep in the refrigerator for up to a week.
To Dress and Serve the Whole Salad:
Stir together the barbecue sauce and ranch dressing with a fork in a bowl or measuring cup. Pour about half of the dressing over the salad along with the chopped crispy bacon and toss until everything is evenly coated. If it is dressed to your liking, top with crispy tortilla strips or chips and serve. If you'd like it more dressed, toss in remaining dressing or serve with remaining dressing on the side.
Notes
*To julienne any vegetable simply means to cut it into thin slices, then stack those slices and cut thin strips from the slices. The resulting pieces should be about the thickness and length of a wooden matchstick.