Are you familiar with white balsamic vinegar? It's pretty much heaven in a bottle. It is VERY, very similar flavour-wise to regular balsamic vinegar, but it's a bit lighter in body and a little more clean tasting. When I turned forty last week, my sweet baby sister bought me a bottle of assorted infused oils and vinegars as a present. Boy, does she ever know me well. In the box was a bonnie little bottle of Coconut Infused White Balsamic Vinegar. Knowing my sis was a major fan of coconut, I cracked the bottle open so we could try it together. I about swooned when I sniffed the bottle. It smelled like coconuts! "Well, duh!" I can hear someone thinking. The thing is that it smelled like the fruitiest, freshest coconut ever. I was hooked. Before the day had gone, I had surreptitiously sipped more than half of the contents of the bottle. Something had to be done.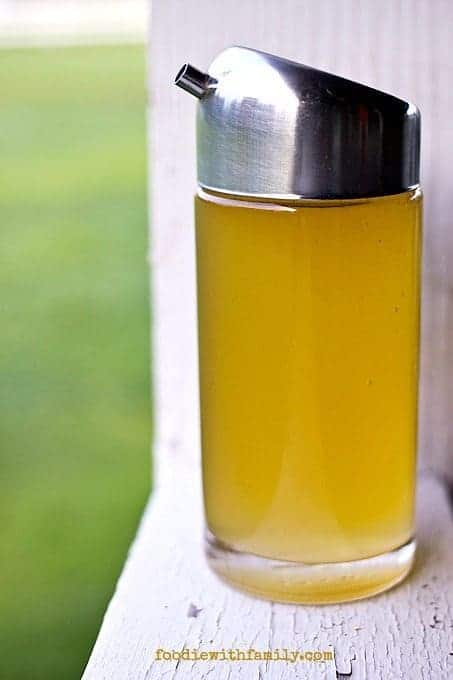 This is one of those occasions when having a well-stocked pantry is a very good thing. I looked at the label of the coconut vinegar and saw happily that it only called for white balsamic vinegar and unsweetened, dry coconut. SCORE. I had both. I decided that the simplest tact was probably the best, given the ingredients list, and crammed a jar full of unsweetened, coconut flakes.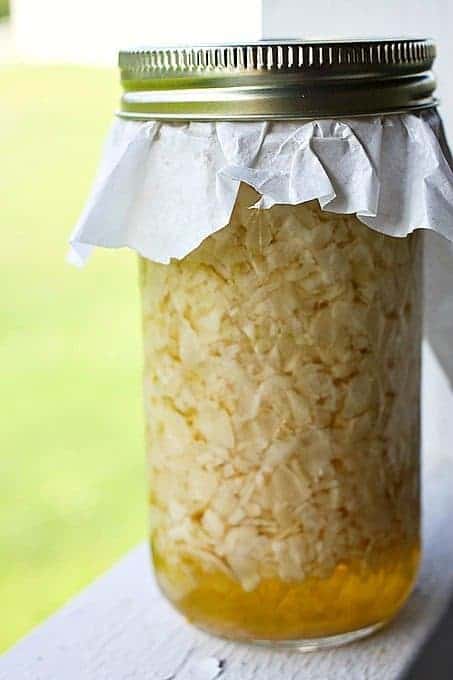 I popped open a new bottle of white balsamic vinegar and poured it over the coconut flakes. Knowing that vinegar can rust even a sturdy canning lid, I put a piece of parchment paper over the top of the jar before adding the lid and ring and screwing it into place. I stashed the jar in a cool, dark place for a week, shaking it and replacing the parchment square once a day. At the end of the week, I poured the contents of the jar into a cheesecloth lined sieve. I dipped my spoon lightly into the strained liquid and sipped. SUCCESS!
Simple rocks. The Coconut Infused White Balsamic Vinegar rocks. Forty rocks. The natural sweetness of the coconut flakes was completely identifiable in the crisp White Balsamic Vinegar. I felt brilliant. A million thanks to my baby sister, Airlia, for the inspiring gift. Act surprised when a jar of this ends up in your Christmas stocking, mkay?
So what do you do with Coconut Infused White Balsamic Vinegar? It is insanely good drizzled over cut up fresh fruit. Not only does it prevent browning, but its clean, light taste seems to magnify fruit's natural flavours. For this reason, it's also wonderful used in dressings for fruit salad in place of citrus. To be honest, though, the way I've been using it most is splashed over ice and topped off with icy cold soda or seltzer water. It's kind of shrub like. And I don't mean shrubbery in the Monty Python or landscaping sense. I mean the traditional vinegar beverages that are so good at cooling you off in hot weather.

Cook's Notes
The finished Coconut Infused White Balsamic Vinegar is pretty delicate and is more of a finishing vinegar than a cooking one. It's best served on fresh fruit, in fruit salads, or on fish straight from the grill or broiler.
The exception to the no-cooking rule is that a dash or two of this vinegar is wonderful added to fruit crisps.
Straining is easy, and you can be as exacting or relaxed about it as you want to be. I wanted a clear end product like the one my sister had purchased for me, so I lined a fine mesh sieve with a single layer of butter muslin (basically an über cheesecloth) and poured through. If you don't mind cloudiness or a small piece or two of coconut, you can skip the cheesecloth/muslin or pour through a colander.
Don't throw out the strained coconut. I might be a weirdo, but I love eating a pinch or two from the jar in which I keep it refrigerated. I'm pretty keen on tossing a little handful into coconut shrimp, sweet and sour chicken, and sweet and sour ham ball stir fry.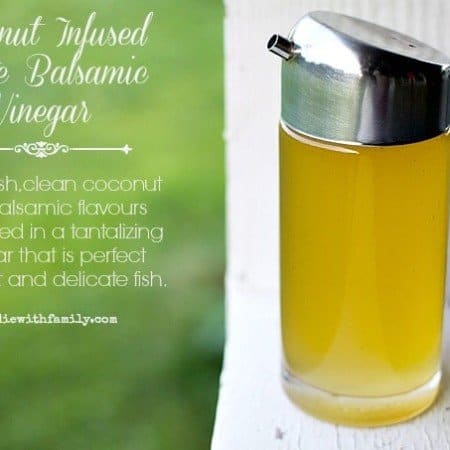 Ingredients
Ingredients:
dry

unsweetened coconut flakes

white balsamic vinegarhttp://www.amazon.com/Colavita-White-Balsamic-Vinegar-Ounce/dp/B0042ZB2RY/ref=sr_1_1?s=grocery&ie=UTF8&qid=1407204523&sr=1-1&keywords=white+balsamic+vinegar
Equipment:
1 12-

ounce

or 1-pint canning jar with a new

2-piece lid

7

of parchment paper

5-inch squares
Instructions
Add enough dry coconut to the jar to fill it to within 1-inch of the rim of the jar. Pour in vinegar to cover the coconut, then use a clean spoon to gently push down on the coconut to pack it down. Lay a square of parchment on the jar rim. Position the lid over it, then lower the ring and screw it tightly in place. Shake vigorously then put in a cool, dark place for a week. Once a day, open the jar, replace the parchment square, put the lid back in place, then shake firmly again.

After 7 days, line a sieve or colander with a double layer of fine cheesecloth or butter muslin and position it over a large bowl or liquid measuring cup. Pour the contents of the jar into the lined sieve. Gently press the coconut with a sturdy spoon to squeeze as much liquid from it as possible. Reserve the coconut for other uses in a tightly covered jar in the refrigerator.

Pour the strained vinegar into a sterile jar or glass bottle with a tight fitting lid. This can be stored at room temperature for up to 6 months. For longer storage, keep in the refrigerator.
Nutritional information is an estimate and provided to you as a courtesy. You should calculate the nutritional information with the actual ingredients used in your recipe using your preferred nutrition calculator.
So what do you think? Are any coconut lovers out there excited to try this? What way do you want to use it?
Need some help locating the ingredients or equipment for this Coconut Infused White Balsamic Vinegar? Amazon can help! (affiliate links)
Colavita White Balsamic Vinegar, 16.9 Ounce
Bob's Red Mill Unsweetened Medium Shredded Coconut, 24-Ounce Packages (Pack of 4)
Ball Mason Jars Wide-Mouth Can or Freeze – 16 oz 12pk
Butter Muslin
Wilton Parchment Paper
Winco MS3A-8D Strainer with Double Fine Mesh, 8-Inch Diameter