Disclosure: This post is brought to you by the Ohio Pork Council and in part by the Ohio Soybean Council. All recipes, photos, opinions, and silliness remain all me.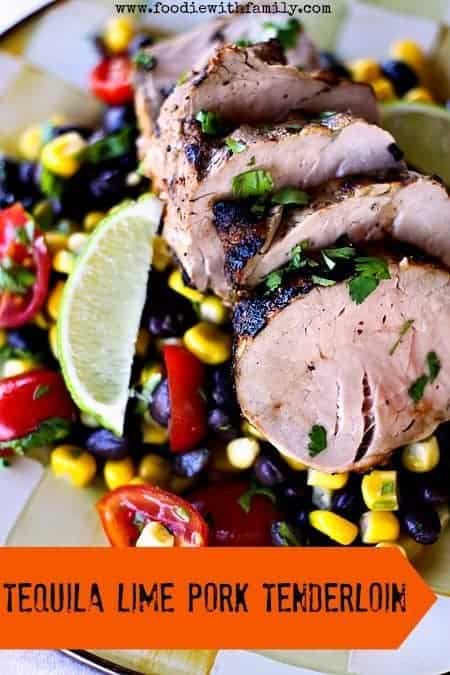 It is probably pretty obvious by this point that we are a household that REALLY digs pork.: as in three to five meals a week level digging… Aside from the fact that it remains one of the most wallet-friendly meats you can purchase for a family of our size, its mild taste makes it a perfect match for many styles of cooking. It's embraced by many world cuisines, so you can have an Asian pork dish one night, a French pork dish for the next meal,  and a Mexican pork dish in yet another meal, and that's just the start.
Because there are so many varieties of CUTS of pork, there are a tremendous number of  WAYS to cook pork. It makes a great winter dish, summer dish, fall dish, and spring dish! Braise it, roast it, grill it! Today, we're grillin' it because it's finally spring! (She ducks and covers to avoid the freak snowstorm that blows up out of nowhere…)
I love tequila lime chicken, so I decided to take the mild and versatile cut that is pork tenderloin and apply the same type of marinade. It doesn't get much easier or impressive than this. There's nothing intimidating about the process at all! Into a zipper top bag goes tequila, lime juice, honey, garlic, onion powder, minced jalapeno, and fresh cilantro. Squish it up, add the pork tenderloins, squeeze air from the bag, seal it, and stash it in the refrigerator for one hour to overnight! Heat your grill to medium, toss the tenderloins on and turn from time to time for twenty five minutes, or until the pork reaches 145°F internally.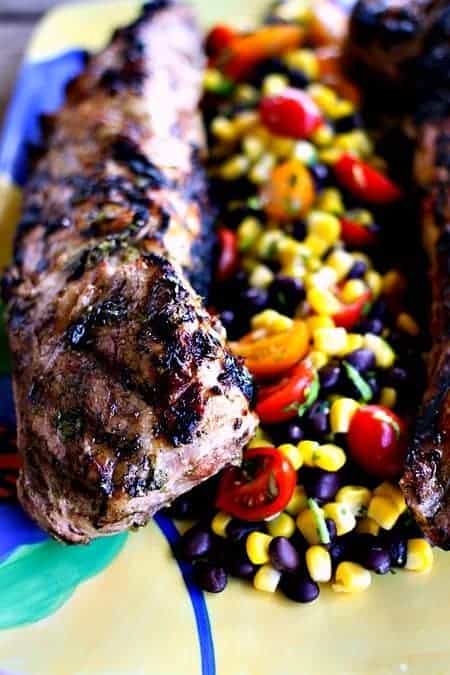 "SCREEEEEEEEEEEECH" go the brakes! What? Yes. I said 145°F. Did you know you don't have to cook pork to shoe-leather doneness for it to be safely cooked any more? It's true! That's FIFTEEN whole degrees lower than the USDA used to recommend. Extensive testing was done to prove that pork is not only microbiologically safe at that temperature, but it's ever-lovin' tender and juicy, too. You have to love progress, right?
Truth: Pork wasn't always of a quality that you could do this. The good news is that it IS now. And it is so, so tasty.

Cook's Notes:
Get a meat thermometer. If you're relearning how to cook pork at the new safe temperature, your best bet is to grab an inexpensive instant read thermometer to eliminate the guess work. When the meat hits 145°F, you remove it, gently tent it with foil, and let it rest for 3 minutes before slicing.
If you're absolutely, unequivocally morally opposed to cilantro, I'm terribly sorry. I really am. I know it can be genetic. Replace the cilantro with parsley. If you're only mildly meh about the cilantro, keep it in there.
How do you serve this? I love it with a side of rice and this Sweet Corn and Black Bean Salsa or Grilled Mexican Street Corn Salad. If you were feeling especially indulgent, you could serve it with this fabulous Spicy Slow-Cooker Bacon Corn Dip.
Leftovers of this pork tenderloin are marvelous on taco salad or sandwiches.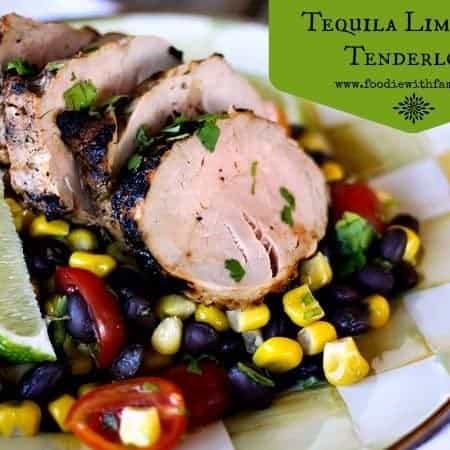 Ingredients
the juice of 4 limes

1/4

cup

tequila

1/4

cup

olive oil

1

fistful finely chopped cilantro

about 1/4 cup

1

fresh jalapeno

stemmed, seeded and finely minced

3

tablespoons

honey

2

teaspoons

minced garlic

2

teaspoons

kosher salt

3/4

teaspoon

onion powder

2

pork tenderloins

about 2 1/2 pounds of pork tenderloin
Instructions
Add all of the ingredients but the pork tenderloins to a resealable gallon sized bag. Seal the bag, then squish the ingredients until evenly combined. Open the bag, add the pork tenderloins, squeeze as much air from the bag as you can, and reseal it. Use your hands to squeeze and squish the contents of the bag around to evenly distribute the marinade. Refrigerate and marinate from 1 hour to overnight.

Preheat your clean grill to medium heat. Use tongs to remove the tenderloins from the marinade and place them on the grill. Turn the tenderloins occasionally to cook them evenly, from 20-27 minutes, or until the internal temperature reaches 145°F. Transfer the tenderloins to a rimmed platter, lightly tent with foil, and let it rest for 3 minutes before slicing.
Nutritional information is an estimate and provided to you as a courtesy. You should calculate the nutritional information with the actual ingredients used in your recipe using your preferred nutrition calculator.
But WAIT! There's MORE! Ohio Pork Council is celebrating having donated 1,000,000 -yes, ONE MILLION- meals to the Ohio Association of Foodbanks. And just how are they celebrating? By offering you a chance to win $500 in groceries yourself. I'm not even joking. CLICK THIS LINK TO ENTER!
Want some more fabulous pork resources?
Go visit the Ohio Pork Council's Facebook page for grilling tips, recipes, helpful information, and promotions!
The names for cuts of pork have changed in recent years. Confused? Check out this chart.