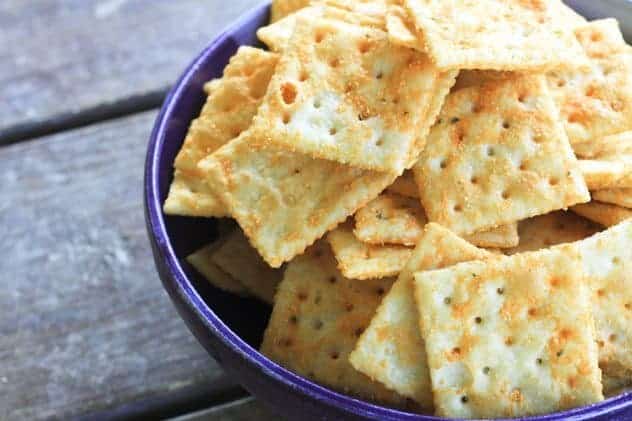 When we moved into Amish country a few years ago, one of the things that surprised me the most was how, well, normal the Amish folks were that I met. I'm not sure what exactly I expected, but I think I fancied there'd be a little olde English* thrown around here and there; maybe thees and thous? I certainly didn't expect to go to the farmer's market and see a middle-aged Amish woman laughing raucously at her bake stand while holding a slice of pizza in one hand and a 20 ounce Pepsi in the other.
*Just in case any of you out there think the same thing I did, I assure you they don't speak with thees and thous and thys and whatnot. In fact, it's kind of ironic that I thought that since they refer to anyone who is not Amish as English.
Another big surprise for me -because apparently I build up images of various groups of people in my head- was the fact that they used store bought ingredients or items in cooking. I had visions of everything being from scratch. Granted, they do make more from scratch than your average "English" person, but they're not opposed to taking something from the store and transforming it into something wonderful.
My friends, Ada and Anna, have been telling me for months about the seasoned snack crackers they make all the time. They promised that they were good for snacking, yes, but they also loved to break them up over salads and serve with soups or chilis. Every time they told me about it, though, they had just finished eating a batch and didn't even have crumbs left in a bowl for me to sample. (They whip up those dishes quickly, people.) Each time they'd tell me about the crackers, I'd slink home sans sample. It finally occurred to all of us that they could just jot down the recipe. It only took a moment for them to write it down and as they handed me the card they assured me it was a simple process with four ingredients.
I had everything in the pantry that was needed -saltines, cheddar cheese powder (hence, the bright orange colour), sour cream and onion powder, and canola or vegetable oil- so I set straight to work. Twenty minutes later, I pulled two half-sheet pans from the oven full of appealing snack crackers. The crackers were crispy and fragrant and it took little to no time before the kids smelled something that pulled them into the kitchen. My kids have nearly perfected the art of the quick grab from a hot pan and little hands were grabbing hot crackers and tossing them to and fro in an attempt to cool them more quickly.
There was chattering, there was giggling, there were the first tentative nibbles and then? Then there was only the sound of crunching. When there was a part in the wave of children attacking the pans, my husband and I dove in for a try. Those crackers were like giant Goldfish crackers or Cheese-Its/Cheese Nips. They were GOOD. My kids soon branched into putting paper thin slices of ham on the crackers. In very short order, they were el gone-o and many little voices were asking for more.
Since that day, we've made these on average of once a week, leaving a small bowl out for snacking and tucking the rest away for using the way Ada and Anna recommended; as croutons, snacks or accompaniments to soup or chili. There's nothing quite like these for dunking in tomato soup or five-alarm chili.
Now, let's get to the giveaway, shall we? I know that the cheddar cheese powder and sour cream powder may be hard for folks to find locally, so I'm giving away a generously sized bag of each (from my friend Ada's store) to two different readers. Two winners! YAY! Unfortunately, this can only be open to my readers in the continental United States due to issues regarding shipping food across borders and such. What do you do to qualify for the giveaway? Here are the different ways to enter. Be sure to leave a comment for each one you do!
Leave a comment about your favourite quick snack food or a way you've been surprised by someone (or a group of someones) before. (1 entry)
Like Foodie With Family on facebook. (1 entry)
Follow Foodie With Family on Twitter (1 entry)
Kiss someone you love and tell me about it here. What can I say? I'm feeling romantic. My baby brother is getting married Sunday. (1 entry)
I'll tally all of the entries and have one of my visiting family members pick a number at random to choose the winner by this Friday, August 3rd. Winners will be announced here! Good luck folks! The cheddar powder and the sour cream and onion powder are both spec-tac-u-lar on popcorn, just in case you needed another reason to want it.
One final thing before we get to the recipe. If you, like me, are not the patient type and you want to make these right away, I have two links below so you can purchase the powders through my BFF, Amazon.com. (These are affiliate links, and should you choose to purchase after clicking them, I do receive a small commission from Amazon. I just thought you should know.)
Sour Cream & Onion, 1 lb. package
Cheddar Cheese Powder, 1 lb.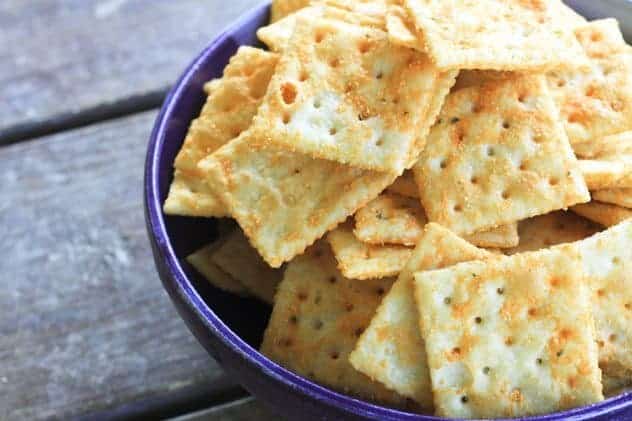 Seasoned Snack Crackers (Amish Recipe) and a Simple Giveaway | Make Ahead Mondays
Rate Recipe
Simple saltines get a 10 minute makeover turning them into giant cheese crackers reminiscent of Goldfish, Cheese Nips and Cheez-Its turning the boring soda cracker into the perfect snack or accompaniment to chili and soup. Use as a salad topper, too!
Ingredients
1

pound

box of saltines

I recommend using low- or no-salt ones as the powders are generally salty enough.

1

cup

vegetable or canola oil

1/4

cup

sour cream and onion powder

2

tablespoons

cheddar cheese powder
Instructions
Preheat oven to 250°F. Lay out two rimmed half-sheet pans.

Open all of the sleeves of saltines and put them into a large mixing bowl. In a measuring cup, whisk together the oil, sour cream and onion powder, and cheddar cheese powder until smooth. Drizzle over the crackers and toss with your hands to coat evenly.

Divide the crackers between the two sheet pans and use your hands to gently spread them out into as thin a layer as possible. Put the two pans in the oven and bake, stirring two or three times, for 20 minutes, or until the crackers feel mostly dry to the touch.

Remove the trays from the oven and let the crackers cool completely before transferring to an airtight container. These are good for about two weeks after being made when stored correctly. If they start to lose their crunch, return them to a 250°F oven for about 5 minutes.
Nutritional information is an estimate and provided to you as a courtesy. You should calculate the nutritional information with the actual ingredients used in your recipe using your preferred nutrition calculator.