Pickled Green Beans are one of the things I learned to can from the best: my Grandma. I remember hours upon hours at Grandma's house with Mom and the aunties sitting around peeling peaches, laughing hysterically, shucking corn, chewing the fat, shoving tomatoes in jars, and whatnot.
The kids usually drew the simple task of snapping the ends off of green beans. It was kind of hard to booger that one up and it made us feel like we were really contributing to one of everyone's favourite snacks: Pickled Green Beans or Grandma's Dilly Beans.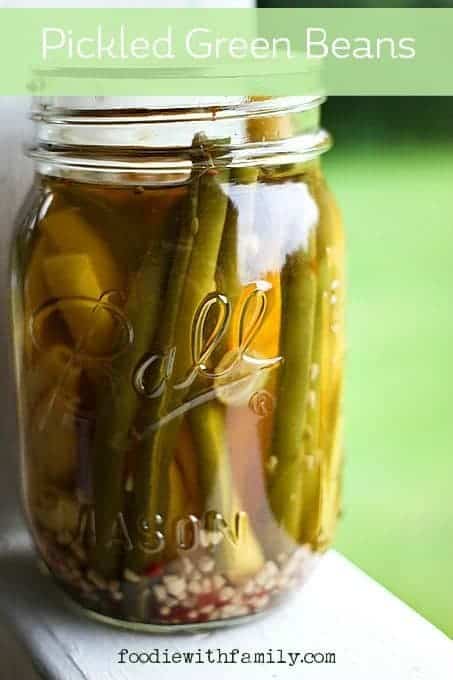 Garlicky, snappy, crisp, gently spicy, and utterly perfect, these Pickled Green Beans are incomparable when chilled and nibbled on straight from the refrigerator on a hot day. It's like a cucumber pickle in flavour but with a crunch times a million.
I am a kid all over again -sneaking pickled beans from Grandma's fridge while she took her siesta- every time I eat one. I wouldn't say that these are the fountain of youth because the FDA might frown on my claims, but people… it's pretty darned close.
Clearly, my preference is to eat these straight from the jar. There's more to these than dunking fingers into garlicky brine, though.
They make a beautiful addition to salads both of the lettuce and mayonnaise-laden potato, tuna, chicken, or pasta varieties when chopped and tossed into the mix. You'd be hard-pressed to find a better accompaniment to a venison or beef roast come harvest time.
Serve a big bowl of these pickled beauties with your Thanksgiving feast to accolades. And while you're pickling all the vegetables, remember to try out our Pickled Brussels Sprouts!
Add a platter of homemade pickles to the table next to your Christmas ham or goose. The vinegar tang, garlic punch, and mellow hot-pepper bite cut through rich meals making them taste better!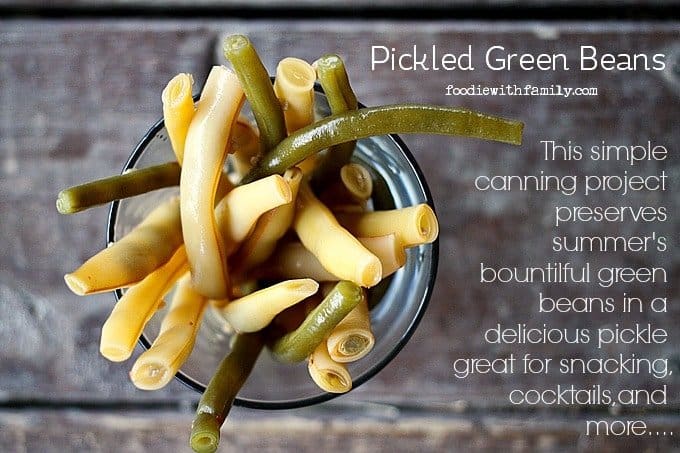 If so inclined, you can even use these crispy, long, pickled-perfection green beans to stir Bloody Marys or other cocktails. So many options, so little time!
The only solution is to hie thee hence to the farmer's market, grab a peck or two of green beans, and get pickling! Pssst. If you're a canner-or-planner-by-nature, you'll want a few jars of these gorgeous Pickled Green Beans on hand for Christmas and holiday gift giving or hostess gifts.
Cook's Notes
This recipe for Pickled Green Beans is a canning recipe that is suitable for beginners and so well loved that it is also a staple of most veteran canners!
You've probably noticed in the pictures that wax beans pickle as well as green beans. I have a weird preference for the green ones although they both taste the same and have the same texture.
It's just a visual for me, but I LOVE the look of both of them in a jar. It feels old-fashioned and frugal.
In this one, as in most of my pickling recipes, I prefer to use raw apple cider vinegar for pickled green beans because it's a higher quality of vinegar to begin with.
My second choice is regular apple cider vinegar. I don't use white vinegar in pickling almost as a rule because I find the flavour to be too harsh. IF that is your preference or only thing available to you, however, there is not any safety concern preventing you from using it.
You can use fresh garlic in each jar OR you can substitute 1 tablespoon of dried garlic flakes per jar.
You can ramp up the quantity of crushed red pepper flakes in each jar if you're a major hot head, but I really like a gentle back-ground heat instead of a melt-your-face-off heat with these pickles. I'd advise trying the recipe as written for a single batch then increasing if you find it too mild.
On that note, you can upsize this recipe to your heart's content. I usually make at least 5 to 8 times this batch in one go, but I know that the rest of the world is not necessarily gripped by the CAN ALL THE THINGS mania that I have.
Need to know how to sterilize jars, "process things", and all that good, basic canning jazz? I have a handy-dandy guide for you!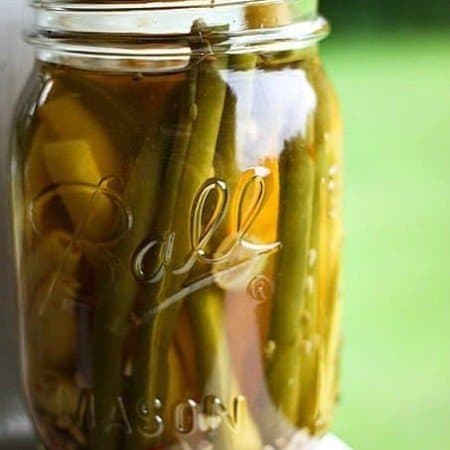 Garlicky, snappy, crisp, gently spicy, and utterly perfect, these Pickled Green Beans are incomparable when chilled and nibbled on straight from the refrigerator on a hot day. It's like a cucumber pickle in flavour but with a crunch times a million.
Ingredients
2

pounds

fresh green beans

ends and strings removed

2 1/2

cups

apple cider vinegar

2 1/2

cups

water

1/4

cup

kosher salt

2

tablespoons

raw sugar

can substitute granulated white sugar if necessary
Additional Ingredients Per Pint:
1

dill head or 2 teaspoons whole dill seed

2

cloves

garlic

peeled

1/2

teaspoon

black peppercorns

1/2

teaspoon

mustard seed

not ground mustard

1/2

teaspoon

crushed red pepper flakes

1/4

teaspoon

coriander seeds

not ground coriander
Instructions
Trim the green beans so they are of a height to reach within 1/2-inch of the tops of the jars. Load each jar with the additional per-jar ingredients and pile the trimmed beans in over the spices. Set aside.

Bring the apple cider vinegar, water, salt, and sugar to a boil in a saucepan. Pour over the green beans in the jars to within 1/4-inch of the tops of the jars. Wipe the rims, fix new two-piece lids in place to finger-tip tightness, and process for 10 minutes in a boiling water bath. Carefully transfer to a rack to allow to cool completely. Remove the rings, wipe down, label, and store in a cool, dark place for up to a year. If there are any that don't seal, refrigerate immediately after processing. Let the pickled beans sit for 2 to 3 weeks before cracking open and eating!
Nutrition
Calories:
33
kcal
Carbohydrates:
6
g
Protein:
1
g
Sodium:
1776
mg
Potassium:
146
mg
Fiber:
1
g
Sugar:
3
g
Vitamin A:
410
IU
Vitamin C:
7
mg
Calcium:
27
mg
Iron:
0.7
mg
Nutritional information is an estimate and provided to you as a courtesy. You should calculate the nutritional information with the actual ingredients used in your recipe using your preferred nutrition calculator.
Save