I would love to tell you that I'm a shopper with iron willpower. I would further love to say that I toil over a grocery list and never stray from it; that not a single item makes it into my cart that isn't on the list. But that would be a big, fat, hairy lie. The truth is that I have three teenagers and two almost teens and a schedule that really ought to come with a complimentary Time Turner from the long anticipated Hermione Granger line of time management systems and day planners. In short, I've taken to misbehaving in the grocery store. I flit through, toss ill-thought-out items into my cart, pay for them, get them home, and -quite often- shelve them with regret and try to figure out how to work that into the week's/month's/life's menu plan.
I steeled myself before my last trip and vowed to adhere to my list like so much Gorilla Glue. I did beautifully at first. I walked right past a display of all-natural Dandelion & Burdock Root Soda and sauntered by a giant wall of exotic salad greens. I was congratulating myself on my fortitude as I bumped right into a counter covered with pretty little one-person-sized containers of Cilantro Jalapeno Hummus which I promptly grabbed and stuffed into a deep, dark, shameful, impulse buying corner of my cart. I covered my ignominy with two bags of baby carrots and walked on…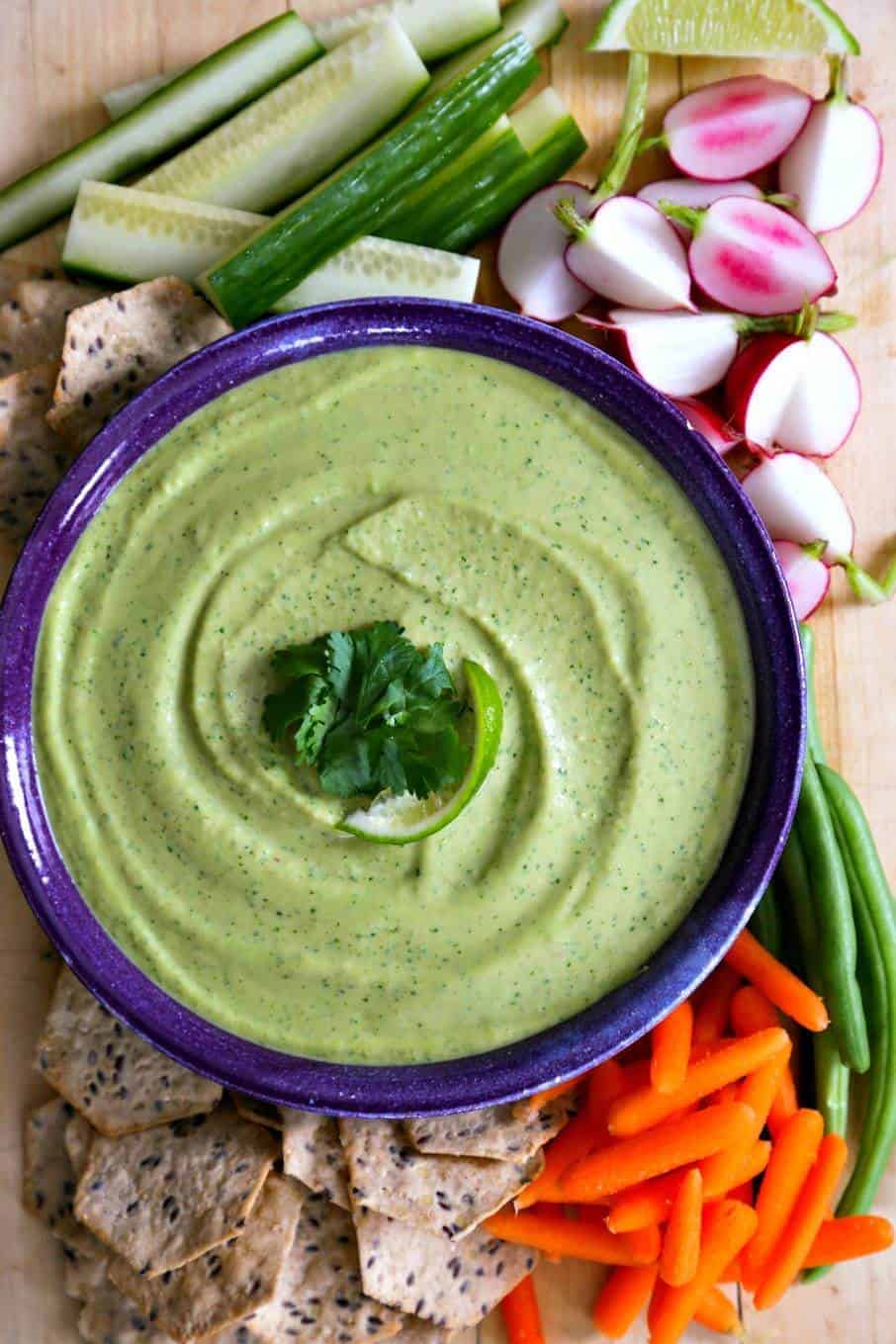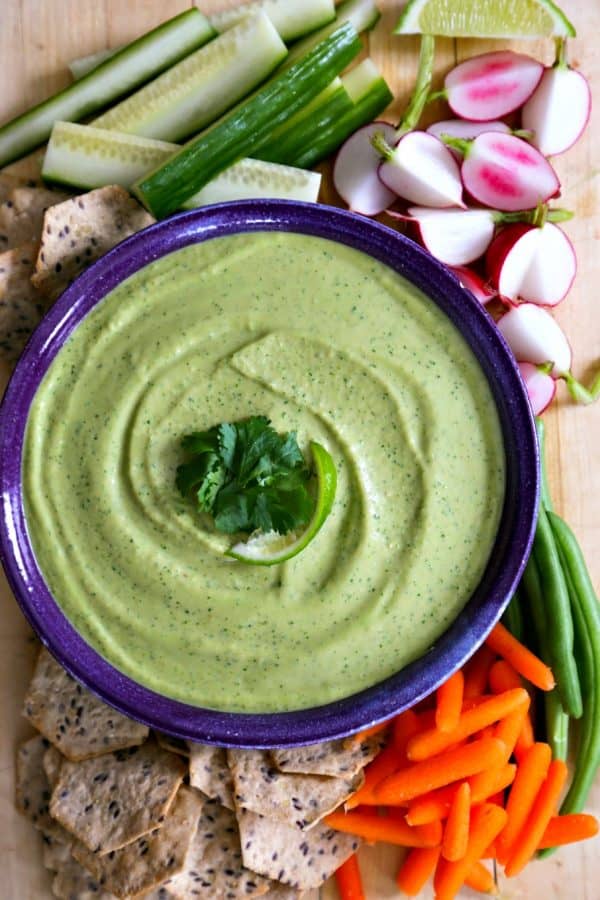 For once, though, it worked out for the best. That Cilantro Jalapeno Hummus had me hooked from the minute I popped open the lid and took a deep whiff. I gobbled up the little container in no time and just like that I had discovered my newest "RECREATE THIS IMMEDIATELY" project. So I did.
Cilantro Jalapeno Hummus is not a traditional hummus (obviously) and usually I'm a hummus purist, but Oh. My. Goodness, is it ever amazing. Cilantro Jalapeno Hummus is as smooth as can be, a lovely shade of light, spring green flecked with little bits of cilantro, ever so slightly spicy from fresh jalapeno, and rounded out with fragrant garlic and lime. It is so good, in fact, that my sworn-hater-of-chickpeas-but-otherwise-not-picky eldest son declared allegiance to it. He kept coming back and dipping the aforementioned baby carrots into it. After we polished off the carrots we moved onto cucumbers then crackers. Then spoons. My kid who "hates" hummus ate this with a SPOON people. He has since modified his stance to "I hate all hummus except for Cilantro Jalapeno Hummus." That's fine by me. Counting Cilantro Jalapeno Hummus, I've now found two chickpea recipes he loves.
That we dip every little thing into Cilantro Jalapeno Hummus is obvious. Don't stop at dipping, though: Cilantro Jalapeno Hummus beats the tar out of Miracle Whip any day of the week as a sandwich spread, too.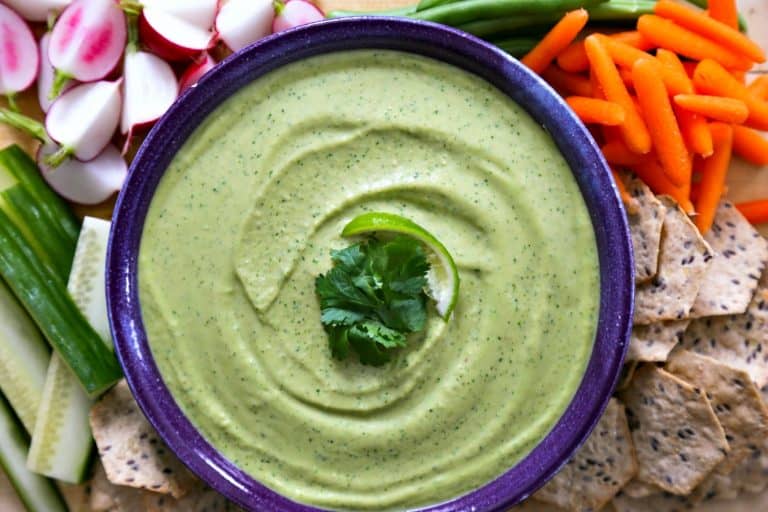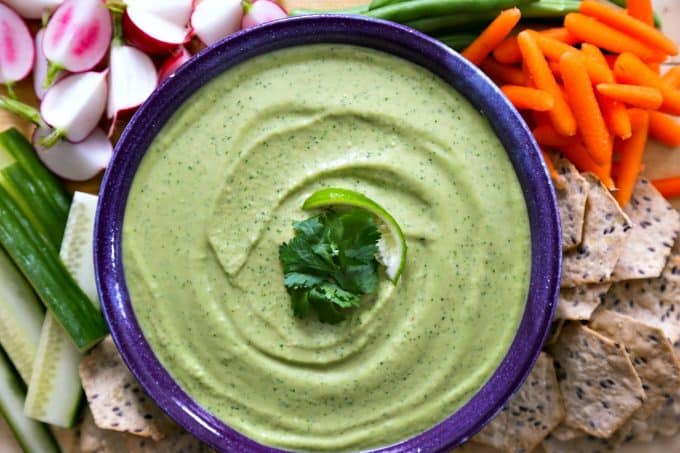 Cook's Notes
Please note that I include the liquid from the can of chickpeas/garbanzo beans in the recipe. If you use home cooked beans, you'll want to substitute 1 1/2 cups cooked beans plus 1/2 cup of the cooking liquid. If you categorically refuse to use the liquid in which the canned beans are packed, you can add 1/2 cup of water, but be aware you'll be sacrificing flavour.
The heat that one jalapeno pepper delivers is not going to make your face melt off. The overall punch that Cilantro Jalapeno Hummus packs will depend on the level of heat in your jalapeno, but even with a nuclear level jalapeno, it should still be suitable for all except for those with exceptionally tender palates.
I've mentioned before that I prefer hummus to be served room temperature or warm. This Cilantro Jalapeno Hummus is no exception, but unlike traditional hummus, I also like this one cold.
Connect with Foodie with Family
facebook | pinterest | instagram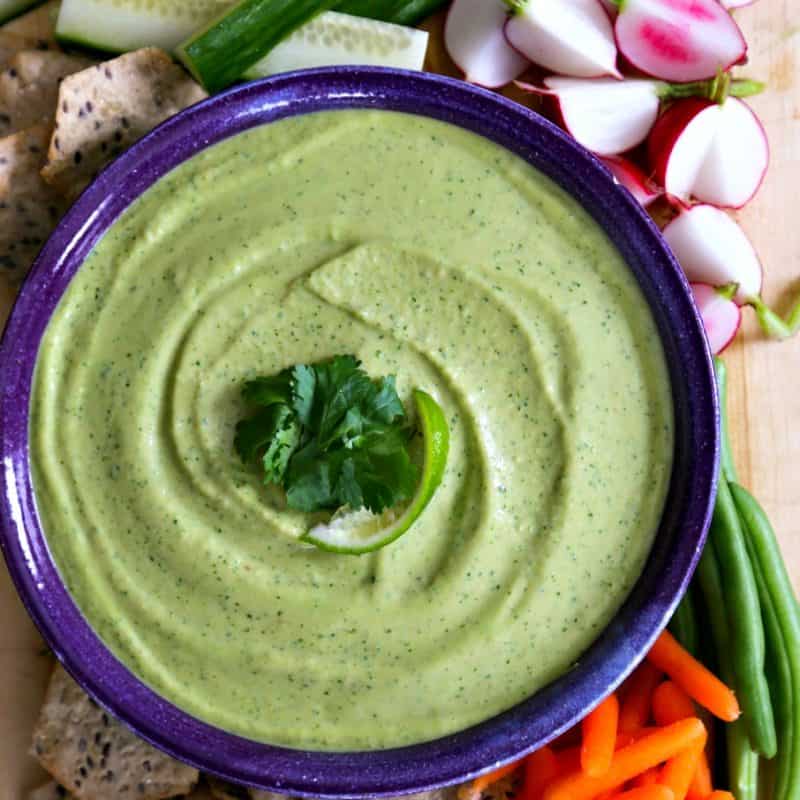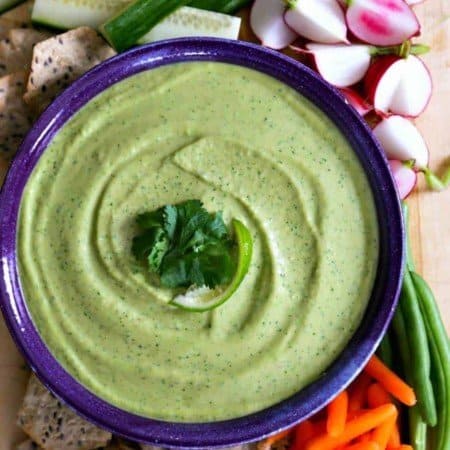 Ingredients
1

fresh jalapeno

stem and seeds removed

5

cloves

garlic

peeled and roughly chopped

1/2

cup

packed cilantro leaves

1

tablespoon

canola oil

juice of one lime

1

teaspoon

kosher salt

1

can chickpeas in their liquid

16 ounces

1/4

cup

tahini

the juice of 1 lemon
Instructions
Add the jalapeno, garlic, cilantro leaves, canola oil, lime, and kosher salt to the bowl of a food processor fitted with a metal blade or the carafe of a blender. Put the lid in place and pulse 10 to 15 times, or until the jalapeno and garlic are chopped into small pieces and the cilantro is broken down very small. Scrape the sides of the bowl or carafe, add the chickpeas and their liquid, tahini, and lemon juice. Replace the lid and let process for 4 minutes, stopping to scrape the sides down from time to time. When finished, the Cilantro Jalapeno Hummus should be silky and a light shade of green with darker flecks of cilantro throughout. Can be served immediately or refrigerate and used within a week.
Nutritional information is an estimate and provided to you as a courtesy. You should calculate the nutritional information with the actual ingredients used in your recipe using your preferred nutrition calculator.