Make restaurant worthy homemade gyro meat and gyros -flat breads filled to bursting with garlicky, herbed, crisped strips of Greek/Lebanese meatloaf in the comfort of your own home.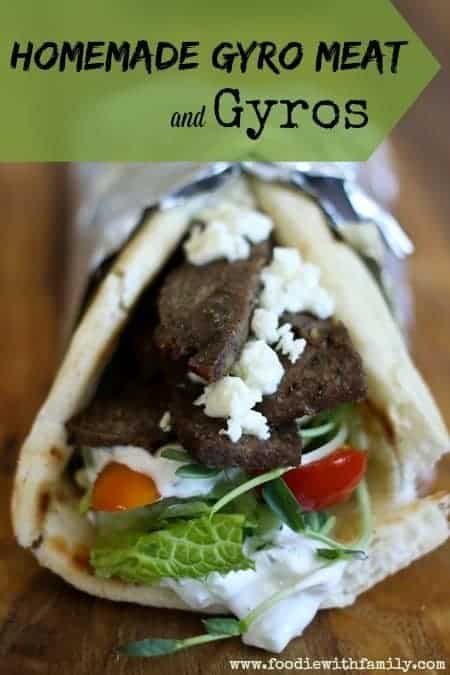 You know when you get stuck thinking about a certain food and that's all you can think about eating? For example, take gyros. I drove to the city and went out for lunch at a Mediterranean eatery with my mom, one of my sisters, and my sister-in-law a couple weeks ago. I ordered a lamb and beef gyro platter. My vegetarian mom and sister joked that I chose that so I wouldn't have to share with them, and it turned out that my meat-eating sister-in-law had given up meat for Lent, so there I sat in front of a salad the size of my torso. It was brimming with an enormous quantity of thin strips of crisped gyro meat. For one brief moment, I thought, "I will never be able to eat all of this." Then I took a bite.
At that moment, gyro meat became my new obsession. I had NO problems at all finishing off the whole salad and generous portion of gyro meat. It was  crisp on the outside and full of garlic and herbs. I couldn't get it out of my head the rest of that day or any other day afterward. I kept talking about it to anyone who would listen. I mentioned it far too frequently to my husband. I certainly couldn't and wouldn't drive to the city every time I wanted one. That was out of the question. The only solution was to make homemade gyro meat and make it in vast enough quantities that I could convince myself I wouldn't have to go without it ever again.
The process of creating a restaurant worthy homemade gyro meat version of this classic presented a couple of hurdles. I wanted to get that super fine, dense texture and keep it moist. I bought lamb and beef, because I wanted my homemade gyro meat to match the gyros I had eaten, and combined them with goodly amounts of garlic and herbs. The super fine texture was an easy, if weird fix… After letting the meats, garlic, and herbs rest in the refrigerator for a few hours to let the flavours mingle and marry, I put it through the food processor in batches, pulsing until the meat was a tacky, thick paste. This I pressed down into loaf pans a little at a time to be sure I wasn't leaving air pockets. I put the loaf pans in a larger roasting pan, poured boiling water in the outer roasting pan to come about two-thirds of the way up the sides of the loaf pans and popped it in the oven to cook for about an hour. When the internal temperature of the loaves reached 165°F, I removed the loaf pans from the roasting pan, poured off all the excess fat that had built up around the loaves, then laid foil wrapped bricks directly on the surface of the meat – à la Alton Brown- to compress it into that super fine texture that I loved so much from the restaurant gyros. I removed the bricks, then took the loaves from the pans, wrapped them tightly in plastic wrap, and refrigerated them until they were cool and firm. This was my key to getting the thin slices from the loaves.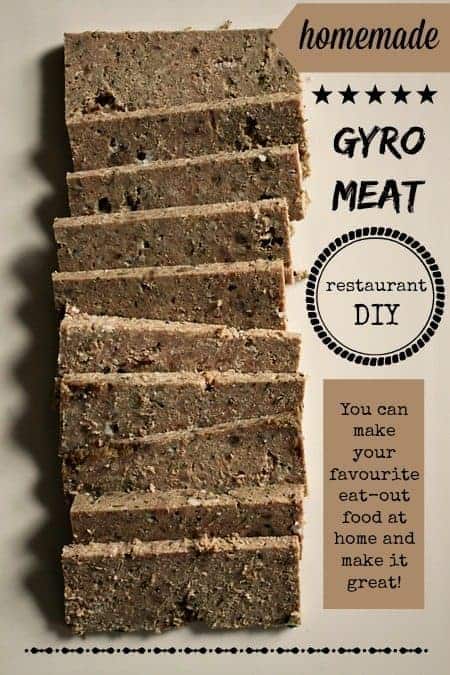 When it came time to eat (and that could NOT come soon enough), I cut thin strips of my homemade gyro meat, then browned them in a reasonable amount (okay, indecent amount) of ghee. The smell was driving me wild. Garlicky, oniony, herbed, beef and lamb meatloaf crisping in what was essentially browned butter? Ugh. It's making me crazy hungry just to think about it now. My house smelled like a Mediterranean eatery! The meat came out of the frying pan and was given a brief cool down rest before being piled into a flat-bread pita with some salad greens, chopped cherry tomatoes, sweet onion slices, cucumber yogurt sauce, crumbled Feta cheese, smashed Greek olives, and a drizzle of Greek dressing. I folded it up, wrapped it in foil to keep all those mouthwatering components together and sunk my teeth into one of the best gyros I've ever had. I had done it. With a little planning, I could have them whenever I wanted. As for the guys, they're now just as obsessed as I am. They ask for the crispy meatloaf strips at regular intervals. I am more than happy to oblige.
Cook's Notes:
Do not be deterred by the length of time it takes to make homemade gyro meat. The majority of that time is "wait time" and the payoff is so enormously gratifying.
It might seem fussy to chop the onion finely then squeeze it in a towel to remove excess moisture, but this is a big part of the final texture of the finished gyro loaf. Don't skip it.
This recipe makes a large amount. You can certainly halve the quantities, but keep in mind that it's a bit of a lengthy process to create this and it freezes well. Having a frozen gyro loaf at your beck and call is not a bad thing.
You can opt to broil the thin strips of gyro meat until crispy, but I prefer the flavour of browning them in ghee (1st choice) or olive oil (2nd choice).
The foil wrapped bricks laid on top of the cooked loaves of homemade gyro meat are not absolutely crucial, but do go a long way to compressing the finished loaves into that fine, dense texture that is so prized in restaurant gyros. Can't find a brick or don't want to bother? It'll still be super tasty!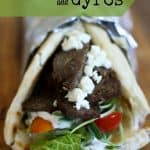 Homemade Gyro Meat and Gyros
Garlicky, oniony, herbed beef and lamb meatloaf crisping in brown butter? Your house will smell like a Mediterranean eatery!
Total Time
1
hour
20
minutes
Ingredients
For the Gyro Meat:
2

pounds

ground beef

between 80/20 and 90/10

2

pounds

ground lamb

1

large onion

peeled and cut into 1-inch chunks

2

tablespoons

minced garlic

1

tablespoon

dried oregano

1

tablespoon

dried thyme

2 1/2

teaspoons

ground cumin

2

teaspoons

kosher salt

2

teaspoons

ground black pepper

1

teaspoon

dried rosemary
For the Gyros:
Gyro meat

fully cooled

ghee or extra virgin olive oil

flatbread pitas

mixed salad greens

cucumber yogurt sauce

halved cherry tomatoes or chopped large tomatoes

thinly sliced sweet onions

crumbled Feta cheese

Optional but tasty: Greek dressing and chopped or smashed Greek olives
Instructions
To Make the Gyro Meat:
Place the onion chunks in the food processor and blitz them until they are super finely chopped. Scrape into the center of a clean tea or flour sack towel, twist and squeeze it over the sink to remove any extra moisture. Use your hands to combine them with the remaining gyro meat ingredients. Cover with plastic wrap and let the mixture rest for at least 1 hour but up to overnight in the refrigerator.

Preheat the oven to 325°F and bring a pot of water to a boil.

Working in batches, pulse the meat mixture for a minute, or until it is a tacky, thick paste. Press it a little at a time into the loaf pans, taking care to eliminate any air pockets. You should have enough meat to fill 2 standard bread loaf pans. Press down firmly on the surface of the meat to even it out. Place a wet kitchen towel on the bottom of a large roasting pan and position the loaf pans on top of it. Pour the boiling water into the roasting pan. It should be 2/3 of the way up the outsides of the loaf pans. Carefully transfer the roasting pan into the oven and bake for 50-70 minutes, or until the meat measures 165°F on an instant read thermometer inserted into the center of the loaf.

Carefully remove the loaf pans from the roasting pan and pour off any fat that accumulated. Put the loaf pan on a heat-proof surface (a cooling rack or a pan on top of the oven) and place a foil wrapped brick directly on the surface of the meat. Let the meat rest like this for 20 minutes. After 20 minutes, remove the brick, run a knife around the edge of the loaves, then gently turn the loaves out. Wrap them tightly with plastic wrap and chill for several hours or overnight to allow them to chill and firm for easier slicing.
To Make the Gyros:
Unwrap the gyro loaf and use a sharp knife to cut long strips no thicker than 1/4-inch. Melt at least 2 teaspoons of ghee or olive oil over medium heat in a heavy-bottomed frying pan. Lay the strips down into the ghee or olive oil and fry for at least 1 1/2 minutes on each side, using tongs or a small flexible spatula to flip them, or until they are crisped and browned to your liking. Gently transfer them to a plate to cool briefly, then assemble in your preferred order with the remaining gyro ingredients on a gently warmed flat-bread pita. Fold, wrap in foil to help hold it together, and dig in!
Do you love this Homemade Gyro Meat recipe? You might dig these, too.