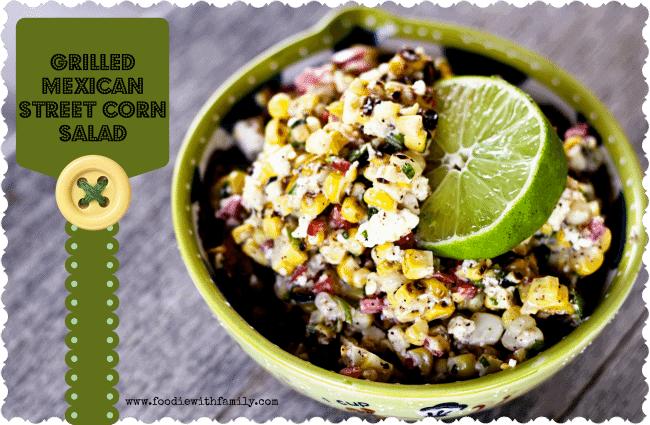 I'm on a bit of a salad bender right now. Tossed salads, chopped salads, marinated salads: I can't help myself. I can't go a day without having a big bowl of one sort or another. One of my favourite things to do these days is turn regular vegetable side dishes into spectacular salads.
The top of the heap right now is a salad based on one of the most iconic Mexican street foods; Elote, or Mexican Sweet Corn. Elote makes me want to purr. I can't get enough of the charred corn that is rubbed with mayonnaise, sprinkled with ground chipotle or chili powder, rolled in crumbled cotija cheese and chopped cilantro then topped off with a squeeze of lime juice. Mrawwwrrrrrrrrrr… I'm not much of a finger licker, but I am compelled to get every last bit of goodness from my fingers after eating it. Etiquette? Pshaw.
I wanted to do it up salad style so that it would travel a little more easily to a potluck because it is a touch on the awkward side to lay waste to someone else's kitchen with a box full of corn to grill and all the other accoutrements in tow. The idea was to pack all of the classic Elote flavours into one easily portable, undeniably derivative, eminently edible marinated salad.
Thankfully, this is a dish that translates easily to the bowl from the cob. The mayonnaise and cheese that would otherwise be slathered and rolled onto the grilled corn serve to hold the salad together a bit, and the lime juice helps distribute the ground chipotle (my choice!) or chili powder. Because I'm a sucker for a bell peppers in salad, I finely chopped half of a red pepper to stir into the works. If you don't like bell peppers, you can omit them or replace them with a hot pepper with great results.
A bowl of Grilled Mexican Street Corn Salad is the ideal companion for grilled or broiled fish, pork, chicken or beef, but it's also great as a stand alone lunch. I can't lie… I often hide the leftovers in a container marked with a secret code so I can have it all to myself the next day.
How to Grill Corn:
The toughest part of preparing this salad is grilling the corn and that's not hard at all… it just takes a bit of planning. When I'm grilling corn specifically for this salad or for use in salsas, I strip the husks from them completely and soak the ears of corn in a big bowl or pot of cold water. This helps keep the kernels from drying out and shriveling while they're sitting on the grill.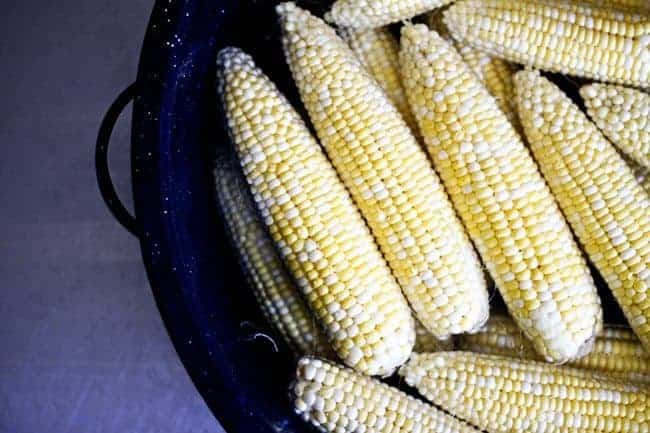 Fire up the grill to high! While it's getting screaming hot, drain the water off of the corn. Use tongs to place the cobs directly on the hot grill. Roast it over that high heat on the grill, turning often, until the kernels are bright yellow in most places with some charred, blackened areas. This will probably take about ten minutes.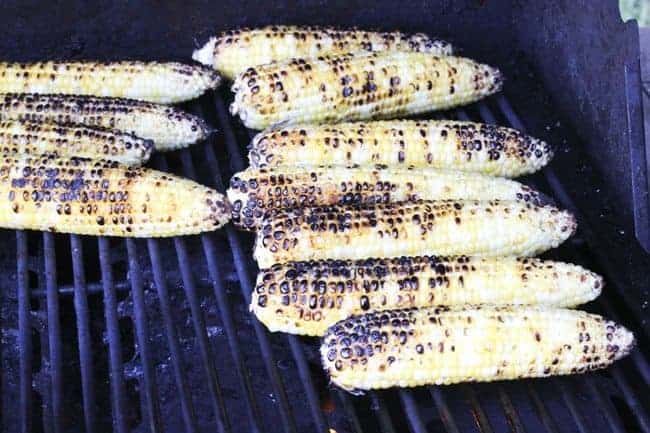 Transfer the corn to a bowl (the one you used to soak them is fine) and let them cool until you can handle them easily.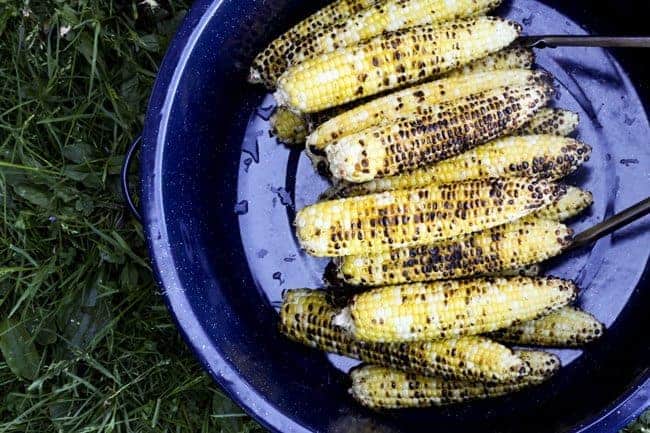 When you can pick them up and hold them in your hand easily (because you'll need to do so to cut the kernels from the cob) you can move onto the recipe!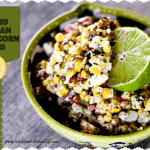 Print
Grilled Mexican Street Corn Salad
Traditional Elote- or Mexican street corn- gets a makeover in this super summer salad full of grill-roasted, slightly charred sweet corn, with a creamy Mexican inspired dressing of mayonnaise, ground chipotles, lime juice, and cilantro. Serve with grilled fish, chicken, pork or beef and you'll be the most popular summer cook in your neighborhood!
Ingredients
6

to 8 ears grilled sweet corn

cooled to a comfortable temperature *See Notes

1/4

of a sweet onion

peeled and finely diced

1/4

of a sweet red bell pepper

optional: can omit or replace with a seeded hot pepper, seeded and finely diced

1/2

cup

crumbled Cotija or feta cheese

or freshly grated parmesan

1/2

cup

mayonnaise

1/3

cup

fresh cilantro leaves

or parsley, coarsely chopped

the juice of 1 lime

plus extra wedges for serving

1/2

teaspoon

to 1 tablespoon ground chipotle pepper or chili powder

to taste. *See Notes

1/2

teaspoon

ground cumin

salt and pepper to taste
Instructions
Stand a cooled, grilled corn cob on a cutting board, flat end down. Holding the cob steady with your hand, use a sharp knife to cut the kernels away from the cob. Once you've cut away all of the kernels, use the dull, back side of the knife to scrape out any remaining juices or pulp from the corn cob. Discard the cobs.

Stir together the corn, pulp, onion, pepper, cheese, mayonnaise, cilantro (or parsley), lime juice, 1/2 teaspoon of the ground chipotle or chili powder, cumin, salt and pepper until everythig is evenly distributed. Taste and adjust with more ground chipotle or chili powder, and salt or pepper until it tastes just right. You can serve immediately or refrigerate for an hour to let the flavours meld. This is best eaten the day it is made, but will hold up reasonably for leftovers the next day.
Notes
While nothing beats freshly grilled corn for this salad, it can certainly be made -and deliciously- with leftover grilled corn. I often grill more corn than we can eat just so I can make salad or salsa from it the next day.
The 1 tablespoon measurement of ground chipotle powder or chili powder is the most traditional amount of heat added to Elote. We prefer it like this, but I understand that not everyone likes the same amount of spice my family does. Start on the low end and adjust up as you prefer!