So. Is the room spinning or is it just me? I keep waiting for the opportunity to arise where I can kick off my shoes, lay on my back in the sand, find Bugs Bunny as Brunhilde hidden in the clouds, swim in a clear blue lake, and turn to a cooler fully stocked with everything I love to eat before winding up the evening singing songs and making s'mores around a campfire.
*This view of what summer should be is based largely on how I spent every summer day of my youth. Thanks so much, Mom and Dad for a spectacular childhood . I blame you. In the nicest possible way.

Instead, I've been running my children to play practice*, manning the fort while The Evil Genius is off doing highly technical things in scary technical places with frighteningly technical people, preserving every bit of produce that stands still long enough to be pickled or frozen or canned, steadfastly ignoring my ever-growing pile of laundry, and ensuring that my children at least are laying on their backs in the grass trying to discern Elmer Fudd as Siegfried. It's a tradition, you see.
*For the last week, three of my five sons have performed the parts of the cutest orphans you've ever seen in 'The Sound of Music'. Is it just me or does anyone else out there fail to remember orphans being in 'The Sound of Music'? Whatever. They were cute. And orphany. Well, except for the fact that I still had to make three meals a day and ferry these 'faux orphans' to and from rehearsals and performances. I coached them to come up with their back stories as orphans to help them be convincing. (Old Theater Majors don't die. They just become stage moms.) "Think about how you got to the convent. Do you know each other? Are you brothers? How did you become orphans? Did both of your parents die? Did your mother drop you off here because she could no longer afford to feed you then run over and join the convent in a very specifically non-childcare capacity?" I jest. I didn't ask them if both of their parents died.
The weather is hot, the garden is producin' and there is very little time to spend in the kitchen. Couscous to the rescue. While all couscous is good, I'm especially partial to Israeli couscous; the small, round, toasted pearls of couscous also known as ptitim. Israeli couscous, unlike the 'standard' couscous, is toasted rather than dried. The toasting imparts a subtle nutty flavor that is well-suited to both warm and cold dishes. Hot weather requires cold food. (You've heard this theory from me before, right?) A cold couscous salad is a surprisingly effective delivery vehicle for big, fresh, garden flavors. Toasty, nutty couscous tossed with the light flavors of a vinaigrette and all sorts of bounty from the garden; zucchini, broccoli, onions, and more. Briny olives and salty feta give the salad some body. Before you all think I've jumped the shark; yes. I actually did mean to put those pickles in there. The olive/broccoli/pickle combination is one of my mom's most genius food combinations and it's not as far out as you might think. Think of pickles as a shortcut to adding cucumber and dill to this salad. And when you put together cucumber, dill, olives and feta? Well you could hardly object to that, right? (Unless you're an inveterate feta hater, then you're off the boat already. Substitute with extra sharp cheddar if you must. It'll still taste great.)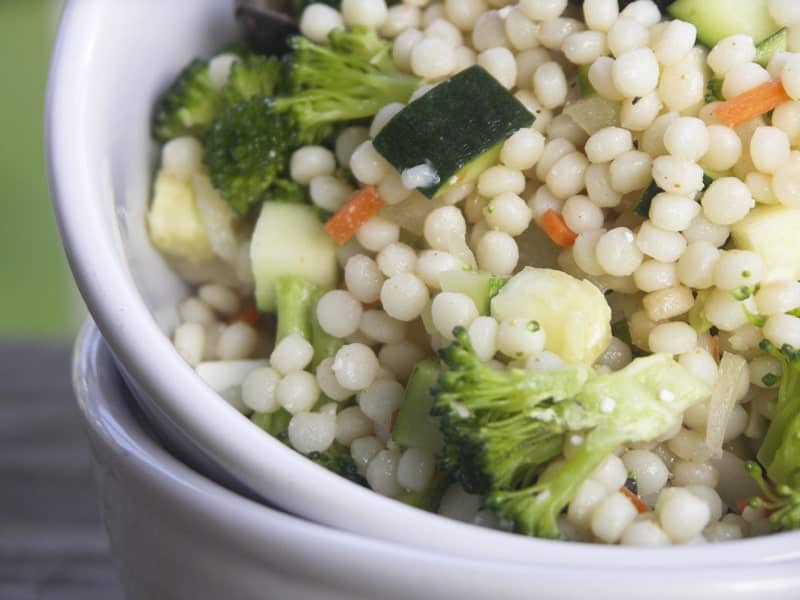 As for what to serve this alongside, the possibilities are many; grilled or broiled fish, chicken or pork are all at home on a plate with a big serving of Garden Couscous Salad. Pack it in picnic baskets. Eat it alone as a light and healthy lunch. Sneak it for guilt-free midnight snacks. I've been known to tuck into a bowl for breakfast now and again, and that's saying something because I'm not normally a breakfast kind of gal.
Don't flip out and write this off when you see the length of the ingredient list; this is all readily available stuff (even in my little corner of East-of-Nowhere) and it is a very simple preparation. The only semi-exotic ingredient is the Israeli couscous. If you can't find it locally, try Amazon.
Prefer whole wheat? They have that, too!
I have a favor to ask. Could you pop your head out the window and look upward for just a moment? Look a little closer. See that? That's life and Porky Pig and Bugs and Elmer and Sylvester and Tweety and Foghorn Leghorn and Brunhilde and Siegfried and summer passing us by. Let's make a pact. I'll lay down and admire the clouds a little if you do. Do we have a deal?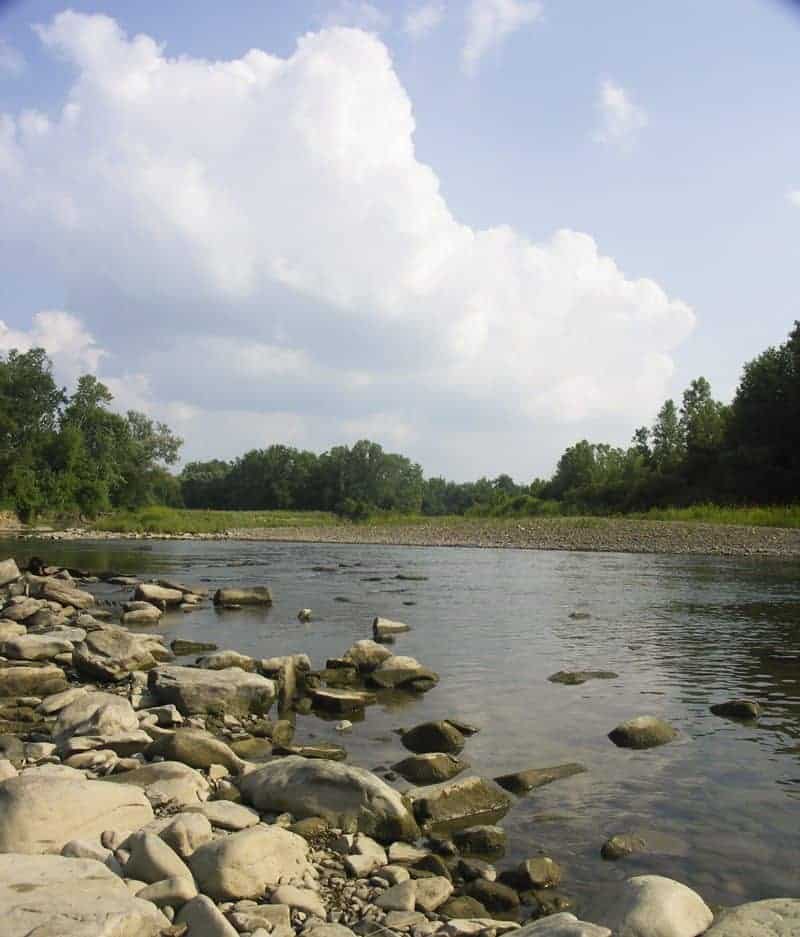 Want a photo-free, printer-friendly version of this recipe minus my yadda yadda? Click here!
Garden Couscous Salad
Ingredients:
2 cups Israeli couscous
4 cups water
1 onion end (You are saving them right? If not, cut off about 2 inches of the root end of an onion, peel and use that.)
2 parsley stems from the freezer (Also saving these in a freezer bag, right? If not, toss a couple fresh stems of parsley into the pot.)
2 teaspoons Kosher or coarse sea salt, divided
1/2 teaspoon freshly ground black pepper
1 broccoli crown, cut into small florets (Chop up and save the stem in a freezer bag for your next batch of broccoli soup!)
1 cup black or Kalamata olives, sliced in half
4 ounces of feta cheese, crumbled or diced very small
1 medium sized zucchini, washed and diced
2 medium carrots, scrubbed and diced very small
2 dill pickles, diced
1/2 a sweet onion, peeled and diced very small
1-2 cloves garlic, peeled and minced (or 1/2 teaspoon granulated garlic)
3 Tablespoons + 2 teaspoons extra virgin olive oil, divided
1 teaspoon Dijon mustard
2-3 Tablespoons red wine vinegar, to taste
1/4-1/2 teaspoon ground cayenne pepper, to taste
Heat 2 teaspoons extra virgin olive oil over medium heat in a large saucepan with a tight fitting lid. When the oil is hot, add the dry couscous and stir well to coat. Toast the couscous in the oil for about 1-2 minutes or just until a couple couscous grains begin to take on a light golden brown color but most of them remain pale. Carefully add the water all at once along with the onion end, parsley stems and 1 teaspoon of the Kosher salt. The water will boil up quickly and may spit a little, so be cautious. Add the lid and simmer, stirring occasionally, for 8-10 minutes, until the couscous is cooked through, but not mushy. Pour the couscous into a fine mesh strainer and rinse with cold water.
Transfer the couscous into a large mixing bowl. Add the remaining 3 Tablespoons of extra virgin olive oil and 1 teaspoon of Kosher salt, freshly ground black pepper, red wine vinegar, minced garlic (or granulated garlic) and minced onion to the couscous and toss to distribute evenly.
Add remaining ingredients and toss until evenly combined. This is best if covered tightly and refrigerated for an hour or more prior to serving, but it can be eaten immediately.