Are you all aware that July 4th is fast upon us? I see it as my solemn duty as an American to bust out my best picnic and grill moves for the occasion, and I'm here to help you, too. Make your meal more vibrant than the fireworks with Bacon Horseradish Potato Salad!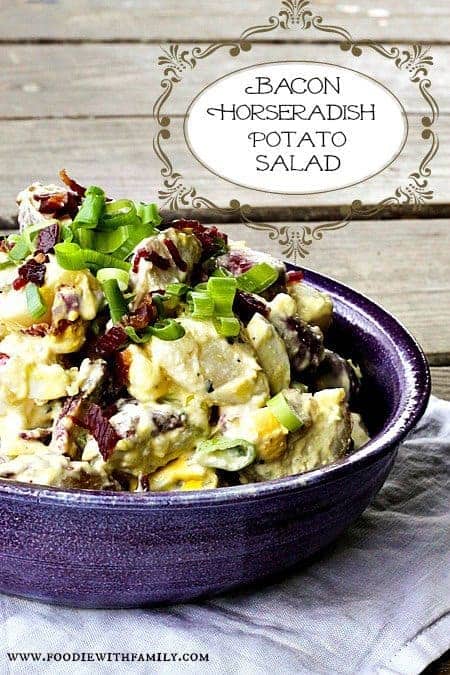 I have a split personality when it comes to potato salad. I think it stems from my all-out, lifelong obsession with the humble spud. I have a tried-and-true, classic, favourite potato salad recipe that I've been making for years that by my own ruling Shall. Not. Be. Messed. With.
It is *my* potato salad. It's the potato salad that convinced my sister Jessamine she actually LIKED potato salad after thinking she didn't for years. I even call it "The Unbeatable Potato Salad".
On the other hand (sayeth Tevye) there's the inspiration that the potato provides. It's such a delicious blank slate that showcases other ingredients so beautifully.
Every now and then I just can't help myself; I must make another kind of potato salad. I tell myself I'm not breaking my own rule because I'm not starting out with my Unbeatable Potato Salad as the base recipe.
Mostly. This time got awfully close, but had a few crucial differences. Name one? Certainly. How about bacon?
You know I love bacon. I love the magical, mystical pork belly sliced thickly and rendered 'til crispy.
There isn't a lot that wouldn't be improved -in my opinion- with the presence of bacon. For this salad, I used beef bacon for the first time ever. The conclusion was that the beef bacon was pretty tasty, but lacked that piggy magic.
If you have a preferred bacon, by all means use it in this salad. Regular bacon, turkey bacon, beef bacon, and fakin' bacon would all be acceptable here. My personal preference for this recipe is a good, thick-cut pork bacon.
Another difference is the creamy horseradish dressing for which I give a hearty, "Hubba Hubba!" I've told you before that I was a vegetarian for seven long years (in my teens and early adulthood), and I've mentioned that bacon called me home, but I don't think I've ever told you all that a hot ham and swiss melt with creamy horseradish sauce was a close second in my decision making criteria to start eating meat again.
Combining my eternal love for potatoes, bacon and creamy horseradish seems like a natural thing and I'm frankly a little shocked with myself for not having done it before now because WOW! And SHAZAAM! and all sorts of other onomatopoeic sorts of things!
Tender, earthy potatoes are tossed with a little cider vinegar and the white parts of green onions while they're still hot from boiling. After they're chilled through, they're tossed with the thinly sliced green parts of the green onions, large amounts of crisp, crumbled bacon, and a creamy horseradish sauce.
Seriously. I just don't even have the words to tell you how good this is. My husband almost wept when he found out the thirteen year old had eaten the bowl full he stashed in the back of the refrigerator for a late night snack.
Imagine a huge bowl of Bacon Horseradish Potato Salad with some roast pork chops. Now who's ready to make some salad?
Calling all pasta and potato salad fans! I have you covered in abundance for your summer salads! Check out our Salmon Pasta Salad, Potato Salad with Bacon, Spicy Bacon Cheddar Pasta Salad, Dill Pickle Egg Salad, Asian Pasta Salad, Easy Bacon Pea Pasta Salad, Veggie Lover's Greek Pasta Salad, Loaded Baked Potato Salad, and Easy Bacon Broccoli Pasta Salad.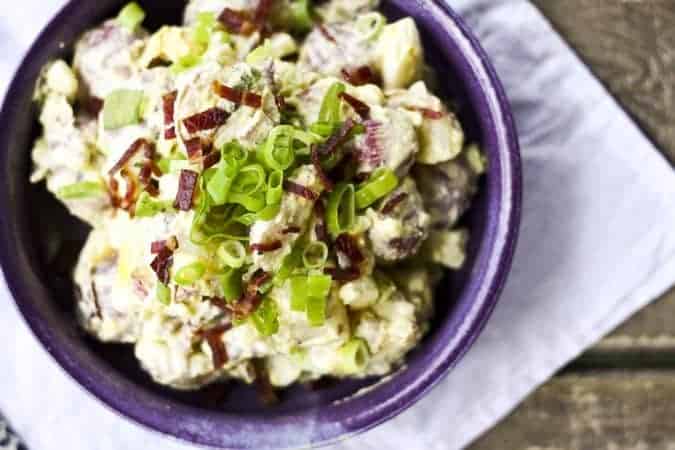 Bacon Horseradish Potato Salad
I like to make potato salad with new red potatoes because I like the look and flavour of leaving the skins on the potatoes. I think the potato skins help them hold together a little better and not go to mush. If you're averse to potato skins, please feel free to peel them before boiling.
Speaking of boiling potatoes and mush, the only thing worse than undercooked potatoes in potato salad is overcooked ones. Stand by, fish a piece of potato out and try poking it with a fork, butterknife or a skewer on a regular basis. The SECOND that you can poke it and the fork/knife/skewer goes in easily, drain those potatoes and I mean IMMEDIATELY.
DO generously salt your cooking water for the potatoes and DO add the vinegar to the freshly drained and still hot potatoes. This is your chance to introduce a layer of flavour to the potatoes that you'll never again have the chance to create.
I give a range of measurements for the horseradish in this recipe. This is because the heat level in each batch of horseradish varies wildly AND because everyone likes different amounts. Start with the lower end of the measurement and add a little at a time, tasting after each addition, until it's just how you like it. It's a tough job, but someone has to do it. Ahem.
As with most potato salads, this one tastes better if you let the flavours marry a little bit in the refrigerator before serving: overnight, even! Keep in mind that it will soak up dressing as it sits.
If it goes into the chill chest looking a little wetter than you'd normally like it, it'll probably be a-okay after its rest. And if you take it from the refrigerator, give it a stir, and find it a little dry, you can always add a little more mayonnaise and horseradish!
Of course, you'll taste it as you adjust it, right? Again, the sacrifices we make for good food. Sigh.
I included hard-boiled eggs in the recipe because, well, I love them. If you dislike them in potato salad, omit them, but DO make this salad!
Don't garnish it until right before serving if you plan on letting it rest in the refrigerator, though, because your garnish may become limp. Sad limp garnish might bum you out.
Bumming out over potato salad is just wrong. It's better to wait. Toss that extra bacon and thinly sliced green onions on right before serving.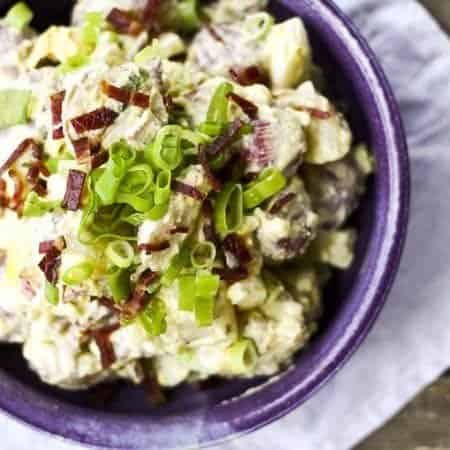 Make your 4th of July party food more exciting than the fireworks with this potato salad made of tender, earthy potatoes tossed with a little cider vinegar and the white parts of green onions while they're still hot from boiling. After they're chilled through, they're tossed with the thinly sliced green parts of the green onions, large amounts of crisp, crumbled bacon, and a creamy horseradish sauce. Hard-boiled eggs are optional!
Ingredients
2

pounds

small red potatoes

scrubbed and cut into even, bite-sized pieces

6

green onions

scrubbed, trimmed, and cut into thin slices, white pieces separated from the green

3

tablespoons

apple cider vinegar

12

slices

of bacon

fried 'til crisp, drained on paper towel, and crumbled

4

hard boiled eggs

Optional!, peeled and roughly chopped

1

cup

mayonnaise

or more, to taste

1

tablespoon

to 1/3 cup prepared horseradish

to taste

kosher salt and freshly ground black pepper

to taste
Instructions
Bring a large pot of water to a boil and salt it generously. Add the potatoes to the water, return to a boil, and lower the heat to maintain a simmer. Cook the potatoes just until fork tender and drain immediately in a colander. Let the potatoes stand in a colander to drain for at least 3 minutes, then transfer the still hot potatoes to a large mixing bowl. Stir in the thinly sliced white parts of the green onions, then drizzle the apple cider vinegar over the top and gently toss. Cover with plastic wrap and put in the refrigerator to chill completely before proceeding.

When the potatoes are cold through and through, remove the plastic wrap and add the crumbled bacon (reserving 2 tablespoons for garnish), chopped hard-boiled eggs (if using), mayonnaise, 1 tablespoon of the horseradish, and thinly sliced green parts of the green onions (reserving 2 tablespoons for garnish). Gently toss to combine, taste the salad, adjust with salt, pepper, and additional horseradish (if needed), stir again to combine, and adjust as necessary. Cover tightly with plastic wrap or transfer to an airtight container, and refrigerate for at least 2 hours, but preferably overnight before serving. Before serving, stir well, taste, and adjust with additional dressing if needed. Garnish with reserved bacon and green onions!

Store leftovers in an airtight container in the refrigerator for up to 3 days.
Nutritional information is an estimate and provided to you as a courtesy. You should calculate the nutritional information with the actual ingredients used in your recipe using your preferred nutrition calculator.
XO Rebecca
P.S. My husband walked past the computer while I was writing this post and asked -no, BEGGED- me to make another batch. I agreed. He then pleaded for me to make it a double batch and hide half of it from the children. I agreed. What he doesn't know is that I'm making it a triple batch and hiding one-third from him as well. BWHAHAHAHAHAHA!